Pioneer's new SPH-10BT smartphone receiver is designed for older car with a stereo systems without a screen. For those who want to try the smart screen experience — and perhaps already use their smartphone for navigation tools and music — this may be the solution that pushes you forward in the connected car space, without dropping five figures on a new car.
This new smart device for your car, which Pioneer brought to CES 2019, brings advanced smartphone connectivity into older vehicles. Pioneer provide us with a SPH-10BT to test in an older car, which we tested it on roads and highways in the New York area.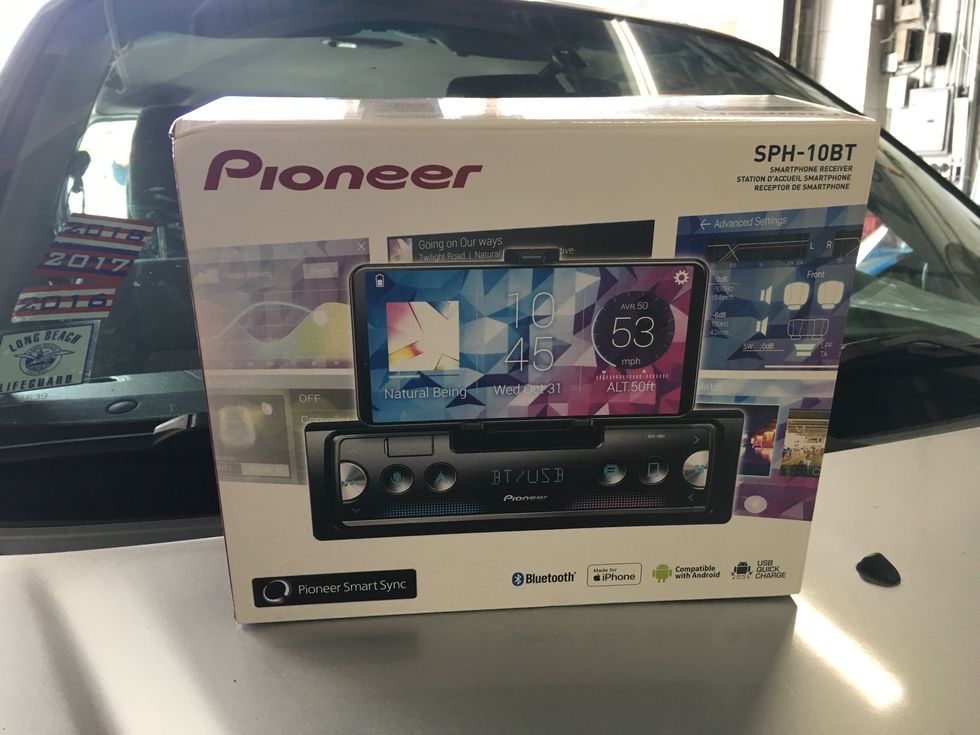 Pioneer SPH-10BT Smartphone ReceiverGearBrain
What is SPH-10BT?

SPH-10BT is a single-DIN receiver that mounts your smartphone into a built-in cradle on the car's stereo. Pretty simple. From there, you can use Pioneer's Smart Sync app for navigation, hands-free calling, messaging and voice-commands. What is a single-DIN receiver? First, DIN stands for Deutsches Institut fur Normung , which is the German Institute of Standardization. There are many items that have DIN — standardization — applied to them from this group, including car radios.
A "single DIN" or "1DIN" is a universal type chassis which is 7 inches wide and 2 inches tall. Most vehicles on the road today have single-DIN receivers — which means this product from Pioneer can be installed. But if your car doesn't, there are physical adapter dash-kits that can accept a 1 DIN chassis.
Why would I want to install this receiver?

Pioneer's new smart connected car device is designed to help eliminate distractions while driving — like looking for your phone to see directions on Waze. All the information you need appears on your smartphone screen, which connects to Pioneer's smart sync smartphone receiver, and takes advantage of a USB port and Bluetooth.
When connected to Pioneer's Works with Pioneer Smart Sync app through any Android or iPhone with Bluetooth, you can use the screen on your smartphone to make hands free calls, pull up navigation tools and text message —when you're not driving. You can also tap into your smartphone's features to control the entertainment system in your car, and stream audio via the Bluetooth connection. The app can recognize when another registered Bluetooth device is close to it and will pair that device automatically as well.
Car with Single DIN Receiver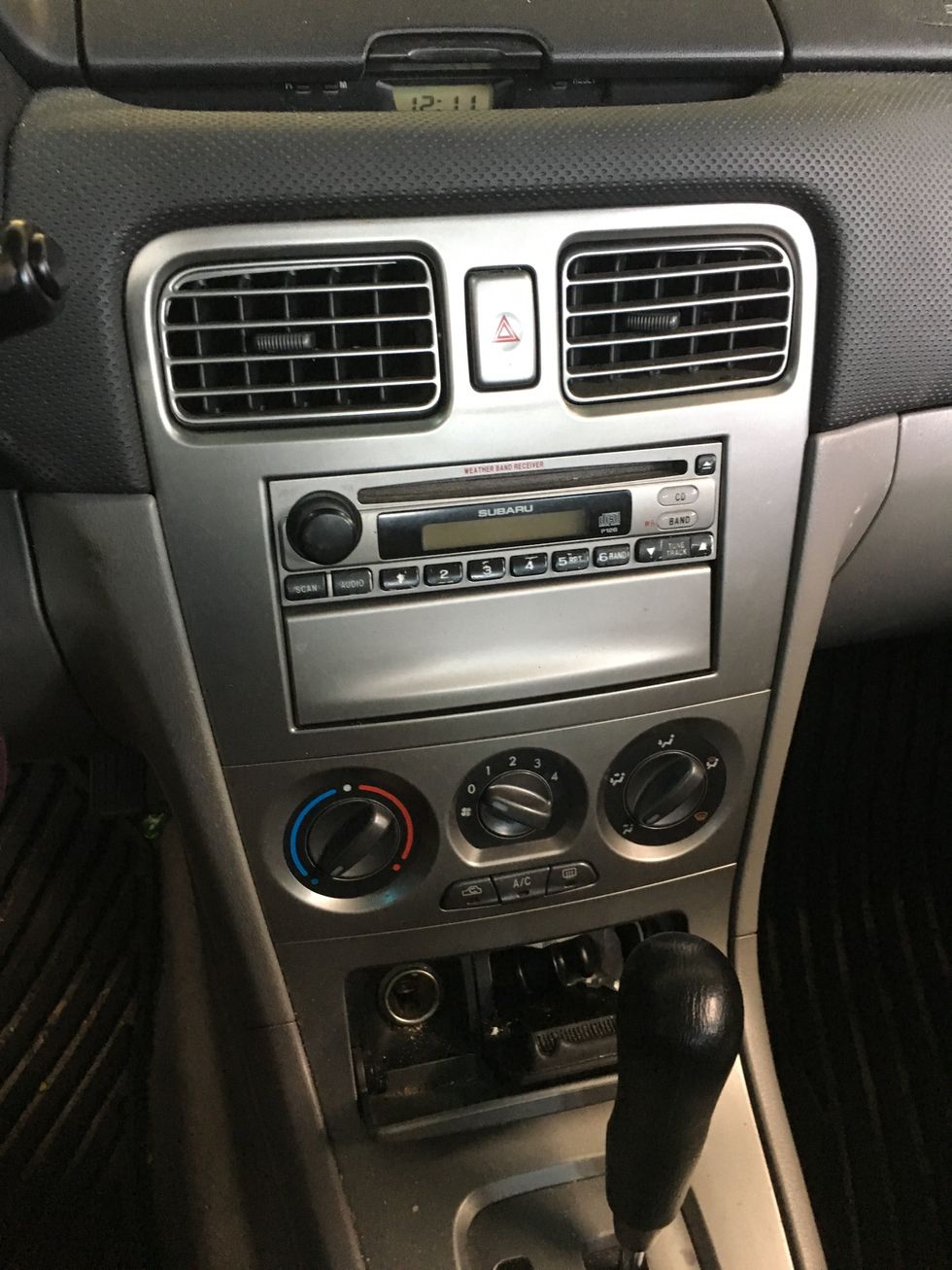 Old Single DIN car stereo
GearBrain
Pioneer's SPH-10BT will work on a cars with Single DIN recievers.
Same Car with Pioneer SPH-10BT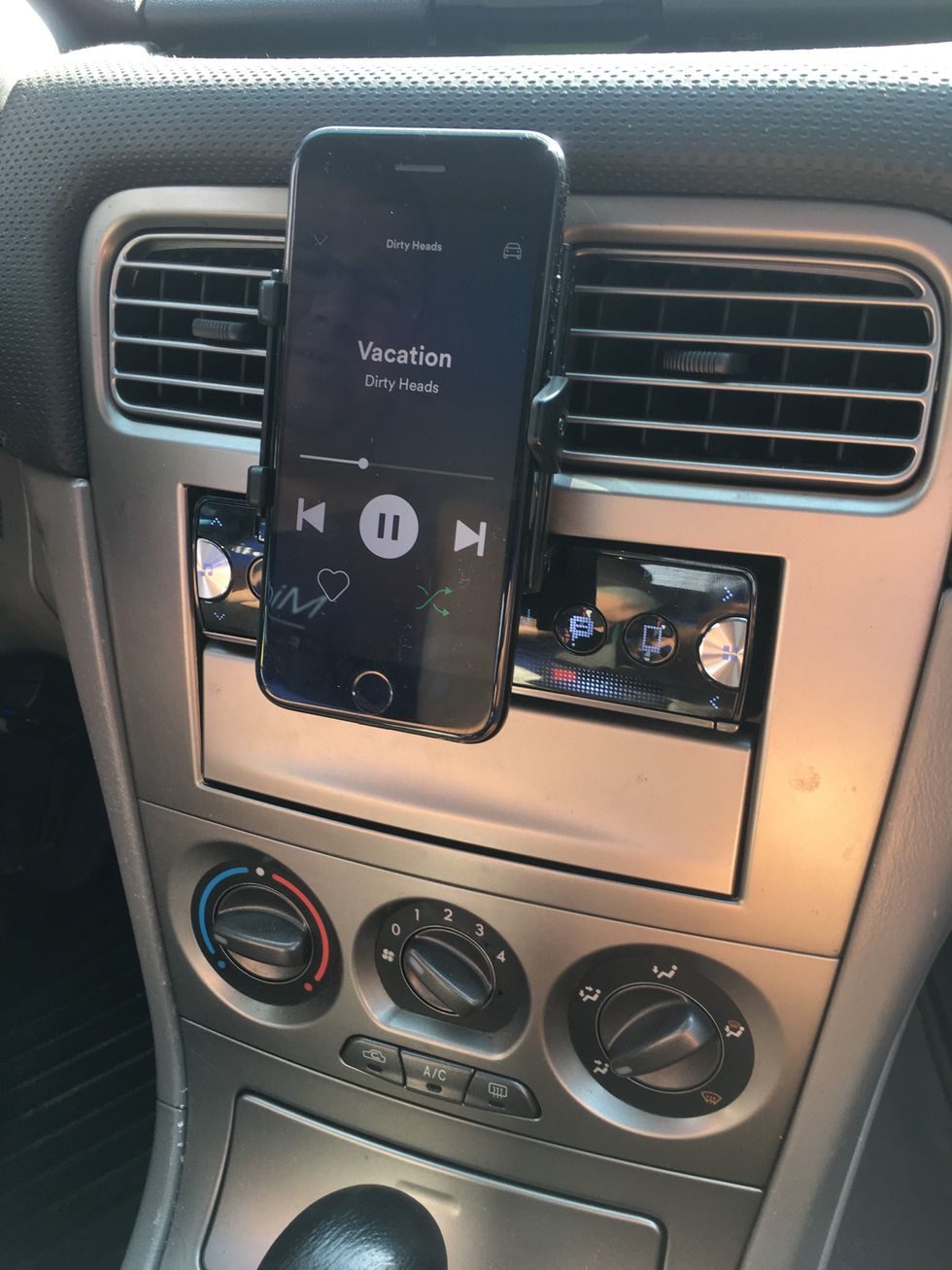 Pioneer SPH-10BT Installed
GearBrain
Can use smartphone either vertically or horizontally.
How do you install it?
There are two ways to install the Pioneer SPH-10BT — you either do it yourself or ask an authorized dealer. Since I am not that handy when it comes to installing car stereo systems, I went the dealer authorized route. Pioneer guided us to Vikas Mooichandani at Avenue Sound on Long Island who installed the SPH-10BT in our GB test car, an older Subaru Forester. He held up test the receiver, and we found his team very knowledgeable about new connected car devices.
Vik's team took a few hours to install and test the Pioneer system with a subwoofer, which is a typical amount of time. (The subwoofer was Pioneer's TS-WX400DA Class D Active Subwoofer.) If you install the system yourself, make sure you don't put the stereo where it may interfere with normal operation of the vehicle, or someplace that could injure a passenger in case of a sudden stop or anywhere near the car's heater. Pioneer also recommends installing the unit at an angle of less than 45 degrees for optimum performance.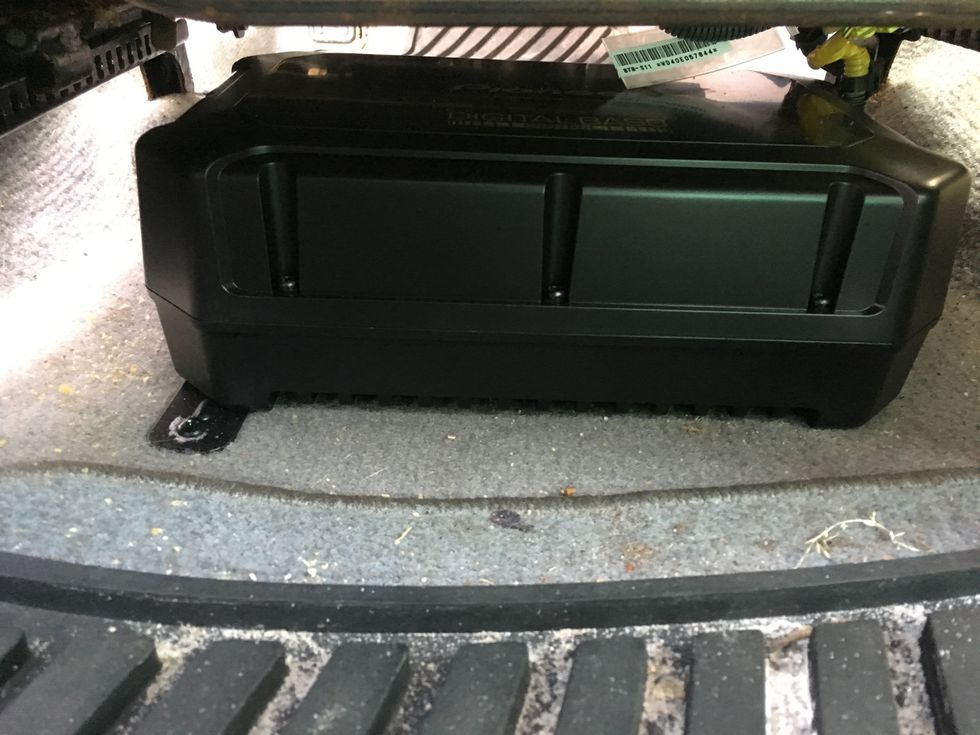 Pioneer TS-WX400DA Subwoofer gets installed underneath the driver's seat.GearBrain
The supplied instructions will walk you through installation, and there are great videos on Pioneer's site as well, including how to connect to iOS and Android devices. But using a professional installer assures your unit will be placed in the best spot to avoid any issues.

App integrations
Pioneer's Smart Sync app is the key to getting the SPH-10BT to work the way you want while driving. The app does a nice job of utilizing your smartphone's features for a personalized driving experience. For instance, if you use Waze as your navigation, first connect to the Smart Sync app, then customize based on how you use Waze while driving, such as voice directions and volume. Then, when you need directions, you can either pull up Waze by asking out loud, or hit the navigation button on the SPH-10BT to pull up Waze.
Besides bring up smart applications, Pioneer also has a way to add sensors to your old car, which typically don't have it installed. With the Pioneer SPH-10BT you can get a ND-PST Rear Parking Sensor kit (which will need to be professionally installed), to help prevent fender benders and other minor bumps to your car.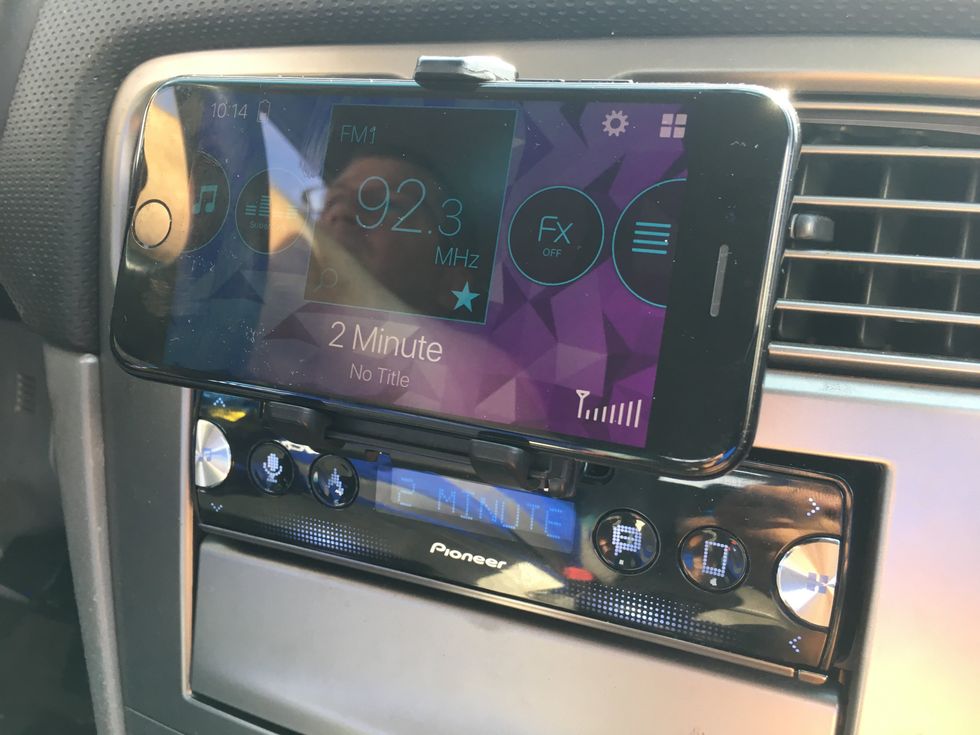 Control music, apps and navigation using your smartphone as well as voice commands.GearBrain
How well does it work?

The first detail we liked is how this smart connected car device turns your existing smartphone into a smart display, no matter the age of your vehicle. As long as the car has a 1DIN stereo system — and not a stereo display — the SPH-10BT will work. For some older vehicles, you might need a physical adapter dash-kit to get the unit to work. Note that if your car has a vehicle bus system, these setups "occasionally make wiring an aftermarket in-dash receiver difficult or prohibitive, but for the majority of vehicles on the road today, the SPH-10BT is compatible," Pioneer told GearBrain.
We installed Pioneer SPH-10BT in a 2004 Subaru Forester and found it worked exceptionally well. Avenue Sound also installed a subwoofer, connecting that to our new receiver as well. If you're one of those drivers who likes a big bass sound with your music, the TS-WX400DA subwoofer make the sound loud and deep, which we could control through the Smart Sync app.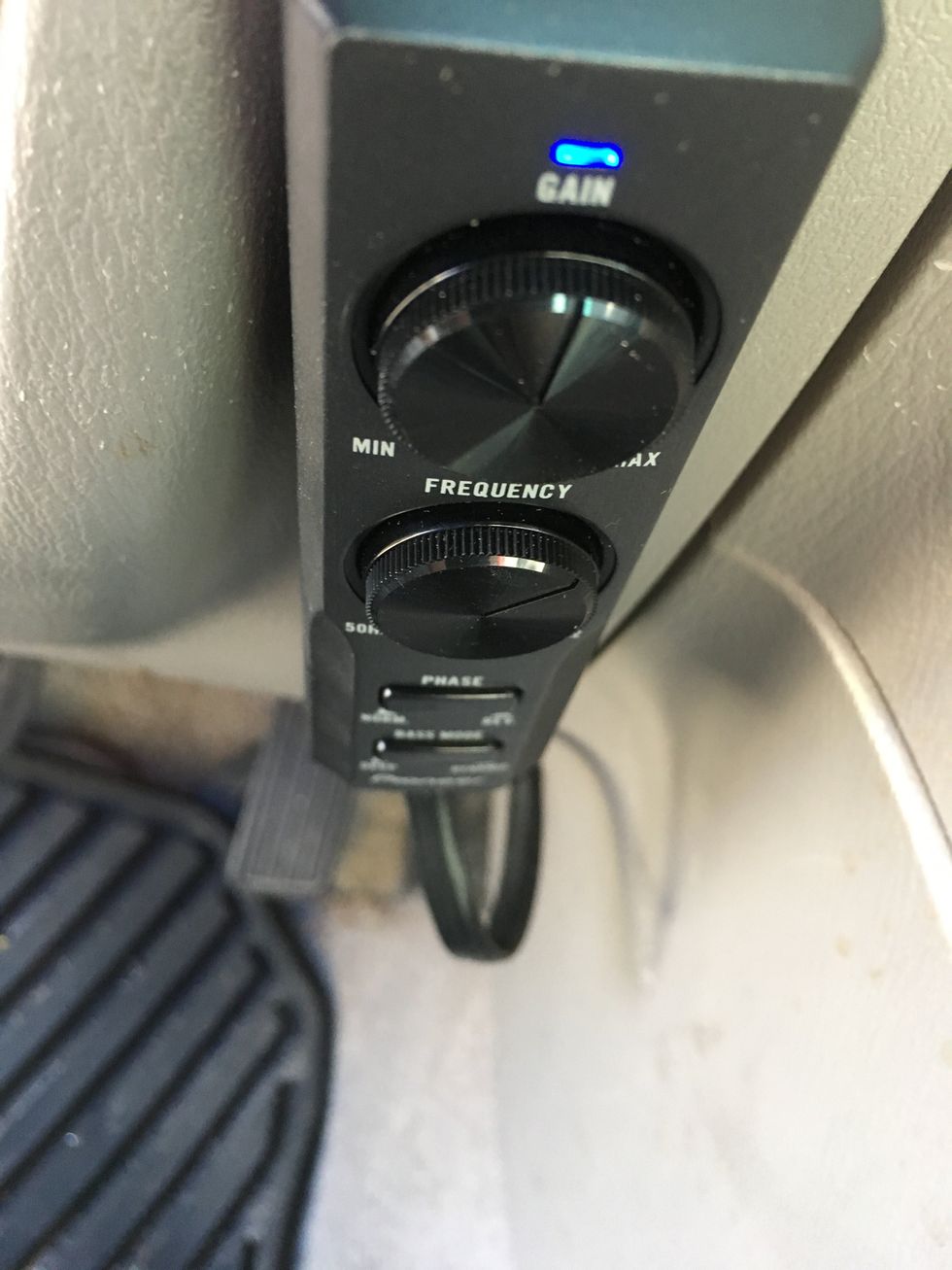 Control bass sound from subwoofer with controls on driver side.GearBrain
We also liked the added voice control the device brought, and it was easy to set up voice commands thanks to the Smart Sync app. We were able to easily use verbal commands to find our favorite song or station.

Another feature you can add to your system are back-up sensors. These obstacle detection sensors are optional and you need to purchase ND-PS1 Rear Parking Sensors to have them work with your Pioneer system. They also need to be professionally installed and will be controlled using the Pioneer Smart Sync app.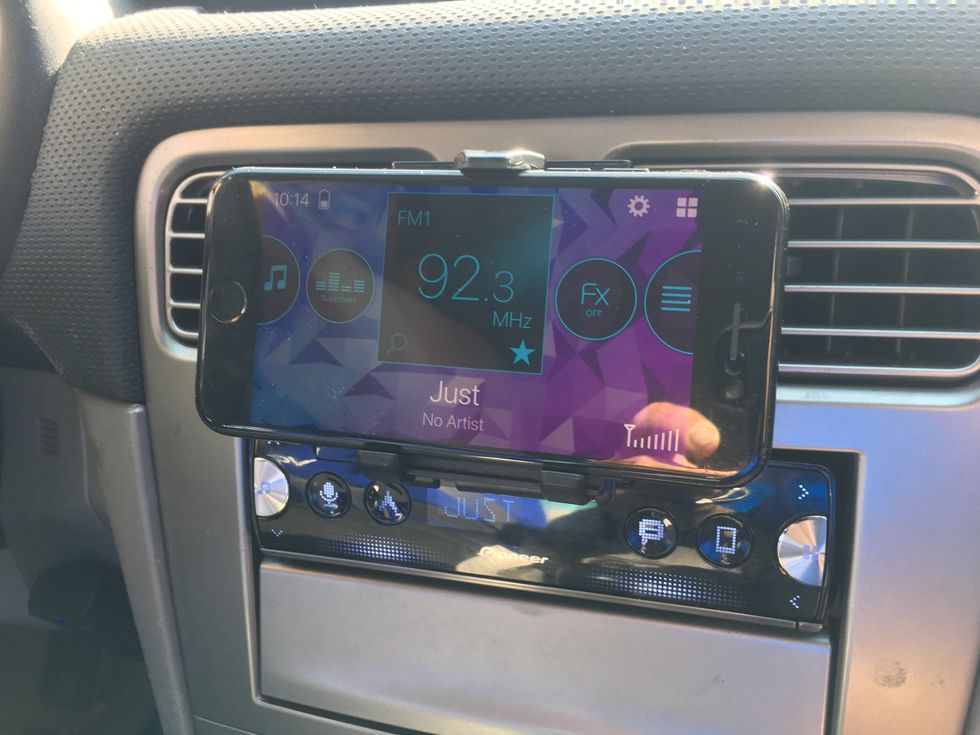 Smartphone with Pioneer Smart Sync app playing musicGearBrain
Finally, we like how you can disconnect the SPH-10BT from the car and store it away when not in use. The last thing you want is someone to break in and steal this new connected car device.

With the SPH-10BT we were able to enjoy all the amenities you normally get from newer cars with built-in touchscreen entertainment or infotainment systems, but at the faction of the cost. The Pioneer smart sync app is easy to use and we were able to customize it to fit our driving needs.
Cost
The Pioneer SPH-10BT has a suggested manufacturer's retail price of $150 and is available at Walmart, Crutchfield and car audio specialty stores, like Avenue Sound on Long Island. The company does not currently sell directly on Amazon, but several Pioneer Authorized Dealers do sell through Amazon's web site.
Pioneer SPH-10BT Smartphone Receive with Subwoofer Review www.youtube.com
Summary

Pioneer has done a nice job of bringing a connected car experience to older vehicles with the SPH-10BT. The receiver has innovative smartphone connectivity features, which we found easy to use once installed. The one-touch access was also very responsive. However, you have to remember that even with SPH-10BT, the in-car user experience is still going to be different from today's infotainment systems.
For instance, you need to use the app to preset radio channels, or play from your favorite sports channel or talk radio station. These are features you can normally access from a car stereo. You can do these actions from the receiver, even without your smartphone, but it's not easy. Still, most consumers are moving away from this type of behavior and turning to voice commands to get to their favorite station or navigation system. And honestly, they're starting to lean on voice control thanks to Apple Car Play and Android Auto.
If you have an older car, and use your smartphone often, then definitely consider SPH-10BT to inject a new connected driving experience to your vehicle. But do note that if your smartphone runs out of power while using the receiver, you'll also lose access to the app. You can still listen to music, but you won't be able to pull up all of the other features.

Overall, the SPH-10BT does offer a safer driving experience when using your smartphone. Just make sure you install it correctly and it doesn't interfere with any other controls on your car's dashboard.
Pros and Cons
Pros:
Good value when compared to dashboard display units
Nice app and easy to use
Brings connected car experience to older vehicles
Good 'How-To' videos
Cons:
Really needs professional installation which can be costly
Only works on cars without stereo displays
If you have a big phone, might not work properly
Specs:

Display with LED Backlight: VA LCD (1-Line)
Brightness control: 10-Level
Illumination Timer
Dimmer Settings (On/Off)
Color Customization: 210,000 colors, three zones
Built-in Bluetooth
Audio/Video Remote Control Profile (AVRCP 1.5)
Secure Single Profile (SSP)
Hands Free Profile (HFP 1.6)
Advanced Audio Distribution Profile (A2DP)
Serial Port Profile (SSP)
Tuner Presets (18 FM, 6AM)
Local Seeking Tuning
Supertuner IIID
Best Station Memory (BSM)
RDS
Pioneer Smart Sync App (iOS and Android – USB/BT)
Android Connectivity – Android Music Playback (MTP) and Voice Control via Bluetooth
iPhone Connectivity – iPhone Music Playback and Voice Control via Bluetooth
Digital Media Playback – MP3 Audio, AAC Audio, FLAC Audio, WMA Audio and WAV Audio
RCA Proetus: 2-2v
Equalizer: 13 Band EQ+
DSP
Crossover Network with Pioneer Smart Sync
Loudness with Pioneer Smart Sync
Advanced Sound Receiver
Super Todoroki Sound with Pioneer Smart Sync
Built-in Amplifier
D/A Converter – 24-bit
Time Alignment: Preset TA &
Subwoofer Control
Listening Position Selector
Dynamic Bass Enhancer with Pioneer Smart Sync
Expandability: USB and Wired Remote Input
Detachable Face Security
Multi-Language Display (English/French/Spanish)
Warranty (must be purchased from an Authorized Pioneer Dealer) – 1 Year
Smartphone Cradle
Remote Control (Optional)
Music Browser
Direct Access Key (VR/NAV/Message/HandsFree)
Parking Sensor (optional) input
Voice Recognition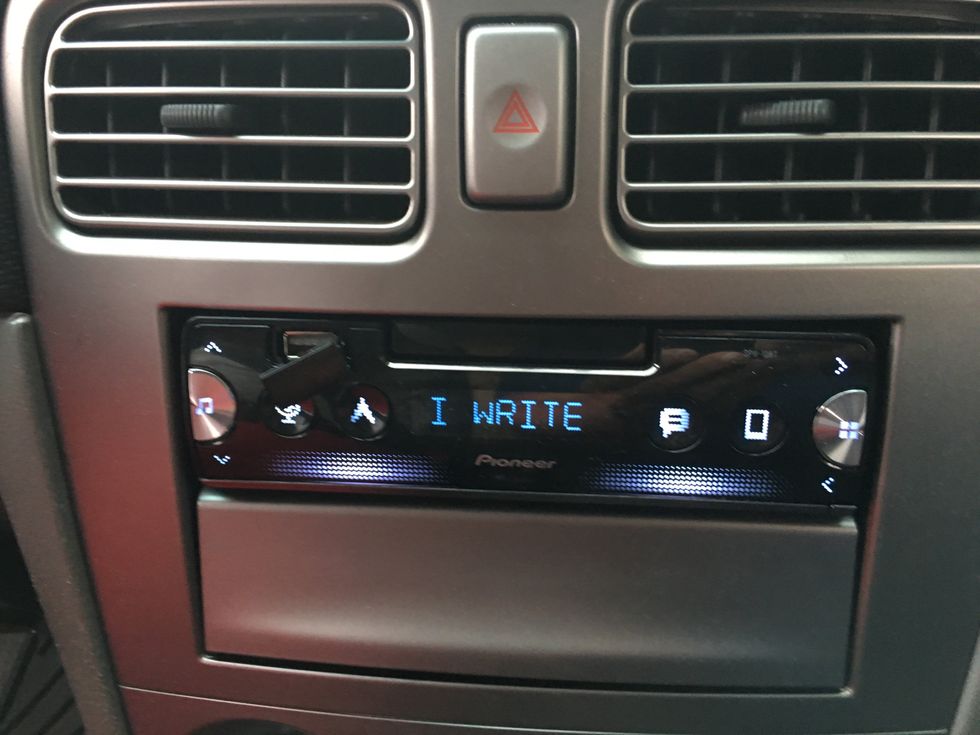 check out the USB port on the upper left of the SPH-10BT unit. GearBrain
PIONEER SPH10BT Single-DIN in-Dash Mechless Smart Sync Receiver with Bluetooth