Piper is a build your own computer with a training wheels approach, instructions presented like secret plans that make it fairly impossible to fail. The company recently updated its Piper Computer Kit, with parts that snap easily in place, and extras from breadboards to cables that make the toy much more than a single activity. We built the new Piper — as we did the original — and here's why we think this is one of those perfect toys for any child, those fascinated by computers or not.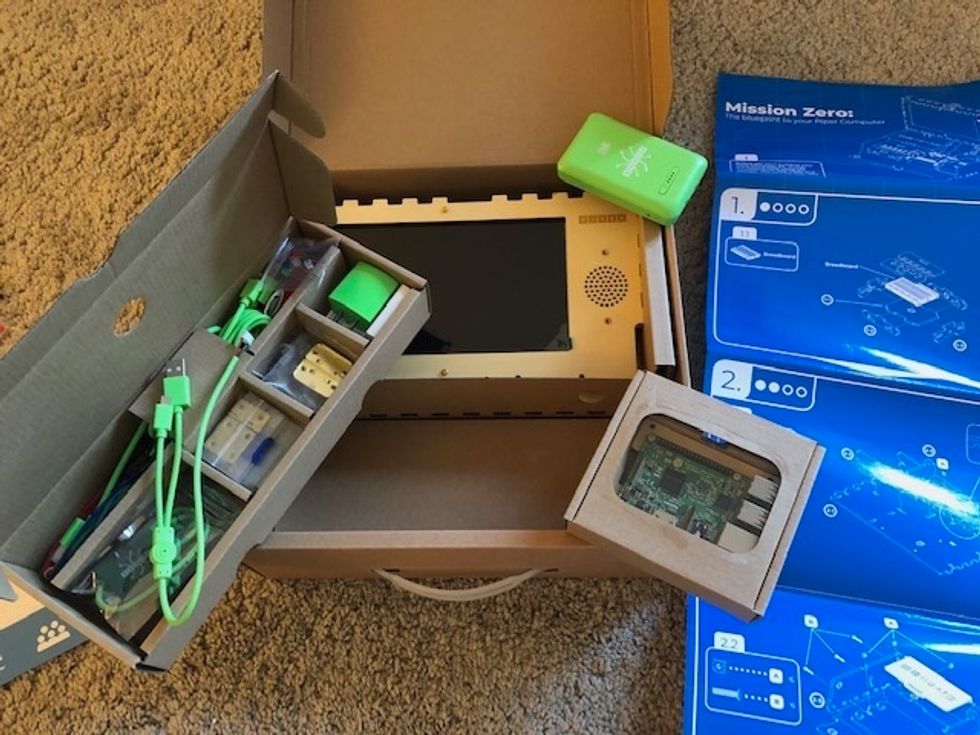 Piper uses cardboard to box the pieces inits computer kit which can be reused or recycledGearBrain
Meet Piper 2

The Piper Computer Kit 2 is a set of parts: a Raspberry Pi, wooden pieces, screws, breadboards, a screwdriver and cords galore. There are dozens of pieces in the kit, along with a very non-digital instruction manual, one that opens up like a blueprint — big and easy to read.
Everything you need to build Piper is inside the box — including a USB wall charger which we greatly appreciated. Most kits don't include these anymore, and this is another reason why Piper is a solid investment for young tinkerers, because it sets you up with a lot of basics — like the included Phillips-head screwdriver— that budding engineers will use again.
Even the packaging of Piper is spot on: Cardboard which can be recycled or upcycled into other inventions. School (and home, for that matter) Maker Labs are fans of cardboard as it's easy to glue, easy to cut, and a wonderful building tool for young tinkerers.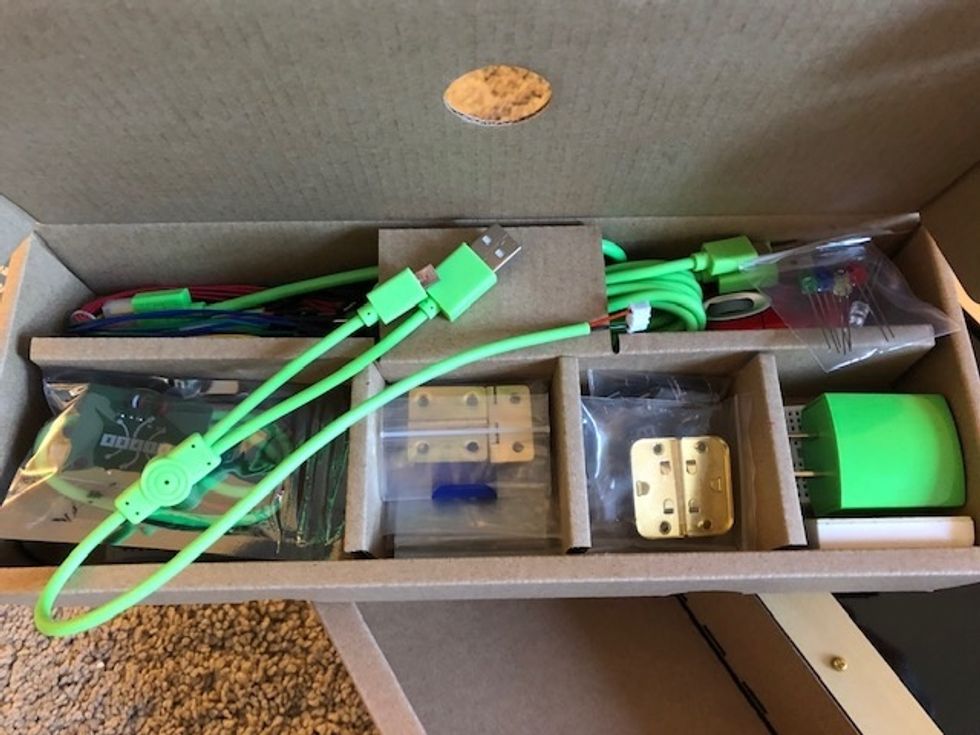 Each piece in the Piper Computer Kit 2 is labeled clearly to help you put it togetherGearBrain
How to build Piper

We're not going to run through every step — because that's actually something builders need to discover for themselves. We will say, unpack the box and start charging the battery perhaps the night before you want to make Piper. You may be told this might take several hours. Perhaps our battery was pre-juiced, but we were at a full charge in under two hours.
Piper came together for us in less than hour. True, we've built the original before and have some (some) comfort with tech toys. We expect this will be a fun experience for any child — and any adult. You'll end up with tons of left over pieces, and that's intentional. You can add and expand the Piper with enclosed cables and the two breadboards.
But you can also just use Piper as it is. There are ways to play games through StoryMode, which takes advantage of the Raspberry Pi edition of Minecraft, once you update the system and after you connect to Wi-Fi. Kids can also code on their own using Blockly, which is a drag and drop way to program. It's ideal for children, or any one, who want to learn the basics of coding, as you can primarily use a mouse to make games and projects, gaining confidence before embarking on learning other kinds of programming languages.
Piper also just released a new $49 add-on kit, the Piper Sensor Explorer, which includes a color and temperature sensor, a range finder, jumper cables and a software update for StoryMode.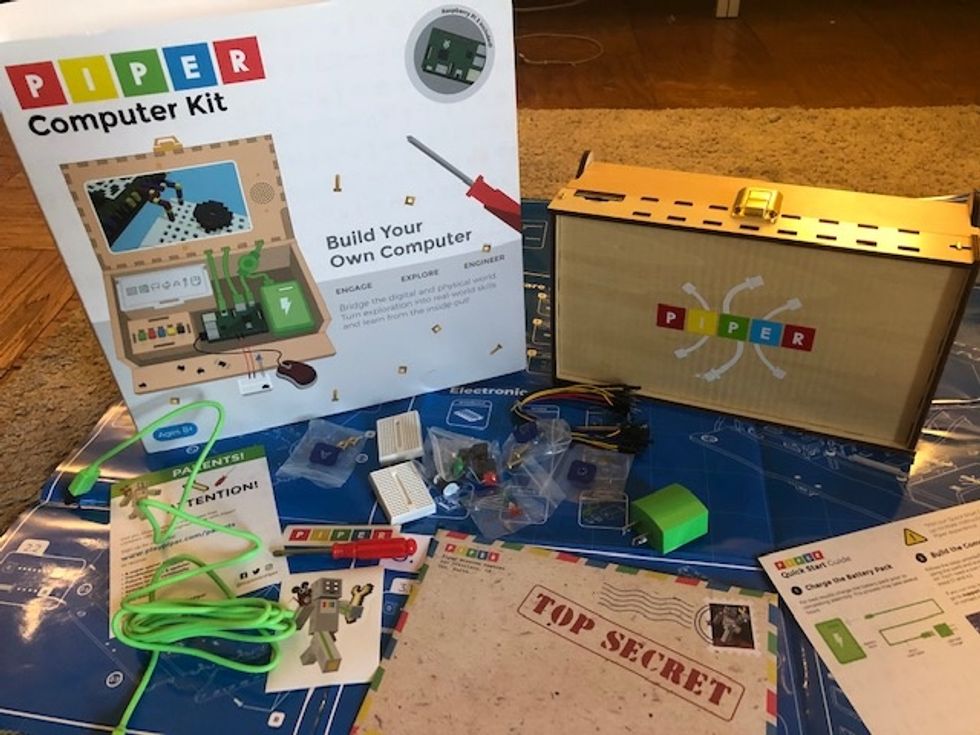 Dozens of cables and parts are left over even after building Piper, letting you expand how you use the computerGearBrain
Cost

The Piper Computer Kit 2 will set you back $299. It's not inexpensive, but if you think of it as a building block for young tinkerers it's an investment rather than a one-time toy. You can also pay $49 for the new Sensor Explorer.
Why you should buy Piper 2
Every child today is going to have their hands at some point on a computer, if they haven't already. It's not necessary to understand how the technology in our lives work. Most of us don't take apart our refrigerator or the toaster. And when the electric toothbrush breaks, we tend to buy another. But the world is changing in other ways too, and understanding how our devices are put together, may make it easier for us to think about fixing these objects rather than dumping them.
Toys that show children — or adults — how they work are just one step better than those that beep, flash lights or chat. Having fun is fantastic. But understanding how the toy that's fun also works is better. We've always been fans of Piper. The Piper 2 is just one step beyond what the original offered — a toy that you can play with, a toy that's expandable, and a toy that lets you peel back the casing to show you how it works so maybe, one day, you'll build your own.
Pros:
A build your own Raspberry-Pi based computer
Can be taken apart and stored easily
Includes pre-programmed games, while also supporting drag and drop coding
Cons:
Price
Some parts are small, young children should be supervised
Battery can take hours to charge