Porsche and Boeing have teamed up and have their eyes set on creating a form of flying vehicle.
The German sports car maker first spoke about its plans for a flying car at the 2018 Geneva motor show, but hasn't said much since. Now though, just after it put its first electric car on sale, Porsche is keen to look further into the future.
Read More:
The collaboration will be between Porsche, aircraft giant Boeing, and a subsidiary of Boeing called Aurora Flight Sciences. The three are developing "a concept for a fully electric vertical takeoff and landing vehicle," Porsche said this week. Engineers from all sides will implement and test a prototype.
Detlev von Platen, member of the executive board for sales and marketing at Porsche, said: "Porsche is looking to enhance its scope as a sports car manufacturer by becoming a leading brand for premium mobility. In the longer term, this could mean moving into the third dimension of travel."
Porsche is not the only premium car company looking to the skies. At that same Geneva show in March 2018, Audi, also owned by the Volkswagen group, said it was also interested in building a flying vehicle. Audi and plane manufacturer Airbus presented the Pop.Up Next, a concept that is a small autonomous car which can attach to rotors and turn into a drone large enough for carrying two people.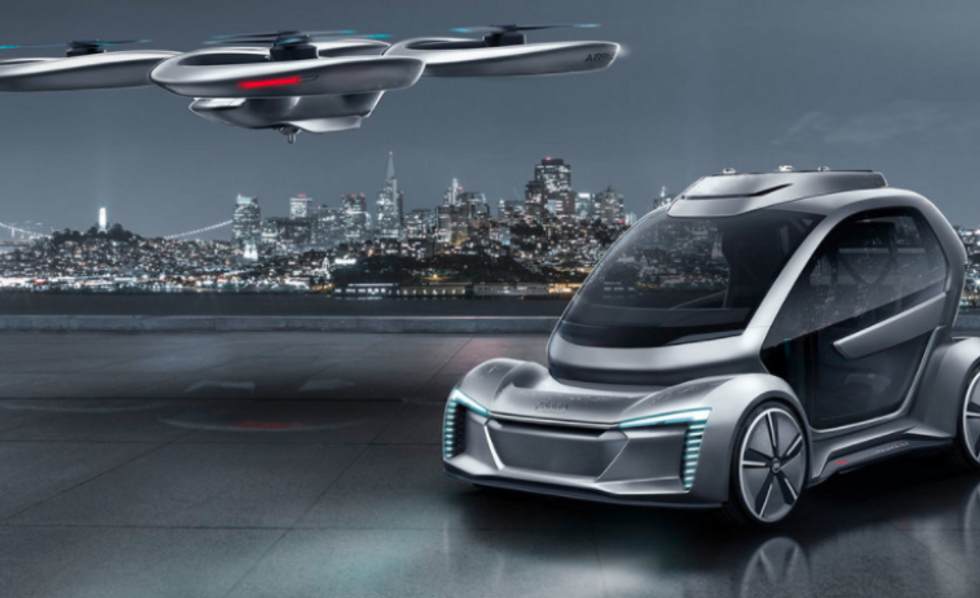 Audi and Airbus also have plans for an electric flying car Audi / Airbus
Speaking this week, Steve Nordlund, vice president and general manager at Boeing NeXt, the company's next-generation mobility division, said: "This collaboration [with Porsche] builds on our efforts to develop a safe and efficient new mobility ecosystem, and provides an opportunity to investigate the development of a premium urban air mobility vehicle with a leading automotive brand."

Although exciting, this partnership is still in its very early stages, and as such readers shouldn't expect flying cars to sit alongside other Porsche's at their local dealership anytime soon. Instead, the companies will work to address the commercial viability of developing such a vehicle, and whether an ecosystem for piloted and autonomous aircraft can be created safely.
Porsche said this week how a 2018 study by its consulting division, forecasts "that the urban air mobility market will pick up speed after 2025." The company added: "The study also indicates that urban air mobility solutions will transport passengers more quickly and efficiently than current conventional means of terrestrial transport, at a lower cost and with greater flexibility."