Like GearBrain on Facebook
Luxury British sportscar manufacturer Aston Martin has partnered with Rolls-Royce and the UK's Cranfield University to design an autonomous flying car concept.
Revealed at the UK's 2018 Farnborough International Airshow - and just a day after Rolls-Royce showed off a flying car of its own - the Volante Vision Concept is described as a luxury vertical take-off and landing (VTOL) vehicle.
Read More:
The Volante Vision is one of several concept vehicles recently made by Aston Martin, including the Project Neptune submarine and AM37 powerboat.
AM's flying machine offers space for three in its leather-clad cabin, with one person sat in front of the other two and a jet fighter-style canopy overhead. Power comes from a gas turbine hybrid propulsion system developed by Rolls-Royce (that's the aircraft engine company, not the car maker).
Aston Martin claims the vehicle should be able to travel from London to Paris in about an hour - a journey which currently takes two hours and 15 minutes by train or one hour and 15 minutes by plane. Such a stat means the Volante Vision should travel for 200 to 250 miles at about 200mph.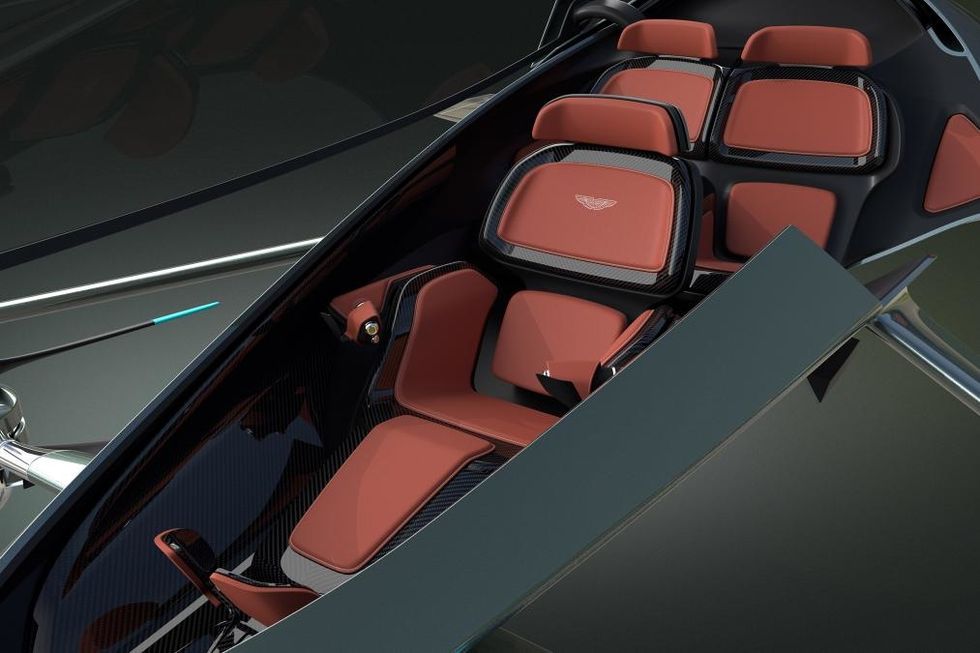 The interior has seating for three adultsAston Martin
As well as gas turbine power, an onboard battery means the vehicle can complete short trips on electric power only.
"Air travel will be a crucial part in the future of transportation and the Volante Vision Concept describes Aston Martin's influence in mobility innovation," the company said.
The company joins a surprising number of firms keen to make personal electric aviation a reality. Airplane manufacturer Airbus is working with Audi to produce an autonomous flying vehicle, while Porsche said earlier this year it is interested in building a similar vehicle.
Ride-sharing company Uber is also keen to take customers into the skies, and says its Uber Elevate division will offer a commercial service in Texas within 10 years.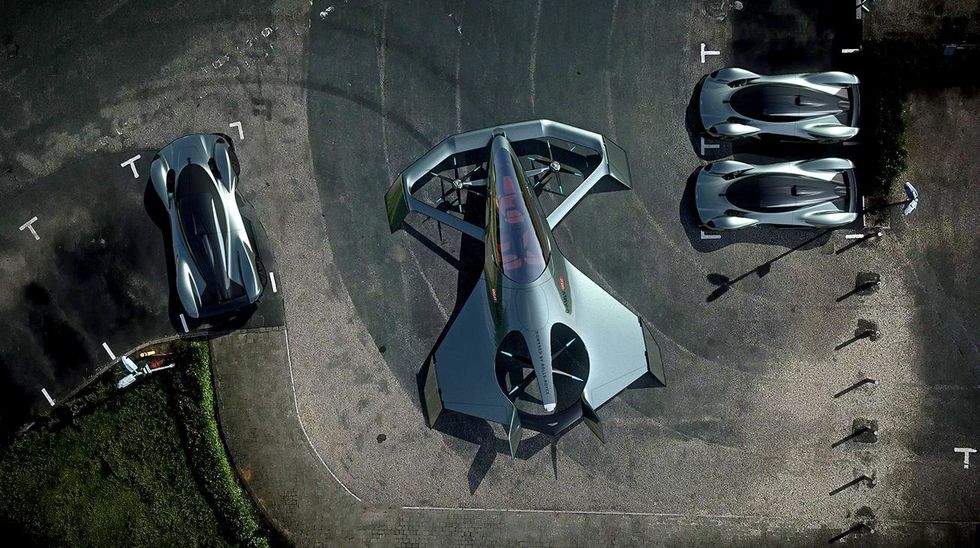 Volante Vision is seen with the AM Valkyrie hypercarAston Martin
The concept is described by Aston Martin as "a near future study that previews a flying autonomous hybrid-electric vehicle for urban and inter-city air travel, providing fast, efficient and congestion free travel…[the vehicle] promises to offer an exciting alternative transportation solution for customers across the globe."
The Volante Vision borrows its metallic green color and some design cues from the company's Valkyrie hypercar, while Volante is the name often given to Aston Martin's convertible cars.
Like GearBrain on Facebook