Like GearBrain on Facebook
While most of have headphones we use to help us stay focused — or drown out noise — children's use of headphones is somewhat more complicated. To start, most of these devices are designed without limits on decibel levels, wires are easy for children to trip on and frankly they're large, and rarely designed for smaller heads.
Read More:
But children do use headphones, sometimes to play a movie while in a room with parents who are watching another device, sometimes to actually put the brakes on the chaos around them, and give them a chance to have some quiet and calm.
Puro is focused on both areas, creating headphones for tinier ear drums and heads, and also for those who need a little sensory downtime. The company sent us its PuroQuiet, a wireless active noise cancelling (ANC) headphones to test, to see how well they worked as regular headphones, but also at keeping the noise around us at bay.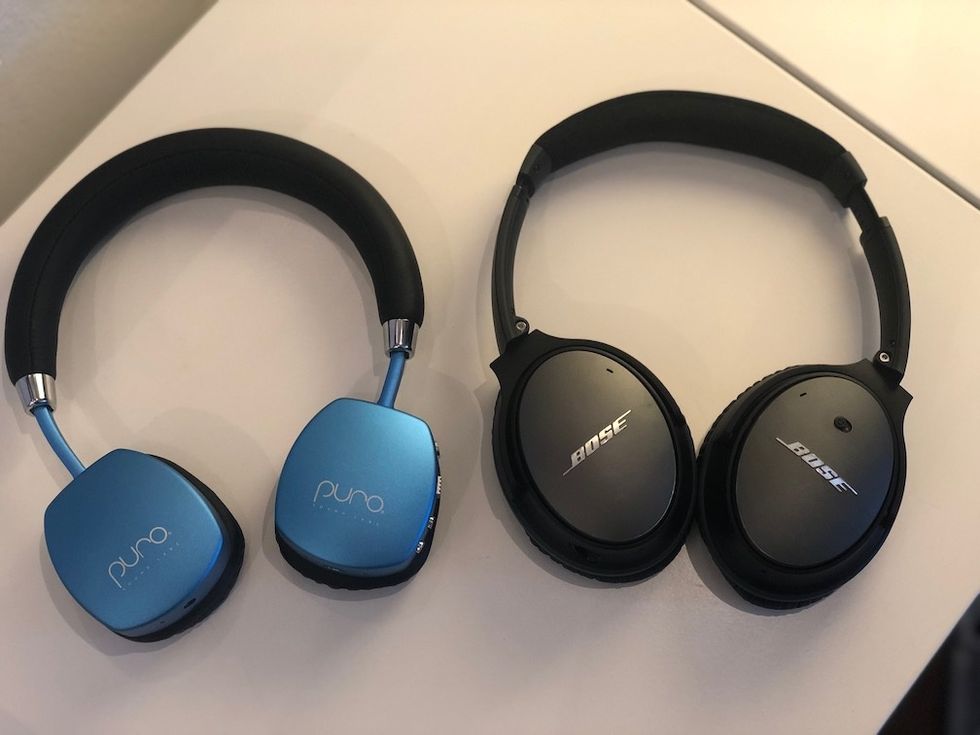 The PuroQuiet blue headphones next to a pair of Bose black headphonesGearBrain
What is PuroQuiet

You can see immediately, when shown up against a pair of Bose headphones, for example, they're significantly smaller — from the ear size to the actual arch that fits along the top of the head. The ear pads are cushioned with foam coverings, and you can adjust the headband to make it a bit larger or smaller as well.
Button are on the side of the headphones, and although the headphones are designed for little fingers, the button and toggles are easy to find and simple to use. The right side has the on and off switch for ANC, and the other has two small buttons for increasing or decreasing volume, the ANC toggle switch and one for activating Bluetooth to connect to a smart device.
The headphones can only play sound up to 85 dB — their entire point of existing, which is to limit the noise hitting ear drums. For reference, a loud rock concert is about 120 dB, regular chatter is about 60 dB, most headphones designed for adults can go up to about 110 dB, and the Occupational Safety and Health (OSHA), part of the U.S. Department of Labor, recommends workers not be exposed to average noise levels of 85 dB over eight hours.
How well they worked

PuroQuiet claims to block out 82 percent of outside noise, and we can't verify that specific data point, but we can say that we found the ANC not as effective as a Bose pair we use, but they were fine. We kept out typing sounds as we wrote, for example, but not human speaking.
The headphones work across Bluetooth, and you can connect to a source as long as it's within 32 feet. You can also make the headphones wired with an enclosed cable, and the headphones are foldable and fit into a carrying case. Connecting via Bluetooth was extremely simple: turn the headphones on, press the Bluetooth button, and then open settings on a smart device and connect. Done.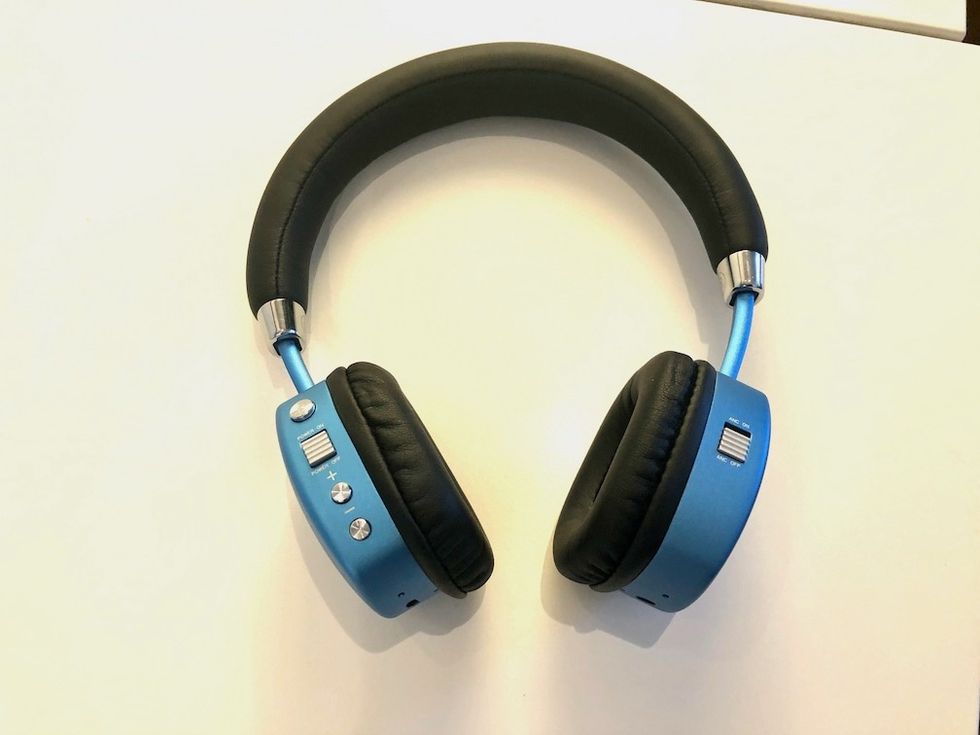 The buttons to control ANC, volume, power and Bluetooth are on the sides of the headphonesGearBrain
We also were frankly very surprised at how loud 85 dB turns out to sound. Using an iPhone, I'm now able to pull up the average decibel level I listen to weekly. You can find that in the Health app, under Hearing. I'm not proud to say I spend, on average, listening to music at about 95 dB, a fact I slightly blame on my broken iPhone headphones which I refuse to replace.

But 85 dB, properly played equally through both sides of my headphones, sounded great — almost too loud. The sound is solid. It's a little muddy, with the bass not as rich as higher-end headphones, and even higher notes not as sharp, but they were fine, and didn't impact my enjoyment of music I was listening to as I walked to work, or typed away on assignments.
To buy or not buy?
PuroQuiet is a solid option in a wave of headphones for the very feature they're designed to provide: limiting the decibel levels that can reach young ears. They're very effective in that regard, and nicely designed as well, clearly sized for smaller heads and ears, and although they may, in theory, appeal to those adults who prefer a smaller footprint for their headphones I did not find them comfortable for longer than 20-30 minutes at a time.
One thing that might be a nice addition, would be an app that parents could tap into to track the level that their children continually listen to through the PuroQuiet app. We know — another app. But the entire point of these headphones is to limit hearing damage. Granted, I was able to track the decibel level through my iPhone Health app — but that was on my device. Parents may like the ability to track their child's usage.
The headphones come in three colors, blue, pink and a charcoal gray, and will play up to 16 hours with ANC engaged — or up to 22 hours without using ANC. You recharge them through a USB cable.
Pros:
Designed for small heads and ears
Charge very quickly
Keeps decibel levels at recommended lower levels
Cons:
ANC is not as effective as higher-end headphones
No app to monitor the dB levels that they play
Sound a little muddy
From Your Site Articles
Related Articles Around the Web
Like GearBrain on Facebook