The curb appeal for tech — how an object looks — is key. Just ask anyone who ever swooned over the first iPhone. The 1More Stylish True Wireless In-Ear Headphones are aimed at this user, with a look that won an iF World Design award in 2019 for their look. The design extends to the sketches drawn on the inside of the packaging, to the small jewel box that holds and charges the earbuds. These are gadgets that are certainly pretty — but do they work as well as they look? We put the 1More Stylish True Wireless In-Ear Headphones to the test.
Read More:
1More Stylish Wireless Headphones
Sure "Stylish" is in the name of 1More's earbuds — but they're honestly likely to appeal to those who are tired of the normal black and white color options. The small Bluetooth devices come in metallic finishes in pink, gold, mint green and black.
Inside the package you get a pair of earbuds, a USB charging cord, a carrying case in the same color as the earbuds, three extra Silicone ear tips, and two pairs of O-Hooks which lock into the ear to get the right fit.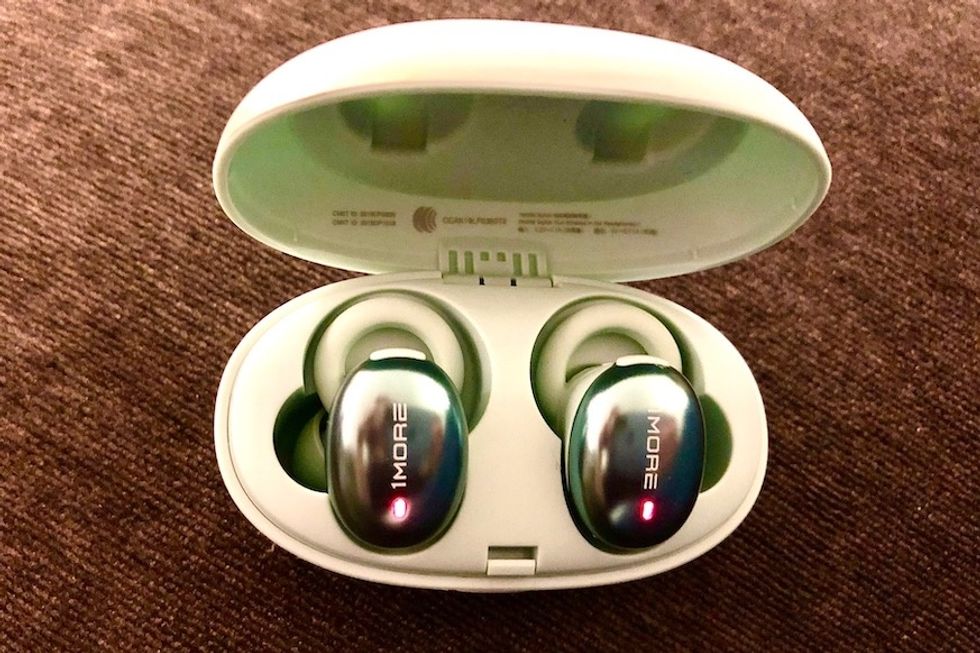 You charge the 1More Stylish True Wireless In-Ear Headphones in their matching charging caseGearBrain
How to launch

The earbuds could not be simpler to pair with your smartphone, working with both iOS and Android devices. First, place the earbuds in the carrying cases to charge them. The case not only keeps them from getting lost, but keeps them charged. Fully charged, and they'll work for 6.5 hours. And the case holds 24 hours of a charger. Put them in for 15 minutes, and you'll get three hours.
Make sure your smartphone has Bluetooth on and then look for the earbuds to pair. That's it. You can also pair directly with your phone, if Bluetooth is one, by clicking on the one single button on the top the earbuds. That button is also how you'll play and pause music from your smartphone, and pick up calls coming through your phone.
To turn them both on, you'll press and hold the buttons on both earbuds for two seconds. To turn them both off, you'll press and hold both the left and right button for four seconds.
To answer a call, you click once, decline a call breaking into your music? Press and then hold it. Click once for playing music and pausing, double click to push ahead one track and click three times to go back.
1MORE Stylish True Wireless Earbuds - Bluetooth 5.0 Stereo Hi-Fi Sound with Deep Bass Wireless Earphones Built-in Mic Headset, 24 Hours Playtime, in-Ear Bluetooth Earphones with Charging Case
Sound quality

Sound through the earbuds is fine — but it's slightly thin and tinny. Anyone who enjoys a deep bass sound is not going to get this here. You can hear music and also phone call conversations, but you won't mistake these for Bose or Beats. Still, you're likely picking these not for the audiophile qualities, but for their look. And for $100, they're a solid deal with most wireless earbuds clocking in at $70 to $100 more.
We did feel the ability to lock out sound — noise cancellation — worked well. Walking around town, I could hear a bit of what was around me, but mostly I wasn't disturbed by chatter walking past me.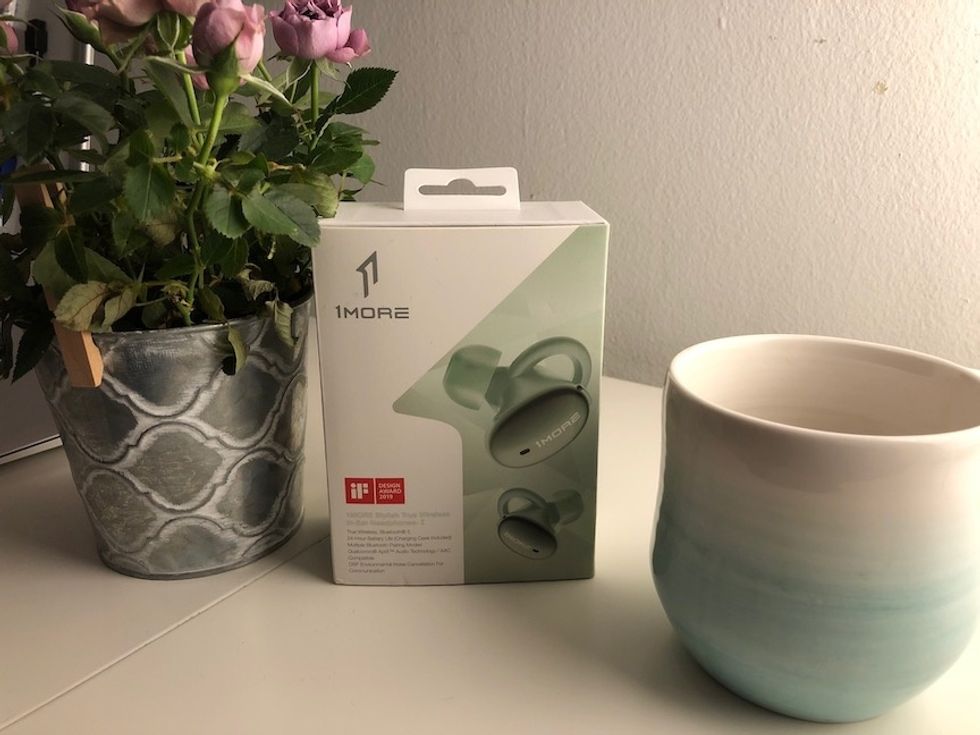 The 1More Stylish True Wireless In-Ear Headphones make connecting to your smartphone as simple as a clickGearBrain
We also found very little lag between someone talking and hearing, testing that with someone in an adjacent room so we could hear them speaking through the earbuds and by being close. The company actually mentions this low latency on its site, noting that a high-speed transmission of sound from your smartphone to the earbuds also means you can watch video on your device without experiencing any delay. We tested that ourselves as well — sound was in sync to the second of what we saw on screen. Nice.

Smart Home
A great feature is the ability to pick up Siri or Google Assistant by double-clicking quickly on the button. We didn't have one single issue bringing the voice assistant up on our iPhone — and it did so even with my smartphone locked. I could also hear Siri cleanly in my ear, and could operate it by just speaking aloud.
Cost:

The 1More Stylish True Wireless In-Ear Headphones are priced at $99.99. (Buy on Amazon.)
Should you buy them?
1More Stylish True Wireless In-Ear Headphones are light, firm in the ear and — for those looking to break away from the monotony of the black and white headphone options — a nice design flip. The sound is wanting a bit, and any true audiophile is likely to be disappointed with a bit of a tinny sound. That said, at $100, they're a solid price, and come stocked with features you'd expect from higher-end headphones including fast charging and the ability to link to smartphone voice assistants Siri and Google Assistant. That makes this Bluetooth pair from 1More easily worth considering.
Pros:
Colorful options including pink, gold, mint green and black
Price
Pairs quickly, easily and works immediately with Siri and Google Assistant voice assistants
Cons:
Sound is a bit tinny
Slight lag on phone calls
Metallic finish may not appeal to everyone
1MORE Stylish True Wireless Earbuds - Bluetooth 5.0 Stereo Hi-Fi Sound with Deep Bass Wireless Earphones Built-in Mic Headset, 24 Hours Playtime, in-Ear Bluetooth Earphones with Charging Case