You can think of a video doorbell as called ID for your home, using a camera and internet connection to show you who is at the door before you answer you. And the great things is, while that is handy if you don't want to budge from the sofa unless you have to, it also means you can see and speak to visitors from anywhere in the world.
Despite feeling like a gadget from the future, video doorbells are remarkably simple. They look and operate much like a regular doorbell, and can even be powered by the same wiring in some cases. They include a camera, microphone and speaker to allow for a two-way conversation between the doorbell and its companion smartphone app. You can also set up the doorbell to ring a chime plugged into a wall outlet (just like a regular doorbell), or even make an announcement via a smart speaker in the home. That way, Alexa can announce that someone is at the door.
Read More:
Another key feature is how video doorbells can act as security cameras, triggered by motion and recording video to the cloud – video that is HD color during the day and infrared night vision after the sun has set.
Despite their many features, video doorbells are priced from around $60, while the majority of options are between $100 and $200, and some stretch that up to around $250.
GearBrain thinks these five are a good place to start:
1. How is it installed and powered?

Instructions from Amazon for installing a Ring video doorbellAmazon
Most video doorbells are designed to fit in the same place and your existing non-smart doorbell. In many cases they also connect to the same wiring and can draw enough power to function with the wire used by the previous doorbell. You will often find everything you need in the box, and only very basic DIY skills are required. For example, the $60 Ring Video Doorbell Wired comes with a jumper cable to isolate the existing chime, and the doorbell unit itself connects to the wires already installed by your front door.
Other options can be made to work with your home's existing chime. However, companies like Ring also sell their own wireless chime for connecting to a wall outlet, or you can make do with the doorbell ringing your smartphone or smart speaker.
Some video doorbells are wireless. This makes installation even easier (just attach to your home with the included screws and mounting kit), but means you'll need to recharge its battery every few weeks. This isn't difficult, but can be annoying if you ever forget and are left without a working doorbell until the battery has been topped up.
2. How do you know if someone is at the door?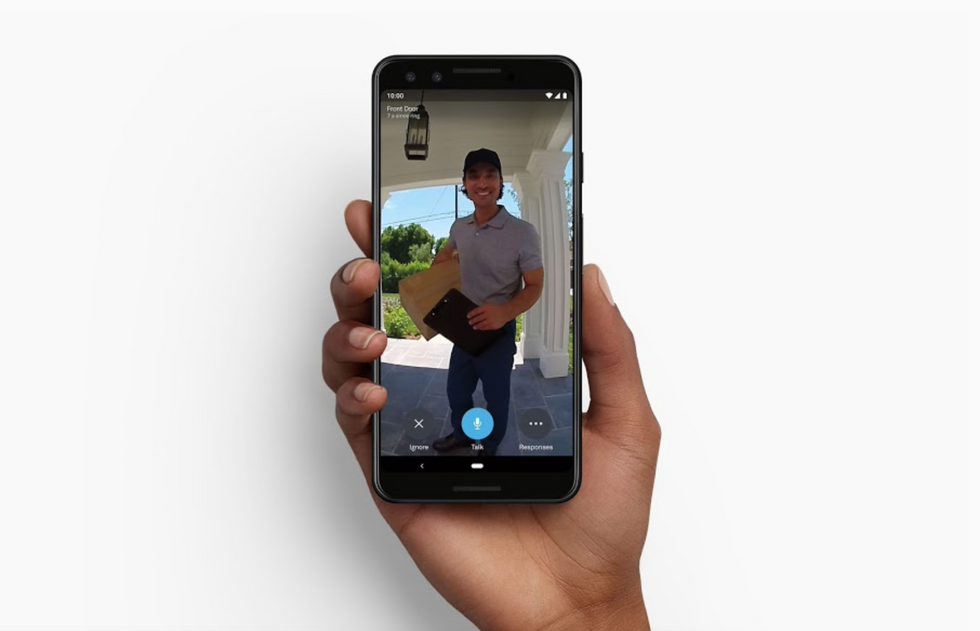 The Nest Hello has a tall aspect ratioGoogle
This question isn't as daft as it might sound. As we mentioned earlier, some smart doorbells don't work with your existing chime. So, unless you buy a new wireless chime then pressing the button will not make a noise in your home. Instead, you'll need to get used to your smartphone alerting you to visitors. You can also set the doorbell to alert you to motion, such as when someone is loitering nearby, and even automatically record a few seconds to footage when motion is spotted. These systems often need fine-tuning, as passing vehicles or a neighbor's cat can cause a false alarm until you have calibrated the camera's sensitivity and field of view correctly.

We recommend setting up the doorbell so that it alerts you phone when someone presses the button, but also rings a chime so that you'll be notified even if your phone is on silent, switched off, or in another room.
3. How resistant to theft and water are video doorbells?

Most of today's video doorbells are weather resistant. For example, looking again at the entry-level $60 option from Ring, Amazon claims it is weather resistant and designed to operate in temperatures ranging from -5F to 120F.
As for theft, this can depend a little on how the doorbell is installed. They all comes with mounting screws and brackets to secure them to the wall or door frame, but if a thief was determined enough they could feasibly break the device away from its mounting. This would take a lot of effort – and remember, they are trying too steal a security camera, on your front door, and with a clear view of their face. The device would alert you to motion long before they manage to remove it.
4. Why are some video doorbells more expensive than others?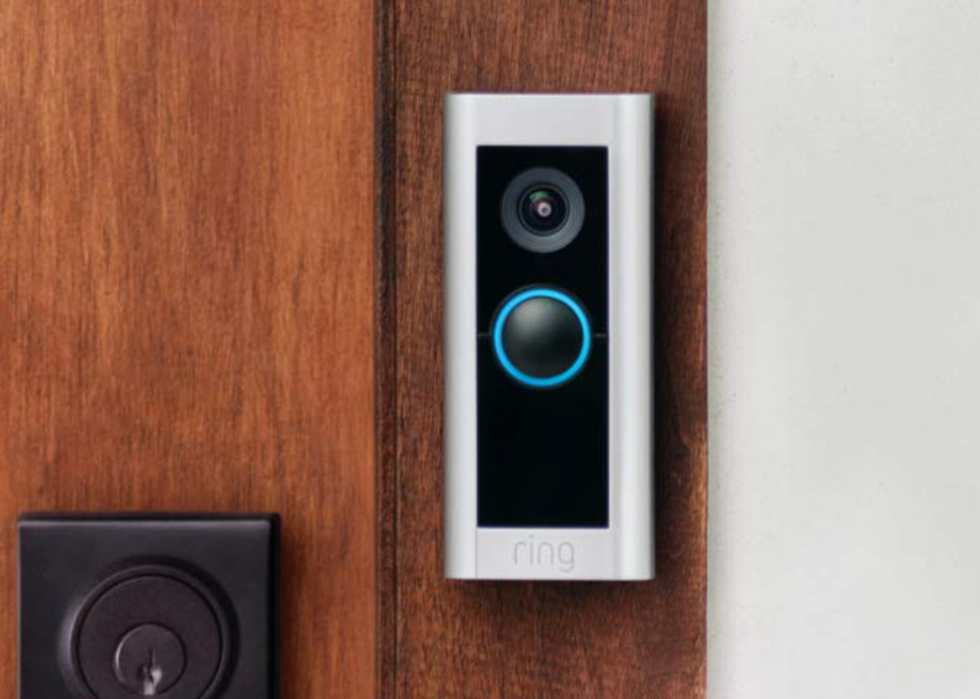 The flagship Ring Pro 2 is priced at $250Amazon
Another good question, as on the face of it many of these devices work in a very similar way. Let us look at the Ring range to play a game of spot the different between the $60 and $250 options.

The more expends model records video in higher 1536p resolution, compared ti the 1080p of its cheaper siblings. It also has a more advanced motion detection system, works with your existing chime box, has dual-band Wi-Fi and Alexa greetings, plus the option to change the face plate for a different color, and a broader view for seeing from a visitor's face to the ground. The latter makes it useful for checking on parcels left on your doorstep. Lastly, the more expensive model has improved audio over other versions.
We admit this isn't a huge list of must-have features, and the cheaper option (or mid-range $170 Ring Pro) would suit the needs of a great many smart home users. The flagship Pro 2 would only be worth it is you really value HD audio and that head-to-toe viewing angle. Meanwhile, the Nest Hello is equally expensive but features a tall viewing angle, plus HDR video quality and the option to have the doorbell play pre-recorded quick responses.
5. Is the video doorbell compatible with my smart home?
We have mostly focused on Ring doorbells in this article, but there are many other options from companies like August, Nest, Skybell and Blue. Naturally, Ring doorbells work best with an Alexa smart home system and the Nest Hello is best suited to a Google Home setup. But options from companies like Netatmo, Robin and Yobi work with Apple HomeKit, and doorbells by Eufy work with the company's own app (as well as Alexa).
Smart Video Doorbell Buying Guide - GearBrain www.youtube.com
Arlo Essential Video Doorbell Wire-Free |HD Video, 180° View, Night Vision, 2-Way Audio | 6-Months Battery Life | Direct to Wi-Fi, No Hub Needed | Wire-Free or Wired | White | AVD2001