One of the first smart security cameras GearBrain tested was Blink's Three Camera System + Sync Module. We really liked this system and how it formed a DIY smart home security system for the home. Also, their small squared shaped cameras were easy to place around the home and could store videos for a week back then for free using the sync module. It was a great system and their new video doorbell which we recently tested in a real home is following in their footsteps. Checkout how the Blink Video Doorbell with Sync Module 2 performed in a real home with average connectivity.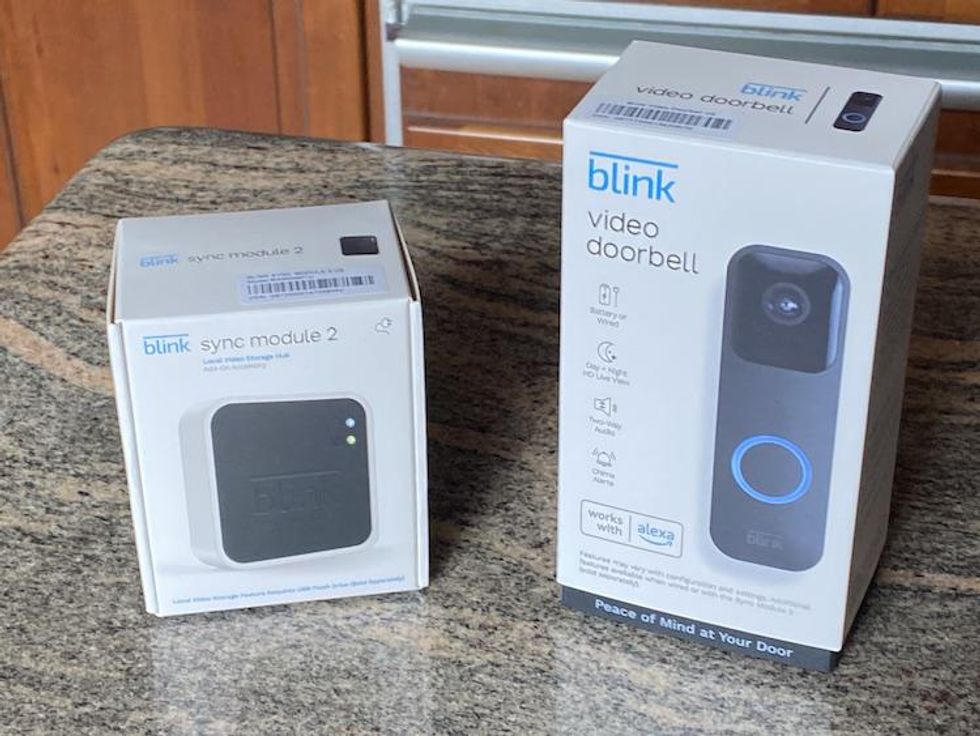 Blink Video Doorbell and Blink Sync Module 2GearBrain
What is Blink Video Doorbell?
The Blink Video Doorbell is a smart video doorbell that connects to your existing doorbell wiring or works as a battery powered video doorbell. It works on a 2.4 GHz Wi-Fi connection and is available in black or white. This smart video doorbell features a 1080P HD video camera which can record in Full HD or 1920 X1080P, has two-way audio and the ability to get notifications when someone rings your doorbell or motion is detected by the doorbell's HD camera.
Additionally, the Blink Video Doorbell features black and white night vision via an 850 nm infrared LED light, 15 to 30fps frame rate and a motion sensor with a maximum range of 23 feet or 7 meters for motion detection when mounted 48 inches above ground. According to Blink, the effective range for the motion sensor is 12 feet (3.6 meters) when knee level motion is detected
Besides its HD video camera, the Blink Video Doorbell also comes with a long-lasting battery and 135-degree field of view (FOV). You can adjust the camera's motion sensor's sensitivity and create motion zones for the doorbell to monitor. The Blink Video Doorbell can also store videos and photos locally using a USB flash drive. However, if you want to store your videos in the cloud, Blink offers two cloud storage plans: Blink Basic and Blink Plus Plan. The Blink Basic Plan costs $30/year or $3 per month and includes support for one device (camera or video doorbell). You also get 90 minutes of continuous live view streaming, motion detection video recording, live view recording, 60-day unlimited video history and rapid video access which is the ability to watch your videos as soon as they are recorded. You also can video share your videos and photo capture images with the Basic Plan.
The Blink Plus Plan costs $100 per year or $10 per month for unlimited devices. You get everything in the Basic Plan plus 10% off Blink devices sold on Amazon and an extended warranty. Note: you do get with purchase a 30-day free trial of the Blink Basic plan.
Tip on storing Blink videos: keep in mind if you don't have a cloud plan or a Blink Sync module 2, you will only get live-view and two-way audio when a doorbell is pressed or there is a motion event. You will not be able to get live stream or see motion event on-demand.
How do you install the Blink video doorbell camera?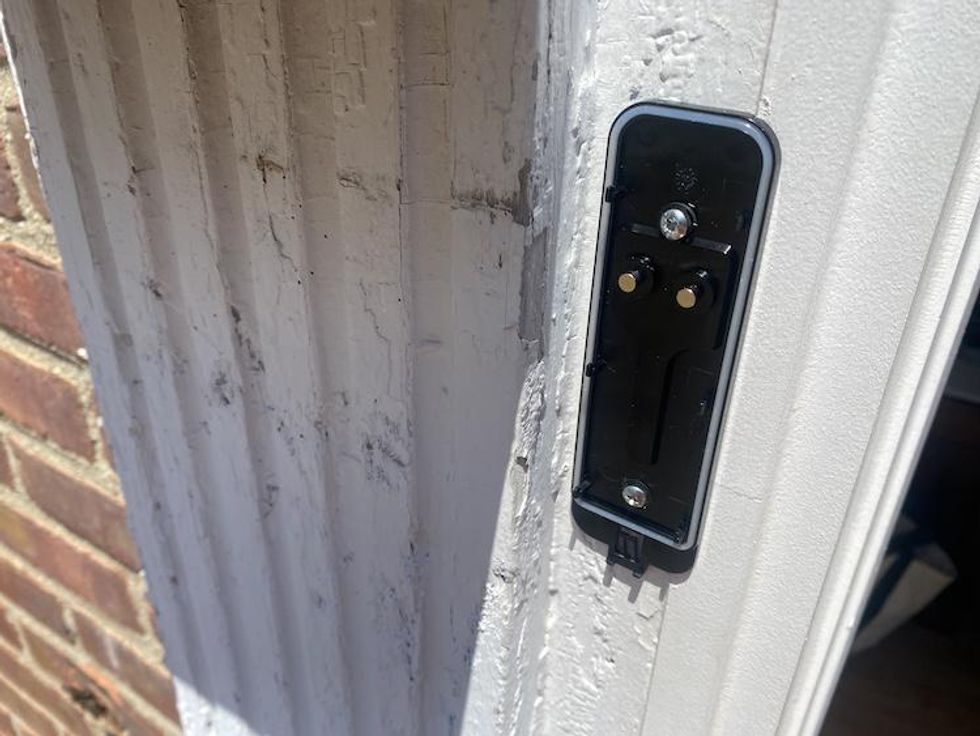 Iinstalling Blink Video Doorbell is quick and easy.
GearBrain
Set-up for the Blink video doorbell is simple, but we recommend before you start to check the wireless connection at the place you plan to install your Blink video doorbell. There is nothing worse than having low connectivity at the location you plan to install your video doorbell. Smart video doorbells send video files wirelessly through your home. If your connection is weak, it will impact the performance of the video doorbell.
Once you establish you have a good wireless connection where you plan to install your Blink video doorbell camera, the next step is to download the Blink app. This app is available in the App Store and Google Play and is compatible with both Android (5.0 and above) iOS (10.0 and above) mobile devices as well as Fire OS. Once you download the app and created an account, we recommend you follow the setup instructions in the app. The instructions are easy to follow and there are "how-to videos" which will guide you through each step of the installation process.
If you are replacing your doorbell with a video doorbell, Blink's doorbell works with your existing doorbell wires. If you connect the Blink Video Doorbell to your existing doorbell wires, you will be able to have your home's doorbell chime work with the Blink. You must have a 16-24 volts AC, 50 60 Hz with max 40 volt/amps. If you plan to use this setup, we recommend you check the power levels prior to installing. Based on previous testing of smart video doorbells, many of these devices require 24 Volts and we have seen performance issues when there is only 16 Volts. If you find you don't have enough power, you can always go with battery power. Just know you will not be able to have your indoor chime work with Blink. No matter which way you go, note you need to install the batteries in your Blink video doorbell.
The next step is to mount the back plate. Blink supplies a paper template which will help you show how far apart you need to drill the mounting holes. This template was very helpful to us during installation. If you need to adjust the angle of the doorbell for better viewing, Blink does sell a wedge or corner mount. These mounts are helpful if you have either a tight space to attach your doorbell to your house or need a certain angle to view visitors and monitor traffic outside your front door. Note the paper template can work with these brackets too.
Installation Tips for Blink Video Doorbell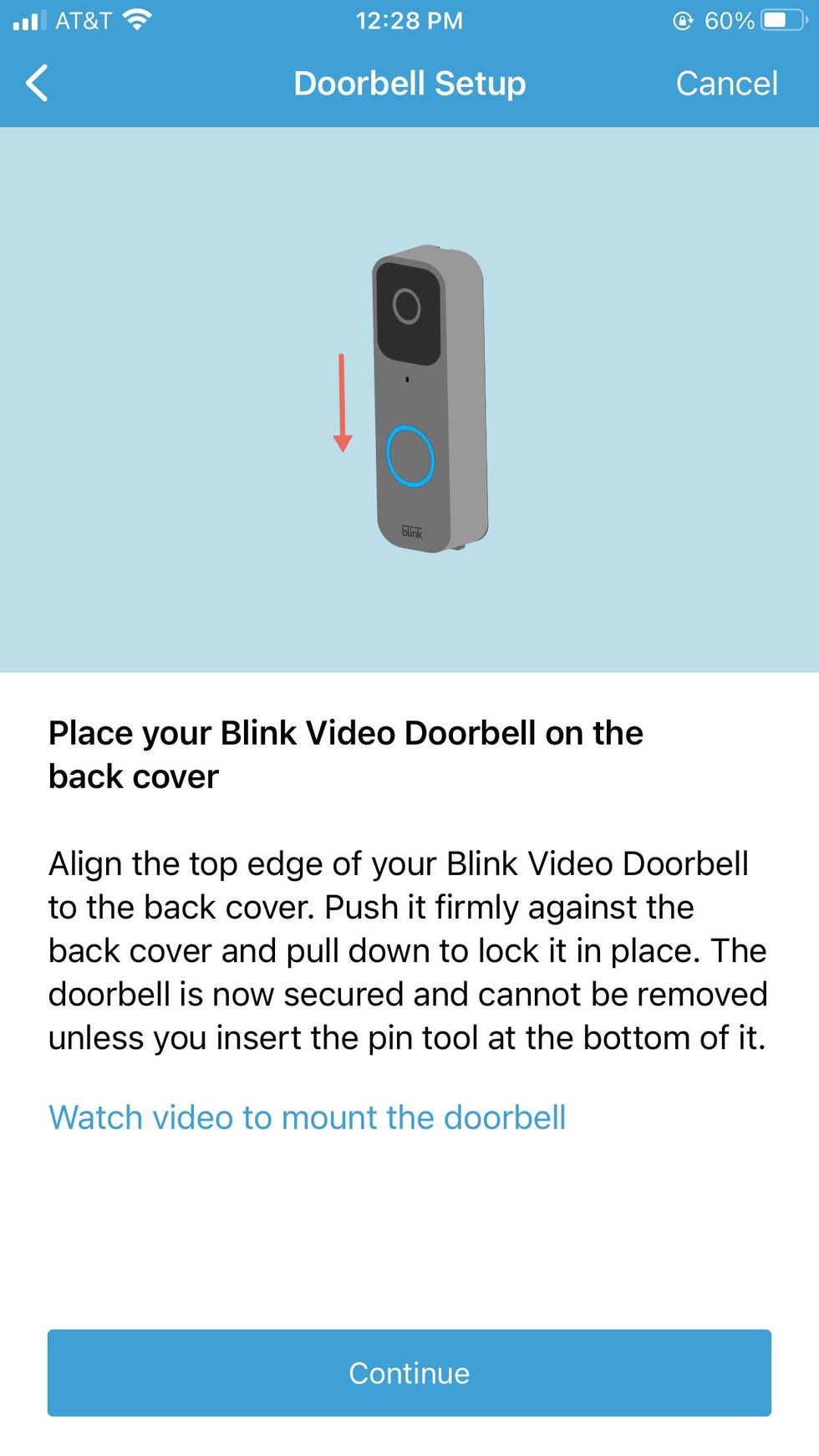 Good tips on installing Blink Video Doorbell in the Blink app
GearBrain
​One tip during setup of your Blink account, keep your Blink Video Doorbell box nearby. You will need to scan the barcode during the setup process. The code is on the box and doorbell. Another tip when attaching the doorbell to the back plate, make sure the doorbell snaps into place when you are mounting it on the back plate. You really must pull down on it until it snaps into place and connects the doorbell to the bracket.
How to setup Blink Sync Module 2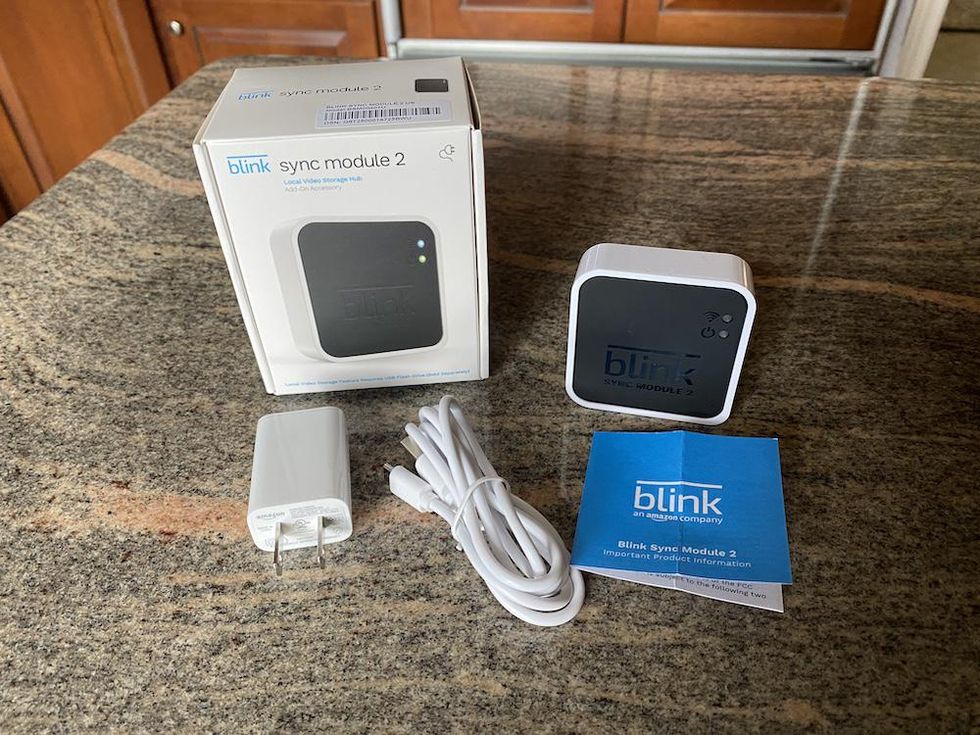 Blink Sync Module 2 unboxed GearBrain
Now that the Blink Video Doorbell is attached and live streaming through the Blink app, you can start the setup process for the Blink Sync Module 2. Note this accessory is an add-on but can store all your videos and pictures.
Setup for the Sync Module 2 is very easy. Just unbox it and connect the module to a USB power adapter and plug into a wall outlet. Then connect the Sync Module 2 to your Blink app and home Wi-Fi network. Once connected, the module will sync with the Blink Video doorbell via the Blink app.
The Sync Module 2 is compatible with Blink Video Doorbell, Blink's Outdoor and Indoor (Gen 2) cameras as well as the new Blink Mini Camera. What's nice about the Sync Module 2 is its ability to store your videos locally or in the cloud as well as help save your video doorbell's battery life by not storing the videos on the cameras. To store videos locally using the module, you need to connect a USB Drive with 1 GB up to 256 GB. All videos and images will be saved directly to the USB drive, and you will have to manually delete them. If you have a Blink Subscription for the cloud, the Sync Module will do a once-daily video backup and save it on the system.
How to setup Motion Zones for Blink Video Doorbell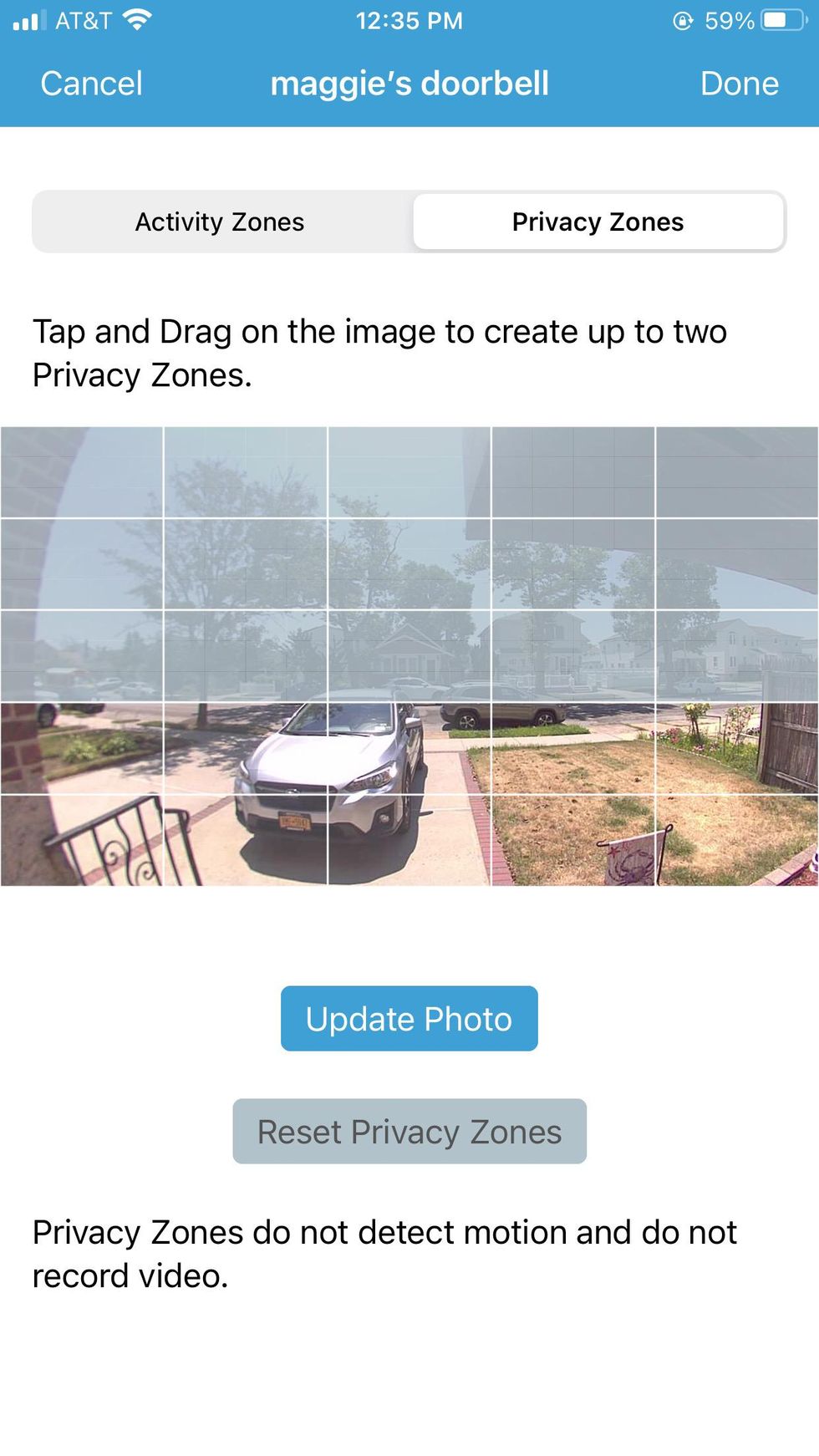 Use the Blink app to set activity and privacy zones for your Blink Video Doorbell. GearBrain
Once the doorbell is installed and connected to the Blink app, you can begin to set up custom motion or activity zones in the app. Note when setting up these motion zones the Gray areas are not the areas the doorbell is monitoring, they are the areas Blink will not monitor. So, keep this in mind when selecting your zones.
In creating privacy zones note you can create up to two privacy zones in the Blink app for your Blink video doorbell.
In addition, note the motion sensor on the Blink Doorbell camera is very sensitive. You will need to adjust the sensitivity in the Blink app to make sure you don't get a lot of false alerts.
How much does Blink Video Doorbell Cost?
The Blink video doorbell has a list price of $49.99 and you can add the Sync Module 2 which would bring the total cost to $84.98. Blink also sells bundles with their other security camera products as well as the Blink Mini which can function as an indoor Chime if you want for a total cost of $119.97. If you are planning to use batteries to power the Blink Video Doorbell and want a chime inside your home, this is a good bundle for you to consider, All Blink products are available for sale on Amazon, Best Buy, Walmart, Target, Home Depot, Lowe's and major retailers.
Is this a good price for a smart video doorbell? We think it is and here is why. When you look at the leading smart video doorbells that can use your existing doorbell wires or batteries, they cost around $170 or more. Many require a monthly plan to store your videos in the cloud and few offer local storage options. Ring does have a low-cost option, Ring Video Doorbell Wired which lists for $59.99 and has a FOV of 155 degrees. But it only works when connected to your existing doorbell wiring. There is no battery powered option and you need to buy a Ring Plug-in adapter or Transformer for power. Though Blink's doorbell does have a smaller FOV (135 degrees), it makes up for it with price and cost for video storage if you get Sync Module 2.
Blink Add-On Sync Module 2
Smart Home Integrations
Blink Video Doorbell is compatible with Amazon Alexa enabled devices. If you have an Amazon Echo smart speaker or display, you will be able to use voice commands to see live stream of video from Blink Video Doorbell on your Echo Show smart display or just start recording. You can also use the Echo Dots and other Echo smart speakers as indoor chimes for your Blink doorbell. However, if you don't have any Alexa devices, be aware Blink will only ring on your smartphone when the doorbell is pressed, or you get a motion alert.
Another smart home integration you don't get with Blink Video Doorbell is with smart home security systems. If you want a smart video doorbell to work with your ADT, Vivint, Abode, SimpliSafe, Ring Alarm Pro or any professionally installed and monitored home security system, note Blink does not work with any of these types of systems. Many of these smart home security companies sell their own smart video doorbells to work with their platforms. If you want your doorbell to connect with these security systems, we recommend you use The GearBrain, our compatibility finder for smart devices. It's free and easy to use, plus it can find any type of smart device compatible with your existing home security system or devices.
If you want to start building a do-it-yourself (DIY) smart home security system with Amazon Alexa working as the hub, Blink Video Doorbell is a smart affordable option. Besides the doorbell, Blink has a full offering of indoor, outdoor security cameras and sensors that can secure your smart home and Alexa can function as the hub for all these devices.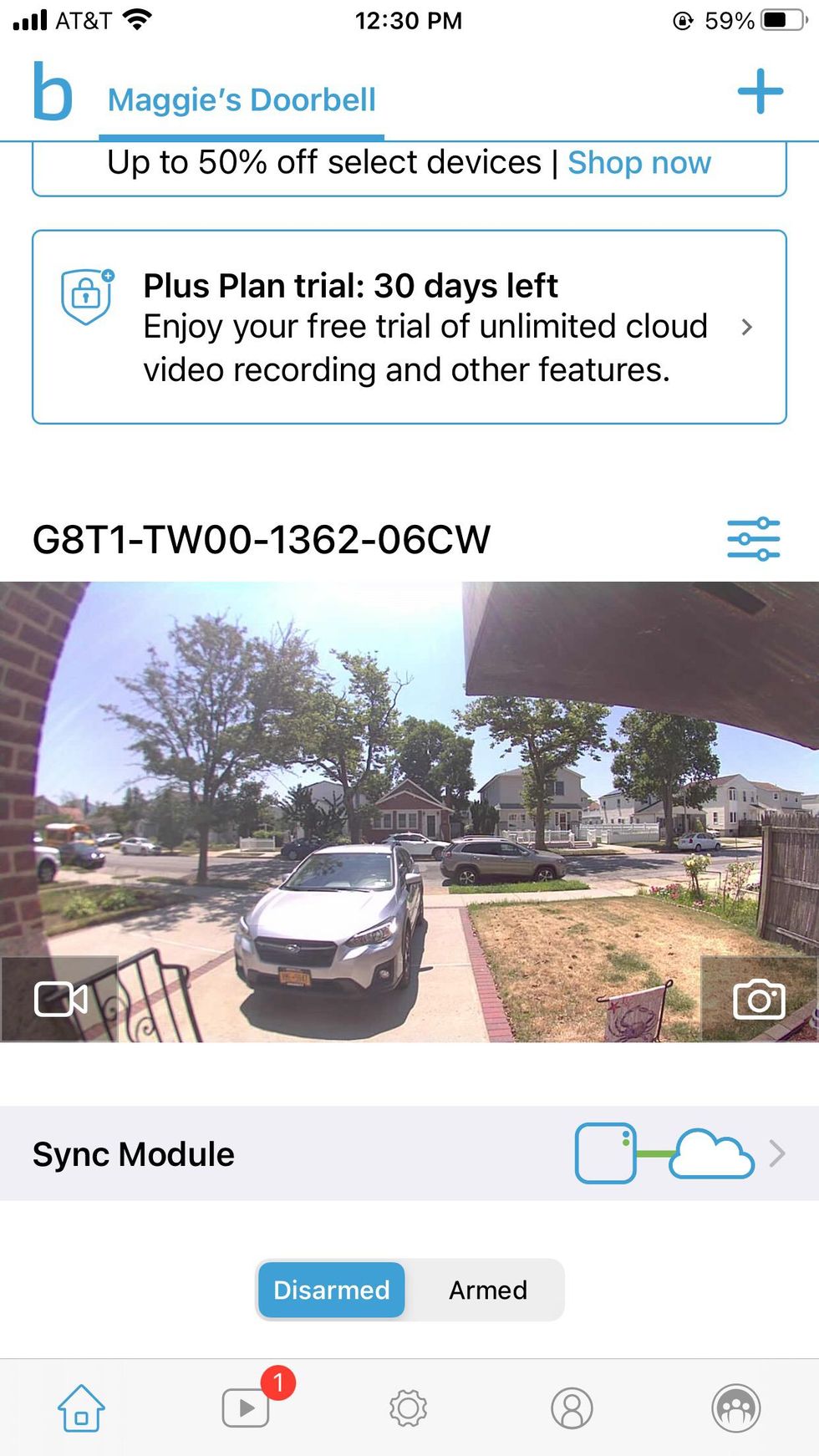 Blink app allows you to arm and disarm your doorbell and cameras.GearBrain
How well did the Blink video doorbell perform?
We tested the Blink Video Doorbell on a real home. The doorbell was installed by the front door and the router was upstairs in the back bedroom room. Connectivity was good and we had no issues with viewing live streaming videos or speaking with guests who rang our doorbell.
When using the Blink app, we liked how it functions as the home screen for your home security system. Besides access each Blink device or camera, you can also Arm and Disarm your Blink devices just like you would arm and disarm your home security system. Arming and disarming provide different functions. For instance, when Blink is Armed, you will receive motion alerts from the camera, but when it's disarmed, you don't get any motion notifications, but you do get sounds when the doorbell is pressed.
During testing, we did experience a few issues with Blink's doorbell. The first issue was with the doorbell's video resolution. Though the camera records and livestreams 1080pHD during the day and uses infrared HD at night, the images got a little grainy when we zoomed in on them. Also, the field of view was slightly small compared to other smart video doorbells we have tested. However, for our test home, FOV worked.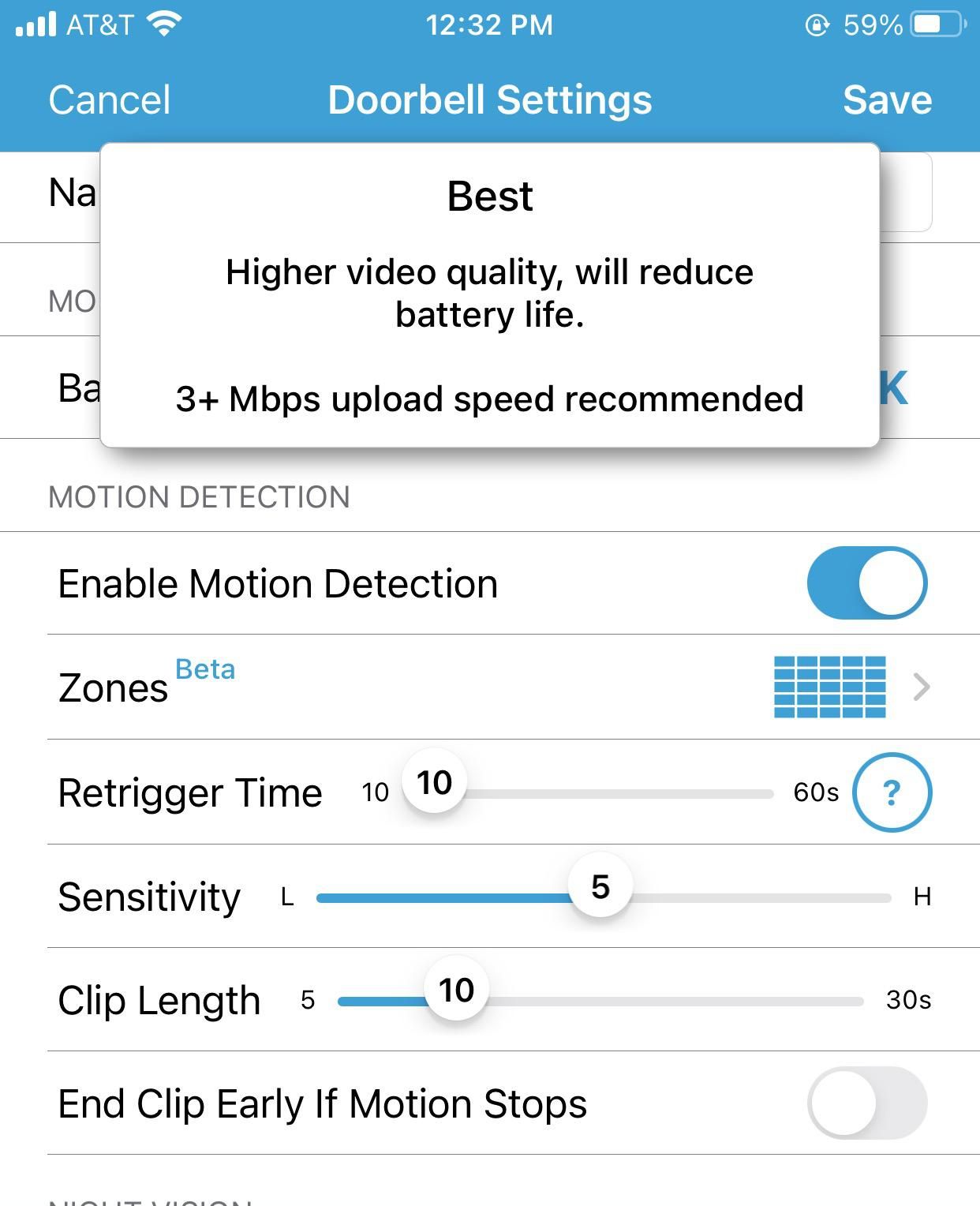 Use Blink app to enable motion detection as well as adjust motion sensitivity.GearBrain
Next issue we experienced was with setting up activity and privacy zones. Activating these two features was quick and easy. We were a little confused at first since many other smart video doorbells with customized motion zones have you select the areas you want monitored. For Blink, you select the zones on the screen you don't want to monitor for motion. Once our zones were setup, we had to adjust the sensitivity for the activity zones. The sensor is very sensitive, and we got a lot of false alerts from the wind blowing a sign on our door which was in the doorbell's view. You most likely will have to adjust these settings once your doorbell is setup, so you don't get tons of false notifications.
We also had difficulties with attaching the doorbell to the back plate. According to the instructions, your Blink doorbell will easily attach to the back plate. All you must do is angle the top of the doorbell as you attach it to the back plate. Once the top part is touching the back plate, you press the rest of the doorbell against the back plate and then pull down. You should hear a clicking noise. This means your doorbell has been securely attached to the back plate. It took us a bunch of tries before we were able to hear the clicking noise. Something for you to be aware of when installing the doorbell.
As for the Sync Module 2, saving videos was simple and connecting with Amazon Alexa as quick. We did have a little problem with getting Amazon Alexa speakers to act as internal doorbells. If you plan to use an Echo Dot or Alexa Enabled device to notify you when your Blink Doorbell is pushed or motion is detected, make sure you go into the Alexa app and check settings for cameras. You will see the Blink Video Doorbell listed on your camera devices (if paired already with Alexa). Just go to settings and activate motion announcements and Doorbell press announcements. Then you can select the sound your Alexa speaker will make when these actions occur.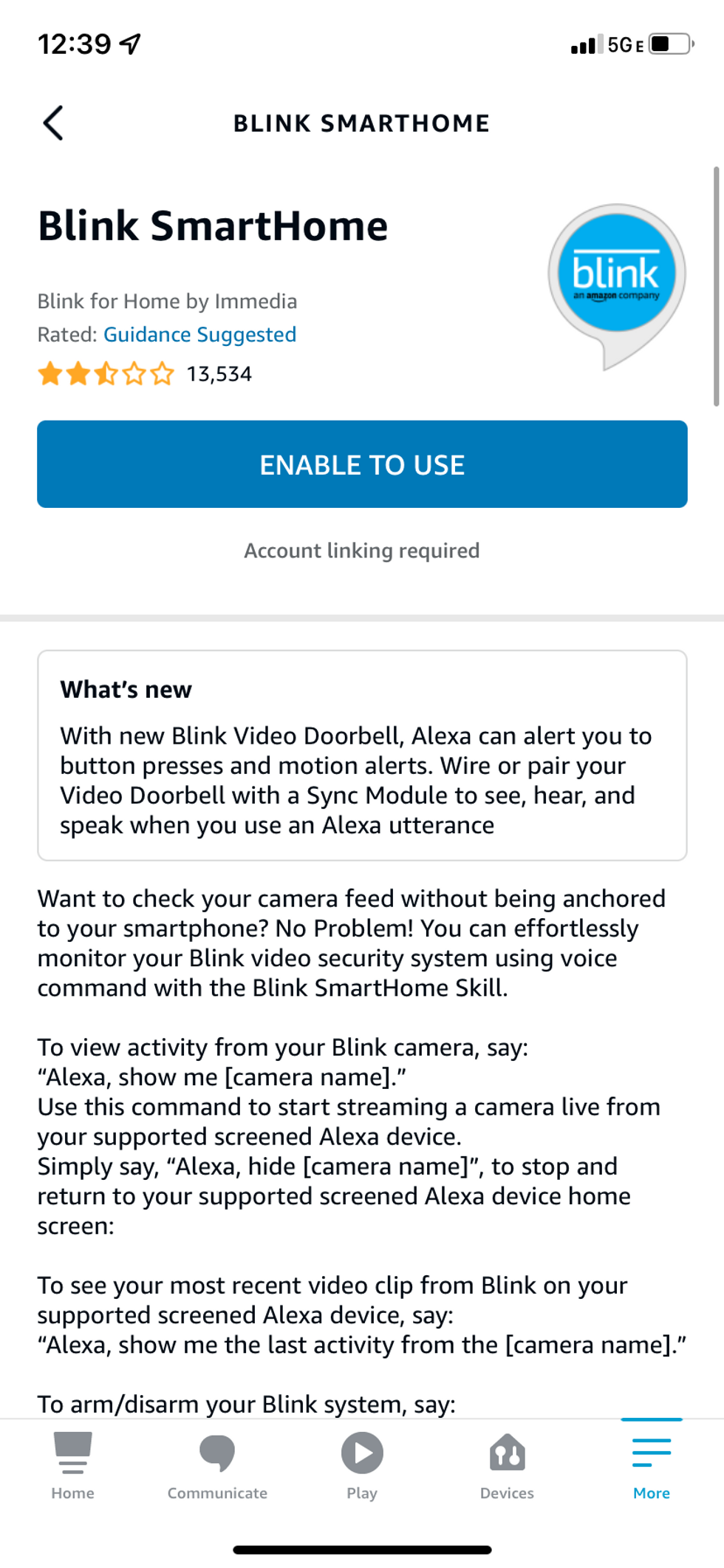 Activate Blink Skill in Alexa app and then select doorbell sounds for your chime.GearBrain
Summary
If you are in the market for a smart video doorbell that will work with you professionally installed and monitored smart home security system, Blink is not the video doorbell for you. However, if you are looking to build your own DIY smart home security system and plan to use Amazon Alexa as your hub, Blink Video Doorbell is an excellent choice. It can work as either a wired or battery powered video doorbell. It has 1080pHD video resolution, two-way talk that is crisp and clear, and comes at an attractive price. Plus, Blink has a full line of smart security cameras which you can combine to form a powerful DIY smart home security system controlled by Amazon Alexa and can secure both inside and outside of your smart home. And if you don't want to pay for cloud storage, Blink offers a smart add-on, Sync Module 2, which can store all your videos and images locally with no contracts.
Since the first time we tested Blink security camera until now, we can say Blink offers quality and reliable smart home security products at an appealing price point. Their video doorbell is a good addition to the Blink family of security cameras and can help keep your smart home safe and secure. It's also a reliable video doorbell to start building your own DIY smart home security system.
Pro
Price
Easy setup
Can add Sync Module 2 to store videos locally
Works as a battery powered or wired video doorbell
Cons
Does not work with other smart home security systems
Works only with Amazon Alexa – No Google Assistant compatibility
Video resolution gets grainy when you zoom in
Field of View is small – 135 degrees
Blink Video Doorbell + Sync Module 2 | Two-way audio, HD video, motion and chime app alerts and Alexa enabled — wired or wire-free (Black)
Smart Video Doorbell Buying Guide - GearBrain www.youtube.com