Like GearBrain on Facebook
At GearBrain, we have been testing smart video doorbells for over 6 years. We've seen them grow from battery powered Bluetooth connected devices to fully integrated smart home security products that secure the outside of your home. Ring has been at the forefront of the category and recently we got the chance to test their new smart video doorbell, Ring Video Doorbell 4 on a real home with normal connectivity. Here is what we found.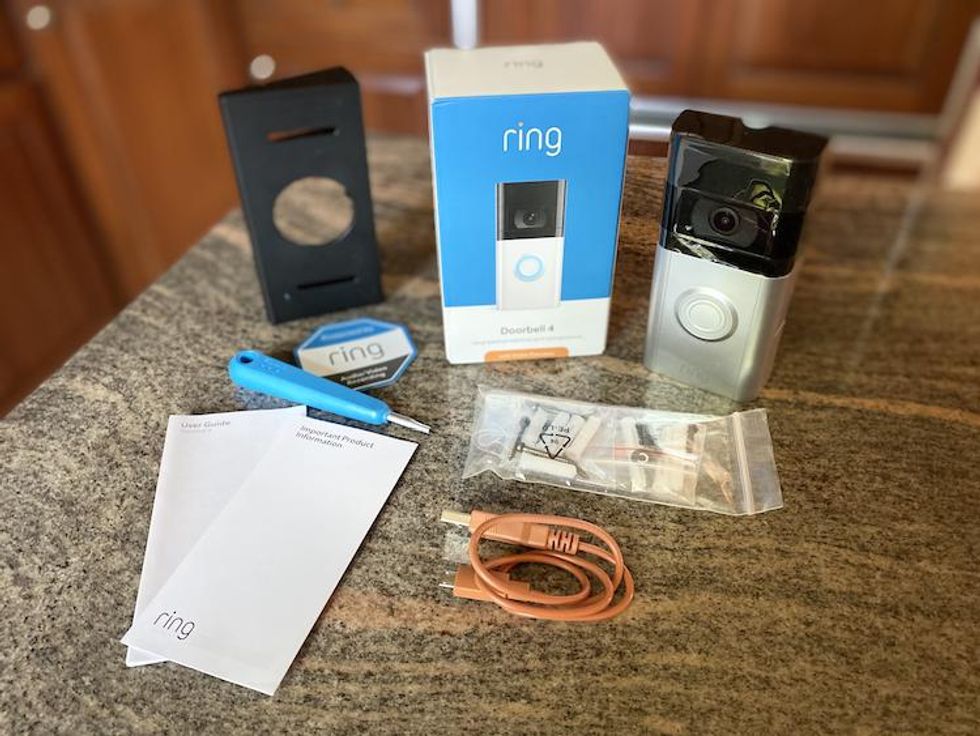 Ring Video Doorbell 4 comes with power adapter, screws, mounts and instructions.GearBrain
What is Ring Video Doorbell 4?
Ring's new Video Doorbell 4 is their latest smart video doorbell. It is a battery powered and wired smart video doorbell. If you have an existing wired doorbell with 16-24V transformer, you can connect the wires on the back of the Ring Video Doorbell 4 or you can use the Ring 4's rechargeable batteries.
The new Ring Video Doorbell 4 features a 1080p HD camera, 160-degree field-of-view (FOV), two-way communication with noise cancellation, a Live View of your doorbell in the free Ring app, color night vision and customizable motion controls. It works on a Wi-Fi connection using either a 2.4 GHz or 5 GHz setting. And setup is quick and easy.
The brain of the Ring Video Doorbell 4 is the Ring app. The app is where you setup all the magic needed to secure your home and prevent false alarms, unnecessary alerts, or notifications on your smartphone. On the dashboard, users can create custom motion zones by selecting the areas in view you want the Doorbell to monitor. You can also setup integrations with compatible devices, like smart locks, smart garage door openers and other security cameras and systems.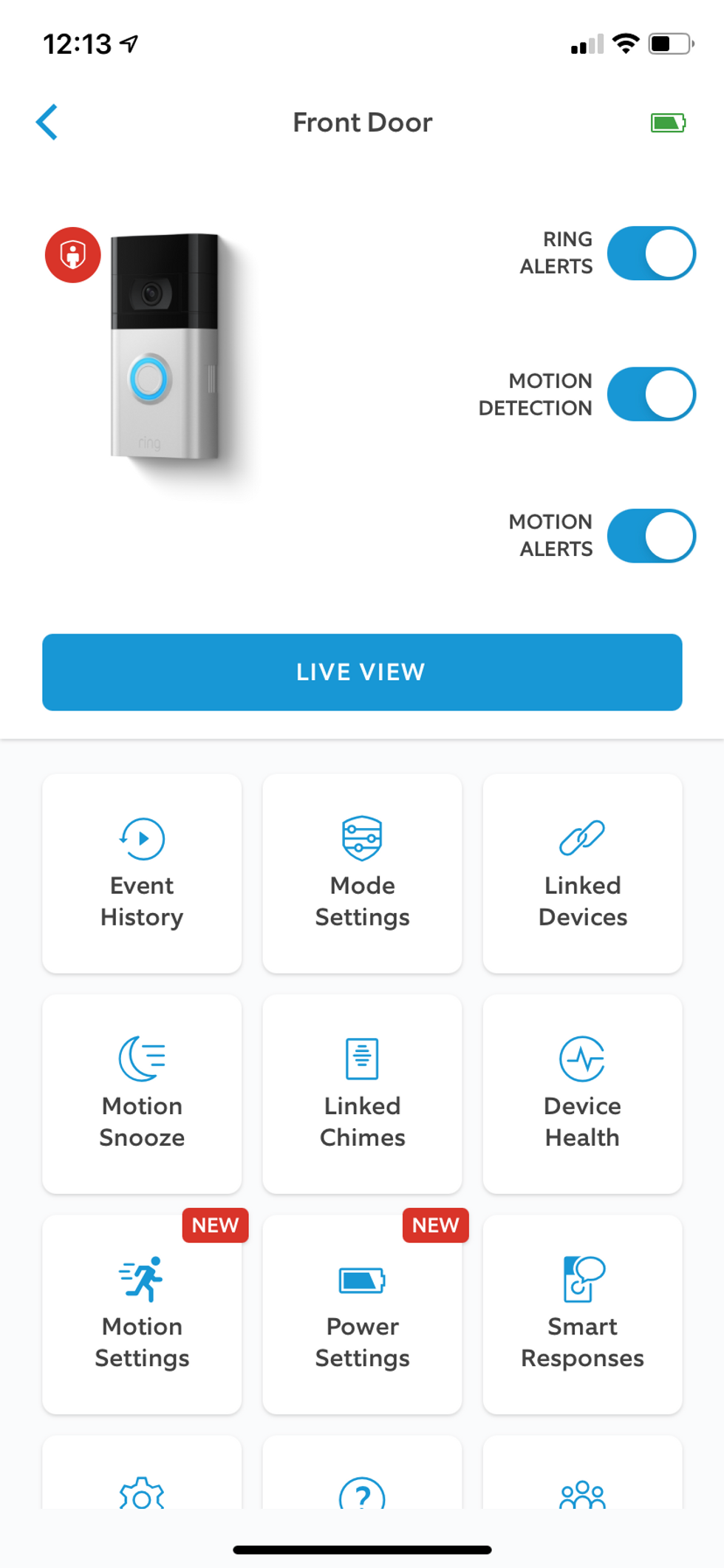 Dasboard for Ring App is where all the magic starts.GearBrain
Features in Ring App
Besides setting up notifications and the settings for your new Ring Video Doorbell 4, there are other key features to use in the Ring app. One new feature is the Pre-Roll Window. On the main video screen in the app, you will see a pre-roll window that shows color previews of who was at your door 4 seconds prior to a triggered motion event. This feature is something we have not seen in any other video doorbell app.
Ring app also offers privacy controls. Users can set privacy zones which are areas in view you don't want your Ring Video Doorbell to monitor. This might be your neighbor's yard or front walkway. But keep in mind when setting this feature, any time a person enters these zones, your Ring Video Doorbell will not record.
Another nice feature in the Ring app is video recording length in the Video Settings. A user can set the time limit you want to record motion events not opened in the app. But keep in mind if you are using the rechargeable battery setup, the longer the recording the more battery usage.
Smart responses are new features we tested. Smart responses are pre-audio recordings you can use when you can't answer your doorbell. It works like an answering machine. In the Ring app, there are six pre-recorded greetings for you to choose from or you can create your own response. Select one and when someone rings your doorbell, it will play. However, keep in mind when using this feature, you need a Ring Protect Plan to view recorded messages. So, make sure you test this feature during your 30-day trial to see if this is something you want or need for your home.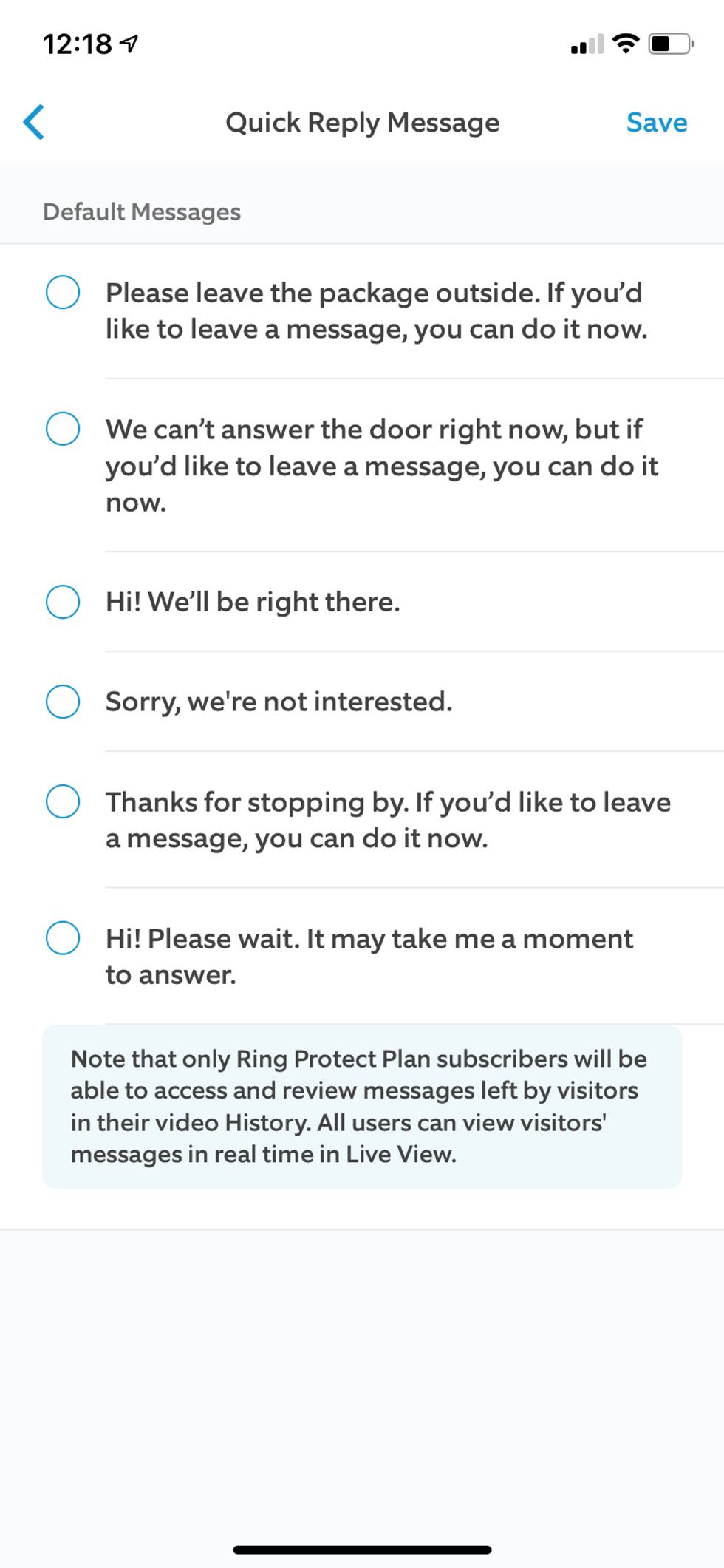 Setup quick replies in Ring app.GerarBrain
How to install

Setup of your Ring Video Doorbell will be quick and easy if you have a good Wi-Fi signal at the location you plan to install your Ring device and if you are using the rechargeable battery. If you have a good wired connection from the existing wired doorbell, setup will still be a bit longer but it's not difficult.
Our recommendation is to follow the setup instructions in the Ring app. They are easy to follow and will help troubleshoot any issues you might experience during the setup process.
Here are a few tips that will help during the installation process:
Prior to installing (and even buying a Ring Video Doorbell), make sure you test the Wi-Fi connection where you are installing the camera. You will need a good Wi-Fi connection for the video doorbell to work properly. If you don't have a good connection, you might need a Wi-Fi extender or repeater to help boast your Wi-Fi signal.
For wired setups, check the voltage of the wires from the existing doorbell. Ring needs 16-24V to run properly. From our experience with setting up smart video doorbells, the voltage needs to be closer to 24V. And many older homes that do have wired doorbells, the transformers are old and don't have enough power to consistently work with video doorbells.
Make sure the molding of the door is wide enough for the Ring bracket to be secured. Many older homes have thin moldings around the door frame. Ring Video Doorbell 4 is wider than the Ring Video Doorbell Pro 2 and could make installation harder for you.
Make sure you don't lose the installation tool. It looks like a screwdriver and is used to secure the faceplate that goes over the rechargeable battery. This tool works like an Allen key and fits perfectly with the screws for the Ring Doorbell.
If using the wired connection, the Ring doorbell will work with your existing doorbell chime if it's compatible. Ring Video Doorbell 4 is compatible with AC-powered door chimes that are mechanical or digital. On the Ring website or in the help section of the Ring app, you can find a list of compatible and incompatible chimes.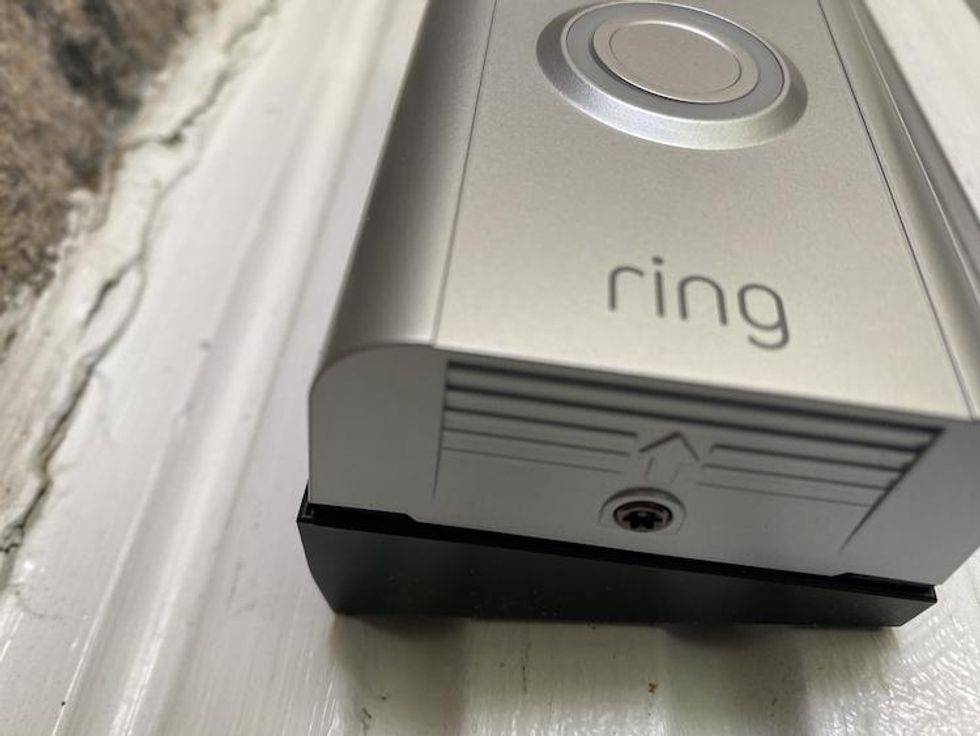 Make sure you secure screw underneath doorbell to prevent faceplate from coming loose.GearBrain
Smart Home Integrations
Ring has a very large and robust smart home ecosystem. What Works with Ring consists of Ring devices as well as other smart connected products from leading manufacturers. You can easily find these devices by using The GearBrain, our compatibility find engine for smart devices.
In the Ring app, you can see the variety of smart devices that work with Ring through their app. Some of these devices are made by Ring, such as flood light cameras, smart lighting, and DIY smart home alarm systems. And there are devices made by third parties who have integrated with Ring's platform. For many of these devices, check to see if you need either a Ring Alarm Base Station or a Ring Bridge to control them with the Ring app.
Graphical
Ring Video Doorbell 4 also works with Amazon Alexa enabled devices but does not work with Google Assistant enabled devices. If you own an Amazon Alexa smart display, you will be able to see and talk with any visitor standing in view of your Ring doorbell. Setup is a breeze and quick. Just follow the setup instructions in the Ring app to enable the Ring skill in the Alexa app.
The most important integration when it comes to a smart video doorbell is with a smart lock. You want to be able to speak with the person at the door and unlock it using the same app. You don't want to use two different apps. It's an inconvenience and not the way these smart devices were meant to work together. There are a few smart locks that integrate with the Ring app. There is Schlage Encode Smart WiFi Deadbolt lock which work with Ring Video Doorbells and Cameras. If you own a Ring Alarm Systems, your selection of smart locks increases. Since Ring Alarm works on a Z-Wave connection, you can integrate any Z-Wave smart lock with the Ring app using Ring Base Station as the hub.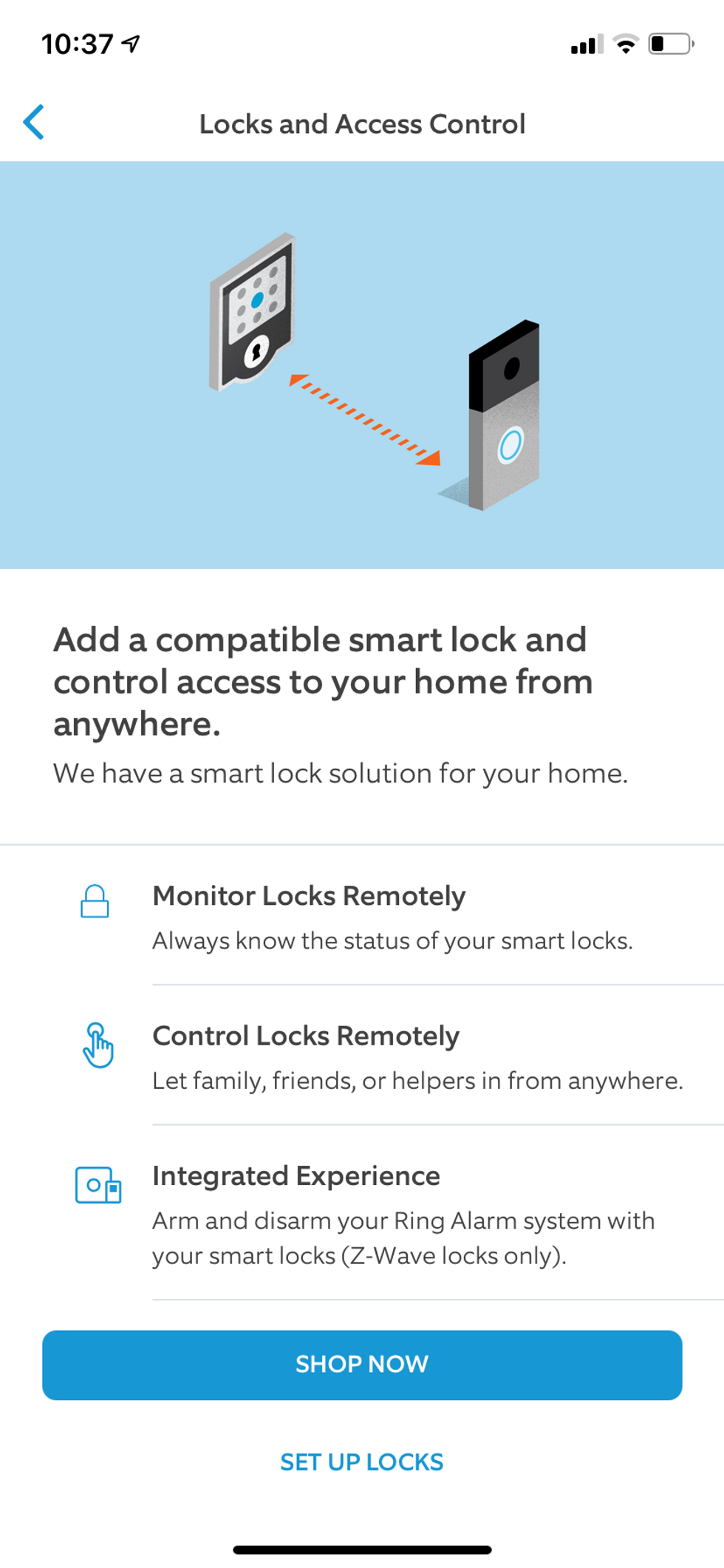 Use Ring app to setup compatible smart locks.GearBrain
Cost
Ring Vide Doorbell 4 costs $199.99 and is available on the company website, Amazon, Best Buy, Lowe's and other consumer electronics stores.
In addition to the cost of the video doorbell, there is a monthly fee for Ring Protect Plan. You do get a free 30-day trial with purchase which is helpful. You can test out all the new features to see if you need a plan. Ring offers two plans: basic and plus. There is also a free plan which provides motion activated notifications, real-time video in Live View, two-way talk, and Lifetime theft protection.
The Basic plan costs $3 per month or $30 per year. It comes with all the features in the free plan plus, video storage for 60 days, video saving and sharing, snapshot capture, people only mode and rich nonfictions for one device.
The Plus plan costs $10 per month or $100 per year and includes all the options in the Basic plan plus 24/7 professional monitoring for Ring Alarm, extended warranties for all devices and 10% off select products at Ring.com. This plan is designed for users who have a Ring Alarm system with cameras.
Performance

Ring Video Doorbell 4 performed as we expected. I mentioned earlier in the review we have been working with Ring devices since we launched our site. Each time we tested a new Ring device, we are treated to a new feature which is nice. For Ring Video Doorbell 4, it was nice to see the customer get the opportunity to use the doorbell as either a battery powered or wired device. We like how you can use a compatible smart lock to work in tandem with Ring Video Doorbell 4. Though the selection of smart locks is minimal, you can get Ring Alarm System and use the Base Station to increase your options for smart locks dramatically.
We also like how the wired setup allows you to use your existing doorbell chime if you want as your chime. For users who are using the rechargeable batteries, you can use Ring Chime as your indoor chime or Amazon Alexa enabled devices, if you own one.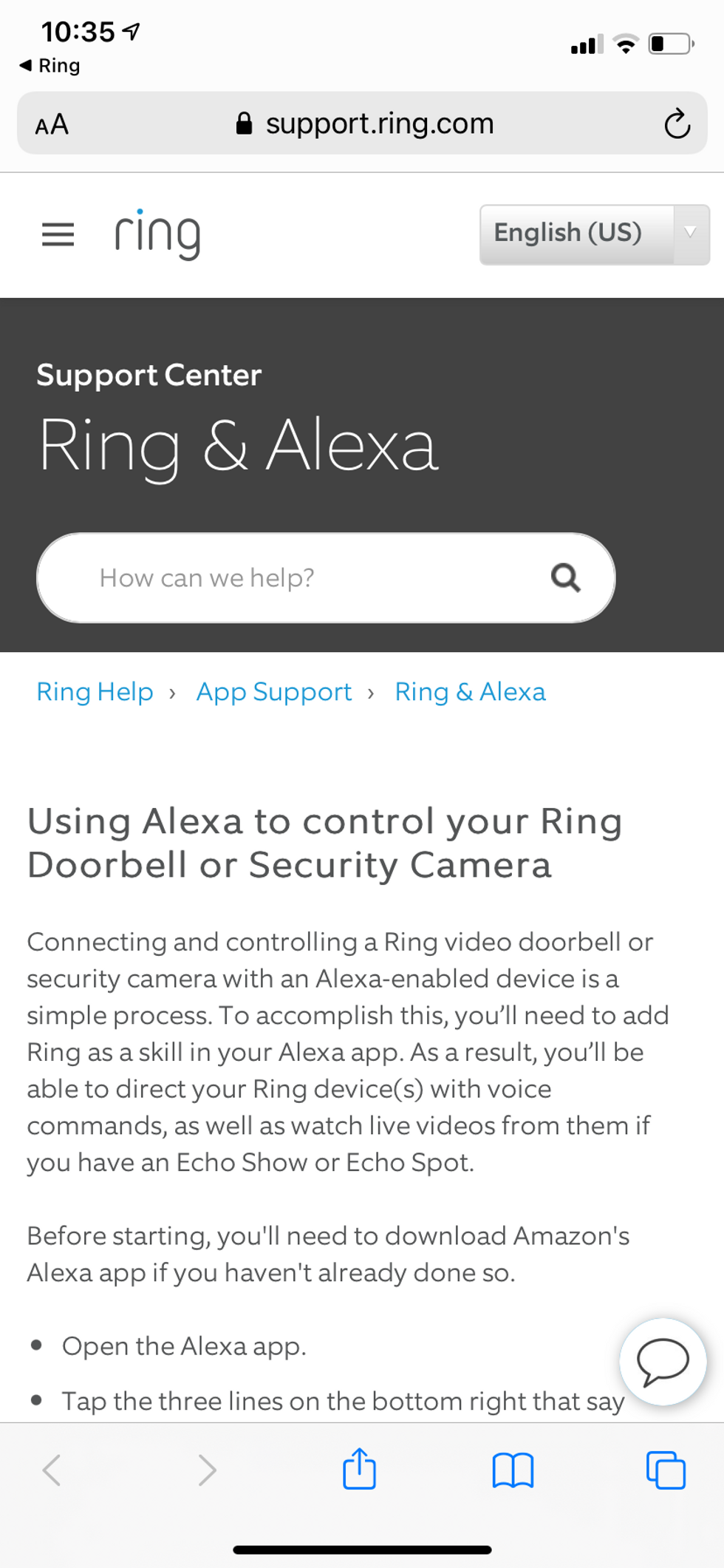 Connect your Ring Video Doorbell 4 with Alexa in the app.GearBrain
Another new feature we liked was the Pre-Roll feature in the Ring app. It's nice to be able to see up to 4 seconds of color video prior to the triggered motion event. Normally you would have to leave the video screen and go to another section in the app to see previews. Now it's right there at your fingertip.
When testing the new Ring Video Doorbell 4, we found the color night vision to be very crisp and clear. On our test house, we had a porch with a light that shined into the view of the Ring video doorbell 4. Even with the porch light on, our view beyond the porch was visible. In fact, when we zoomed in on our smartphone, the street and our neighbor's house which were more than 30 feet away were easily detectable. You could even see what was on the street in the darkness.
One issue we found surprising was Ring's video storage plans. When you buy a Ring video doorbell, you get a Ring Protect 30-day free trial. The trail allows you to use all the features for 30-days including cloud storage, video sharing, snapshot capture, smart responses and more. But after the 30 days, if you don't sign up for a plan, the free version is hard to use and includes no video storage. You can't save videos or see a video once it's no longer live. Many video doorbells and smart security cameras offer at least 24-hour video storage for free. Or you can download video onto a microSD card. But to get the most out of your Ring device, it seems to us you will need to consider buying a plan.
Night Vision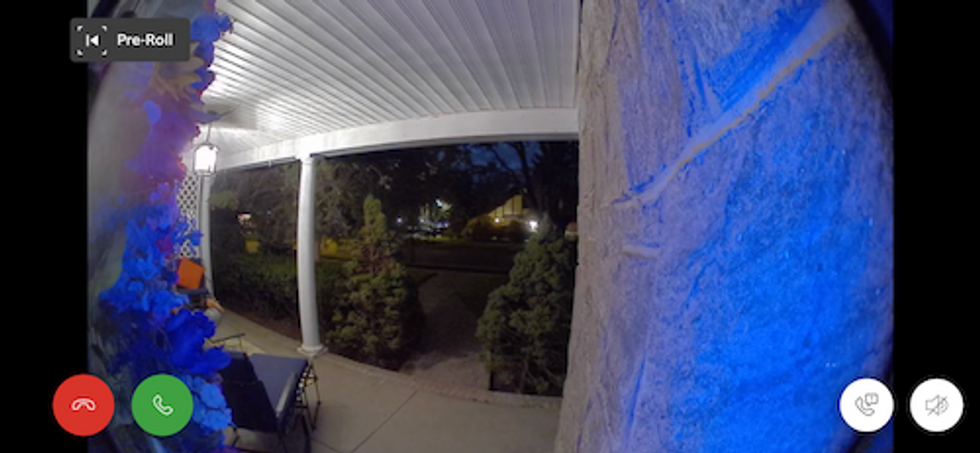 color night vision and preview window in alpp
GearBrain
Ring offers color night vision and pre-roll window in app.
Setting up Motion Detection - Daytime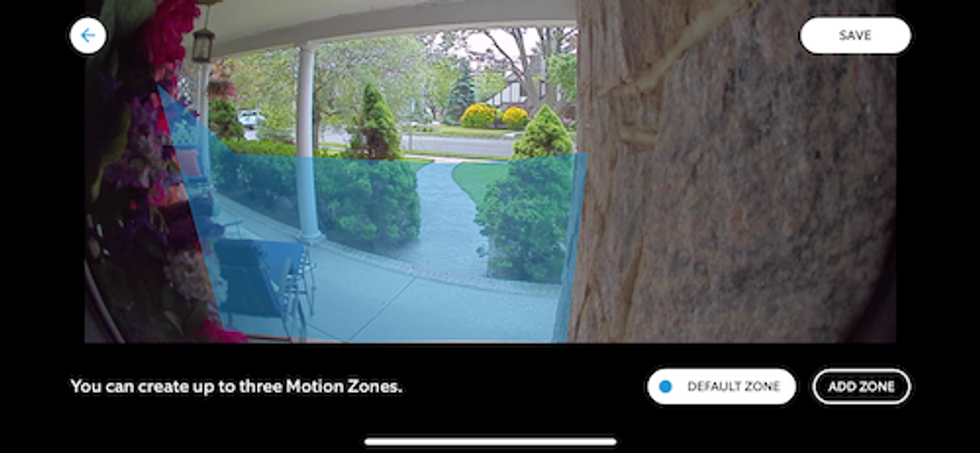 use Ring app to setup motion detection.
GearBrain
Setup motion detection in Ring app.
If you do buy a plan, the cost of Ring Protect Plans is reasonable, especially if you are using your Ring Video Doorbell 4 with a Ring Alarm System. $3 per month for 60 days of video cloud storage for one Ring device is very good, especially compared to competitor's plans. Many video doorbell video storage plans start around $5 per month for only 30 days of storage.
Summary
The Ring Video Doorbell 4 is a smart and versatile video doorbell for any type of home. It can be powered by rechargeable batteries or your existing doorbell wiring. It's easy to setup and comes with the latest features for smart video doorbells. But there are some items we would like to see improved.
One is the selection of compatible smart locks. We like how Ring doorbell 4 works in tandem with a compatible smart lock in the Ring app to unlock your doors while speaking through the doorbell. However, your choice of compatible smart locks is limited. You can buy a Ring Alarm system to dramatically increase your selection of locks, but this is an added cost. Something for buyers and home designers to know prior to buying a Ring video doorbell.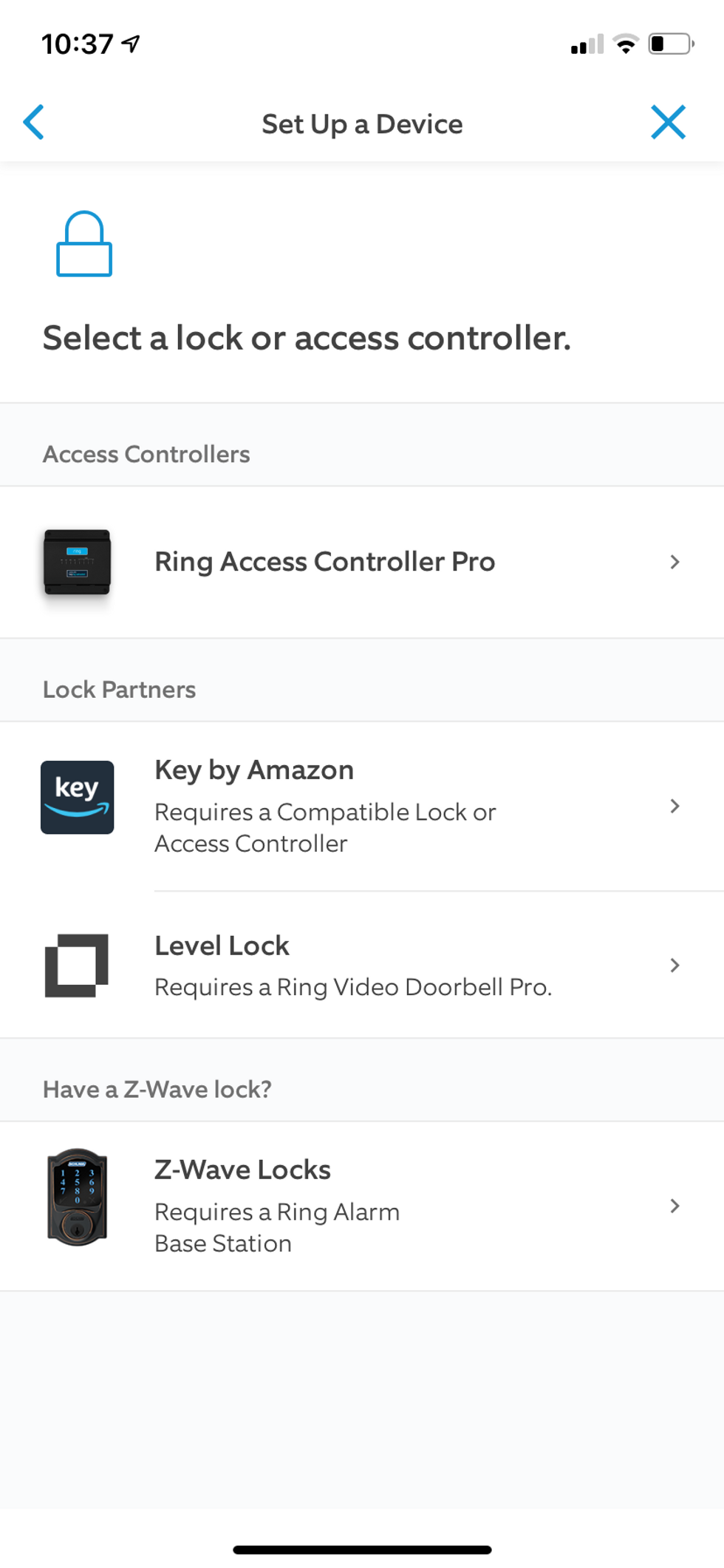 Setup compatible smart locks in Ring app.GearBrain
This brings us to the next issue, wireless compatibility. Ring Video Doorbell 4 works on a Wi-Fi connection as a standalone device and can work on Z-Wave connection when paired with Ring Alarm Base Station or Ring Bridge. We would like to see down the road Ring doorbells work on a Z-Wave connection without the need of a Ring hub. This would increase the selection of smart locks and other smart home devices to work with Ring products. Maybe they will work with Matter, the new unifying standard for connected devices.
Overall, we like what Ring has done to help simplify and improve the smart video doorbell market for consumers. The Ring Video Doorbell 4 is just another good device to add to their lineup. And it's the perfect smart device to start building your smart home.
Pros
color night vision
Easy setup
Large number of motion and privacy features
Solid HD Camera and large FOV
Attractively priced monthly video storage plans
Cons
Need a monthly plan to see videos right after they were recorded
Limited number of compatible smart locks to work with Ring
Need a Ring Alarm Base Station to connect with other compatible smart devices
Smart Video Doorbell Buying Guide - GearBrain www.youtube.com
Like GearBrain on Facebook