While the smartphone market may feel like a luxury space, packed with $1,000 devices that cost almost as much as a laptop — that's not true. Motorola is a brand known for having a variety of well-priced phone options, and the Moto G7 Power fits right into this wheelhouse. We tested on recently, a smart device that's priced perfectly for the budget conscious, to see what it lacks, and where the phone shines.
Read More:
Battery life and more
This is an Android device, so you'll power the phone, and then be able to immediately launch and log into all your Google settings, poring contacts, calendar, all the details over to the phone easily. Don't want to do that? You don't have to, it's not required.
The battery life is the main selling point for the Moto G7 Power – hence the word "power," in its name. The other G7 phones in the line have different strengths, long battery life is the G7 Power's claim.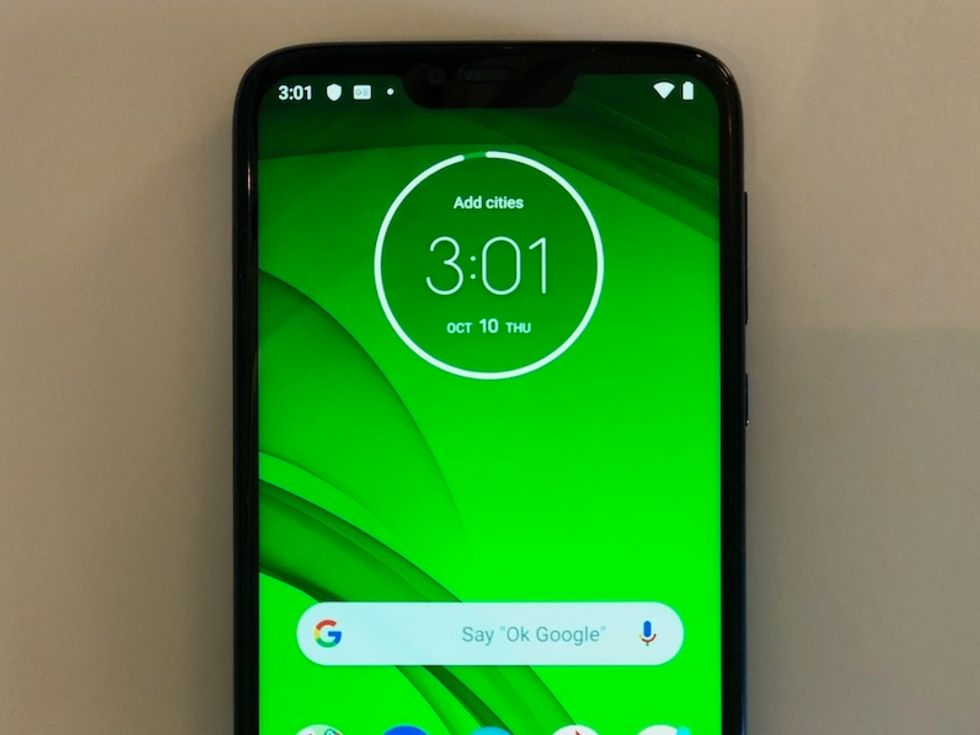 The Moto G7 Power shows how strong the battery is by the circle on the home screenGearBrain
Inside is a 5000 mAh battery, which supports 60 hours of usage on a single charge, Motorola claims — and we can attest to the fact that this phone does not die. With low usage, we kept this going honestly for days. And if you're even the least bit concerned, you can see how much power the phone still has by looking directly at the circle surrounding the time on the front screen. As the power drains, the line disappears. For the visual thinkers, this is wonderful. The percentage also shows up on the locked home screen.

There's the Battery Saver feature — standard on Android phones — which you can turn on as well. (Apple's iPhones have something similar called Low Power Mode.) Plus, within the G7 line, there 15W fast charging, which means in two hours you're back on track with a full charge.
Moto G7 Power - Unlocked - 64 GB - Marine Blue (No Warranty) - International Model (GSM Only)
Camera
The camera is a bit of disappointment if you're used to higher-end smartphones. You have a 12 megapixel camera on the back of the phone, and an 8 megapixel camera on the front. While you can do some great effects, much of this is in the AI, and not the camera lenses.
Bear in mind, though, that the extra hundreds of dollars you often pay for these other smartphones do factor into better lenses. But if you're buying this for a teen on their first phone, or someone who just needs an Android phone for basic usage, there's no reason to be upset with the camera capability on the Moto G7 Power. It's definitely not as pretty, or likely as sharp as the upcoming Pixel 4 or even an iPhone XR — it's also about one-third the price.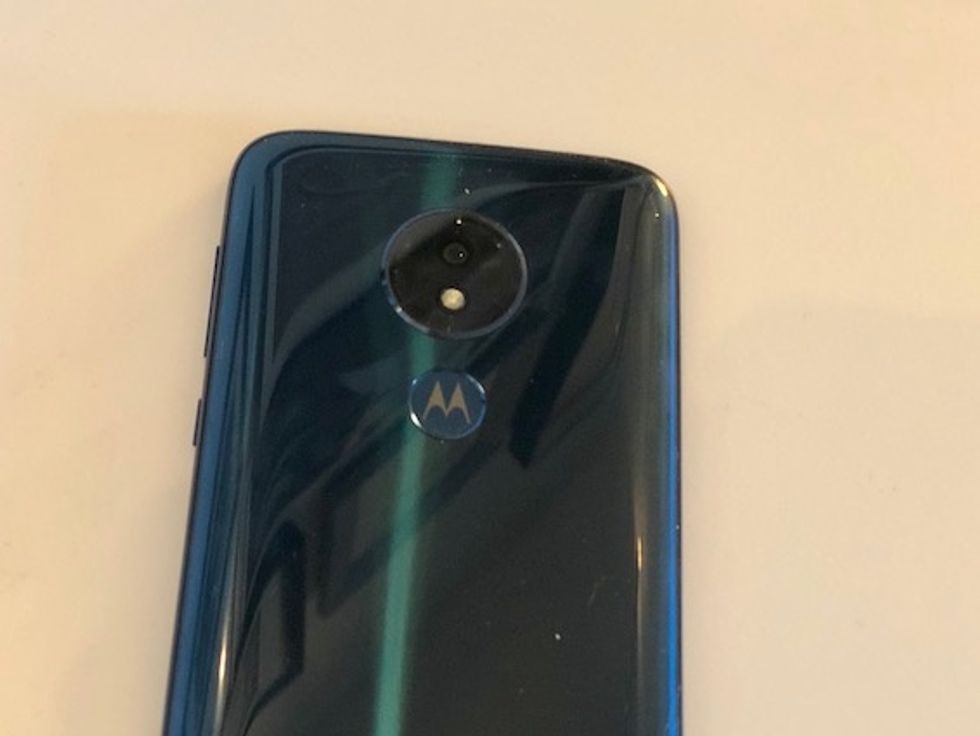 The Moto G7 Power has a 12 MP camera on the backGearBrain
Security

There's a fingerprint sensor (remember when this was the highest end feature?) or you can use a simple four-digit passcode to open and unlock the phone.
Extras
This is not a water-resistant phone — again, we're in the budget range. But you do get a Gorilla Glass covering, and some nice color options including Ceramic Black, Marine Blue and Iced Violet. We had the blue color — it's very metallic, and almost appears black when looking at it straight on from the top.
Also, be aware that the screen is 720p. Compare that to the iPhone 11 Pro which has 1125p, and you're going to be disappointed. But again, this is budget territory. A more fair comparison would be with the sister phone, the G7 which has a 1080p resolution. But, that phone is a bit more expensive, priced at $299.99, and also has just a 3000mAh battery. You have to decide what you value more here.
Moto G7 Power with Alexa Push-to-Talk - Unlocked - 32 GB - Marine Blue (US Warranty) - Verizon, AT&T, T-Mobile, Sprint, Boost, Cricket, & Metro
Cost
The Motorola G7 Power is a steal at $250, and you're likely going to be able to pick one up for less.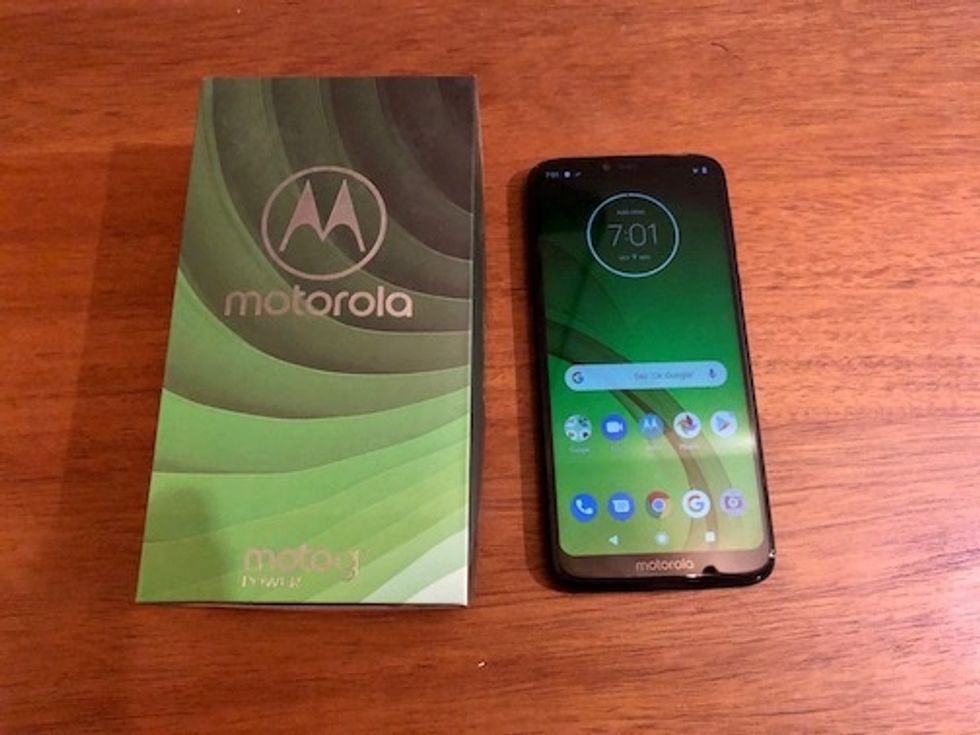 You can pick up the Moto G7 Power in black, blue and violetGearBrain
Should you buy it

We like Motorola phones. They're solid options for budget minded, with a brand that people know. You're not getting a ton of storage — just 32 GB — but it's enough.
Really, the point with the Moto G7 Power is a phone you can almost forget to charge. That's a big selling point for people who are heavy users of social media on their smartphones, and for those who are not always on top of charging their phones every night. (Which, we've learned, is not always best for the battery in any event.)
We like the Moto G7 Power for what it is — a very long-lasting smartphone that covers the basics well, for a solid budget price. It's perfect for parents who want to buy their child a first smartphone, great for heavy social media users, and a nice device for Android users who want a smartphone that works well. We even think this is a great second phone — perhaps for iPhone users who want an Android as a backup. (Yes, these people do exist.)
If you fall into any of those categories, and don't feel you have to have a splashy upscale smartphone with every bell and whistle, the G7 Power is a strong option to consider.
Pros:
5,000mAh battery that lasts for days
Fast charging
Price
Cons:
Just 720p screen resolution
32GB storage
Camera is adequate, not extraordinary