When it comes to smart video doorbells, Ring is a popular choice among buyers. One reason for this is Ring started the category and has helped it grow by new launching video doorbells with unique security features which can fit any type of smart home. Ring Video Doorbell 4 (which we recently reviewed) is the latest smart video doorbell from the company and a versatile video doorbell which works with any type of home. But is it better than Ring's previous video doorbell, Ring Video Doorbell 3? In this article, we will help you see the differences and similarities of these two Ring Video Doorbells so you can decide which is best for you.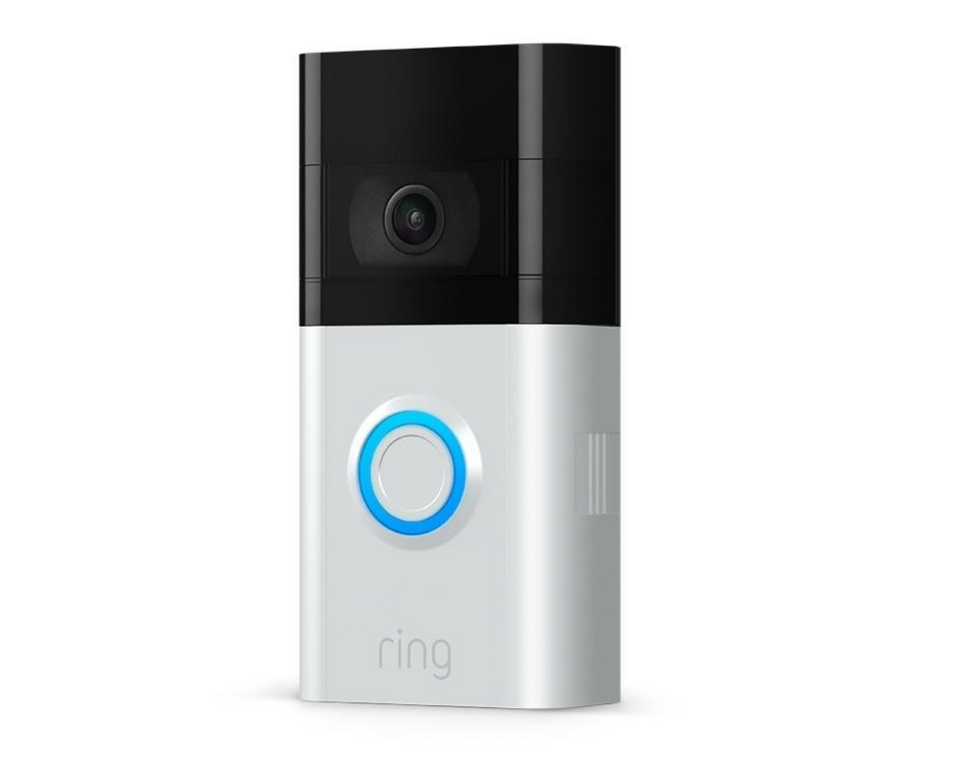 Ring Video Doorbell 3 Ring
Similarities between Ring Video Doorbell 4 and 3
Ring Video Doorbell 4 and 3 have several similarities. They are both the same size, 5.1" x 2.4" x 1.1". Each can be installed as a battery powered or wired (8-24 VAC) device, depending on whether you have a wired doorbell or not. The video resolution for these two video doorbells is the same, 1080p and they work on either a 2.4 GHz or 5GHz wireless connection. And they both have the same 160-degree field of view (FOV) and work with Amazon Alexa enabled devices and not with Google Assistant enabled devices.
When looking at motion detection and alerts, these two video doorbells have customizable motion zones and notifications in the Ring app. Users can create custom motion zones by selecting the areas in view you want the Ring Doorbell to monitor. You can also setup integrations with compatible devices, like smart locks, smart garage door openers and other security cameras and systems. You can easily find these devices by using The GearBrain, our compatibility find engine for smart devices.
Another similar feature is video storage. Both Ring Doorbells come with 30-day free trial for Ring Protect Plan. The plans range in price from $3 per month for Basis to a high of $10 per month for Plus plan. To learn more about Ring Protect Plans, visit Ring website.
Lastly, both Ring Video Doorbells come with the Quick Replies feature. These smart responses are six pre-audio recordings used to answer your doorbell when you can't make it. It's like having an answering machine at your front door.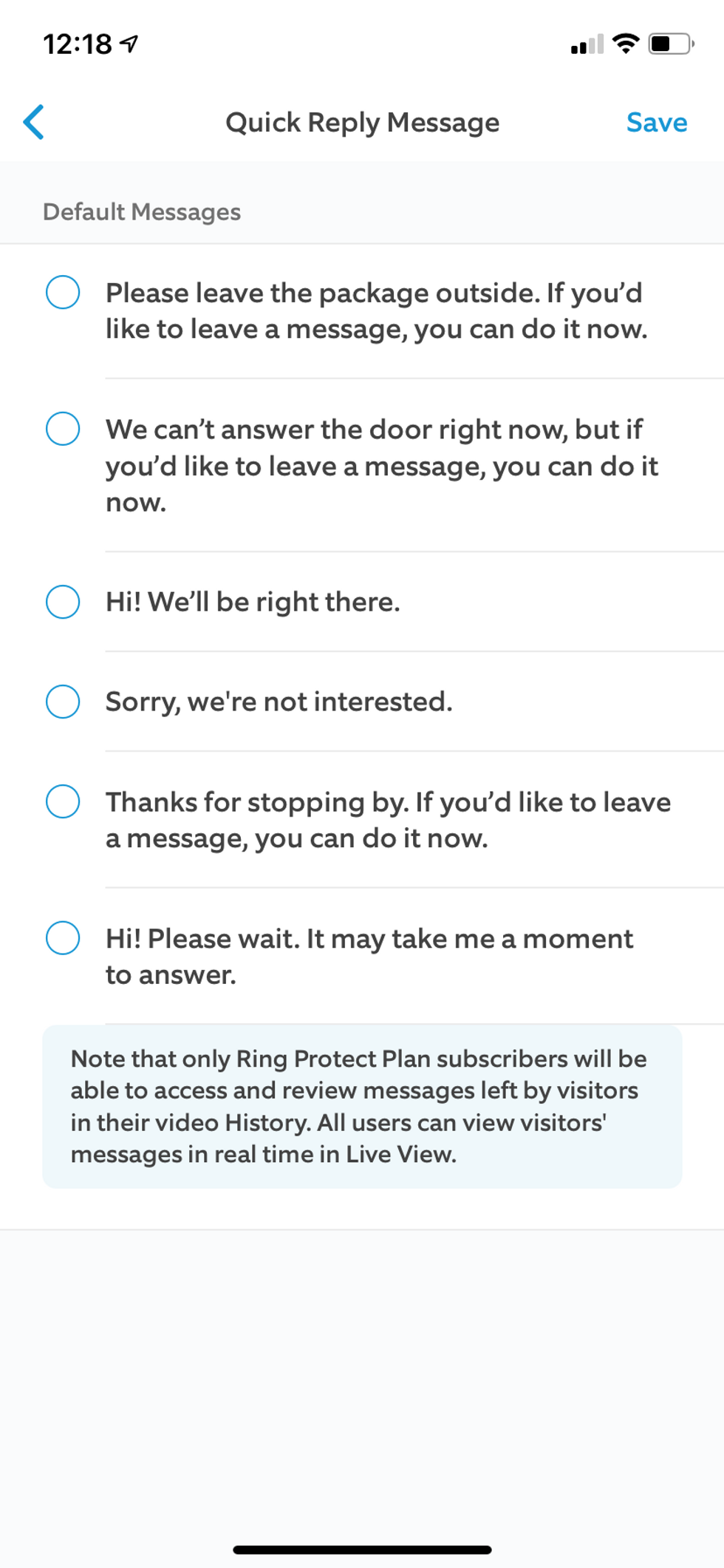 Setup Quick Replies in Ring appGearBrain
Differences between Ring Video Doorbell 4 and 3
Even though these two Ring smart video doorbells are the same size and have several similarities, they are a few different features which might be or not of interest to you. Ring Video Doorbell 4 comes with Ring's new Pre-Roll feature. Ring was the first video doorbell manufacturer to come to market with this unique feature. On the Ring app's main screen, you will see a Pre-Roll window that shows color previews of what is at your door 4 seconds prior to a triggered motion event. This is the not available in Ring Video Doorbell 3. However, if you have a Ring Video Doorbell 3 Plus, you will get the Pre-Roll feature. But the previews will not be in color. They will be in Black and White.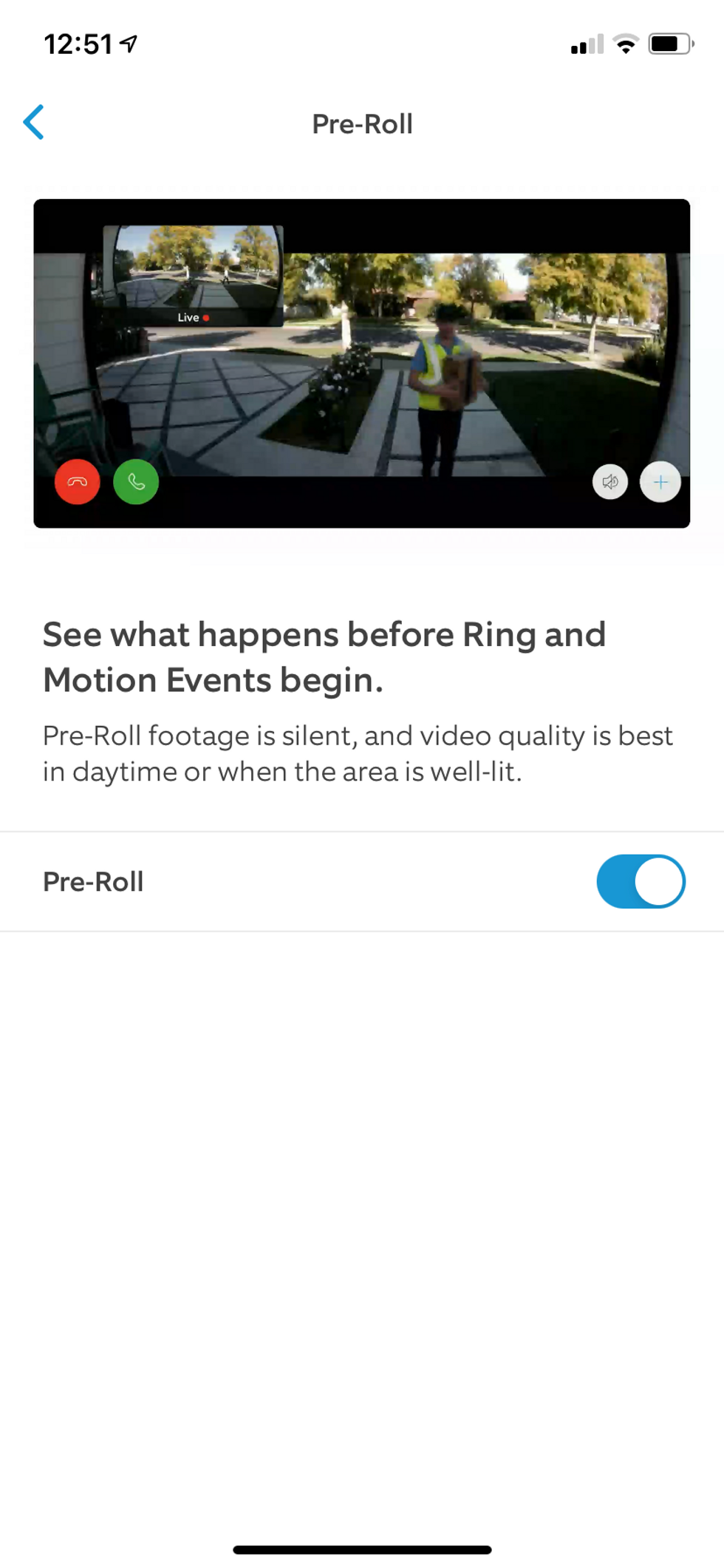 Ring Pre-Roll Feature available in Ring Video Doorbell 4 and not Ring Video Doorbell 3.GearBrain
Other differences between Ring Video Doorbell 4 and 3 you will find encompass price, battery life, motion detection and night vision. Ring Video Doorbell 4 has a longer battery-life and improved motion detection. Also, night vision is better in Ring Video Doorbell 4 versus 3.
When it comes down to price, the cost of Ring Video Doorbell 4 is $199.99 versus $179.99 for Ring Video Doorbell 3. Is Ring Video Doorbell 4 worth $20 more than Ring Video Doorbell 3? This is the question you need to ask yourself before buying one of these smart video doorbells. Our answer is it depends.
Summary

Both Ring Video Doorbells are excellent smart devices designed to protect the outside of your home. Each can be integrated into a Ring Alarm system, so you have one app to operate your home security system. Or you can use either of these smart video doorbells in conjunction with a Schlage Encode Smart Wi-Fi Deadbolt Lock to speak with a visitor as you are unlocking your door. However, for $20 more we do not think it's worth upgrading from a Ring Video Doorbell 3 to a Ring Video Doorbell 4. Yes, the night vision, battery life and motion detection are better with Ring 4, but we think the differences are minimal to the average smart homeowner. And Ring Video Doorbell 3 is still a good reliable smart video doorbell.
In sum, it comes down to Ring's Pre-Roll feature. It's unique and only available from Ring. Though Ring Video Doorbell 3 doesn't have this feature, it would be our choice for the homeowner who wants a good reliable smart video doorbell. But, if you want a smart video doorbell with the latest innovative features and willing to pay the extra money, then Ring Video Doorbell 4 is the smart video doorbell for your smart home.
Smart Video Doorbell Buying Guide - GearBrain www.youtube.com