Like GearBrain on Facebook
Roborock's robot vacuums are well-made devices that tend to not just clean up debris, but also mop as well. Roborock's S4 Max is a bit different, mainly because it lacks a mop, designed to just focus on one thing: vacuuming your rugs, carpet and wood floors.
Some robot vacuums are designed — and have the accessories — that allow them to do some light mopping. Light is the key word here, because robot vacuums are not typically excellent at doing both mopping and vacuuming. While they can lightly wipe down a surface, they're not designed to mop up heavy spills and messes. So the mopping? That's almost for show.
Having a solid robot vacuum that can do just that is welcome, especially at the price of $500. The S4 Max also held up on its vacuuming skills, even as some of the features had a few wrinkles. We spent some time testing the vacuum in a home with a heavily shedding dog. Here's how the Roborock S4 Max fared.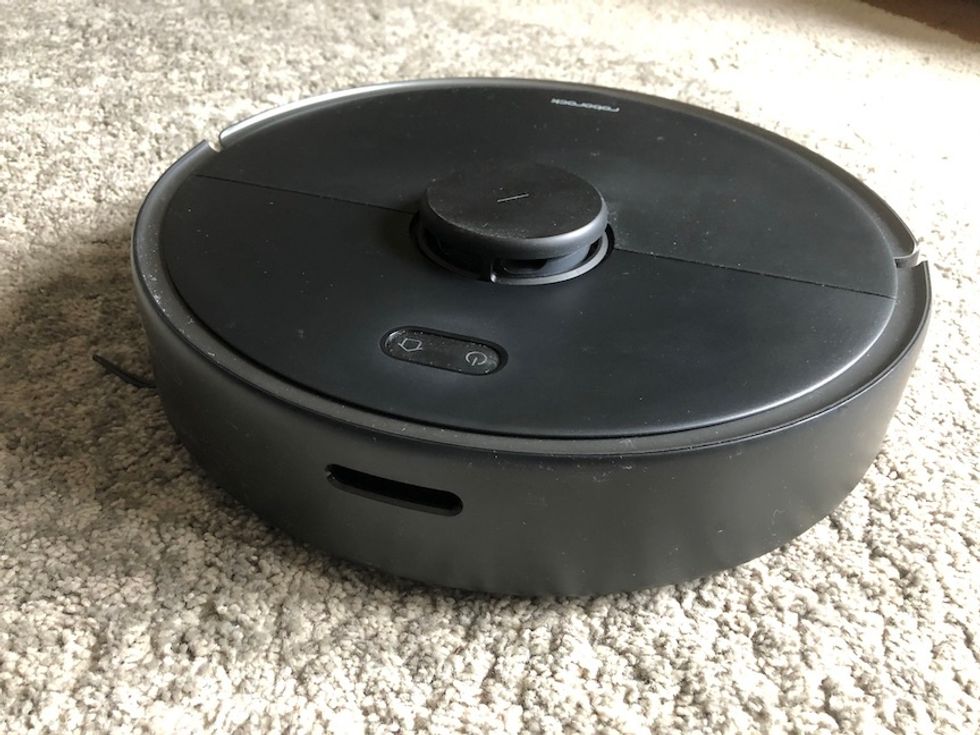 The Roborock S4 Max robot vacuum works equally well on carpets as on wood floorsGearBrain
Roborock S4 Max — The Basics

The S4 Max is almost identical to the S5 Max, save for a few specific differences. Both are robot vacuums that operate via the Roborock app, and both come with a charger that the robots return to for recharging.
As for power, the S4 Max has 2000Pa suction, the same as the S5 Max, and the dustbin is the same size as that on the S5 Max too, able to collect 460 ml. That's pretty good — bigger than the 420 ml of the Deebot Ozmo T8, for example. Both the S4 Max and the S5 Max can runs the same amount of time, 180 minutes if they're in Quiet Mode, and like the S5 Max uses LiDAR to read and map your living space.
Unlike the S5 Max, the S4 Max has one color option — a matte black — which honestly is a good design choice, making the robot looks very sleek and clean. The S4 Max, however, can't race back for a quick top up in the middle of a clean for battery power. And there's also one more key difference — the S4 Max cannot mop. There isn't a water tank, nor a mopping pad attachment. And frankly, that's one thing I do like about the S4 Max because often robot vacuum and mop combos do not do an excellent job on mopping.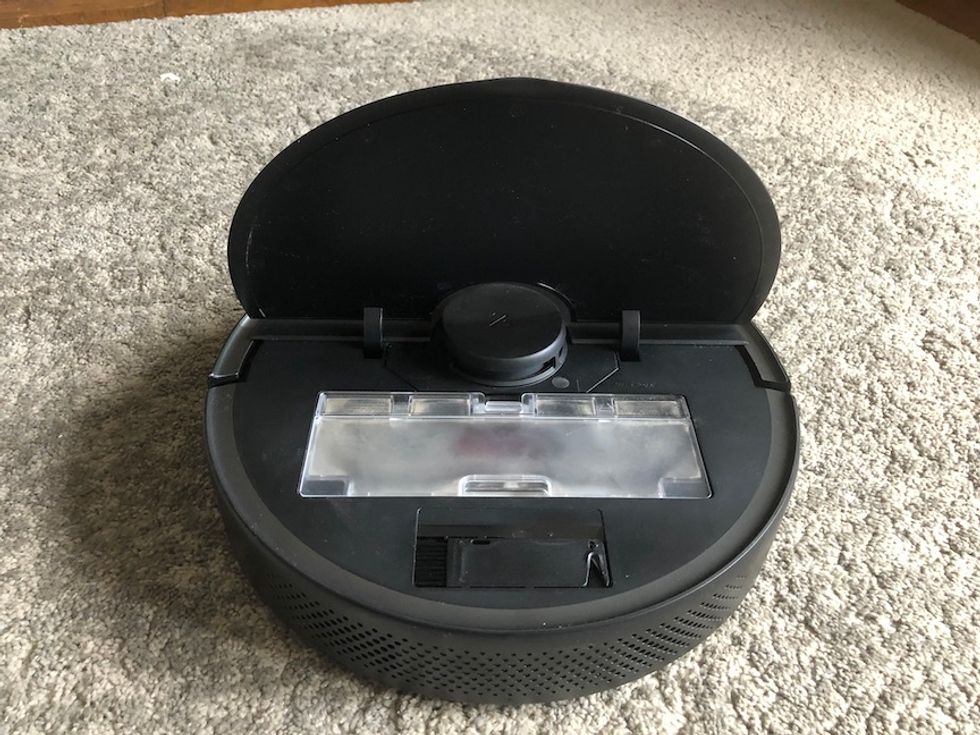 The top lifts to show the bin which pulls out for emptyingGearBrain
Roborock S4 Max — App

You can schedule a clean, block out rooms — once it's mapped them — virtually and even tell it to clean certain areas. You can set up 10 virtual walls, and 10 different areas to block out on each level, meaning you can use this in a multi-story home — up to four stories, actually. But the S4 Max will not go up and down stairs.
You can also set up different cleaning modes — Max, Turbo, Balanced and also a quiet mode which is designed to let you continue to hold a work call or watch a movie. Or hopefully not wake up your child while she's taking a nap. If you have a place, like mine, with hardwood floors and also some rugs, Balanced is a good option where the S4 Max will adjust depending on the surface as it cleans. I did find, however, that I didn't hear much of a shift in volume between the four settings — or if there was, it was extremely subtle. In fact, the only time I heard the robot shift its sound was when it was on carpeting, and then it would get quieter.
I also found the app not entirely accurate in regards to reading certain metrics, like battery power. The app also didn't seem to read the battery levels well, telling me at one point that the robot had 80 percent capability, when actually it was below 20 percent. I knew this because the robot told me, out loud, the battery level when I tried to send it off to work.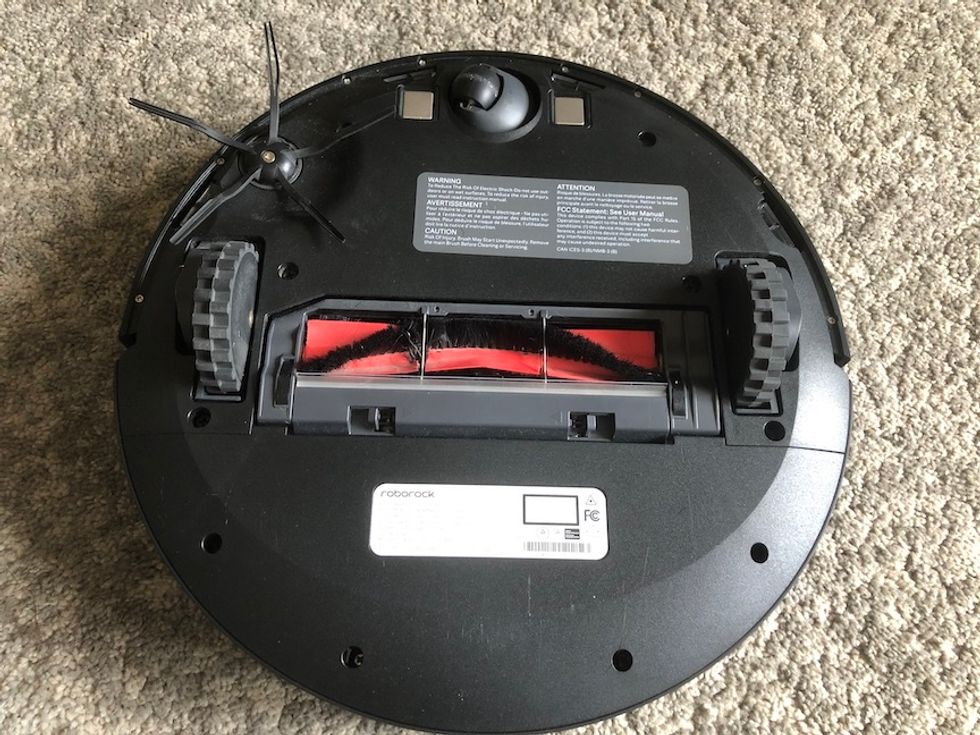 There isn't a water tank on the S4 Max because this Roborock doesn't have a mopping featureGearBrain
Roborock S4 Max — Smart Home

Although we have been able to connect a previous Roborock robot vacuum, the S5 Max, to Alexa, we were not able to connect the S6 Pure to Amazon's voice assistant. It doesn't advertise that it can connect to Alexa anymore, even on Roborock's Amazon page, and so we suspect this feature is no longer supported.
Roborock S4 Max — Price
The Roborock S4 Max is priced at $499.99.
Roborock S4 Max — Should you buy it?
The S4 Max is really a stripped down version of the S5 Max, a robot vacuum with mopping accessories, without an ability to return for a quick recharge to finish a task, and without a color option. It's also, appropriately, priced lower to make up for these differences.
The vacuum worked well — Roborock's devices tend to do very well, even in my home with a shedding Labrador. I found it cleaned, grabbed hair, didn't leave bundles of debris behind it, and was able to navigate and map my space without bashing into walls or furniture.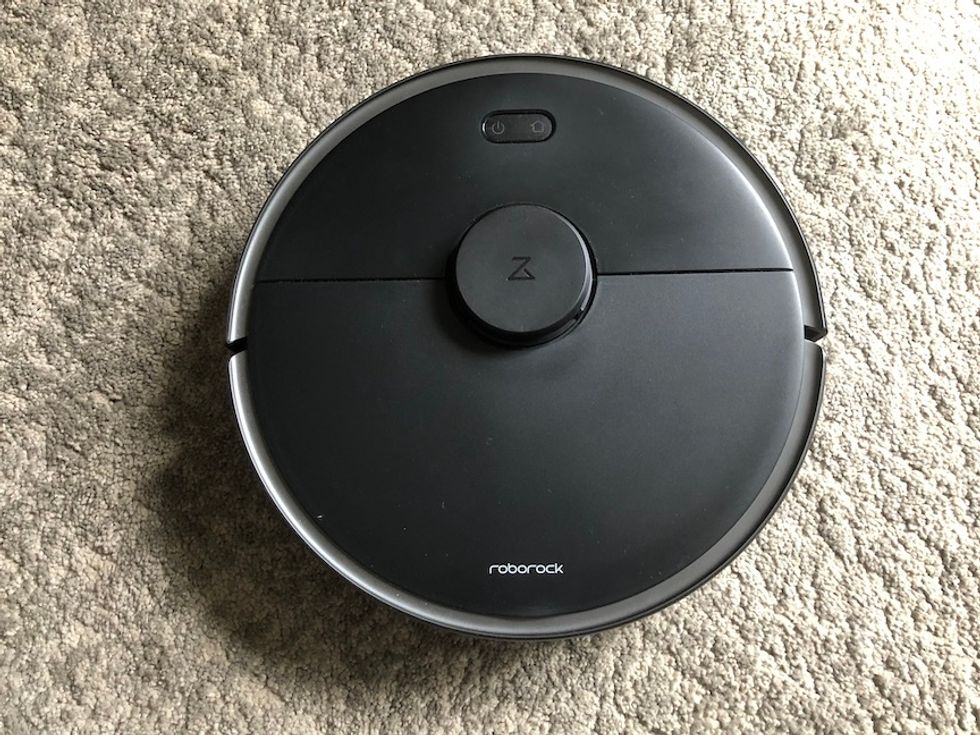 The Roborock S4 Max robot vacuum does not integrate with smart assistantsGearBrain
I did find some of the features problematic though. Not being able to really set the different sound and power levels on the robot at times through the app wasn't great. Nor the inaccuracies on the battery level read in the app. Neither of those is a real deal breaker.

But give how great the S5 Max worked, its accuracy and power, and given the fact that we found it to be one of the few robot vacuums that mopped well (a true rarity) we would actually recommend if you can extend your budget another $100, that you pick up the S5 Max over the S4 Max. And you may need to given that Roborock currently doesn't have the robot vacuum available on its web site.
If your looking for a basic robot vacuum with decent power and solid mopping — and don't care about mopping, and don't want to pay extra for it — the S4 Max is a fine option to choose.
Pros:
Vacuum is powerful and works well
Clean design and look
Price
Cons:
App didn't accurately reveal battery level
Doesn't work with smart assistants Alexa or Google Assistant
Couldn't get the app to shift the suction levels on the robot
Don't forget to check out The GearBrain, our
smart home compatibility find engiine
to see the other compatible products that work with
Google Assistant
and
Amazon Alexa enabled devices
as well as find other robot vacuums.
Like GearBrain on Facebook