Getting a smart vacuum to power through a home, picking up whatever it can find on the floor, is a solid find. Getting one that can also do a good job on mopping? That's less simple. That's the promise of the Roborock S6 Pure, a new smart home device that is designed to handle both tasks, with a price that places itself out of the budget range. We were sent one to test, and put it to work in a home with a shedding large dog and three people who are now around 24 hours a day, seven days a week — and creating a lot of opportunity for cleaning.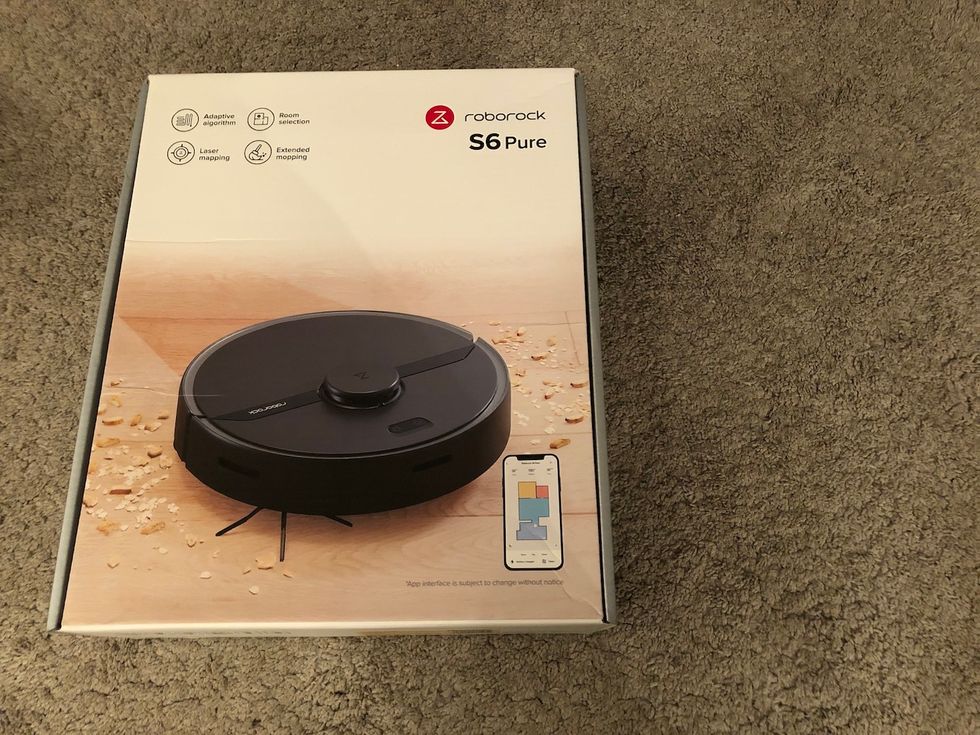 Roborock's latest smart vacuum is the S6 Pure, which works with Amazon AlexaGearBrain
What is Roborock

Not as well known in the smart vacuum space as competitors like iRobot, Roborock is a company that's been making smart vacuums since 2016. Roborock got an investment in 2014 from Xiaomi, which is important to note because that's a firm known for its line of inexpensive security cameras (we even reviewed one, a $40 security camera called Mi, at GearBrain). But it's also the firm that made headlines in January 2020 for sending images from its security cameras to other people's homes. Google actually banned Xiaomi temporarily from its platform, only allowing it to reconnect after the company promised the issue had been resolved.
Roborock, however, is its own brand, focused on smart vacuums which frankly work like others in the field. Their devices even take the same form and design as almost all the other smart vacuums in the market: round, like a large button on wheels, and typically in black or white.
While the S6 Pure can be ordered in white on the web site, the one the company sent to us is black, has one fin underneath on the side that acts as the sweeper, and then a roller in the center which pushes dust and dirt into the bin inside. The bin on the S6 Pure is a little smaller than others we seen, holding 480 ml, compared to the 520 ml on the Ecovacs Deebot 500, which we've reviewed, and the 600 ml on the Eufy RoboVac 30C, which we've also reviewed.
The bin on the S6 Pure is also a little hard to pull out, but the placement of the bin — with the ability to lift it from the top — is a good move. Most newer vacuums have this option, and we think it should become standard going forward.
Roborock has an app you can download — the element that makes the vacuum smart — which works on both iOS and Android devices. You connect the app to the vacuum and to your Wi-Fi and then you can send the vacuum on its merry way through your smartphone, whether you're home or not. There's also a way to control the vacuum via Amazon's smart assistant Alexa.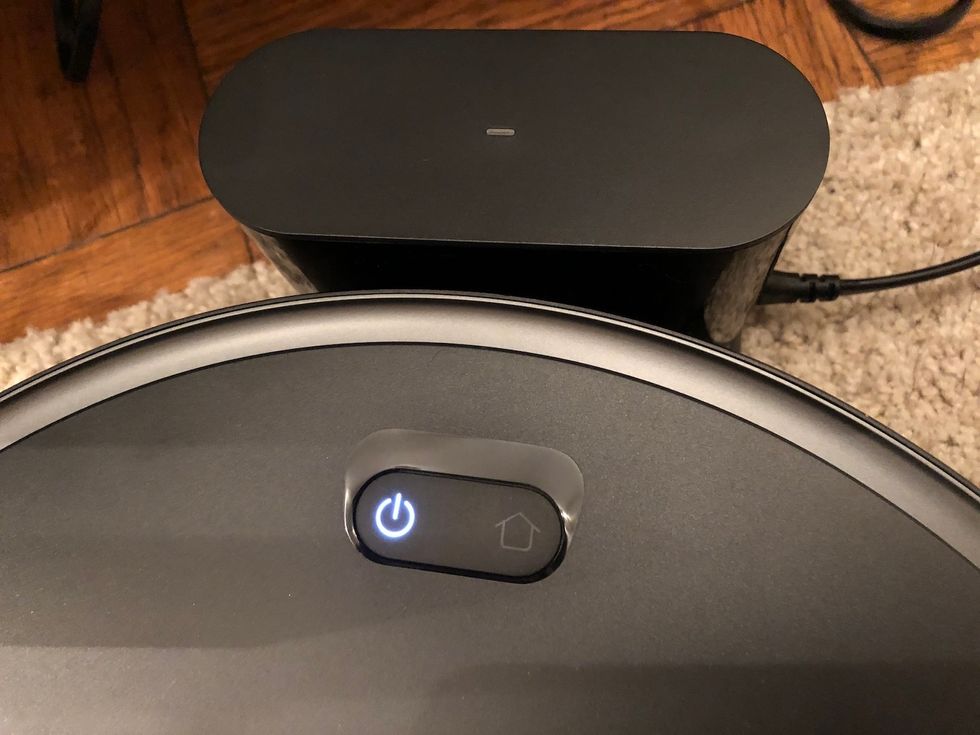 You're going to want to charge the vacuum, and ideally download the app, before you start GearBrain
Getting started

You're going to want to download the Roborock app and connect it to the S6 Pure first. But we should add — you absolutely do not need to use the app to get the vacuum up and running. It works fine without ever telling it what to do over Wi-Fi as long as you're okay walking over and pushing the power button on the top.
The vacuum does run on electricity, and so it does need to be charged on its dock. This was one of the sticking point we had in testing the S6 Pure — it couldn't always find the dock. More keenly, it wasn't easy for us to get it to make the right contact to start charging. We only knew it was charging when we would hear it actually say, "Charging." But we didn't know to listen for that until one morning — when we went to turn it on — and found it wasn't juiced.
How it works as a vacuum

The S6 Pure is definitely a powerful vacuum, and since that's its main feature, it wins here. The company also makes a point of telling you how strong the vacuum actually is, claiming it can pull up two double AA batteries. With a claim like that we had to, of course, check. And we did — which you can see in the video below. Did it work? You tell us.
GearBrain tests Roborock S6 Pure smart vacuum youtu.be
When running, the S6 Pure has a habit of letting you know when it's working hard, revving its motor higher as it moves. It's actually one way I would be able to tell when it got tangled in a cord, for example. But it would also shift into this different gear as it moved from a floor to a rug, for example. And that's because of a Carpet Mode in the app, which you can turn on so the S6 Pure powers more through fibers, rather than when it's on a flat surface.

Smart vacuums are rarely quiet devices, (all vacuums, honestly, are loud) and the S6 Pure wasn't much different, to be fair. The revving of course increased the volume, enough that, as with others, you're not going to enjoy your free online concert while the S6 Pure is whirling about.
But you likely care if the S6 Pure works. It does, and very well, powerful enough that I found the floors and rugs cleaned of dirt, dust and — so important in our home — dog hair.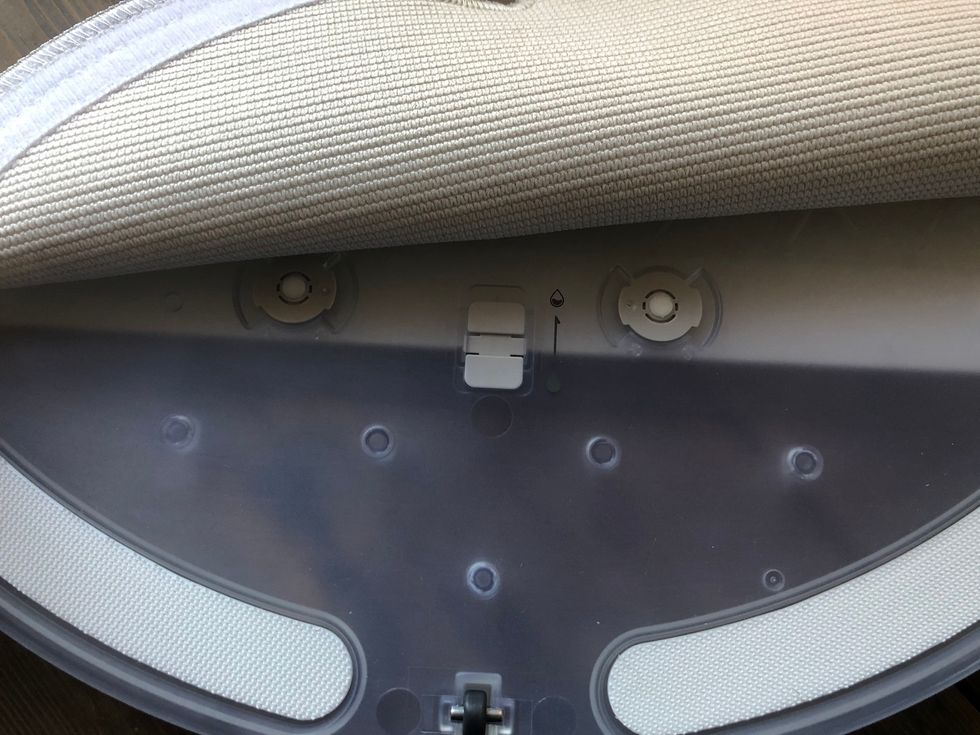 The vacuum comes with a mopping attachment which doubles as a water reservoirGearBrain
Working as a mop

Here, though, is where the S6 Pure stumbled. As with any upright vacuum, just attaching a piece of cloth to the bottom and adding a water tank, isn't going to transform a device into an excellent mopping machine. While the S6 Pure has the power to potentially pull up dirt, it didn't here.
You set up the mopping feature by attaching a second piece to the bottom, which snaps neatly into place and also doubles as the water reservoir. You can decide how much water you want to S6 Pure to press out — I chose a heavy amount.
While the instructions suggest you don't have the vacuum go over rugs, the S6 Pure is also supposed to know when it's hit hard wood or carpeting and stop at the latter. No matter, we just barricaded the vacuum into our kitchen space and let it go. After about 20 minutes — it's a small room — the S6 Pure announced it was done.
We then did a test. We went back over the floor with a wet paper towel and found a significant amount of dirt left on the ground. This was visible dirt — not obvious detris — but enough to know that the S6 Pure, like so many combos, was still no match for getting on the ground with some cleaning spray and hand wipes.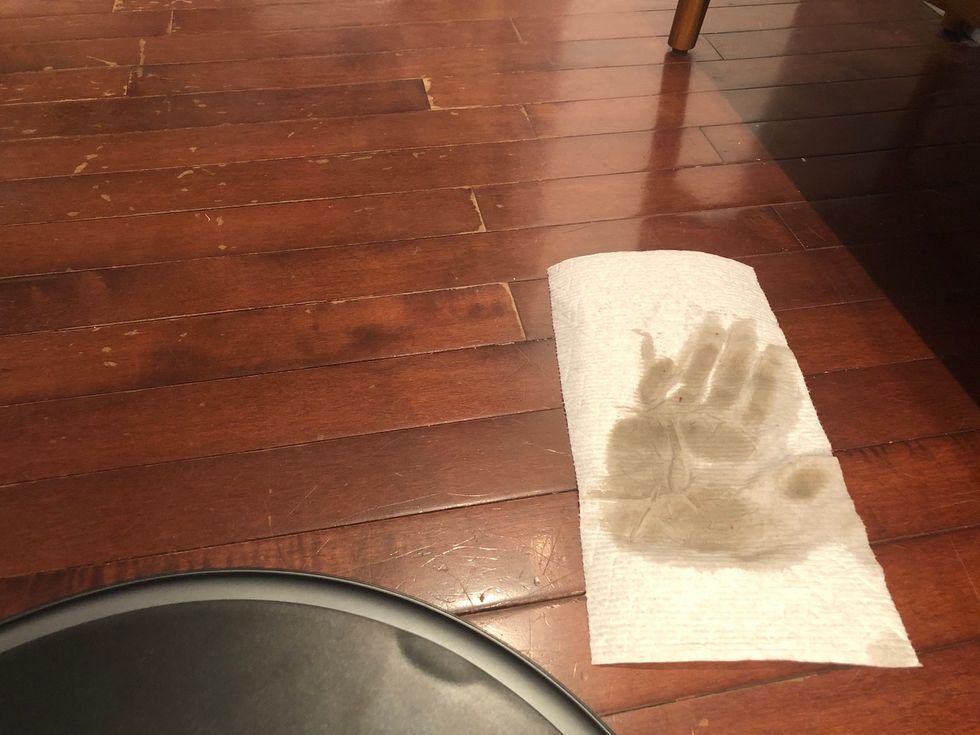 We didn't find the mopping feature very effective, leaving significant dirt behindGearBrain
The app

The Roborock app was a solid feature, simple to use with a clean design.
Inside the app you can actually watch the S6 Pure live as it cleans, marking a trail, along with the area it's covered, minutes left on its charge, and how long it's been running.
Commands are simple to give in the app, letting you pause and start the vacuum, whether that's vacuuming or mopping. Depending on what's attached — the cloth cover or not — that's what the S6 Pure will start to do.
There are a lot of features — from Do Not Disturb to the cleaning history, and even a maintenance page. One of my favorite features was the ability to charge the voice, and language, on the mop. There is an English option, but I opted out of that and picked a dragon.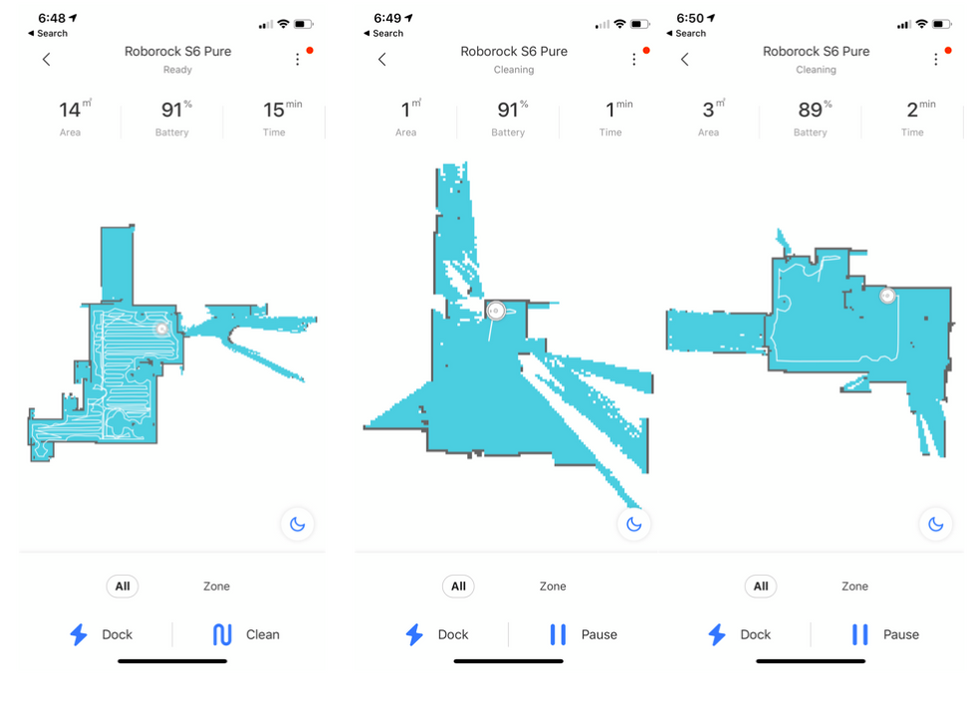 Roborock S6 Pure smart vacuum maps itself and your home in the app, so you can see where it is, live, and what it's cleanedGearBrain
Connecting to Alexa

Roborock is able to connect to Alexa, the vacuum claims. To link the S6 Pure to Amazon's smart assistant, you need to go into the Alexa app, click on Skills & Games, and then find the "Roborock Plus" Skill, not "Roborock Home." You need to download this skill, log into your Roborock account that you just created — and then link the vacuum to Alexa. The app will walk you through this.
Once that's all done, you can then ask Alexa to turn on your S6 Pure. As a default, the device is named Roborock S6 Pure in its app. But you can change the name there — and then ask Alexa to start up your vacuum with the new name.
Price
The S6 Pure is expected to go on sale this year for $549.99. While featured on Roborock's web site it is not yet available to buy through links on Amazon and eBay.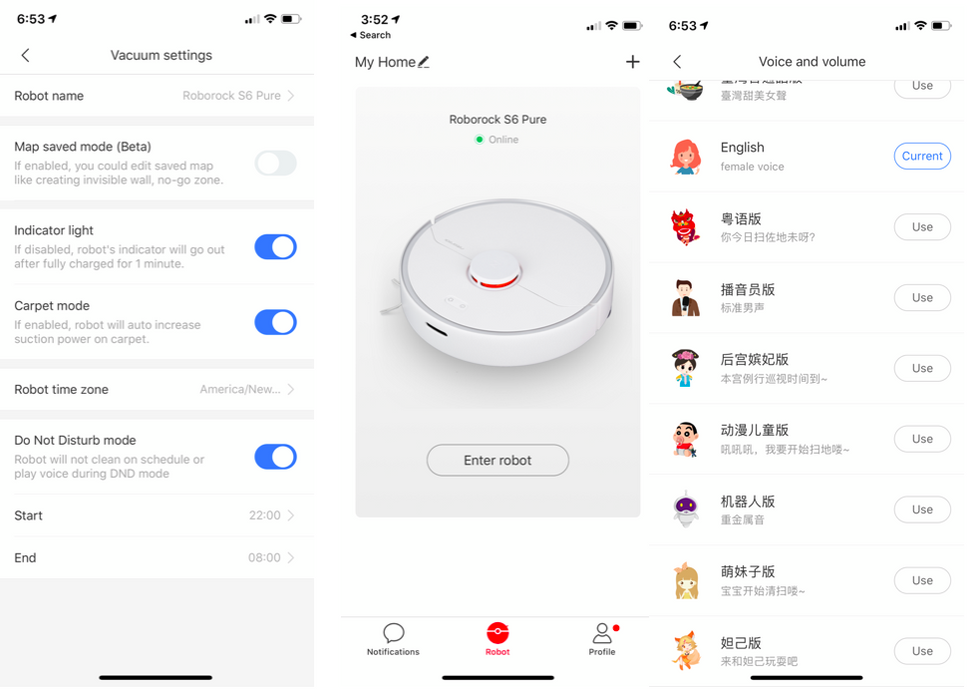 In the Roborock app, you can set different voices, adjust the power of the vacuum and even input a Do Not Disturb modeGearBrain
Worth buying?

Not yet available for sale, the Roborock S6 Pure puts itself — in price alone — as a competitor to other high-end robot vacuum brands from ecovacs to iRobot. This vacuum also promises to serve both as a mop and vacuum, a combination that is tricky to pull off as we've seen in the past.
The vacuum element works extremely well, with the Roborock able to sweep up intense levels of dirt, dust and dog hair. The bin is a bit smaller than others we've seen, meaning we had to empty it more often. But the vacuum was extremely powerful. While it didn't pass the battery test (and to be fair, we only tested the S6 Pure because Roborock made the claim on its web site), we were still very pleased with its job as a vacuum. We also liked how easy the vacuum connected to Alexa, and how well-designed the app is to use.
The S6 Pure falls down on the mopping feature — all combo mop and vacuums we've tested so far do. The mop feature is simple to set up, and the S6 Pure did manage to do a light clean on the floors. But if you live with more than one person and have a pet of any kind, this isn't going to be enough to mop up your home.
If you have a home that needs a light mopping daily, or you're really looking for a smart vacuum that pairs with Amazon's smart assistant and can be scheduled and operated remotely, this is a decent, if not slightly expensive, robot vacuum to consider.
Check out The GearBrain, our smart home compatibility find engine to find other smart robot vacuums and compatible products that work with Google Assistant and Amazon Alexa enabled devices. You can also ask questions and troubleshoot any problems.
Pros:
Solid vacuum
Pairs with Alexa
App is simple to use and well-designed
Cons:
Mopping feature can't handle heavy traffic
Hard to tell when docked and charging
Price
How to Find Products in The GearBrain, Our Compatibility Find Engine for Smart Devices www.youtube.com