Like GearBrain on Facebook
Samsung is preparing to reveal the latest instalment of its Galaxy Note smartphone series at its next Unpacked product launch event taking place online on August 5.
Debuted all the way back in 2011, the Note was at first an obscure smartphone with a large screen and stylus, called the S Pen. But it quickly found a niche audience and, despite the Note 7 being pulled from sale due to exploding batteries, remains a flagship of the Samsung range.
Read More:
The latest Note has already leaked extensively online – most prominently on Samsung's own website – so there is plenty to say ahead of that August 5 reveal.
Samsung GP-U999SJVLGDA 3rd Generation SmartThings Hub, White
Samsung Galaxy Note 20 rumors: Name, price and release date
First, the name. Since the original Note of 2011, Samsung has increased the number by one each year. But, just like it did when jumping from the Galaxy S10 to the S20 at the start of 2020, the Note is expected to transition from Note 10 to Note 20.
As for the price, the Note is always an expensive handset. Realistically, we doubt the entry-level will fall much below $1,000 – potentially landing at the $949 mark – while the larger screen and extra storage of the rumored Note 20 Ultra could see that model reach beyond $1,500.
The Note 20 is widely expected to be the star attraction of Samsung's Unpacked event, taking place online on August 5. We then expect it to go up for pre-order soon after, before appearing in shops by the end of the month.
Samsung should then have the large-screen smartphone market to itself for a few weeks before the iPhone 12 Pro Max arrives, which has potentially been delayed from September until October or even November.
Samsung Galaxy Note 20 rumors: Design
This is much easier to determine than normal, as Samsung itself published images of the Note 20 on its website, weeks before it is due to be announced. Appearing on a page of the company's Russian website (now returning an error message), the images show an attractive smartphone with a prominent rear camera module housing three lenses, a flash and a depth sensor.

The images also show a new color option believed to be called Mystic Bronze – and of course there's the S Pen stylus, suggesting this could be nothing other than a new Note.
This design was corroborated by leaked marketing images published by WinFuture on July 22. These showed a phone with the same camera module and bronze coloring, plus another model in black.
The new images also show how much the camera module protrudes from the back of the handset, suggesting Samsung is making a big deal about the photography performance of the Note 20. Further images are shown in the embedded tweet below, along with the dimensions and weight of each model of Note 20.
Also shown is the pinhole-stylus front camera, which Samsung has previously referred to as Infinity-O, in the top and middle of the screen.

As always with the Note range, we expect this to be a large smartphone. WinFuture claims the larger Note 20 Ultra will have a 6.9-inch QHD+ display with an unusual 19.3:0 aspect ratio and a desirable 120Hz refresh rate. The smaller Note 20 is expected to measure either 6.4 or 6.7 inches, while a third Note 20 Plus model could sit between the two.
For context, the Note 10 and Note 10 Plus have respective screen sizes of 6.3 and 6.8 inches.
Samsung Galaxy Note 20 rumors: Camera
Undoubtedly a highlight of the Note 20, the rear camera module is tipped to have a huge 108-megapixel image sensor with f/1.8 aperture main lens, a 12-megapixel, f/2.2 wide angle lens, and a 12-megapixel zoom lens with aperture f/3.0 and 5x optical zoom capability. There is also said to be laser auto focus and a 50x 'Space Zoom' system that blends the phone's optical and digital zoom capabilities.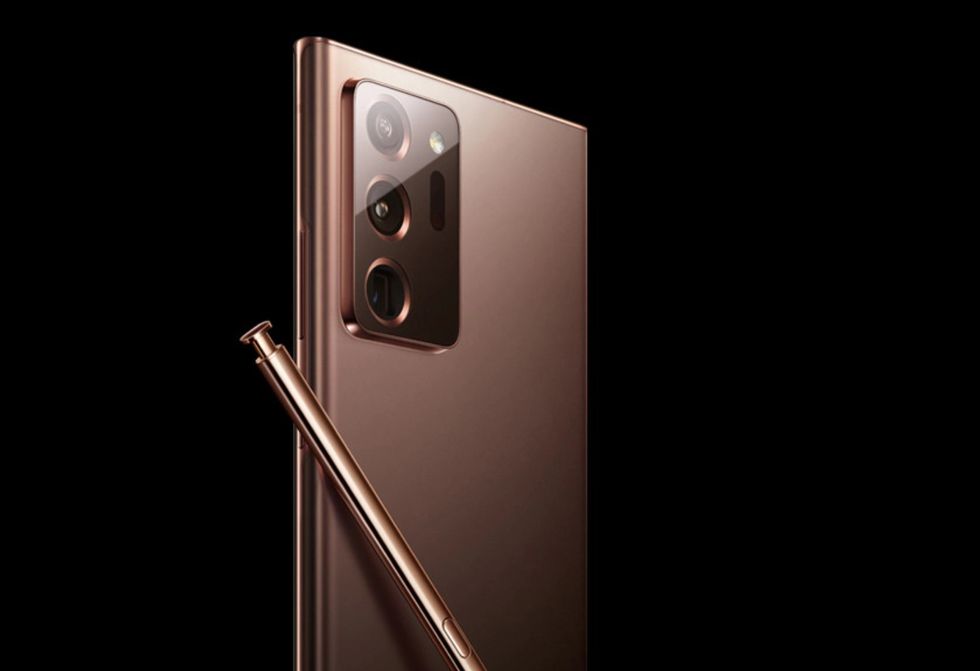 This image appeared briefly on Samsung's Russian websiteSamsung
The rear cameras will be joined by a time-of-flight sensor to measure image depth and produce photos with the blurred 'bokeh' background of an SLR camera.

Video recording is said to include 4K and even 8K resolution, with the latter likely taking up a huge amount of storage space and thus somewhat impractical for most users. That said, we'll be interested to see if Samsung demonstrates how 8X footage can be cropped, producing zoomed-in footage that is still 4K or Full HD resolution.
The front-facing camera of the Galaxy Note 20 is expected to have a 10-megapixel resolution, autofocus (still quite a rarity on selfie cameras), and an f/2.2 aperture.
Samsung Galaxy Note 20 rumors: Stylus, features and performance
Other features of the Note 20 are expected to include an under-display fingerprint reader, as used by the Galaxy S20, as well as a facial recognition system for unlocking the phone. There will also doubtless be NFC for contactless payments using Samsung Pay or Android Pay, and wireless charging is also expected.
The Note 20 is tipped to be powered by an Exynos 9920 eight-core processor or a Snapdragon 865, depending on which country you buy it from, and there will likely be at least 6GB of RAM, with the potential for 12GB.
It isn't known yet if the S Pen stylus will be upgraded from last year's that came with the Note 10. Samsung tends to improve these gradually, with quicker response times to make writing on the screen feel more natural.
Samsung Galaxy Note 20 rumors: Storage and color options
Storage options for the Note 20 will likely start at 128GB and stretch up to 512GB, with a 256GB model in-between.
We have so far seen two color options of bronze and black, with a matching S Pen stylus for each. Samsung sometimes adds new colors for different markets, or via partnerships and collaborations, as it did recently with the Galaxy S20 and K-pop band BTS.
SPIDERCASE Design for Samsung Galaxy Note 20 Case, Built-in Screen Protector, Clear Full Body Heavy Duty Protection, Shockproof Rugged Cover for Samsung Galaxy Note 20 (5G) 6.7 inch, 2020
Like GearBrain on Facebook