Like GearBrain on Facebook
Samsung earned itself plenty of criticism for pricing its Galaxy Fold at a huge $1,980, around double that of any other flagship phone.
Now, almost a year on from that handset's original launch, the company is tipped to be preparing two more folding phones. According to industry sources speaking to the Korean Herald this week, the first of those will fold horizontally - much like the new Motorola RAZR - and cost one million Korean Won, which is around $840.
Read More:
This would make it considerably more affordable than the $1,980 Galaxy Fold, and even put it in the same ballpark as the Galaxy S10, Note 10, and iPhone 11 Pro. For reference, the new RAZR costs $1,500, around 50 percent more than other high-end phones, despite lacking a top-notch processor.
It is also claimed the new Samsung phone could be shown off as soon as February, at the Mobile World Congress trade show in Barcelona. However, we suspect Samsung would rather announce the phone at a launch event of its own, like how the Galaxy Fold debuted alongside the Galaxy S10 just ahead of MWC 2019. After a botched release in April, the Fold finally went on sale in September.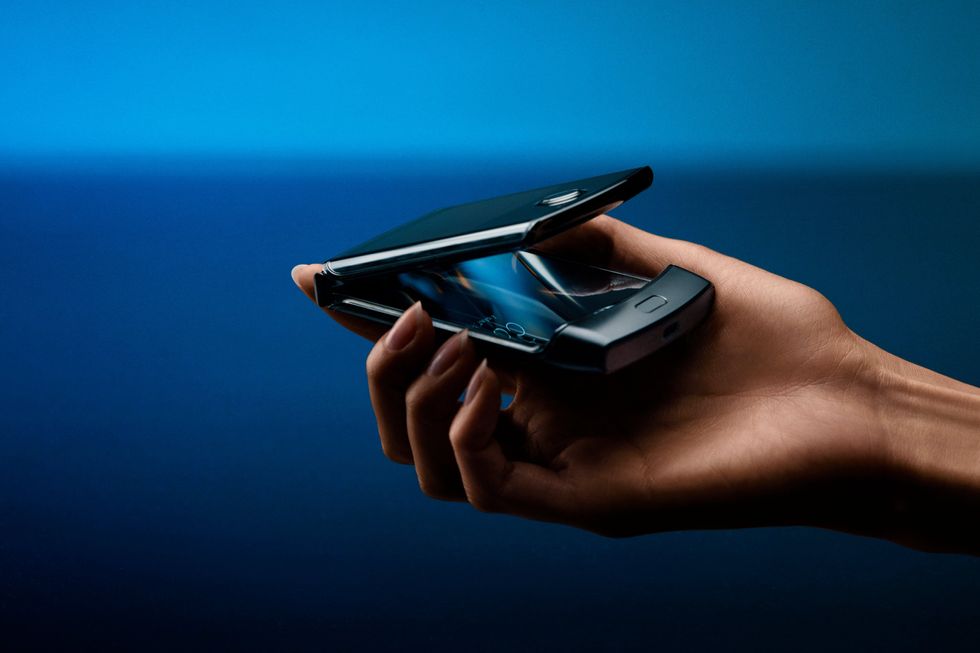 Samsung's next folding phone could look like the new Motorola Razr Motorola
If Samsung really can offer a folding phone for under $1,000 - or even under $900 as the report claims - then this would be a major step forward for the folding form factor. So far, these phones have been very expensive, fragile, delayed, and only appealing to die-hard early adopters instead of the general phone-buying public. That could all change with a sub-$1,000 price.

Samsung recently teased a folding phone with a clamshell design, just as it showed a brief glance of a phone reminiscent of the original Galaxy Fold in a commercial before that phone was officially unveiled. The company has also drawn up some patents showing a flip phone with a folding internal display.
A clamshell design makes sense as when folded closed the fragile display is protected. It also takes up less space in the owner's pocket, and when folded open the phone resembles a regular, albeit slightly longer and taller, smartphone, instead of having the Galaxy Fold's unusual square display.
The report also claims Samsung has plans for two folding phones in 2020, suggesting a successor to the original Fold is also on the cards, and that LG is also planning to launch its first phone with a folding screen.
From Your Site Articles
Related Articles Around the Web
Like GearBrain on Facebook