Like GearBrain on Facebook
The purpose of a home security system is to ease concerns about the safety of your castle and the people it houses. With a standard ADT system, the company installs your system – sensors, motion sensors, keypads, etc. – and all you have to do is arm and disarm the system as necessary. You then just live your life with an added bit of confidence that you and yours are protected.
ADT's Home Security Starter Kit ($399), powered by Samsung's SmartThings smart home platform, is less extensive and less pricey than an installed system since it is a DIY security system. Plus, it's also more easily expandable than an installed system thanks to compatibility with a wide variety of Samsung SmartThings smart home products and Amazon Alexa integration.
DIY security systems, that you monitor yourself, rely on you to make the call on whether you ping the authorities or not. You get an alert, you determine why that's happened and you then decide to call the police or fire department or chalk it up to your cat.
But to effectively monitor your home on your own, you're going to want a camera. And you can buy one for the ADT Home Security Starter Kit — but only one. It's an outside brand, the Netgear Arlo security camera — and you can only see what's on the screen from the camera through the smartphone app. That's fine if you're away. But if you're home and it's late, you can't check the hub itself. Not great.
It's understandable then why ADT pushes pop-ups through the app asking you to sign aboard for their professional monitoring service. They're well-known for it, and rightfully considered experts in that field.
But that's another $300 a year for the service — which is fairly steep after you've just dropped $399 for the starter kit. And any professionally monitored service usually throws in these devices for free.
Still, you can use this kit on your own, hook up a camera, and monitor through your smartphone. Which is what we tried. Here's our experience.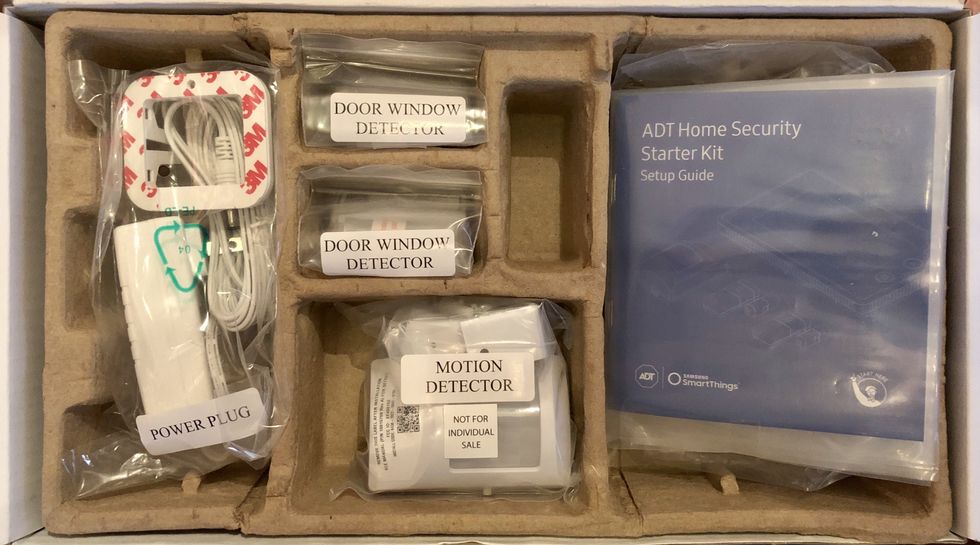 All the window and door sensors, motion detector, hubs and manuals come with the ADT Home Security Starter KitGearBrain
Setup
Successfully setting up a security system with multiple parts is heavily reliant on accurate and informative instructions. Unfortunately, ADT's guides are neither in a couple of key spots.
Inside the box are four pieces: a Hub, with a 7-inch color screen, two two-piece door/window detector sensors, and a motion sensor. The three sensors are paired to the hub through the Samsung SmartThings app via QR codes. There's also a desk/wall mount for the Hub.
First, you are presented with three unnumbered guides: a Welcome (essentially an illustrated capabilities/compatibilities primer), Setup and User. I guessed the sequence, but why should I have had to? The three guides easily could have been combined into one, removing an unnecessary introductory complication and leaving me with fewer things to store and lose.
Second, this system is actually a Samsung SmartThings thing. As such, I encountered some, again, unnecessary confusion about different Samsung and SmartThings account credentials. I ended up signing in with my Samsung account, but only after counter-intuitively tapping the "create new account" on the initial SmartThings app splash screen (after consulting with tech support).
Third, the most important aspect of the set-up is never addressed: the best location for the Hub. As it turns out, the Hub works like a numbered security keypad — requiring a code is entered within 60 and 30 seconds of walking through the door to either arm or disarm the system. Without any placement guidance, I put the Hub in my apartment's back office where I could monitor the screen. But, as it turned out, I should have put it near the front door. I was told by SmartThings tech support that I could unplug and move the hub without losing any of the Wi-Fi connection settings. But I didn't try this – I didn't want to take the chance they were wrong, forcing me to go through the set-up from scratch with the sensors already mounted.
You can arm/disarm the system from the smartphone app, but this is a multi-step process within the app. The inclusion of the otherwise add-on key fob controller ($19.99) would have been a nice low-tech solution.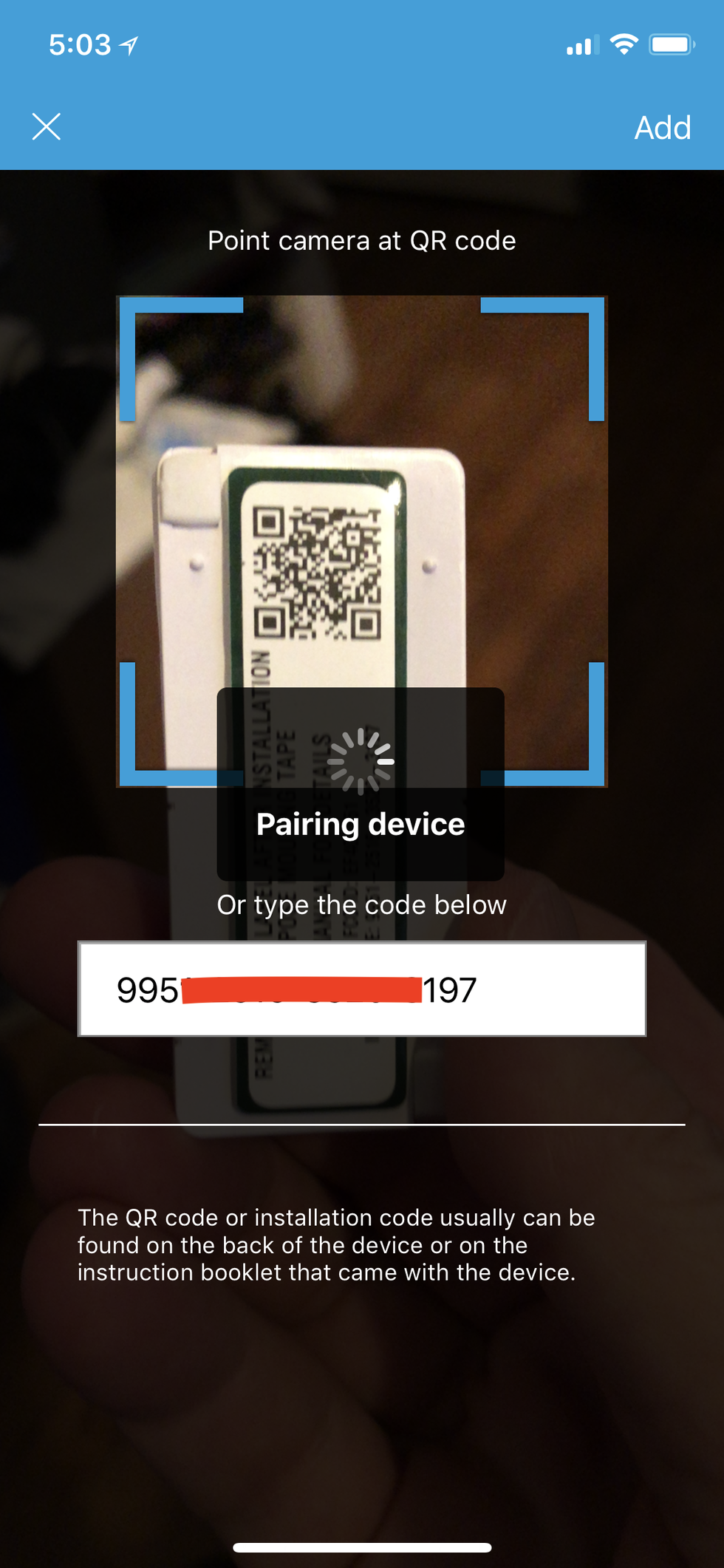 Pairing devices to the ADT Hub simply requires scanning their QR codes.GearBrain
Instead of a traditional touchscreen, the Hub's screen is pressure-sensitive. You don't tap, you push – hard – to activate on-screen keys, buttons and icons. You also can't scroll through on-screen option lists, such as available Wi-Fi networks.
Oddly, the Hub includes a large AC transformer and a Rube Goldberg-like two-piece power plug retaining bracket, complete with adhesive tape, screws and a zip tie (?!), to comply with some installation regulations. I just plugged the transformer into an outlet strip, just like dozens of other AC transformers around my abode. If you plan to add the bracket, make sure the Hub is placed definitively where you want it forever.
After you plug the Hub into AC, and follow the on-screen instructions to connect it to Wi-Fi, the Hub downloads and installs a firmware update. All of this takes around five minutes. You'll then be asked to re-connect the Hub to Wi-Fi for some reason, and the Hub again checks for an update.
Fourth, the instructions for pairing the door and window detector sensors are backwards. You are instructed on one page to scan the detectors' and motion sensor's QR codes with the SmartThings app to pair them to the system. On the next page, you're instructed to pull out their respective battery tabs once paired. Except none of the detectors would pair until AFTER I pulled the battery tab. This was after the system failed to pair a detector three times in a row — and I spent time chatting with Samsung, then SmartThings tech support, to realize the tab-pulling should come first.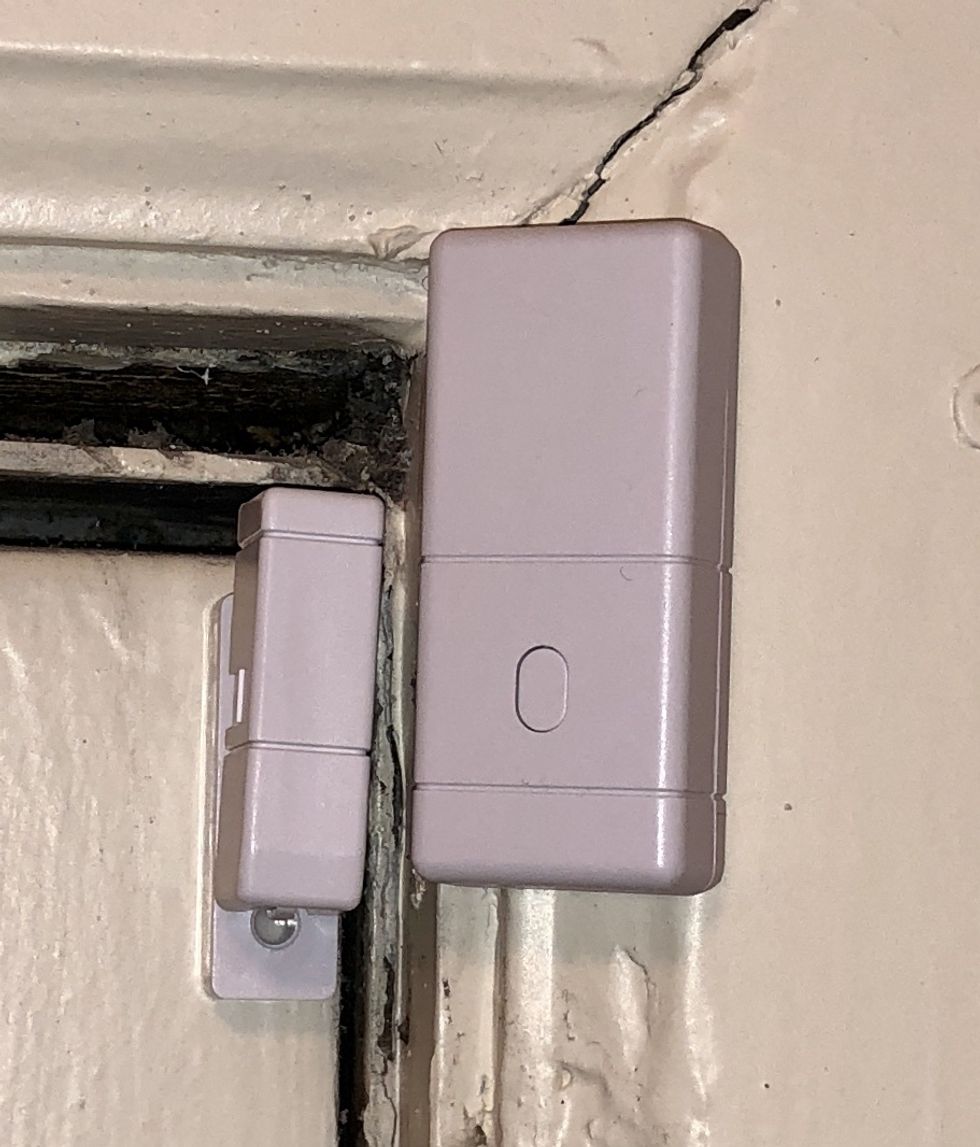 The door sensor in the ADT Home Security Starter Kit can be affixed with either double-sided tape or screws.GearBrain
These are all unforced errors. Once overcome, however, the rest of the setup was only partly physically problematical, not fatally. For instance, not all doors and windows are created equal. I had to improvise with an old beveled door frame and tight double-hung windows, neither matching the pictured parameters to place the two-piece door/window sensors. But, my improvisations worked, indicating the system's functional parameters are thankfully wider than indicated.
Sensors include both double-sided tape and screw installation options. I recommend the tape in case you want to adjust or move the sensors. Also, be sure the sensors don't accidentally block the door and window from opening.
App Setup
You are presented with a plethora of oft-times dizzying, redundant or conflicting customization and operational sensor and system settings within the SmartThings app.
Unfortunately, defining and locating where to configure these settings is a voyage of self-discovery – none of the manuals provide any guidance for optimizing these app settings and the system's operational performance. A fourth App User Guide would have been handy.
On the app's primary "Dashboard" screen, you get Arm (Stay) and Arm (Away), as well as the status, such as a window or door being open or closed, or sensor battery life. You get the same information needlessly duplicated on the My Home tab, though, with the addition of any other connected devices such as lights or your smartphone. I'm still a bit unclear why we need separate Dashboard and My Home tabs. (I'm also not clear on how long the sensor batteries last, or where to get new batteries when they die.)
But under the More tab, where you set your home's location, three modes are listed – Away, Home and Night – but no way to configure them. (Tapping on the choices does nothing).
You can personalize and customize each sensor; rename it, assign a security zone, choose from 53 separate and redundant rooms and locations, and one of 14 chime alerts – when a door/window is opened, the hub will alert you, or not, depending on your Chime choice. Oddly, when defining the Motion Sensor under its Device setting, you are asked to choose between "Motion" or "Sensor"! Uh – both?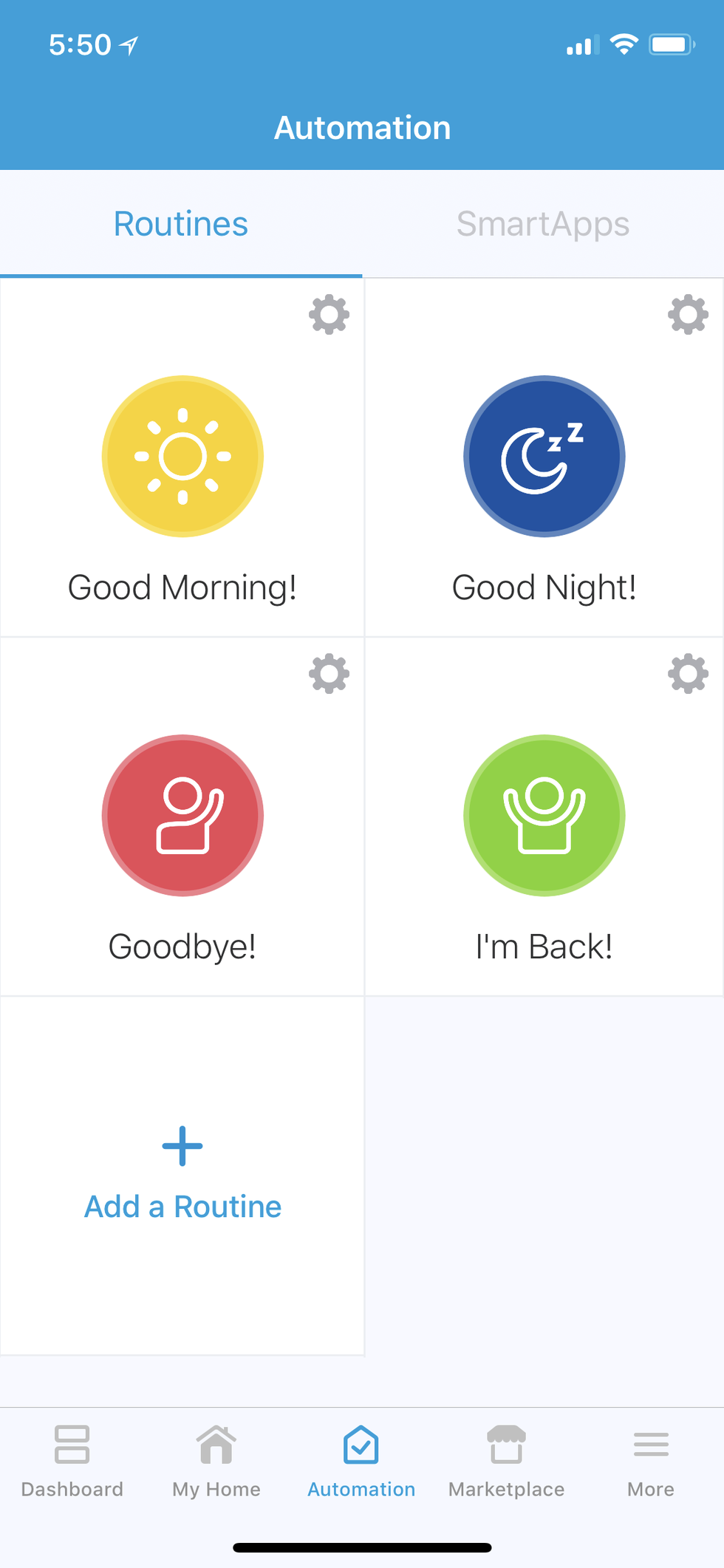 The pre-programmed routines — exclamation points included for free.GearBrain
There also are four pre-configured smart home Automation Routines – 'Good Morning!,' 'Good Night!,' 'Goodbye!' and 'I'm Back!' You configure each routine once you add other compatible smart devices (lights, locks, thermostats, etc.) listed in the Marketplace tab to the system to act all at once. I smoothly added my Lutron Serena shades and my Amazon Alexa. I was unable to add my Philips Hue, however.
Hub Screen Limitations
The Hub screen gives you local weather, provides visual system status, audible alerts, and a system disarm keypad – but little else.
For instance, the screen stays on for only up to four minutes instead of staying lit to provide constant monitor status at a glance. According to ADT, this limited display time is to eliminate possible screen burn-in. Just touching the square Home button, the bottom of two buttons to the right of the screen, lights the display for 30 seconds.
It's what the Hub screen doesn't display that's the issue.
Instead of the screen staying illuminated, so you can just glance to spy system status, both the square Home and the Emergency/Panic (+) button above it display multiple status indicator colors. The Home button displays six color conditions – mostly flashing or solid green, red and orange, while the Emergency/Panic button is either flashing or solid white or unlit.
This is way too confusing, especially since I might have to instantly react to one of these system states. Instead of making me memorize nine different color combos, why not just keep the screen lit so I can instantly see what's happening?
Then there's being able to see what's going on around your home. Today's modern smart home security is fueled by Wi-Fi cameras. This whole Kit could conceivably be more cost-effectively replaced (sans ADT monitoring), and then actually improved by a couple of well-placed security cameras.
But there's no integrated camera in the Hub, no camera is included with the Kit, and the system is compatible with only four Netgear Arlo security camera models – fine cameras, but a limited choice is still a limited choice.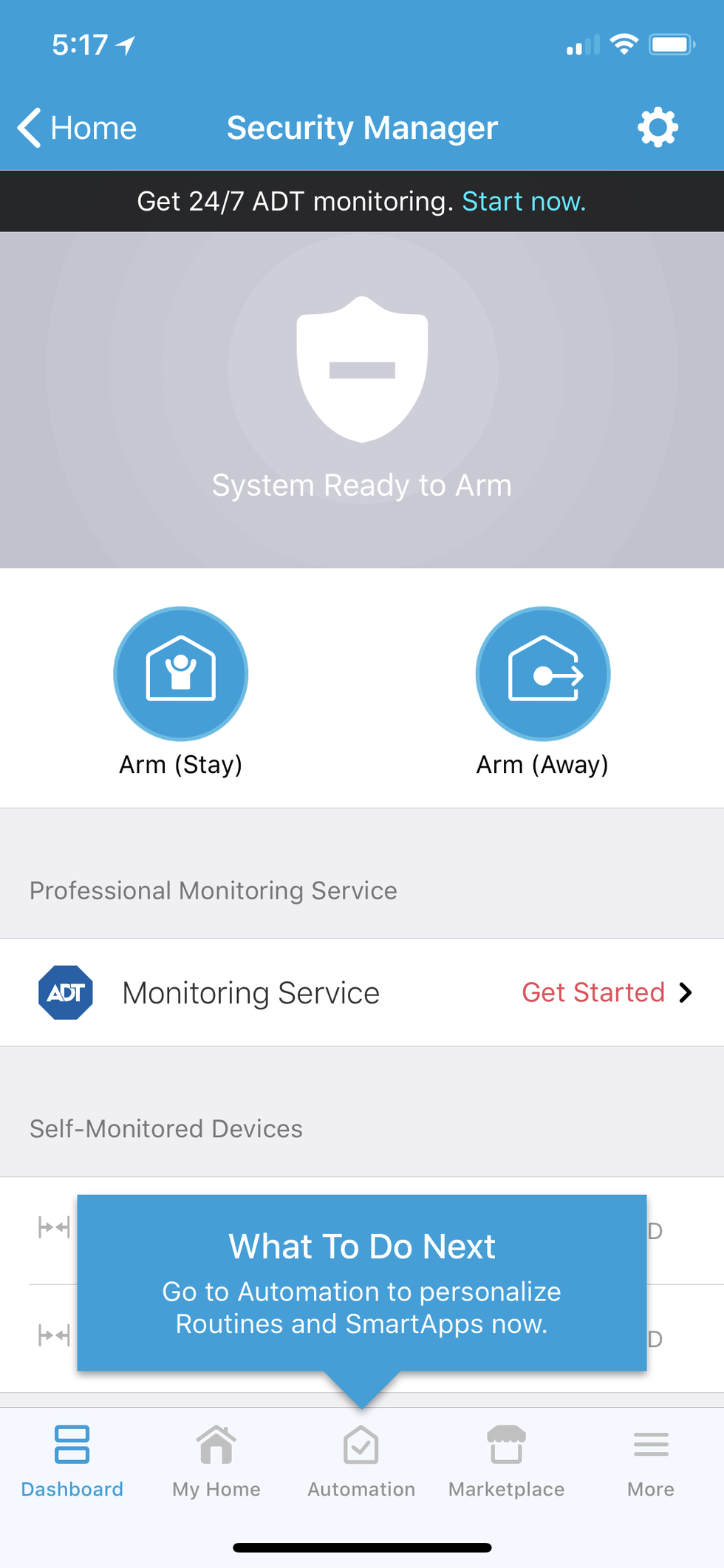 Options to arm, or disarm, the ADT security system are in the app.GearBrain
But even if you pair an Arlo camera with the system, the Hub screen doesn't display what a connected camera might see. Nor can ADT see what the cameras see when alerted. According to an ADT tech support rep:
"[Th]ere is no current integration where you can use your cameras and ADT security services hand-in-hand. The only thing Arlo Cameras can do is connect and be used for Livestream and motion Routines. [ADT is] actively working on something similar to this…I don't have a current timetable for camera support with [the] ADT Security Panel but it's been asked about so often that I imagine soon."
Adding to my worries, which this system is supposed to alleviate, the User Guide "strongly recommends" a weekly system test. Weekly? Fortunately, a ADT tech support system told me "you will get a notification in the rare event that a device falls offline, so I don't personally think this is generally necessary from a technical standpoint."
Whew! One less thing to worry about. Sort of.
Summary
For folks who want to sleep sounder, both home and away, while knowing your castle is watched-over, this Kit is – as named – just a start. You'll want — and need — to add additional security components such as more door/window sensors, Wi-Fi cameras and an aforementioned key fob for easier arming and disarming. Oddly, the Marketplace in the app doesn't list a way to buy additional ADT SmartThings door/window ($19.99) or motion sensors ($39.99) such as those in the Kit, just third-party versions.
But ADT could have made this system far easier to set-up, configure and monitor, especially since this is a "starter" kit obviously intended for home security newbies. We'd like to have seen clearer instructions, some extra components such as a camera and an arm/disarm key fob, and a clear statement that ADT service is essentially required.
Now that I'm thinking about it, $399 seems a bit pricey for what's included, especially since you then have to add ADT service. If I were ADT, I'd offer this kit at a discount or even for free with the purchase of a service plan.
However, if someone is almost always home or if you're an apartment dweller, I'd opt for a cheaper and more manageable Wi-Fi security camera or two, perhaps one to which you can add window/door sensors.
Pros:
Easy to set up (once instruction errors are overcome)
Expandable with other smart home products (i.e. locks, thermostats, cameras, etc.)
Samsung SmartThings, Amazon Alexa compatible
Cons:
Popups are constant through the app asking you to upgrade to ADT monitoring service

No security camera
Lacks guide for customizing and using the app
Like GearBrain on Facebook