Like GearBrain on Facebook
Samsung has opened the doors to its new SmartThings Labs system, granting early access to the most passionate smart home builders.
Found within the SmartThings app, the new Labs section gives users early access to experimental features before they are rolled out to everyone else. This gives users a chance to test out the new features and provide feedback to the developers on any problems they encounter, or regarding potential changes or additions.
Read More:
Being an early-access system, this could work like granting users permission to instal beta software that may contain bugs and not run entirely smoothly. But for some smart home builders we can see being granted early access, and the opportunity to provide feedback, as positives that may outweigh the annoyance of an occasional bug.
SmartThings Labs currently grants access to a handful of new features that are in development. One turns your smartphone or tablet into a keyboard to make it easier to type on a compatible smart television. This is a great idea, as typing on a proper keyboard is far more efficient than using the arrow keys of a TV remote to navigate the alphabet.
The app also has a feature called Universal Remote, which lets you control multiple devices on a single screen of the SmartThings app. Here, you can scroll through all of your connected devices, like the air conditioner, air purifier, dryer, security camera, TV, thermostat and robotic vacuum, in one place, switching them on or off with a tap.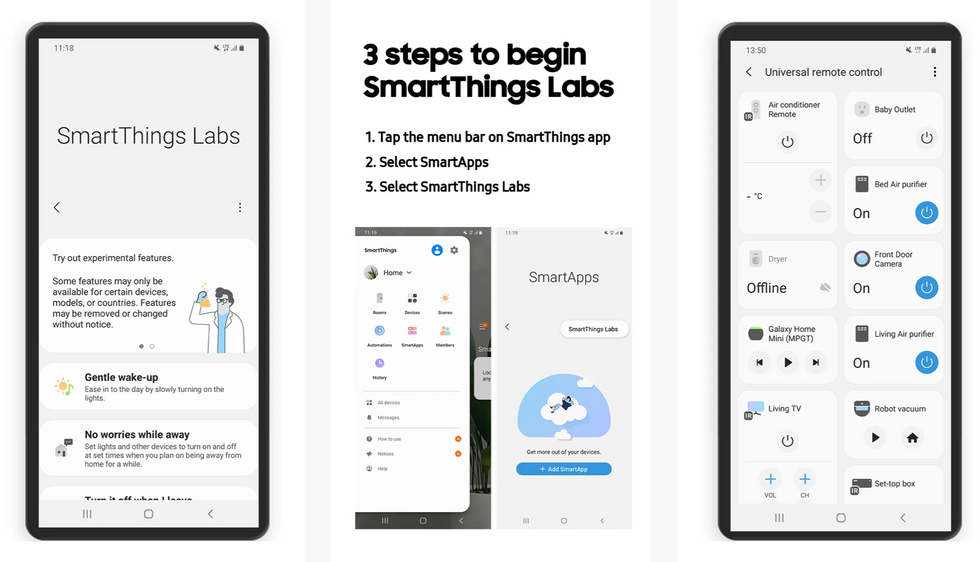 SmartThings Labs adds new smart home automation features Samsung
Another feature is called Virtual Switches. This gives users access to a handful of switches within the SmartThings app that can be used to control smart home scenes and automations, taking the place of (and being more cost effective than) the physical Samsung Smart Button.

Samsung said: "The SmartThings Labs provides a collection of experimental features, developed in-house by SmartThings, to test out user feedback on new service offerings. It opens up various possibilities for users to expand their smart living experience."
How to activate SmartThings Labs
SmartThings Labs is only available to U.S. and South Korean customers with Android smartphones for now. To activate the Labs system, follow these instructions:
Open the SmartThings app for Android
Tap on the menu bar
Tap on SmartApps
Tap on the More menu and select SmartThings Labs
After that, Labs will automatically be connected to every new feature developed by the SmartThings engineers. Including those mentioned above, Labs users will get access to eight new experimental features in the US and seven in South Korea.
Samsung says that upcoming features will let Labs users turn old Galaxy phones and tablets into monitors and cameras as part of the company's upcycling initiative.
Check out The GearBrain, our smart home compatibility checker to see the other compatible products that work with Samsung SmartThings.
Introduction of The GearBrain, The First Compatibility Find Engine for Smart Devices www.youtube.com
From Your Site Articles
Related Articles Around the Web
Like GearBrain on Facebook