Samsung's investment in Plume is clearly taking root, with the roll-out today of a new Wi-Fi mesh system under the SmartThings umbrella.
Made up of three routers —each baked in with Plume's AI mesh technology — the entire system also includes the SmartThings Hub, designed to give better connections to Wi-Fi devices in the home.
Mesh is a Wi-Fi technology that networks multiple routers around a base station to create a larger area of connection. Plume is just one of several companies that creates WI-Fi mesh networks — but it stands out from the pack for its $37.5 million infusion of capital from Comcast, Presidio Ventures and Samsung in 2017.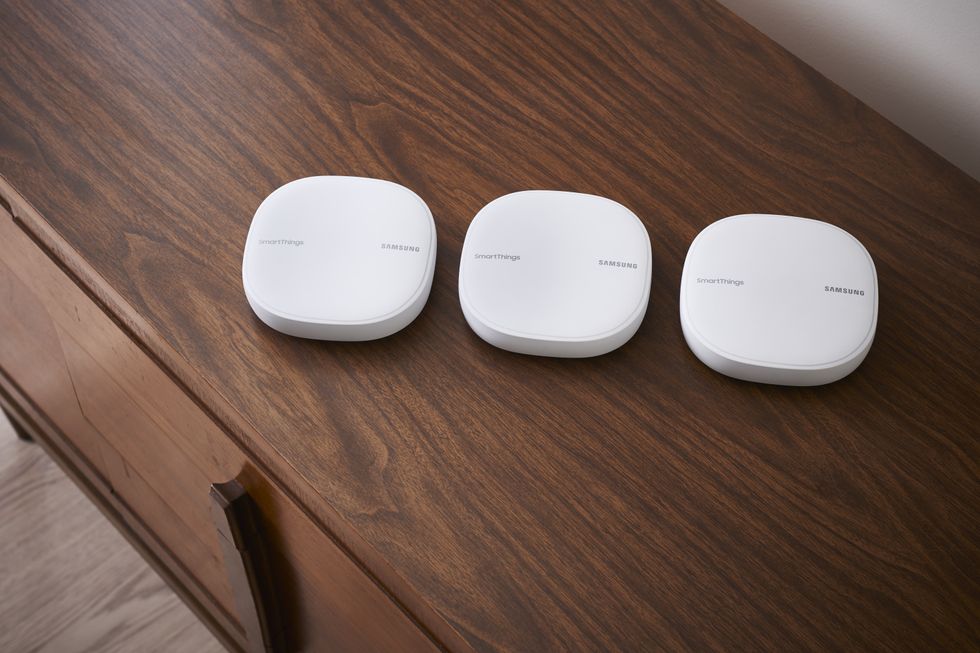 Three new routers make up the new SmartThings Wi-Fi mesh network systemSamsung
The new SmartThings Wi-Fi mesh system expands wireless coverage of Samsung's SmartThings devices, and also allows customers to set up parental controls, while issuing guest passwords and logins as well.
This has been a busy seven days for Samsung, which last week rolled out its new Galaxy Note 9 smartphone and the Galaxy Watch, as well as a sneak preview of the upcoming Galaxy Home, a smart speaker which finally puts Samsung into the virtual assistant race.
Samsung did not give many details about the new Galaxy Home, aside from saying it would have its voice assistant Bixby inside, and be powered by Harman's AKG audio division. The device has a retro feel, with a bit of a look of an old-fashioned tabletop microphone, complete with three legs sticking out from the bottom.
During its event from the Barclays Center in Brooklyn last week, the South Korean company said it would release more information on the Galaxy Home at its Developer Conference on November 7 in San Francisco.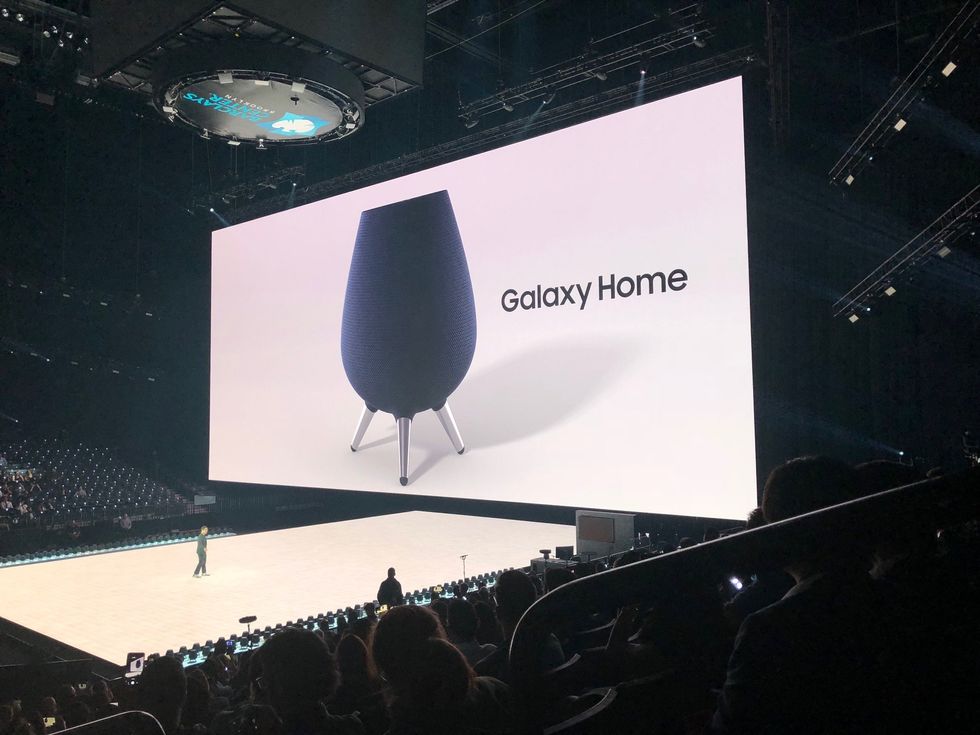 The Galaxy Home debuted at the Samsung event on August 9 in BrooklynGearBrain
Samsung is also upgrading the $70 SmartThings Hub, bringing Zigbee, Z-Wave and Bluetooth 4.1 connectivity protocols, so it can connect wirelessly without an ethernet cable, while also getting a smaller, physical design.
Samsung redesigned its SmartThings Motion Sensor too, adding a magnetic ball mount, so customers can change its angle for different viewing. There's a new SmartThings Button as well, that can create routines, without requiring someone go into their app and monitor the temperature inside a home, which a smart thermostat can sense to readjust its settings.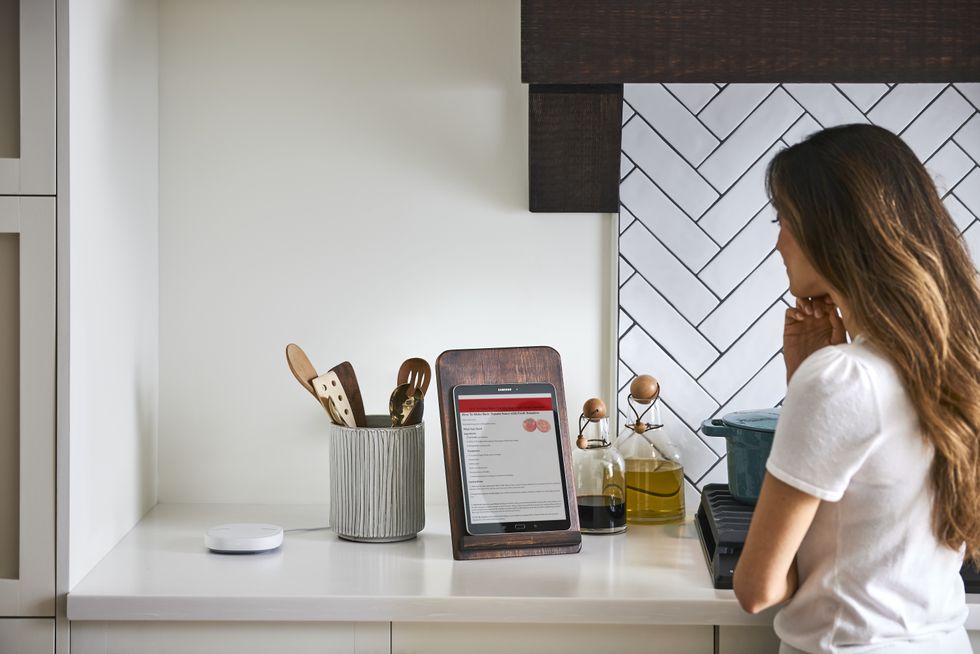 Updating its Wi-Fi network option with new mesh technology with expand the range of connectivity Samsung can offer customers with their devices in the home.Samsung
The new SmartThings Wi-Fi mesh system is priced at $280 for three routers, each one able to cover 1,500 square feet on its own, or 4,500 square feet together. Customers can expand that coverage by adding additional mesh routers, which are priced at $120 each. They all work with the SmartThings iOS and Android app.
"As more people embrace a connected lifestyle, we're focused on creating the best experiences so they can get more out of their smart home," said SK Kim, Senior Director, IoT Product Marketing at Samsung Electronics America. "SmartThings Wifi is an intelligent solution that adapts to the many devices in the home, with mesh capability to eliminate coverage gaps plus a built-in SmartThings Hub to easily monitor and control hundreds of compatible smart products."
Check out The GearBrain, our smart home compatibility checker to see the other compatible products that work with Samsung SmartThings.