Like GearBrain on Facebook
In the first piece of our three-part review of the Vivint Smart Home Security and Automation platform, we took you through the company's entire installation process. In this article, we are going to help you learn more about connecting your own smart home devices to the Vivint platform, whether you own these products now or plan to add them soon.

Onboarding Smart Locks
Before onboarding any connected devices to the Vivint system, it's important to know the platform is based on a Z-Wave wireless protocol — meaning most Z-Wave devices will work with on the Vivint platform, especially smart locks and lights. Z-Wave is a secure wireless connectivity protocol designed exclusively for smart home devices, based on a mesh network topology: products in the network act as signal repeaters. What's attractive about Z-Wave is the wireless signals easily travels through most walls, floors and ceilings as well as routes around obstacles to get a secure connection between your devices. Z-Wave has an operating range of 100 meters — or 328 feet — in an open-air building environment, and it's commonly used by most home security platforms because it creates a strong, secure network.
Smart Locks Work with Vivint
Yale Assure SL Z-Wave Smart Locks can be integrated into your Vivint Smart Home System
Smart Lights Work with Vivint Smart Home System
Philips Hue Smart Lights work with Vivint Smart Home System and you can turn them on and off and dim the lights from Vivint app. You can't change colors from Vivint app. You need to use the Philips Hue app to change colors of your smart lights.
Nest Works with Vivint
Nest Thermostats can work with Vivint Smart Home System. If you don't have a C-Wire, no worries. A battery powered Nest Smart Thermostat will work with your Vivint system. You just need to link your Nest account to your Vivint app in order to use the Vivint app to control your smart thermostat.
Google Home & Home Mini Works with Vivint
Google Home and Home Mini allow you to use voice commands to control your Vivint Smart Home System.
Element Smart Thermostat Works with Vivint
Element Smart Thermostats can be integrated into your Vivint Smart Home system.
Vivint uses Kwikset Smartcode Smart Lock (Z-Wave)
Kwikset Smartcode Smart Locks (Z-Wave) locks can be integrated into your Vivint system.
Amazon Echo works with Vivint
Amazon Echo and other Amazon Alexa enabled devices allow you to use voice commands to control your Vivint System.
Use Amazon Echo Dot with Your Vivint System
Amazon Echo Dot can also be used to control your Vivint Smart Home System.

In our test house, we started by connecting a smart lock to Vivint's platform, as it's commonly one of the first connected devices a smart homeowner buys. We had a Yale Assure Smart Lock with Z-wave on the back door, so we asked our Vivint installers to connect the device to the SkyControl platform.

At first, the Vivint panel did not recognize the smart lock. Vivint's installation team suggested we do a factory reset on the Yale Assure to troubleshoot. I was pleasantly surprised the Vivint team was familiar with the Yale Assure Lock, and once we did factory reset, the Vivint panel picked up the lock and connected to our system, letting us control the lock through the Vivint app or SkyControl panel which is now called Vivint Smart Hub.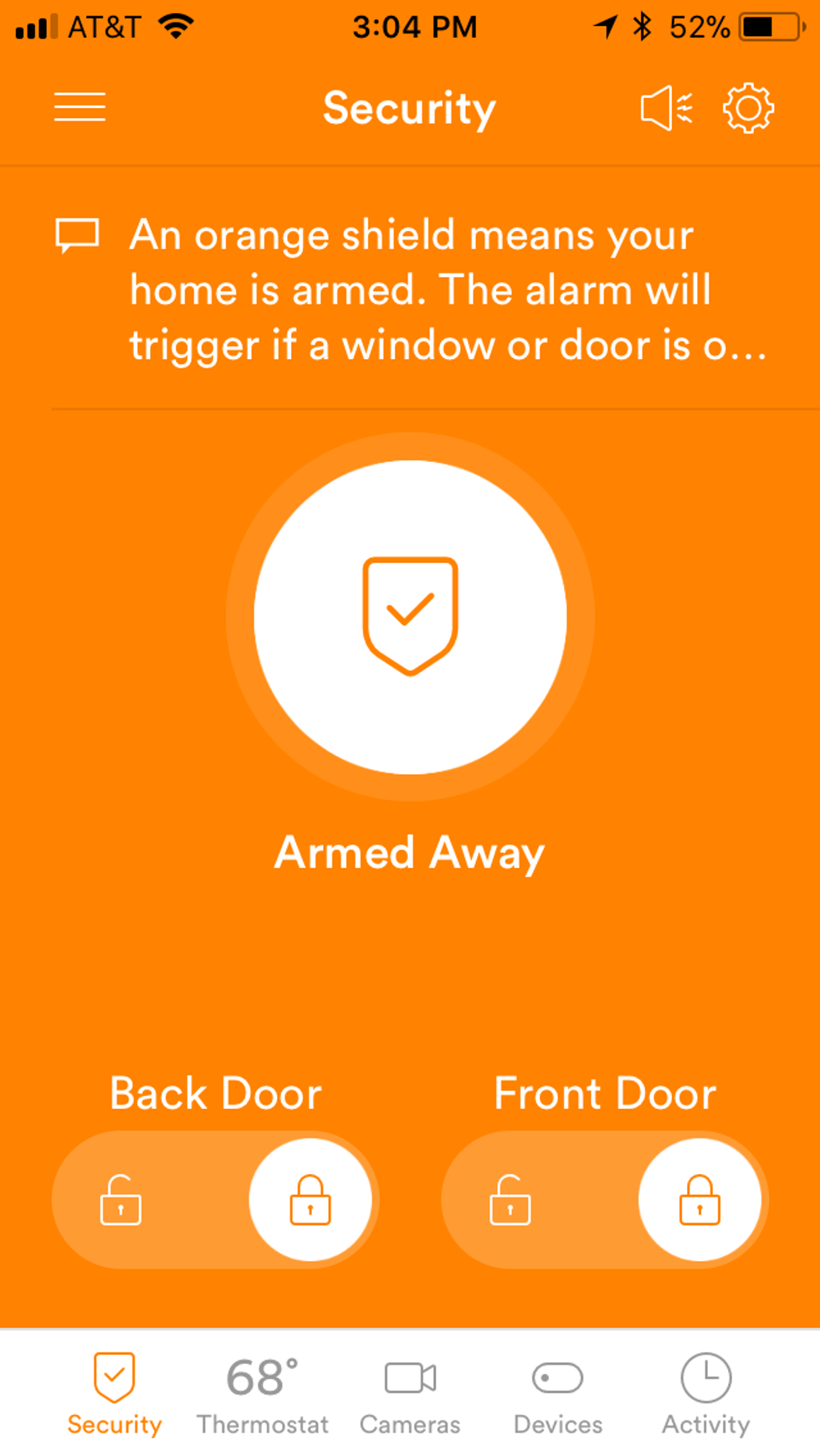 Control your smart locks through the Vivint app.GearBrain
If you own a Yale Assure Lock and want to pair it to the Vivint platform as well, first delete the Assure lock's wireless connection. Then, put in the lock's master code and press *, then 7 *, then * 3*. The Vivint panel will then be able to discover and connect to your system. Any issues, and your Vivint installer should be able to connect it for you.

If you don't have a door lock, but want Vivint to install one, the company usually installs Kwikset's smart locks, which are Z-Wave compatible. For our test house, they installed the Kwikset SmartCode 888, a Z-Wave smart lock which goes over any single cylinder deadbolt lock, and has backlit keys. Vivint's team did a nice job of matching the lock's finish with our door handle. We like how the lock also comes with both keys and a keypad, letting you give people codes or a key if they need to gain access to your home.
The next product we connected to the system were Philips Hue smart lights, which are compatible with Z-wave and other wireless protocols because they use a hub. Vivint's system also works with GE Z-Wave Lights and GoControl Z-Wave Plus. We had no problem pairing the Philips Hue lights to the SkyControl panel, but note that you can only dim and turn your smart lights on and off from the control panel. To get them to change colors or have them blink when the alarm goes off, you'll need to use the Philips Hue app.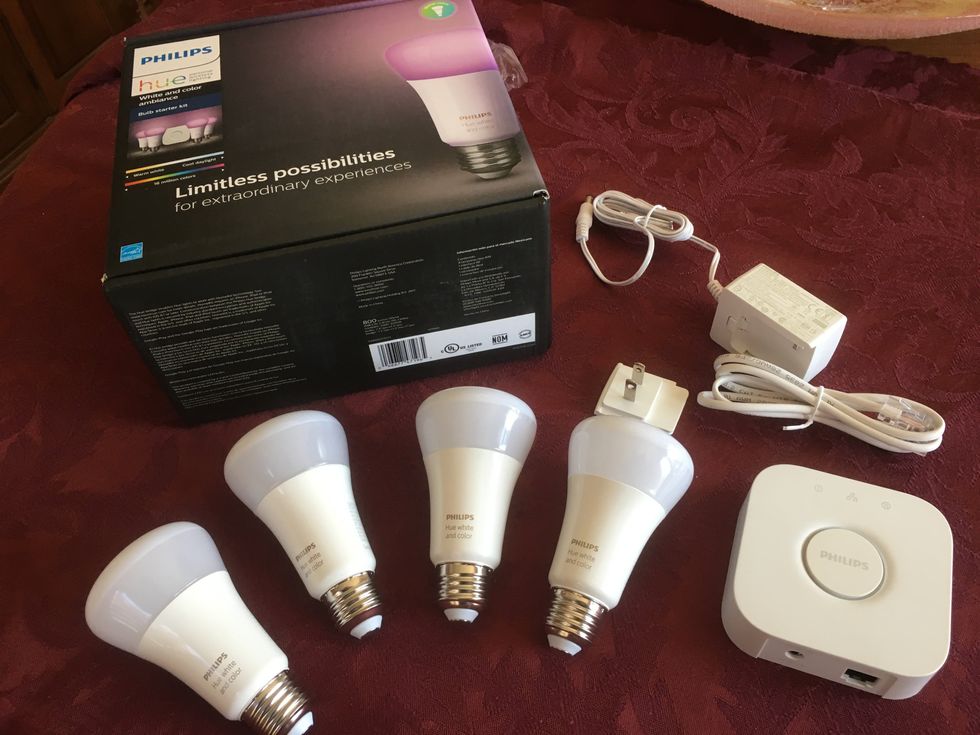 Phlilips Hue smart lights work with Vivint Smart Home Security Systems.GearBrain
Another third-party device we linked up was a Nest Pro smart thermostat, a good, connected device to help you save money on your heating and cooling bills. However, it's important to know before installing a smart thermostat, what type of wiring you have behind your current thermostat. Many are hard-wired to your system, and require a C-wire or common wire to power them. If you take off your existing thermostat and see only two wires, this means you don't have a C-Wire. You still have two options: one, install a battery-powered smart thermostat or hire an HVAC professional to come install a C-Wire for you. (This might cost between $300 to $600 depending on where you live and if you're friends with an HVAC guy.)

Since we didn't have a C-Wire on the thermostat in our test house, we had Vivint install a Nest Pro thermostat, which you can only get if installed by a professional (not sold at retail). The Vivint team took off our old thermostat, checked the voltage, and offered either one by Nest or the Vivint Element. We chose the Nest Pro Smart Learning Thermostat, went to Vivint.com/net, and gave Nest permission to connect to Vivint.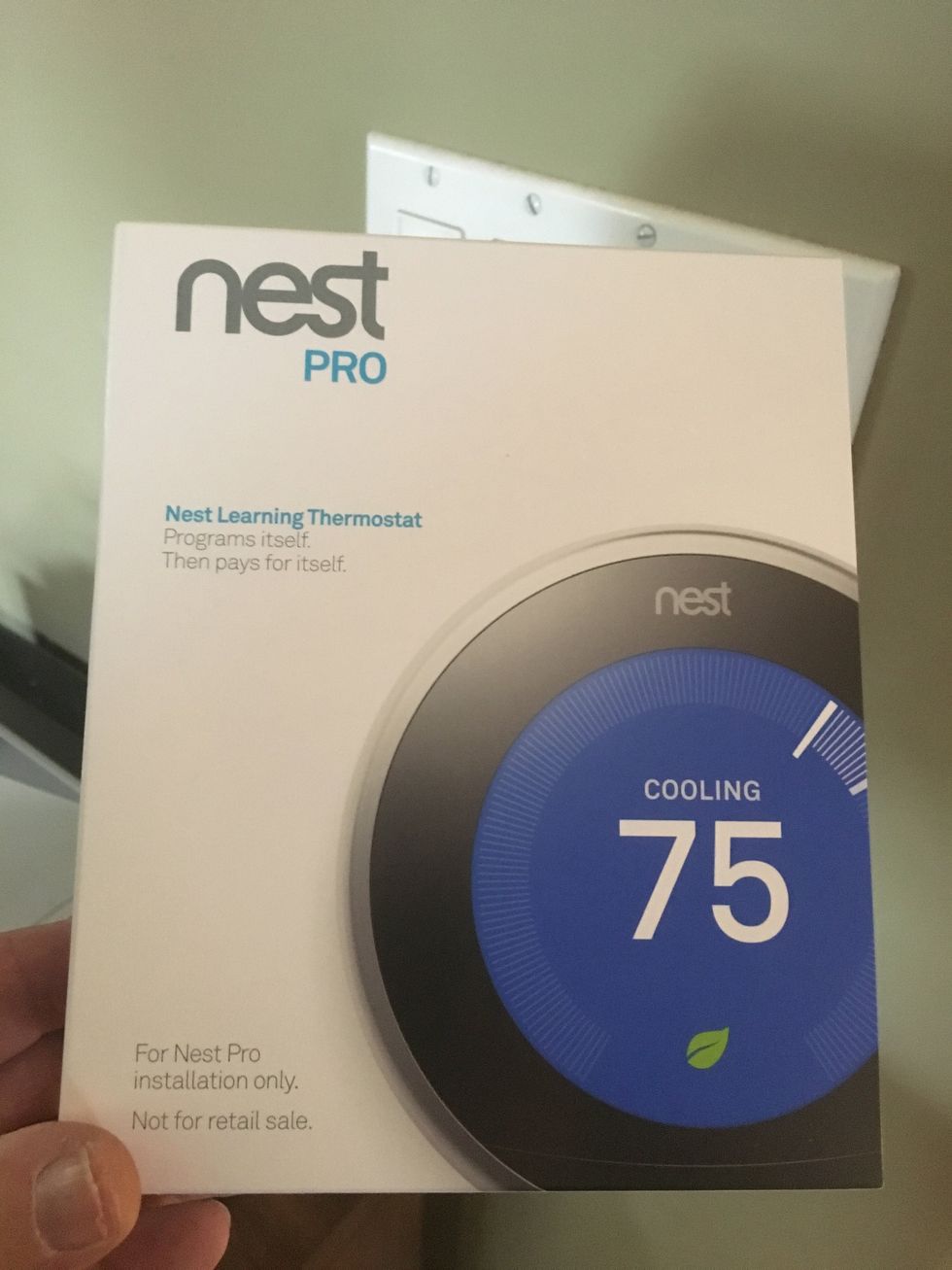 Nest Programmable Thermostats work with Vivint Smart Home System.GearBrain
Once we gave the device permission to connect, Nest sent a code to type into the Vivint panel. Once connected, we were able to link to the Vivint panel and app, and control the Nest thermostat. You can also control through the Nest app if you want. Once it's installed, Nest will ask you if you want to run Smart Assistant, the AI feature used to learn how to best heat and cool your home. We recommend you choose this option.
When installing Nest, we had a small issue finding the right place on the wall. We ended up using a special mount to secure the smart thermostat on the wall, and some people found the color a little off-putting. You can paint the mount to match the color of your wall, however, but that is an added step some might not want to do.

Smart Speaker Assistants – Google Home or Amazon Echo Devices

Vivint platform also works with Google Assistant and Amazon Alexa enabled devices. If you have a Google Home, Google Home Mini, Amazon Echo, Echo Dot or any other Amazon Alexa enabled device, you can control the Vivint system by making requests aloud. Vivint will also offer you either device to add to your system prior to installation. We had an Amazon Echo in our test house, and chose to test that system with Vivint, finding the experience pretty easy: you open your Amazon Alexa app, go to the Vivint skills and follow the instructions. Once your Echo connects to Vivint, you'll be able to use voice commands, like "Alexa, tell Vivint to lock back door" or "Alexa, ask Vivint to arm my security system, stay." We didn't test Google Home but Vivint installers told us it works similiarly as Amazon Alexa. (Check out The GearBrain, our smart home compatibility checker to see the other compatible products that work with Amazon Alexa and Google Home/Home Mini devices as well as other smart home connected devices.)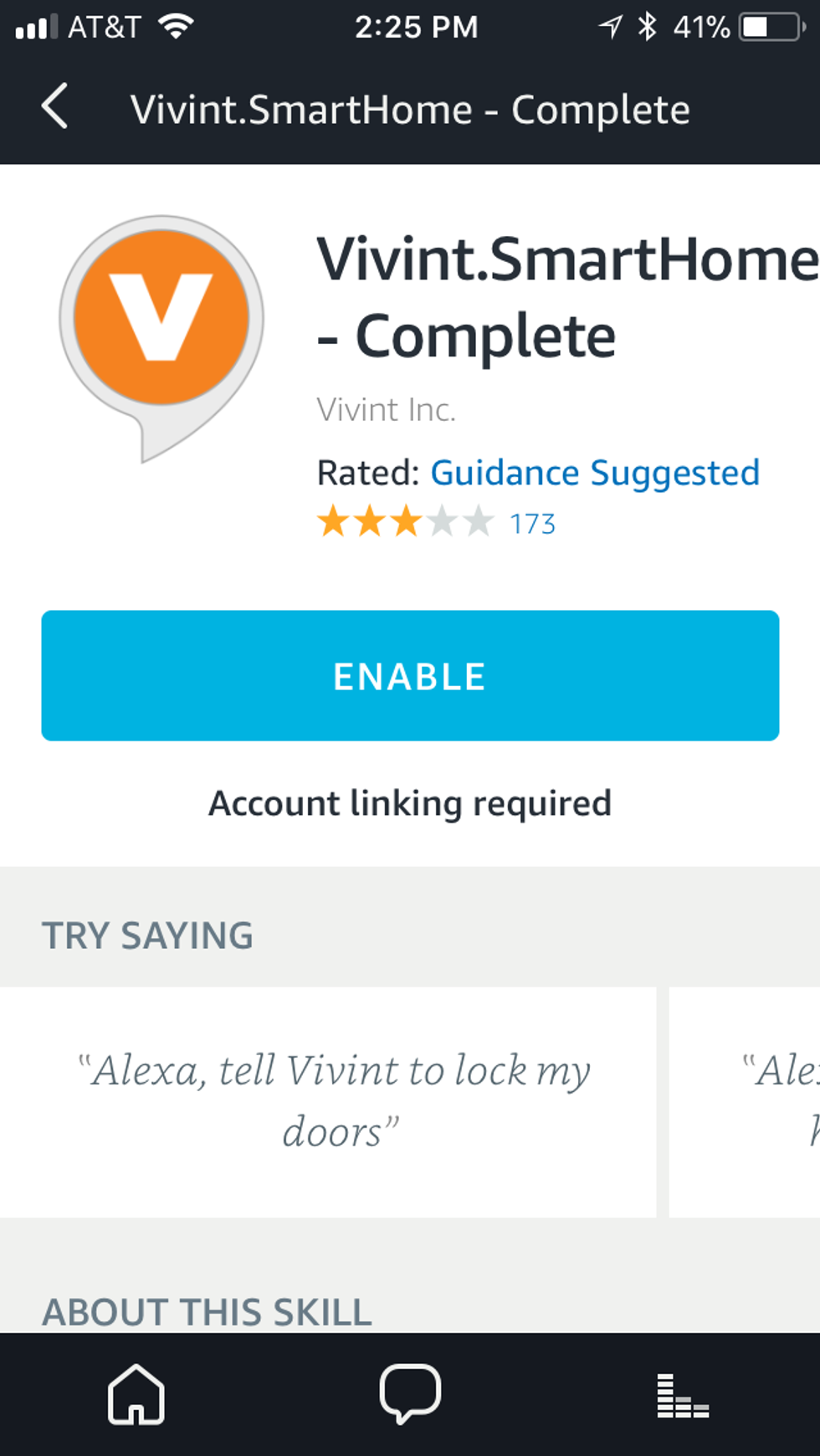 Amazon Alexa Skill for Vivint Smart Home SystemGearBrain
Additional Smart Home Devices

When connecting devices to a smart home system, you do need to note the number of ports your home router has to support these devices. Most home Wi-Fi routers have four ports to connect smart home gadgets. In our test home, we ran into a problem. Our router was already pretty full with a home computer, Vivint and Philips Hue's hubs connected to it, along with a few other smart home hubs to power a connected weather station, smart lights, switches and motion sensors. We get this is not the norm. If you do run into this problem, Vivint will provide you an additional router — but you do have to pay for it. If you have an extra one laying around, you can just ask your Vivint installer to hook it up for you.
Security of Your Wireless Connection

A big concern consumers have today centers around the security of the wireless connection between their devices and router. Most smart home devices don't have security protocols built into them and are prone to hackers. Consumers need to make sure their wireless connection is secure, and one way is by purchasing IoT security devices, like Cujo or Dojo. Vivint's system actually has its own Wi-Fi router, which works across a private, encrypted Wi-Fi network that doesn't rely on a homeowner's network. According to Vivint, they are always evaluating the integration of other IoT devices, including security devices like CUJO, with the goal of finding the best ways to enhance the performance and security of all the smart home products across the system. This is good to know as the industry moves forward and hackers and devices get smarter.
Summary
Overall, we found Vivint's onboarding of smart devices to its platform very easy, and Vivint helped us trouble-shoot any issues to its system. If you have a Z-Wave device, more than likely Vivint will be able to pair the device with its platform so you can control or access these devices through one app. If you don't currently have a Z-Wave device — but are thinking of adding them — make sure to speak with Vivint's customer service before buying any of device. Vivint only supports Z-Wave devices they sell and integrate into your system, or you can check Vivint's website for more information, to make sure you buy the right device.
To learn more about installation of connected devices from Vivint, click here. Next will be our final, overall review of the Vivint Smart Home Security and Automation system. Click here to see what we have to say overall about Vivint.
Like GearBrain on Facebook