John Deere, making clear use of Apple's ARKit, has designed an augmented reality feature that lets you see the five-figure, lemon-yellow and lime-green lawn mower anywhere you want.
Read More:
Why would you want to play with an AR lawn mower? You probably wouldn't unless you're in the market to buy one. And at $17,379 that's a big ask — and you likely have a big lawn.
This isn't your typical push mower, nor even something you need for a normal ranch home. The ZTrak Z994R is a heavy duty device, one you sit on top, that has multiple wheels, hand controls and we're guessing capable of making a significant sound when it's running.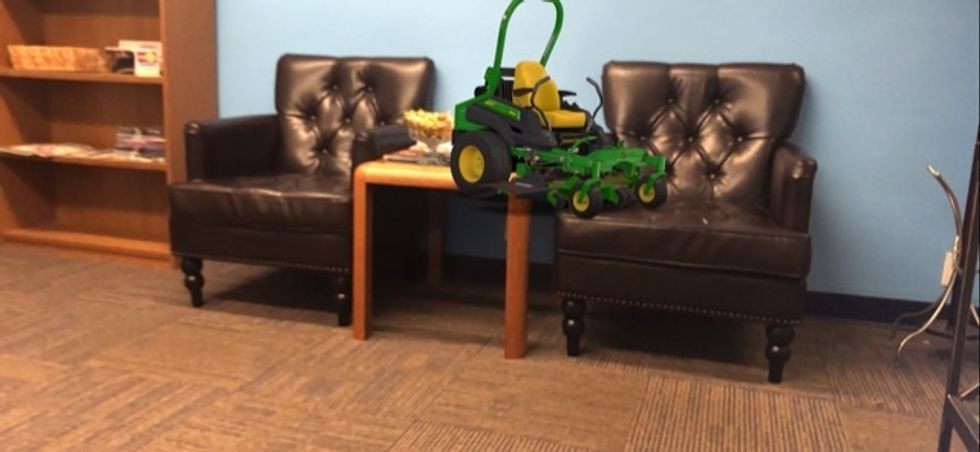 You can shrink and expand the size of the mower to zoom in on detailsGearBrain
It's not uncommon for brands to now offer AR options to view their products. Ikea certainly lets you play dress up with your home and its furniture through its app, Ikea Place. Brands have also played with marketing campaigns that use AR to lure people to engage with their products.

To use the feature you need an iPhone or an iPad and it must be running iOS 12 (although the iOS 13 beta, worked as well.) You also have to go the John Deere web site specifically for model Z994R via Safari, and there you'll click on the bright green lawnmower and then get to drop it.
We found sizing the mower a bit tricky. In some cases the device was small enough to fit on an arm chair, other times we couldn't even get the entire device in a photo frame.
Once you get it planted, though, you can zoom in, spin it around and check at the detailing. Then, if you'd like (and we know John Deere is hoping) you can share your lawn mower image on social media with the hashtag #putDeerehere. Or you can just press delete.