Like GearBrain on Facebook
Smart speakers and displays like the Nest Hub and Amazon Echo could be used to help babies sleep and monitor their breathing and sleeping during the night - all without using a camera.
Instead of employing any form of vision sensor, researchers at the University of Washington discovered a way to use white noise, along with the products' microphones and speakers, to understand the physical environment around them.
Read More:
They created a skill (a piece of smart speaker software) called BreathJunior, which broadcasts white noise from the speaker, then uses its microphones to analyze how sounds are reflected back from the surroundings closely.
Although white noise is seemingly a random collection of sound frequencies, smart speakers know exactly how it is made. They can then listen out for the sound bouncing back off their surroundings.
This can be done so sensitively, that the location and movement of a baby will affect the reflected sound. Using the difference between the white noise produced and the white noise captured by the microphones, the smart speaker can understand the baby's movement and breathing. If this indicates a problem, they could then alert the child's parents.
Shyam Gollakota, an associate professor from the University of Washington, said : "Smart speakers are becoming more and more prevalent, and these devices already have the ability to play white noise. If we could use this white noise feature as a contactless way to monitor infants' hand and leg movements, breathing and crying, then the smart speaker becomes a device that can do it all, which is really exciting."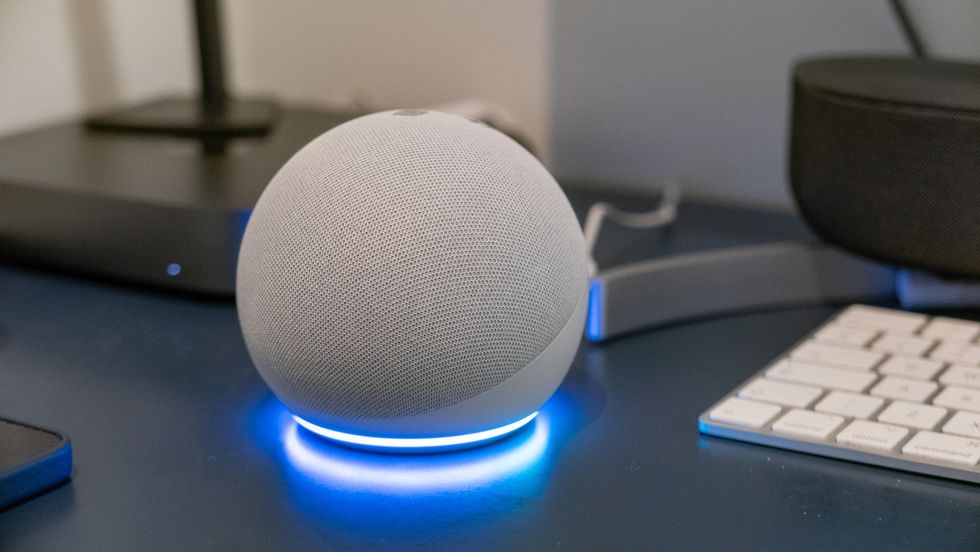 The software could one day appear in commercial smart speakers GearBrain
The BreathJunior software was tested on an infant simulator, allowing researchers to detect breathing rates from 20 to 60 breaths per minute, and to spot abnormal breathing patterns like sleep apnea, which is common among babies born prematurely.

Doctoral student Anran Wang, who also worked on the project, said: " Our algorithm takes advantage of the fact that smart speakers have an array of microphones that can be used to focus in the direction of the infant's chest. It starts listening for changes in a bunch of potential directions, and then continues the search toward the direction that gives the clearest signal."
As well as breathing and movement in their crib, the BreathJunior software can also detect the sound of a baby crying.
Researchers then tried their smart speaker software on live infants, who were also connected to wired, hospital-grade respiratory monitors. This test found the smart speaker system can accurately identify respiratory rates up to 65 breaths per minute.
This experimental software shows how a speaker, microphone array, and smart algorithms can monitor sleeping babies without connecting them to any wired equipment. In the future, Gollakota says: "One can envision transforming a smart speaker into a
medical tricorder
that can contactless monitor a variety of vital signs beyond just breathing."
Check out The GearBrain, our smart home compatibility find engine to see the other compatible products that work with Google Assistant and Amazon Alexa-enabled devices.
Echo Show 5 (2nd Gen) Kids | Designed for kids, with parental controls | Chameleon
7 Tips Everyone Needs to Know About How to Use Amazon Alexa and Google Assistant Enabled Devices www.youtube.com
Like GearBrain on Facebook