A new Apple Watch in hand, I found that every day I would lift my wrist and find certain apps start playing on their own. Sometimes this would be music — typically, though, this was my Calm app.
While I do like using Calm, especially right now, having it start on its own undid everything I wanted from the app — basically, it created an irritation, one that happened daily. It would start playing one of the sounds I like to hear, often while working. I wouldn't hear it from the watch, but would glance down and just see that it was playing. So annoying.
At the same time, the watch face itself was also now gone, and replaced with a small clock in the upper right corner, the one that shows up when you're running another feature on the watch.
Even the most recent update on the watchOS to 6.2.1didn't seem to help remove this issue.
So if you're finding this is happening to you — and unless you turn this feature off, it likely is — here's how to make that stop without having to delete the app that's involved.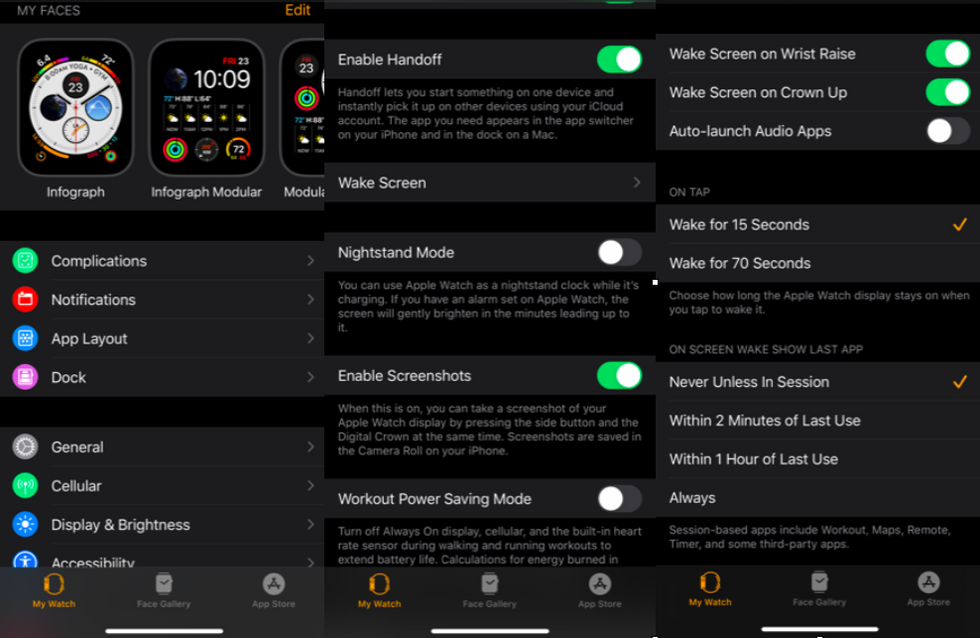 You can stop apps from launching on the Apple Watch automaticallyGearBrain
Step One: To control some of the basic functions on the Apple Watch, you need to use the iPhone app. So, open the Watch app on your iPhone

Step Two: Click on the General tab — about one-quarter of the way down on the first screen
Step Three: Click on Wake Screen. This is about mid-point on the screen
Step Four: Find Auto-launch Audio Apps. Now, Calm may not seem like an audio app, but it is. It's playing sounds and to Apple, this relegates it to the Audio App section.
Step Five: You're going to want to toggle that to off if it's one, as mine was on my app. You'll know it's off if the color next to it goes from green to black.
And that's all there is to do. I haven't found this worked to stop audio apps from launching on my iPhone screen. We're figuring out the world around on this as well and will post that fix as soon as we can.
Apple Watch Series 5 (GPS, 44mm) - Space Gray Aluminum Case with Black Sport Band
How to Setup an Apple Watch www.youtube.com