Like GearBrain on Facebook
Subaru offers a several features and tools packed inside its connected car and infotainment services, including both CarPlay and Android Auto, along with Bluetooth and the option for an in-car Wi-Fi network too. But the majority of Subaru's connected car features are collected under the StarLink name. This brings smartphone connectivity, navigation, enhanced safety features and convenience apps into one place.
Read More:
What is Subaru StarLink and what can it do?
First off, let us talk about the safety and security features of Subaru StarLink. You get automatic notifications to your smartphone if your vehicle is involved in a collision, enhanced roadside assistance, stolen vehicle recovery, and smartphone-powered remote services.
The safety and security features of StarLink are available on select 2020 and 2021 Subaru models. As with most manufacturers, exactly what features your car has will depend on the model, year, trim level and, once the initial free trials have expired, what monthly and annual subscriptions are in place.
Subaru vehicles use StarLink to automatically put you in touch with a customer care agent when a collision is detected. If you ask for help, or not do respond at all, the agent can request local emergency services and share your location with them.
There is also an SOS button to press if you need to make manual contact with an agent, for example when witnessing an accident and requiring assistance for someone else.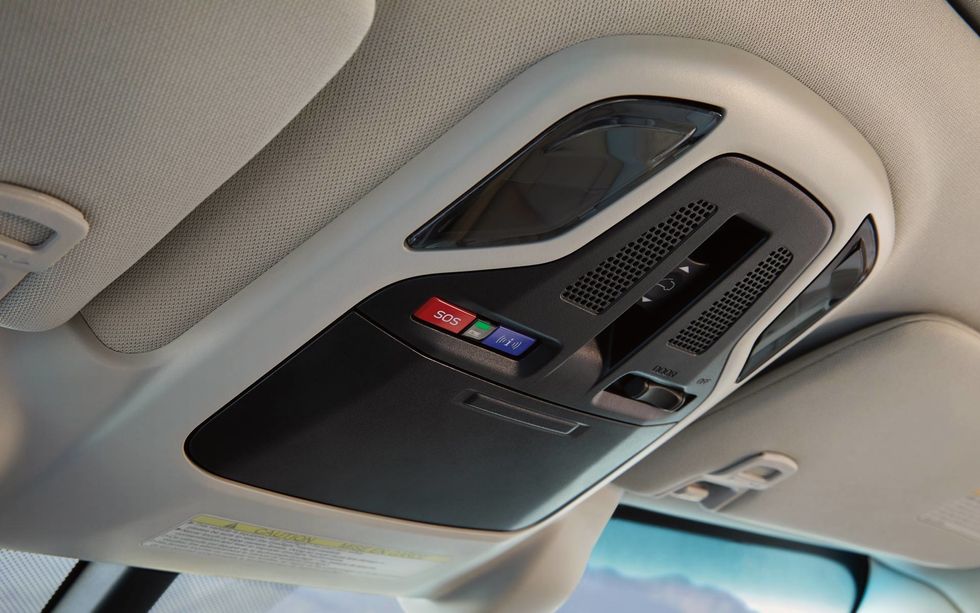 StarLink includes SOS and concierge buttonsSubaru
Next to this is a concierge button, which puts you in touch with an agent who can help find local destinations, like a restaurant or gas station, and add them to your car's navigation system. They can also help find last-minute tickets for sports and events, book a hotel, or schedule a service for your car.

Like other connected vehicle systems, StarLink also lets you set up boundary, speed and curfew alerts. That way, the Subaru smartphone app will notify you if your car has exceeded a predetermined speed limit, driven beyond a geofenced area, or is being driven after a certain time of day or night – handy for when you let your children borrow the car.
The app can also be used to remotely start the car, and set the climate control. That way, the cabin can be remotely warmed or cooled to a comfortable level before you step inside. You can also use the app to lock and unlock the car, locate it on a map, and activate the horn and lights if you lose it in the parking lot.
StarLink can be used to remotely immobilize your vehicle when it is stolen. Although you can't do this yourself, local authorities informed of your stolen car can request Subaru and StarLink to press the button, immobilizing the car the next time someone tries to start it. StarLink staff will then work with the police and use your vehicle's GPS location to attempt to recover it.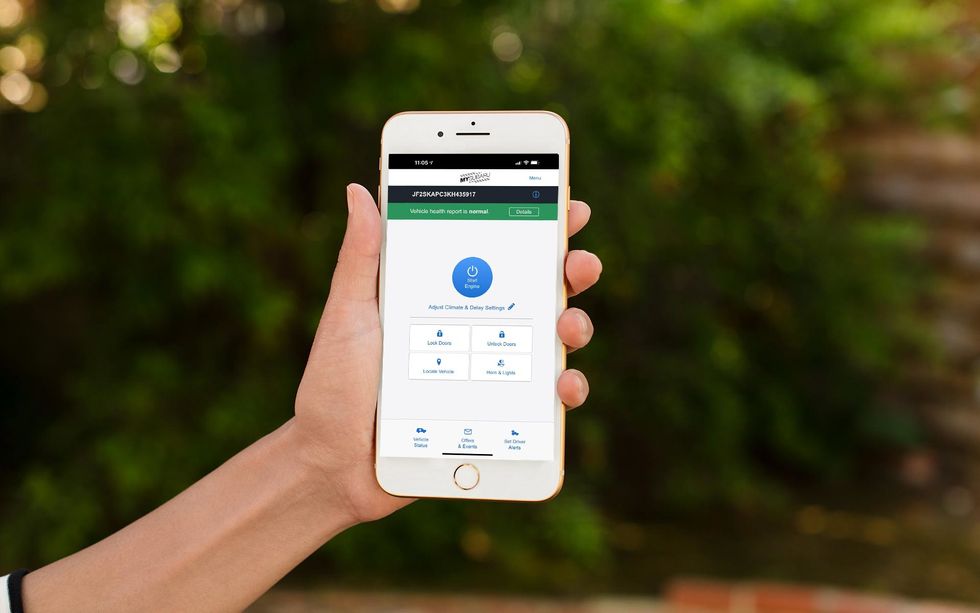 The MySubaru smartphone app controls certain vehicle functionsSubaru
Other features of StarLink include a monthly email sent to you containing a comprehensive diagnostic report of your vehicle. Data like your car's mileage, driving range and tire pressure can be viewed on-demand on the Subaru website, or through the MySubaru smartphone app, which is available for iOS and Android.

If a warning light comes up on the dashboard, you will be notified with information about what this means via email, text message, and within the MySubaru app. From there you can schedule a visit to a local dealership, or use the car's dashboard display to check when your next service is due.
Echo Auto Air Vent Mount
How much does Subaru StarLink cost?
Not every feature is available on every Subaru car, and naturally newer models will have access to more functions than older ones. However, as a general guide there are three pricing tiers to be aware of.
These are called StarLink Safety Plus, StarLink Security Plus, and StarLink Concierge.
The first includes automatic collision notification, enhanced roadside recovery, SOS emergency assistance, vehicle health report and condition checks, diagnostic alerts and a service appointment scheduler. The Safety Plus package is free for the first three years, then costs $99.95 per year or $9.95 per month if you want to keep using it.
Next comes Security Plus, which adds remote control (via the smartphone app) of the locks, horn, lights and climate, plus the stolen vehicle recovery service and immobilizer mentioned earlier, and the boundary, speed and curfew controls. The Security Plus package is free for six months, then costs $4.95 per month (after the purchase of Safety Plus) if you wish to continue using it.
Finally the StarLink Concierge service, which lets you call up an agent to add destinations to the navigation system, and assist with booking restaurants, hotels and event tickets, costs $4.95 per month. Both Safety Plus and Security Plus are required before you can add in the concierge service. So if you want everything the StarLink system has to offer, you'll be looking at a total cost of $20 a month.
Finally, Wi-Fi connectivity can be added to select 2016 models of Subaru and newer. This is powered by a 4G LTE connection from AT&T, and means up to eight devices like smartphones and tablets can connect to the car's internet connection at once.
Costs apply, but this will depend on how much data you want and whether you are a new or existing AT&T customer.
BOSS Audio BVCP9685A Apple Carplay Android Auto Car Multimedia Player - Double Din Car Stereo, 6.75 Inch LCD Touchscreen Monitor, Bluetooth, MP3 Player, USB Port, A/V Input, Am/FM Car Radio
From Your Site Articles
Related Articles Around the Web
Like GearBrain on Facebook