Like GearBrain on Facebook
For its latest dig at Apple and the popularity of smartwatches, Swiss watchmaker H. Moser & Cie has produced a timepiece which looks just like an Apple Watch, but doesn't actually show the time.
Instead of a touchscreen - or, indeed, a watch face of any description - the Swiss Alp Watch Concept Black features a blank front, like an Apple Watch before it's woken up.
Read More:
At the six o'clock position sits a fastidiously complex flying tourbillon movement, designed to keep time and counteract the effects of gravity on a regular watch mechanism.
Ignoring that movement for now, the body of the Swiss Alp Watch Concept Black looks almost exactly like an Apple Watch in standby mode - a theme shared by three other watches produced by H. Moser & Cie. The company goes as far as to describe its Apple-inspired Swiss Alp Range as "displaying time, rather than taking it up", which is somewhat ironic, given this watch doesn't actually show the time at all.
The rectangular black front, squared-off edges and slender strap lugs should immediately remind anyone of the popular Apple wearable. The only obvious differences are how the crown sits at three o'clock instead of two, and the appearance of a button on the left edge, where there is none on the Apple product.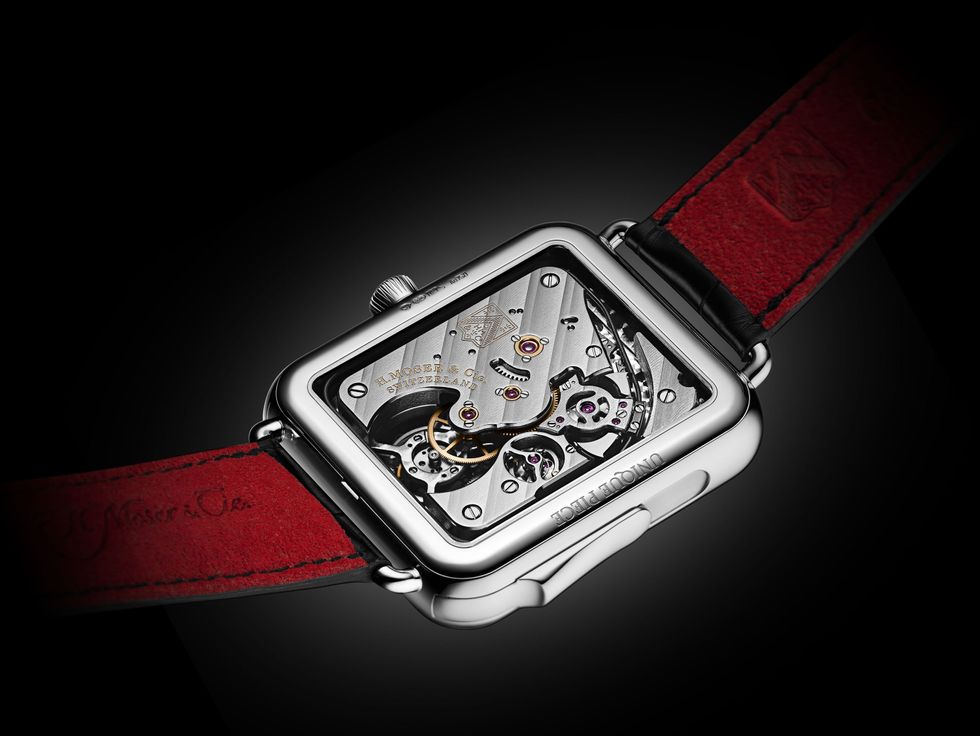 This watch could also be described as smart, but in a very different way to the Apple Watch. That's because, to tell the time, you have to listen for the device's minute repeater function, which delivers the time via a series of audible chimes produced by two gongs. The center of the platinum case has been hollowed out to make enough space for a resonance chamber.

So to tell the time you have to press a button, then hold the watch to your ear and listen carefully as the chimes are played. Quaint.
Turn the watch around and you're greeted by a completely transparent back, allowing for a full view of the complex mechanism inside. That movement has a claimed power reserve time of up to 87 hours, meaning it can go without being worn for just over 3.5 days before losing time.
Only one has been produced for now, but the manufacturer says it has been sold and there have been requests for more to be made.
So, if you fancy thumbing your nose at Apple and the popularity of smartwatches - and you have $350,000 burning a hole in your pocket - this could be exactly what you're after.
Like GearBrain on Facebook