Tesla boss Elon Musk says his company is now teaching its Autopilot driver assistance software to navigate traffic lights, stop signs and roundabouts without any human input.
Musk, known for promising major advances with autonomous driving but often missing his own deadlines, also said Tesla cars built in the past two years will "soon be able to go from your garage at home to parking at work with no driver input at all."
Read More:
This will sound familiar to any Tesla fan and industry watcher, as Musk said back in 2016 that, by the end of 2017, a Tesla car would be able to drive itself from Los Angeles to New York, a distance of almost 2,800 miles. Musk said this summer that plans for the Autopilot coast-to-coast drive had been put on hold.
Musk said he didn't want to "cheat the system" by programming a Tesla to follow a predefined route between the two cities, and said it was a better use of Autopilot engineers to focus on "safety and existing features" rather than ambitious PR demonstrations.
Addressing the features which are already available to U.S. Tesla drivers, known collectively as Navigate on Autopilot, Musk said: "It will blow your mind. Automatically passes slow cars and takes highway interchanges and off-ramps."
When asked by a Twitter follower about when Navigate on Autopilot would get regulatory approval in the European Union, Musk said Tesla is still waiting on this from the E.U. Currently Tesla drivers in the E.U. can use Autopilot, but the system cannot change lanes to overtake or take interchanges and off-ramps.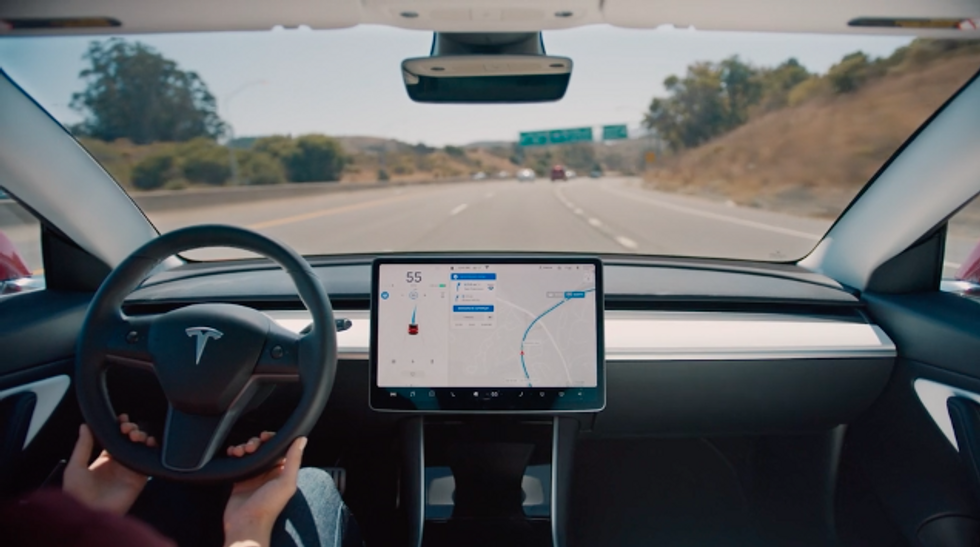 Tesla
For now, drivers in the US must use the indicator stalk to accept the car's request to change lanes (to overtake a slower vehicle ahead, for example), but Tesla hopes future versions of Autopilot will "allow customers to waive the confirmation requirement if they choose to...until truly driverless cars are validated and approved by regulators, drivers are responsible for and must remain in control of their car at all times."

Tesla recently removed the option to buy a fully self-driving add-on for new vehicles. With a price which varied over the years between $3,000 and $5,000, the system (which is not yet functional) was removed from sale because it was causing too much "confusion" among buyers, Musk said.
Also on Sunday (December 9), a 60 Minutes interview with Musk was aired. In it, the Tesla boss said he "does not respect" the Securities & Exchange Commission, with which he settled securities fraud charges earlier this year, after tweeting that Tesla was being taken private.
The claim boosted Tesla's share price, which later fell after the deal — with money expected to come from the Saudi Arabian royal family — was taken off the table. Musk agreed to pay a $20 million fine and for a system to be implemented where his tweets are pre-approved by Tesla before being published.
However, in the December 9 interview, Musk said: "The only tweets that would have to be...reviewed would be if a tweet had a probability of causing a movement in the stock. Otherwise, it's - hello, First Amendment." When asked how he and Tesla knows what counts as a market-moving tweet, Musk added: "Well I guess we might make some mistakes. Who knows?"
Tesla separately said that the settlement "is being complied with," adding: "This includes having a policy (which technically needs to be in place by December 28) that requires pre-approval of any communications that reasonably could contain material information."