Speaking at a company shareholder event on Tuesday evening, Tesla boss Elon Musk teased out more details of the upcoming electric pickup truck.
During the near-two-hour event, which you can watch on YouTube below, Musk said he hopes to show off the truck for the first time towards the end of summer 2019. He did not say when the truck might go into production, but a slide showed its name - the "Cyberpunk Truck" for now - sitting between the Model Y crossover and Semi electric haulage truck.
Read More:
Tesla says the Model Y will go into production in late-2010, and this week confirmed the Semi truck is being delayed a year to 2021, so by sitting in-between these two we can take a punt at the pick-up truck arriving sometime in late-2020 or early to mid-2021.
Speaking about the truck Musk says it will be better than both the Ford F-150 (America's best-selling vehicle of any category), and the Porsche 911.
This may seem like a strange pair of vehicles to go up against at once, but Tesla's reputation for outrageous acceleration from its electric motors, paired with what it has learnt in developing the Model 3's track mode, form the basis of this target.
Musk said of the truck, which he has heaped praise on repeatedly over the last year or so, "I think it's the coolest car I've ever seen, to be frank". He previously said it looks like it has come from a sci-fi movie, and that it will start at less than $50,000 - although given the difficulties in getting the Model 3 down to its $35,000 target price, we won't hold our breath on that one just yet.

Although Tesla has the Ford F-150 in its sights - as should anyone wishing to build a pickup - Musk said: "We're trying to create something new and it's not just basically a copy of the form factor of everything else. But you still want it to be great...This is a very hard thing [to do]."
Tesla has a habit of revealing its new vehicles a long time before they go into production. So while the pickup truck could well be shown off in late-summer 2019, it not going into production until 2020 or even 2021 shouldn't come as a surprise. The Model Y, for example, was revealed in March 2019 but most early orders won't arrive with US buyers until 2021.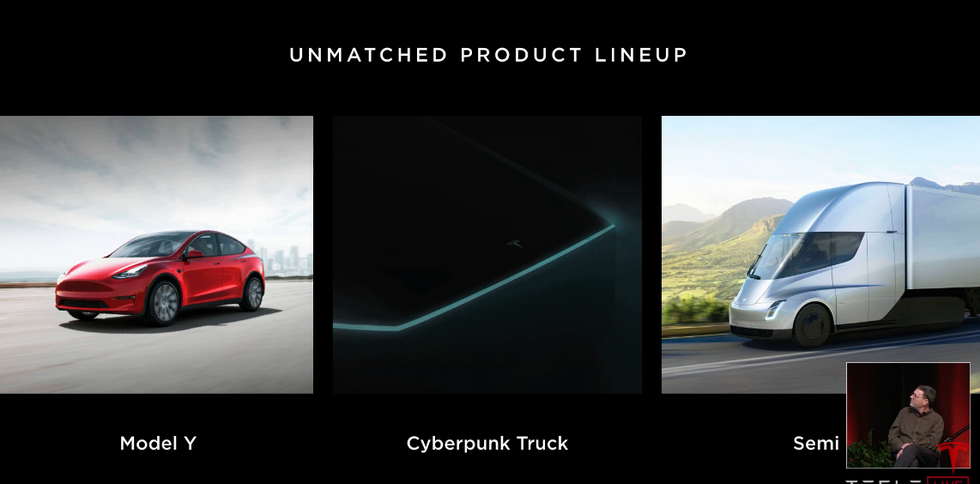 The Model Y, pickup and Semi are all due in 2010 and 2021Tesla
This is unusual for a mass-production car maker, as new vehicles normally undergo a couple of years of real-world testing wearing camouflage, before being announced then put on sale very soon after.

Elsewhere in the presentation on Tuesday evening, Musk said how it "will not be long" before Tesla is producing electric cars with a range of 400 miles. Currently, the longest-range Tesla is capable of 370 miles, according to the EPA test cycle.
Musk also outlined plans for an Uber and Lyft rival, which would see Tesla drivers give lifts to paying passengers who book them through a smartphone app. This will use human drivers for now, but is expected to eventually turn into a driverless taxi service, using Teslas and their autonomous Autopilot system.