Like GearBrain on Facebook
Just 10 days after announcing the closure of the majority of its retail stores worldwide in a bid to lower the price of its cars, Tesla has changed its mind.
Now, the company says "significantly" more stores will stay open than originally planned, and to pay for this the prices of its cars will increase by an average of three percent worldwide. The entry-level Model 3 will remain at $35,000 - the target achieved in February, but a figure Tesla said it could only meet by closing stores and lowering its retail headcount.
Read More:
In late-February Tesla said it would close most of its stores globally, shifting to an online-only retail model, where customers buy cars through the company website. This model will remain in place, but now store staff will show visitors in person how to buy their car online.
Test drives will be available via stores and through the Tesla website, which offers a money-back guarantee if buyers are not happy with their purchase within seven days or 1,000 miles of delivery, whichever comes first.
Tesla announced the store closure U-turn on its website at around 11pm Sunday night (March 10). "Over the past two weeks we have been closely evaluating every single Tesla retail location, and we have decided to keep significantly more stores open than previously announced as we continue to evaluate them over the course of several months," the company said.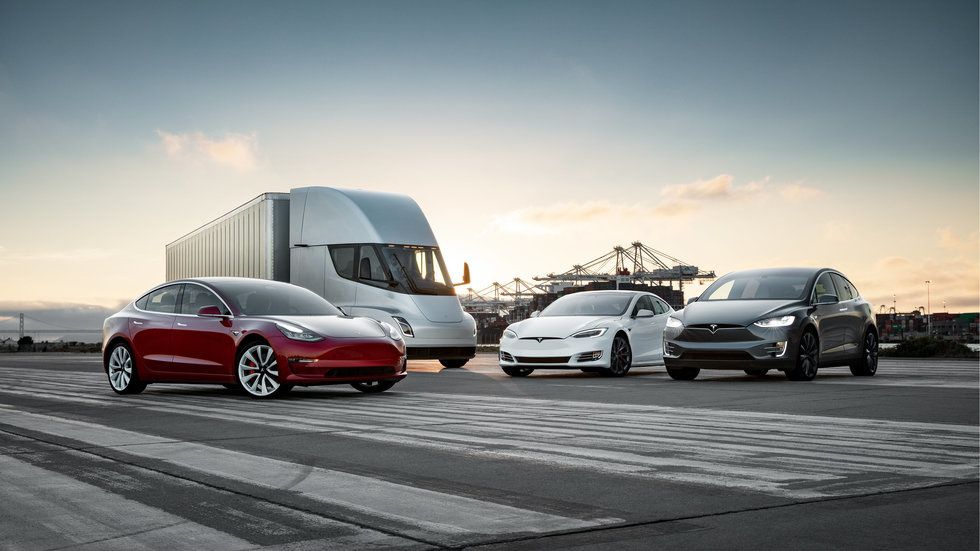 Tesla range includes the Model 3, Model S, Model X and semi truckTesla
Tesla added that it has recently closed 10 percent of sales locations which "didn't invite the natural foot traffic our stores have always been designed for". The company added that, even if it sold all of its cars in-store, these underperforming locations would still have been shuttered.

As for other locations, Tesla said: "A few stores in high visibility locations that were closed due to low throughout will be reopened, but with a smaller Tesla crew. In addition, there are another 20 percent of locations that are under review, and depending on their effectiveness over the next few months, some will be closed and some will remain open."
Less than a fortnight after saying mass store closures would result in a circa six percent price cut across the Tesla portfolio, the company now says it will "need to raise vehicle prices by about three percent on average worldwide."
It added: "In other words, we will only close about half as many stores, but the cost savings are therefore only about half."
Adding to the confusion, Tesla boss Elon Musk appeared on Twitter shortly after the March 10 news, seemingly to suggest that a brand new store would be opened in Perth, Australia. When asked by a Twitter follower for a store in the city, which has two million people but allegedly just one Tesla technician, Musk replied: "Ok".
Any potential customers looking to buy a new Tesla have one week to place their order before prices rise again on March 18. The only vehicle to not have its price increased is the entry-level Model 3, which starts at $35,000 - a figure Tesla promised in 2016 and only made a reality two weeks ago. Tesla said the price point was only possible because of the widespread store closures, which now won't happen on the same scale.
Stores will conduct all sales online, explaining to visitors how to buy a car through the Tesla website. Cars will remain available for test drives at stores, which will also carry "a small number of cars in inventory for customers who wish to drive away with a Tesla immediately," the company said.
From Your Site Articles
Related Articles Around the Web
Like GearBrain on Facebook