Like GearBrain on Facebook
Eighty-year-old carmaker Toyota has partnered with artificial intelligence startup Preferred Networks to develop service robots for helping around the home.
The two companies hope to accelerate the development of these robots by sharing their respective technologies over the coming years. The work will use Toyota's Human Support Robot (HSR) as a starting point.
Read More:
The shared goal of Toyota and Preferred Networks (also known as PFN) is to create intelligent robots which can integrate into an individual's life and operate successfully — and autonomously — around their home. This move is partly in response to Japan's rapidly aging population, with a quarter of people now aged over 65.
Using robots in the home with older adults is not a new concept. Companies have been developing robotic devices, some with personalities, to provide assistance to those aging at home. OhmniLabs, for example, has a robot on wheels that serves as a telecommunication device, allowing people to speak to each other in real time. Intuition Robotics debuted ElliQ at CES 2019, an artificially-intelligent tabletop robot that is designed more for companionship.
Toyota's partnership with PFN
Toyota has also been focused on this area, and to start its collaboration with PFN, the company will first loan "several dozen" of its Human Service Robots to PFN. Then, over the next three years, the two companies will collaborate in research and development on improving the technology. Intellectual property will also be shared between the two firms.
This isn't the first time Toyota and PFN have partnered. They have been working together on driverless vehicle technology since 2014, the year PFN was established.
Widely regarded as the inventor of the automated production line, Toyota sees a future where robots expand their use cases, moving from the factory floor to the hospital ward and even our own homes. Here, the robots will help their owners with day-to-day activities — a crucial aid in a country where much of its elderly population lives alone.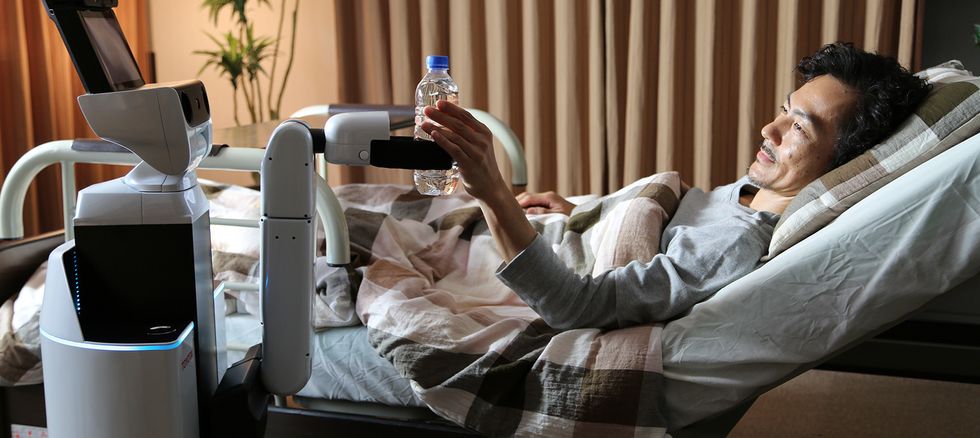 The robots will be developed to help the elderly and disabledToyota
Not limited to Japan, such robots will of course be beneficial in any situation where an elderly or disabled person needs a helping hand at home, but can't rely entirely on their partner, family or the state. We also see a future where such robots could be used in the homes of everyone, as a physical extension of the voice assistants already used to control today's smart homes.

To that end, at a Japanese trade show in 2018 PFN demonstrated a robot capable of cleaning a room all by itself. The robot, one of Toyota's HSRs, used artificial intelligence and deep-learning technologies to pick up and put down objects, decide on a plan for tidying the room, and respond to human instructions.
Toru Nishikawa, president and chief executive of PFN, said: "By engaging in joint research and development with Toyota...we hope to accelerate development of the functions necessary for robots to work in human living environments."
Nobuhiko Koga, chief officer of Toyota's Frontier Research Center, said: "Since around 2004, Toyota has engaged in the development of partner robots that support both people with disabilities and the elderly, based on the concept of 'coexisting with humans and assisting them in their daily lives'...Going forward toward our goal to develop service robots that better cater to the needs of our customers, we are excited by the prospect of collaborating in research and development with PFN."
Like GearBrain on Facebook