Anyone who is a "Big Bang Theory" fan, may remember when Sheldon transformed into a robot — completely. While not a possibility, yet, OhmniLabs has created an option that's as close as you're going to get today. Its home robot, Ohmni, is a rolling, video chat device that lets you talk and project your image, and voice, from anywhere in the world, as long as you have an internet connection. OhmniLabs stopped GearBrain's office, providing us with an Ohmni robot to test — and we had a blast. Mesmerized with the robot, everyone took pictures, sharing them on social media. We also put Ohmni through our tests to make sure we not only understood how this new robot worked, but who might need an expensive device like Ohmni, and the role it could play in our new connected world.
What is Ohmni robot?

Ohmni robot is a home robot that supports a unique way of connecting with others through telepresence, which allows people to be a part of event or project into a home through technology, like video Skype calls or Google Hangouts. OhmniLabs lets you take a step further by pushing your voice and image through a rolling robot, in a way that amplifies the human presence, as the company told us, to come up with a better way to communicate and enjoy shared experiences.
OhmniLabs builds its robots to order, using 3D printers in the its Santa Clara facility in California and a proprietary software called OhmniLabs SCALE system. We found Ohmni to be a very light, but very solid, robot. The company told us it takes them half a day to print the materials, and another half day to assemble a robot.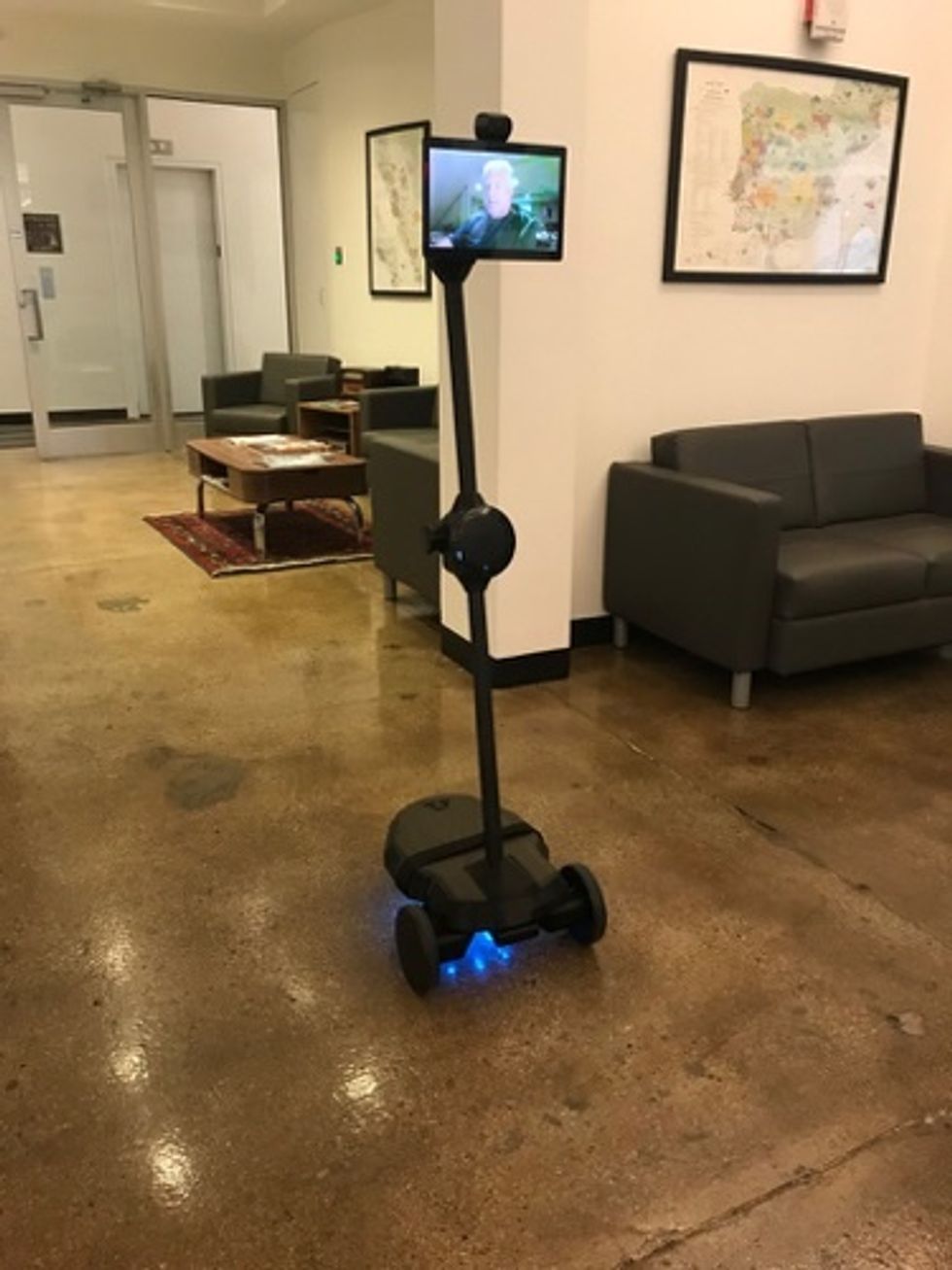 Ohmni Home RobotGearBrain
Setting up Ohmni is easy. You just unfold the parts, press the power button on the side of the robot, and connect to your home Wi-Fi. While you don't need to download an app, you so need to use the Google Chrome web browser to access Ohmni Labs' users site from your computer or any Android mobile device. If you try to use any other web browser on a computer or an iOS device like an iPad or iPhone, you will get this message: "You are using an unsupported web browser that will prevent you from using certain features. Please download Google Chrome here to continue using this website." The company is working on a solution for iOS devices and other web browsers to control your Ohmni robot. For our testing, we used a PC and accessed the robot via Google Chrome.

How easy is it to operate Ohmni robot?

Navigating the Ohmni robot is incredibly easy — you just use your directional keys on the computer to move forward, backward and even turn. You can maneuver rather easily around the house or office, and if you're good at video games, navigating will come naturally.The robot has two cameras: one looks outward ,and the other looks down. The front camera is clear, even if it's not a wide field of view. Point the camera down, and you can see the base of the robot, which can help you avoid hitting any objects as you move.
How fast can Ohmni go? Ohmni moves at a standard walking pace, but you can adjust the speed a bit from the site. The robot also has a special docking feature which operates similarly to the way an iRobot Roomba will dock itself.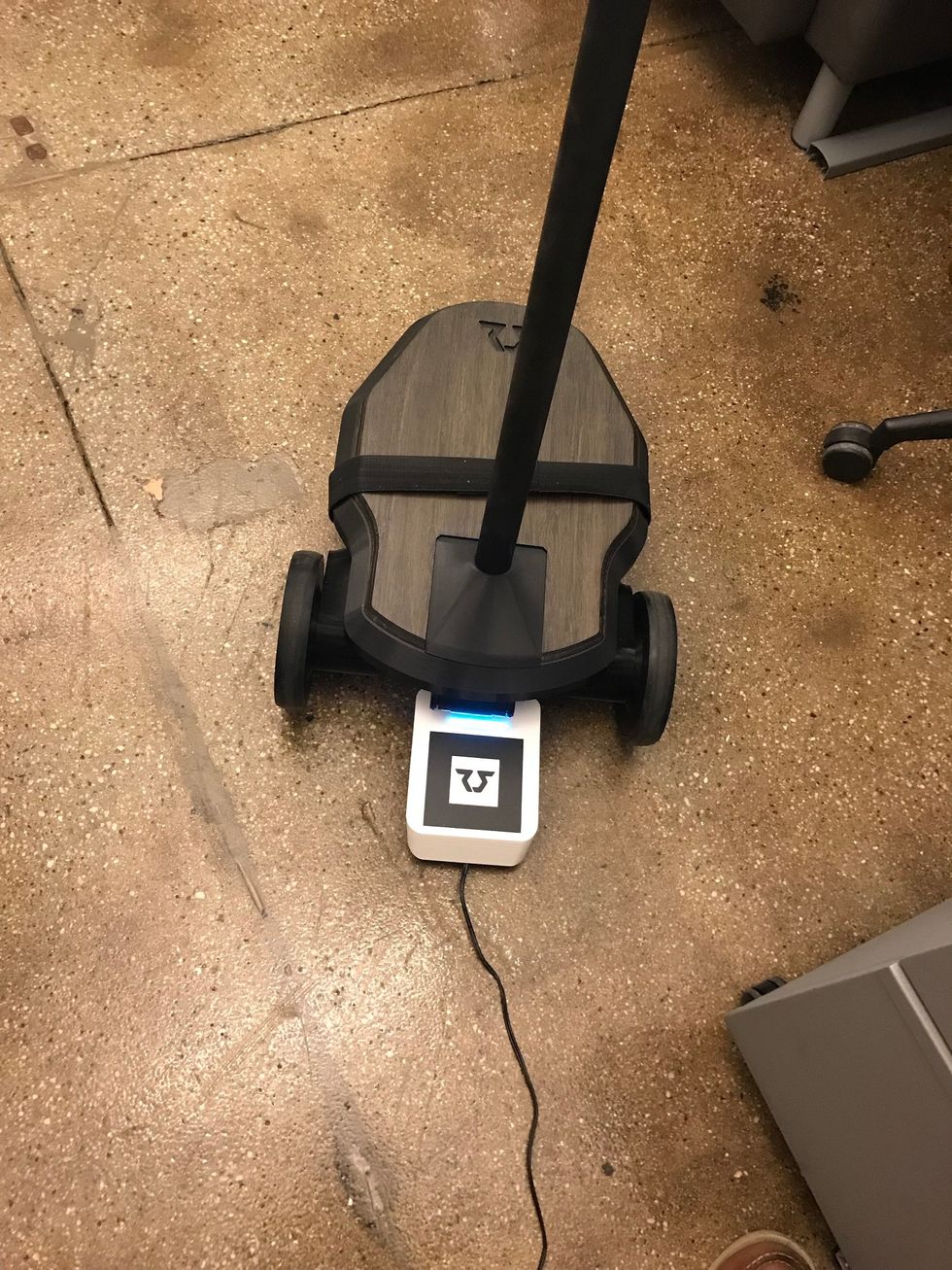 Ohmni Home Robot docks to charging station similar to the way iRobot Roomba docs and charges itself.GearBrrain
Ohmni robot supports two-way audio communication, with clear sound from the speaker, with volume adjustable through the app. Do note: if Ohmni is in the same room as you, you'll get horrible feedback if you try and talk through the speaker. Make sure you're in one room — and Ohmni is in another, which is likely how you'll use the robot as well. Sound is slightly delayed by about one to two seconds.

Use cases for Ohmni Robot
Once you get over Omhni's cool factor, it's fair to ask about the use cases, especially for a robot that costs $1,500. At home, Ohmni can help mitigate issues of loneliness, especially for grandparents or parents who may live alone. You can even use the robot to check in on someone, and see how they're doing, casually moving through an apartment or home, as long as it's a single floor dwelling: Ohmni cannot go up or down stairs.
Ohmni could easily be used in the educational space, letting students to attend classes remotely if they are homebound or hospitalized. Visiting teachers or professors could deliver a lecture via Ohmni, and the company is even working on a prototype that would let students raise their hand in class. Ohmni could also let employees attend a meeting remotely, or allow supervisors to monitor a workspace or factory floor.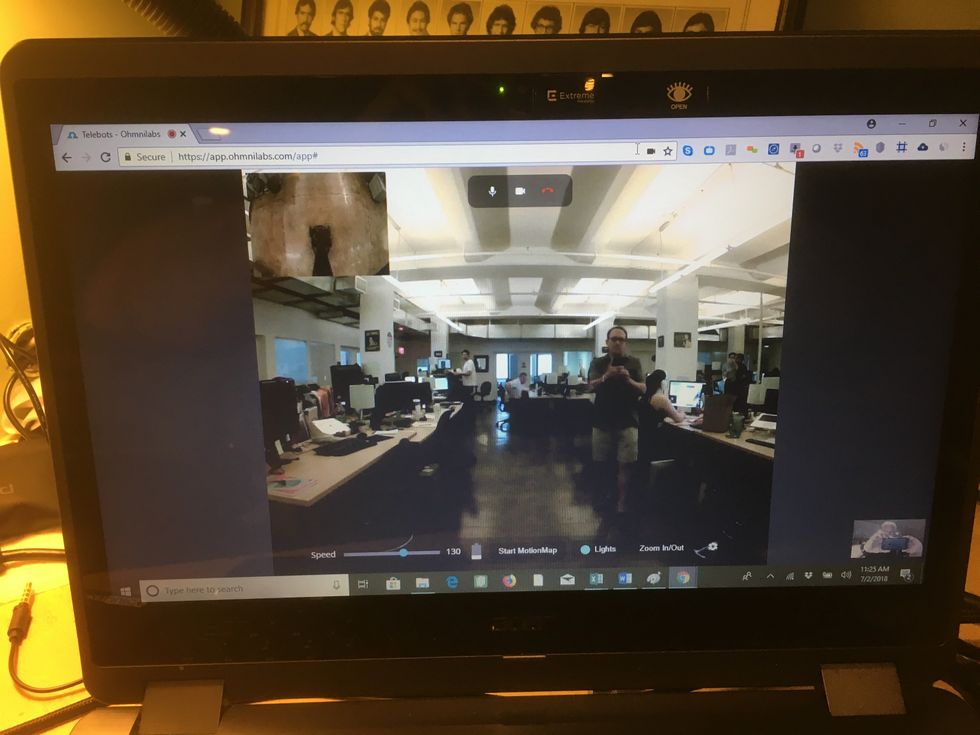 Use your computer keyboard to navigate your Ohmni Robot. The little screen in the upper lefthand corner of the screen shows you the view from the camera underneath to help avoid bumping into things.GearBrain
OhmniLabs is also interested in the healthcare and telemedicine space, using the robot to help reduce costs and improve patient satisfaction. Imagine your doctor checking on patients to monitor someone's blood pressure and heart rate, as well as monitor depressions and loneliness.

How can I buy Ohmni?
The Ohmni robot costs $2,699, with no monthly fees or contracts. You can purchase Ohmni from the company's website, where you get a 90-day software warranty, and a one-year warranty for the hardware. Shipping is about $65, and plan to wait about four to six weeks for Ohmni. If you live outside the continental U.S., please contact Ohmni Labs about availability.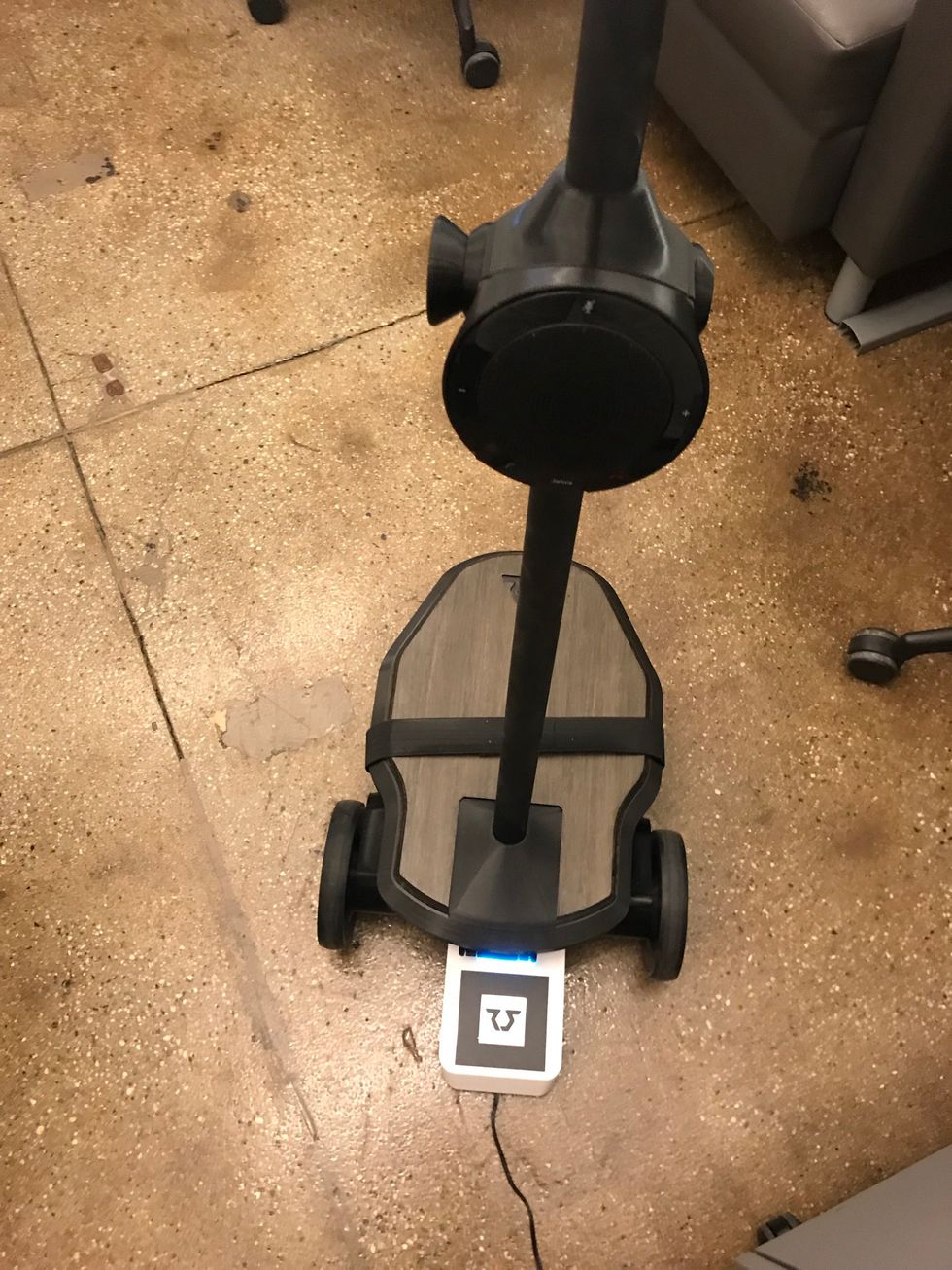 Ohmni Home Robot has a speaker and microphone to allow you to communicate with others.GearBrain
Summary

After getting over the novelty of a robot in the office, we decided that Ohmni is moving in the right direction in addressing several pressing issues of today. As our population ages, we can see how Ohmni could provide elderly parents who live alone a level of companionship and comfort — as long as they're comfortable with technology. We also like how Ohmni could help homebound or hospitalized children keep up with their studies by attending school remotely. Children love technology and using a robot is like playing a video game. Having healthcare providers use Ohmni robots for home visits is also an interesting application for telemedicine, especially if the cost for a robot is covered in a user's health benefits package.
However, there are quite a few challenges facing the Ohmni robot. To start, the fact the robot can't go up or down stairs, means Ohmni will have limited use unless you live in a single floor space, or someone can carry the robot up and down the stairs. Because it needs to be connected to Wi-Fi, you also can't take Ohmni for a walk outdoors.

Another issue we encountered during our testing is powering up Ohmni robot if the power goes out. The robot is designed to go into hibernating mode, even when docked on the power station, when it's not in use, and then just boot up from hibernation when you connect. However, we experienced an issue when Ohmni was hibernating and we could not access the robot remotely. In cases like this, you're supposed to push the power button on the side of the robot to take it out of hibernating mode. While Ohmni Labs said they hadn't seen this issue before, they are investigating to rectify it. Do keep in mind, though, if you're putting Ohmni somewhere where it may be difficult to access these buttons.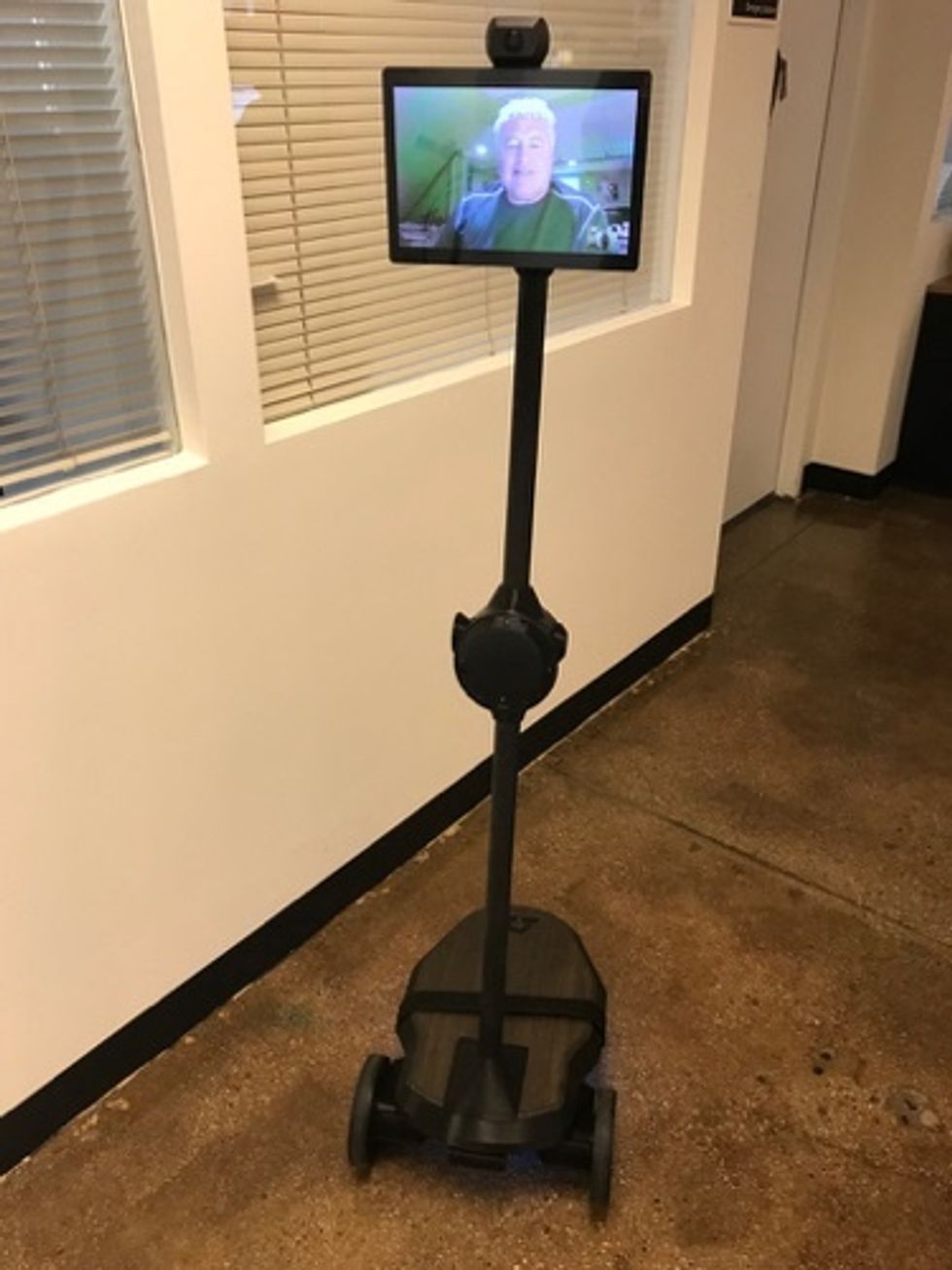 Ohmnilabs Ohmni Home Robot GearBrain
Finally, iOS users are out of luck using Ohmni aside from on a computer using Google Chrome. Addressing the iOS and browser issues is important because not everyone uses an Android device or Google Chrome.

Overall, we think OhmniLabs is heading in the right direction with their Ohmni robot. The robot is easy to setup and operate, and serves a purpose for people with aging family members, or someone with medical issues at home. We particularly like the fact the company is testing a robotic hand, to help people open and close doors or cabinets. Our main issues is the $2,699 price tag, even though we know it's hard to put a cost on providing help to loved ones. For schools, universities and businesses, this may be less of an issue. People looking to add this to a home, however, may want to investigate if their insurance company or Medicare/Medicaid, may be willing to subsidize the price, which could then make this robot a valuable purchase.
Specs:
Colors: Black, White, Red
Height: 48 or 56 inches
10.1 dedicated touchscreen display
90 Day software warranty – 1-year hardware warranty
95 Wh LiFePO4 battery for 6+ hour calls
Manufactured in Silicon Valley
Dual-band 2.4/5GHz 802.11ac Wi-Fi
Pros:
Easy set up, ease of use
No monthly fees
Lightweight, 360-degree maneuverability and 4G Wi-Fi connection as well as dual-band (2.4/5G)
Cons:
Cost
Works only on Android and Google Chrome browser
No way to turn on robot remotely when in hibernating mode, and can't go up and down stairs