Trying to decide between a smart light or switch for your bedroom? Typically, smart lights are great for renters, or rooms with few lights, While smart switches are great for homeowners and rooms with lots of lights. But if you're in the market for a smart switch, give a look at the TreatLife Smart Switches, which sent us a few to test in a real home. Here's what we found.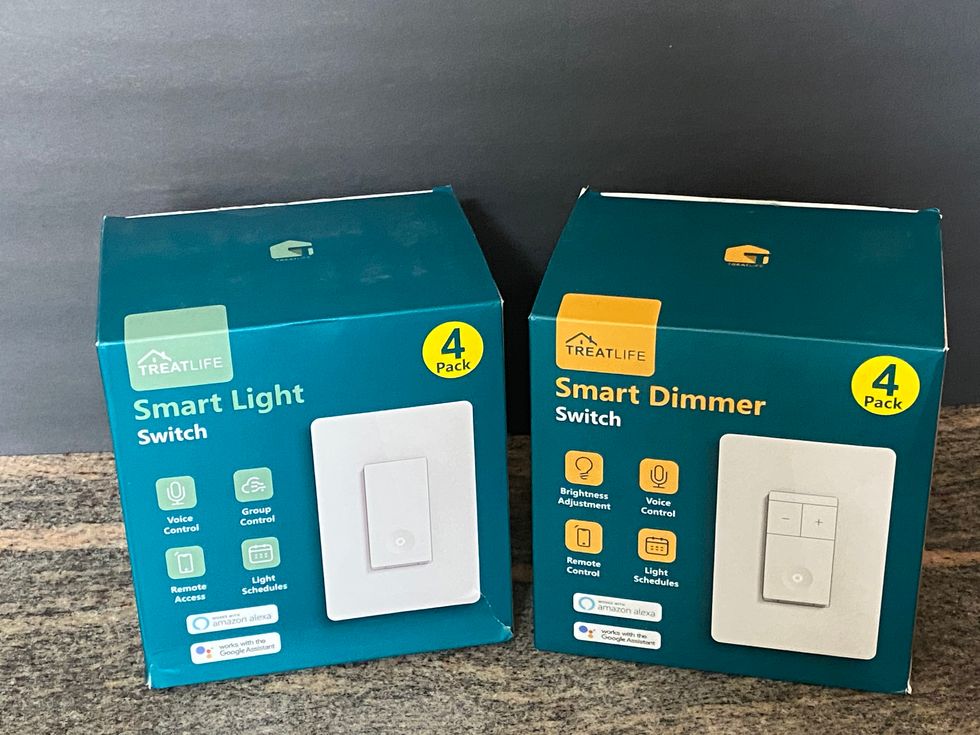 TreatLife Switches: Smart Light and Dimmer SwitchGearBrain
What are TreatLife Switches?

TreatLife is a manufacturer of smart plugs, LED bulbs and switches that work on a 2.4 GHz Wi-Fi connection and can be controlled by an app or by your voice. We know that smart switches can be a challenge to install, especially if you don't have up-to-date wiring or a neutral wire behind your walls, and the TreatLife options fall into this category. Just note that if your current light switches connect using only two wires, TreatLife switches will not work in your home.
For this review, we tested three of the TreatLife Switches — the Light & Ceiling Fan Dimmer Switch, the Smart Light Switch and the Smart Dimmer Switch. All have a sleek and practical design which we found easy to operate. The TreatLife switches can be used as either a single pole or 3-way to control your lights. For the 3-way switches, you don't need a companion smart switch from the same manufacturer when installing TreatLife's 3-way smart switches, which will save you money. But you'll have to install this one at the input end of the 3-way line, which is the first switch in the circuit in the line from the junction box. For most people, this is not easy to determine and can take time to figure out. That's why we would recommend using TreatLife's instructions for this part of the installation to help ease the pain.
TreatLife switches are compatible with both Amazon Alexa and Google Assistant voice platforms. Once connected, you can easily set up schedules, and connect with multiple switches for a scene, which is a nice feature to have when friends are over or if you want mood lighting for an event.
Setup of TreatLife Switches

Installing TreatLife switches is easy, and similar to what we have seen from testing other smart switches. Just make sure you have the appropriate wiring on the switch you are replacing — and that there is enough room in the outlet box for you to fit the new switch and its four wires. Both of these can be a big problem with smart switches. In older homes, even if they've updated the wiring, the size and depth of the outlet boxes are sometimes too small to handle the size of the smart switch and all its additional wires. New smart switches are deeper than normal switches and require more room to connect four wires with wire nuts. (Note: four wires are Line/Load, Traveler, Neutral and Ground.). If there is not a lot of room for all the wires, wire nuts and switch, you risk the wires disconnecting and causing the light to not work properly and possible cause a fire. So we recommend checking the size of your junction box before installing any smart switch.
Once you confirm you have the correct wiring — and that there is enough room in the junction box for TreatLife switches — turn the power off and remove the old switch from the outlet. But don't disconnect the wires before taking a quick picture of the existing wiring on the current switch. If you want, you can label the wires using the supplied stickers from TreatLife. We find doing so makes it easier for you to connect the TreatLife switch. Then, remove the old switch and connect the house wires to your TreatLife switch. Make sure you secure the wires with the supplied wire nuts, and only then turn on the power.
The overall installation process should take you about 20 to 25 minutes depending how comfortable you are with working on electrical switches. We would recommend using the TreatLife app for installation, which is available for both iOS and Android smart devices from the App Store and Google Play stores.
Installation Tips for TreatLife Smart Switches
Once you install the TreatLife Switch, turn your power on and follow the add device instructions in the mobile app.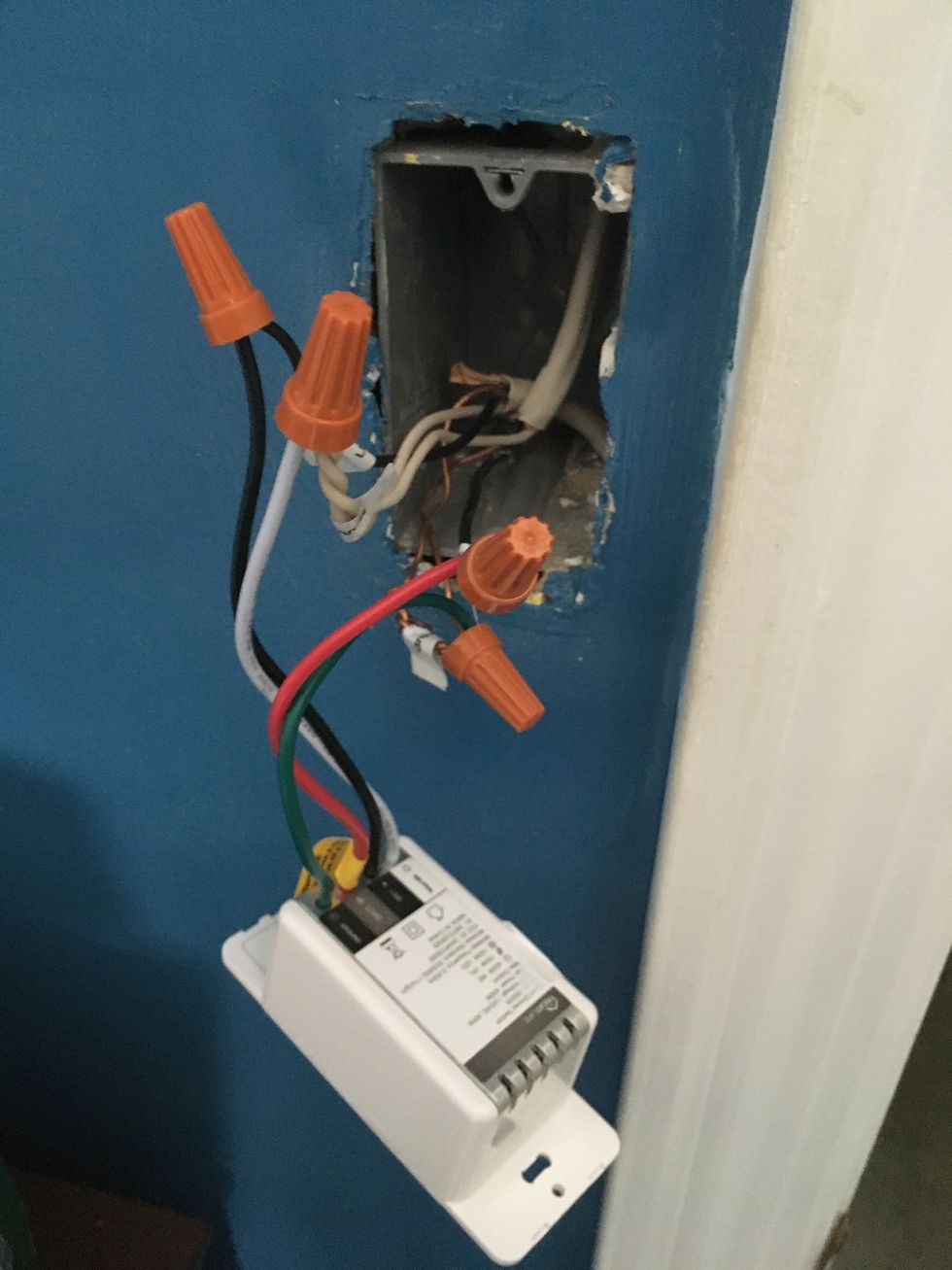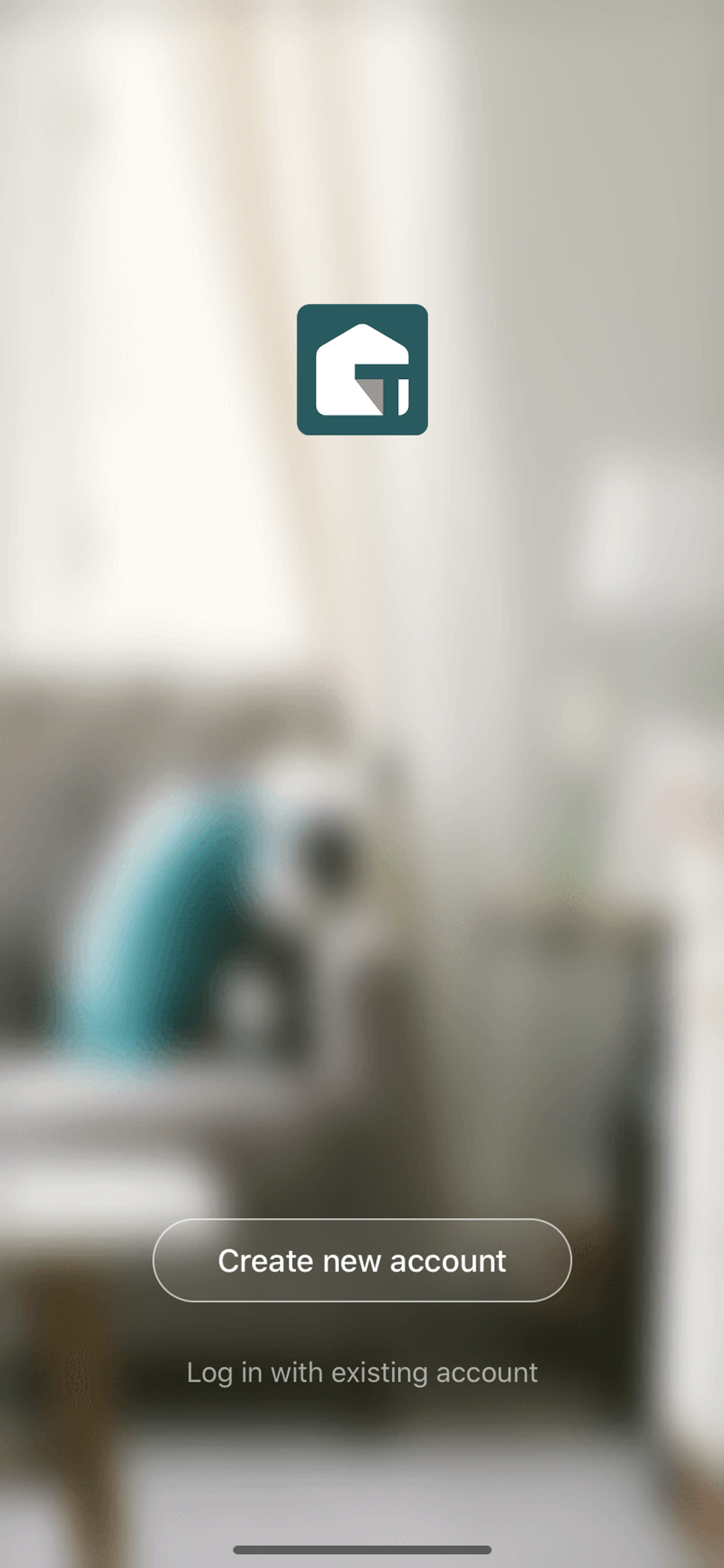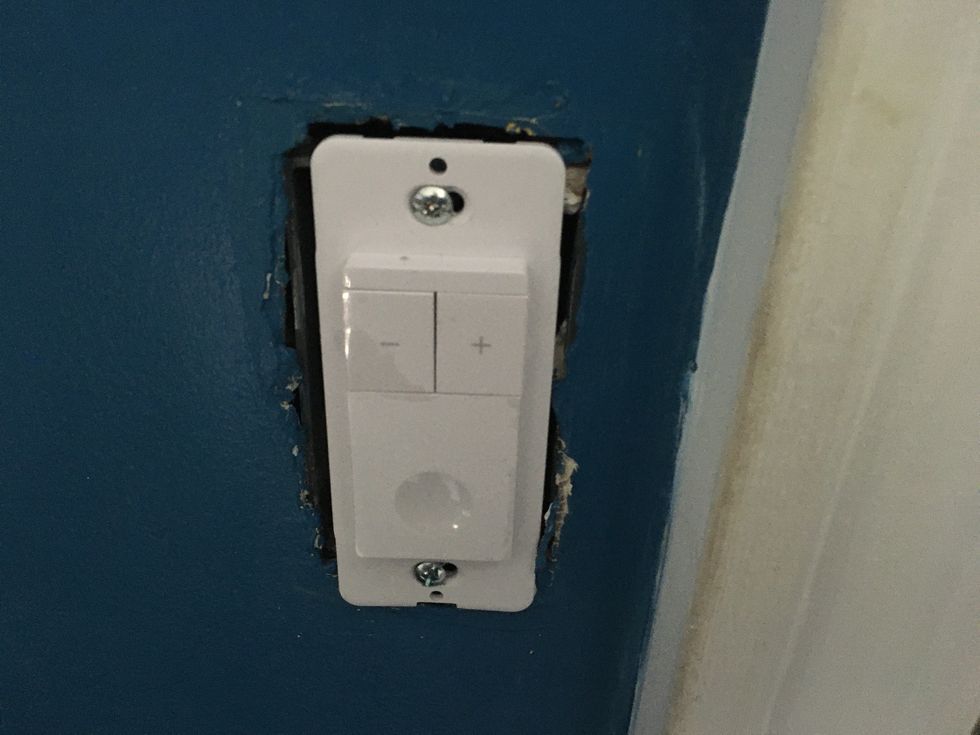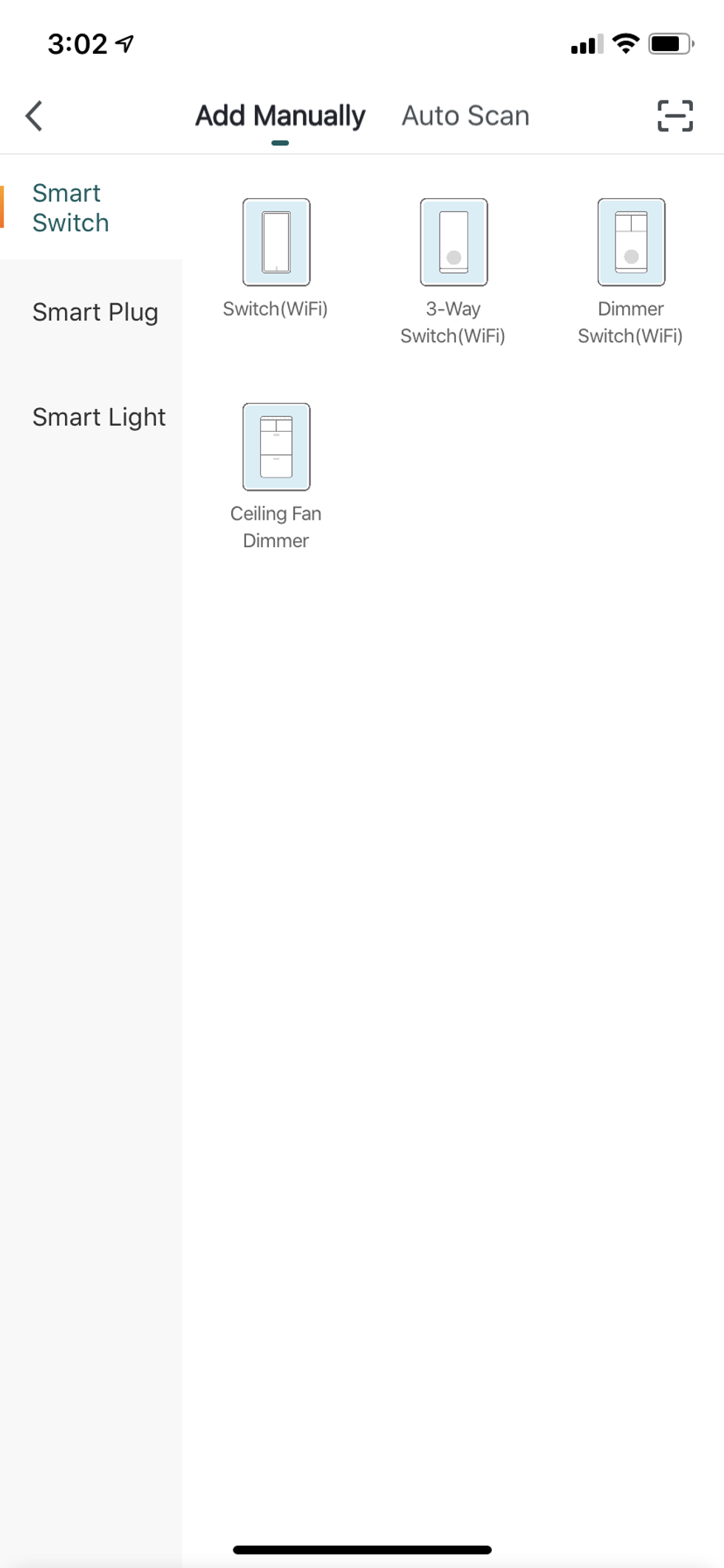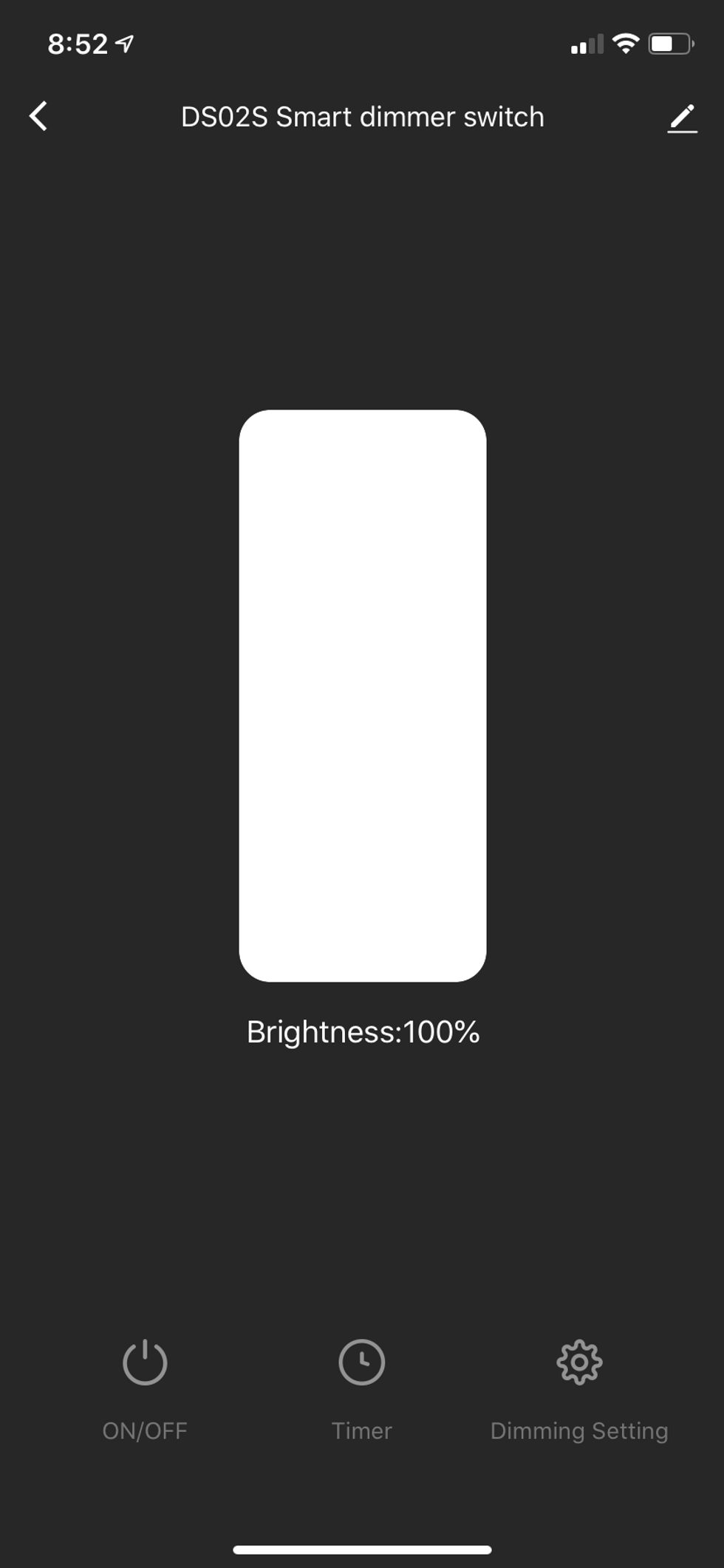 Smart Home Integrations
Once your switches are on and working properly, you can begin setting up hands-free control using either an Amazon Alexa or Google Assistant smart speaker. These setups will require that you first go to the Alexa and Google Home apps on your mobile device to pair your switches with the respective voice assistants. During this process, make sure you use the same name for the device that you used in TreatLife app. If not, you will have issues with voice commands using the virtual assistants — they won't understand what you're asking it to turn on or off.
TreatLife first used the Smart Life app by Tuya to pair their devices with Alexa and Google Assistant devices. Now they are using their own app to connect with Amazon Alexa. But with Google Assistant, they're using a combination of the Smart Life app and their own app. In the TreatLife app, there are directions explaining how to pair your switches with Google Assistant-enabled devices. But you need to look for Smart Life — not TreatLife — and then link that account with the TreatLife account. Yes, we know this is a complicated process, and we asked the company about it. They said they are are working to streamline this.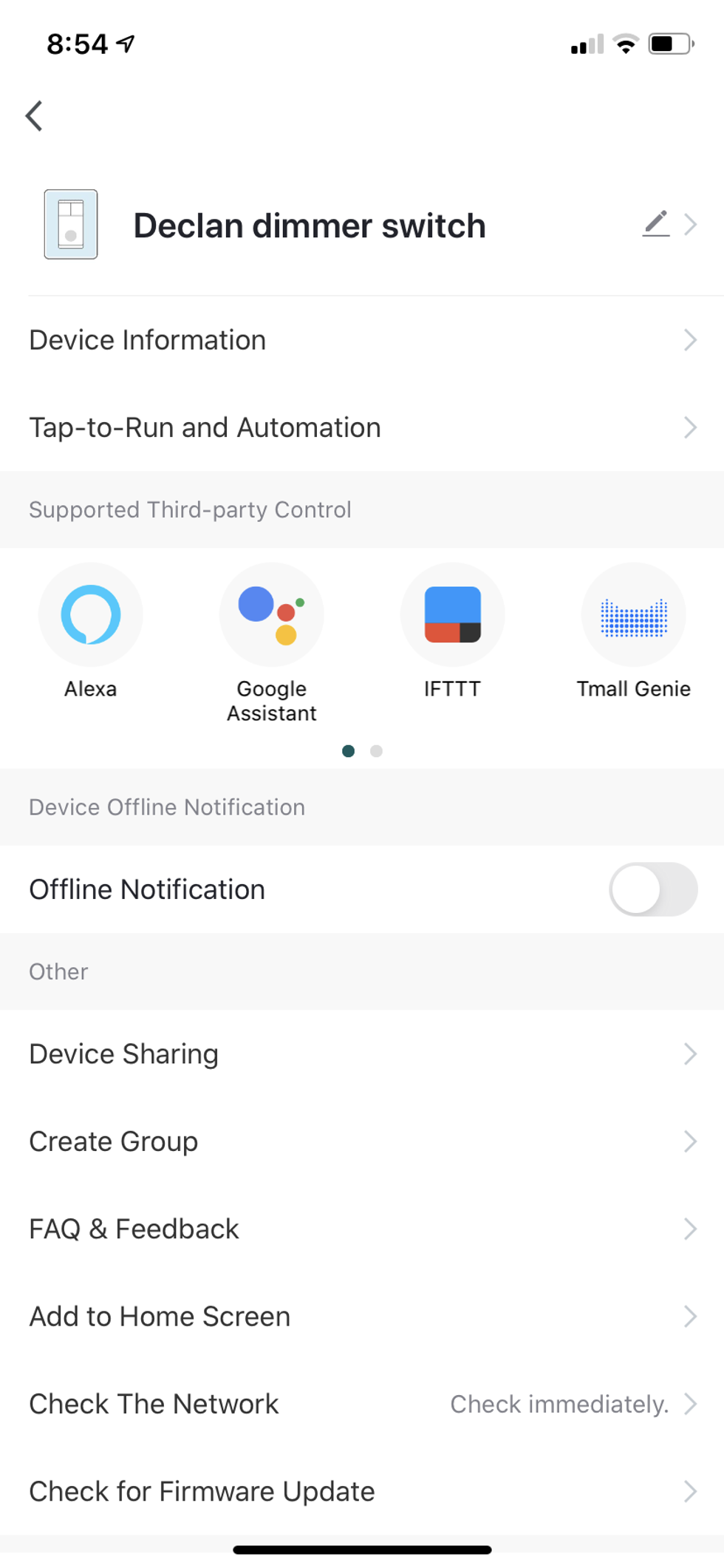 Device settings in TreatLife app for your smart switch.GearBrain
Cost

You should expect to pay between $25 to $60 for a good reliable smart switch. Some, like Lutron, require you connect the switch to a secondary hub, which can drive the cost of the switch higher. TreatLife has packages which brings down the price of each switch. For example, they have four packs of the Wi-Fi Dimmer Switch for $74.99 (single pole) and of the 3-Way Smart Light Switch for $65.99. That brings the cost of the Dimmer Switch to $18.75 (single pole) and only $16.50 per Smart Light Switch (single pole). The only expensive switch is TreatLife's Smart Ceiling Fan Control and Light Dimmer Switch, which is $47.99 each but does not require a hub. All switches are available on the company website, Walmart, Home Depot, eBay and Amazon.
Summary

After testing the TreatLife switches in a real home for a few weeks, the switches performed as expected. They functioned well, and connected to our router even with the switches were installed upstairs, and router on the floor below. But we did find some issues.
First, while the switches paired easily with Alexa, Google Assistant was more challenging. Since the Google Home app does not offer TreatLife as an option to pair with the Google Assistant, we had a hard time making that happen. And we suggest those who use Google Assistant devices note this when considering these switches.
We were also disappointed with the lack of smart home integrations. We would like more options, like smart home security systems, those that are both professionally or DIY-installed, to integrate with these switches. We also think direct integration with smart cameras and video doorbells would be helpful, when your lights might turn on when someone is at your door or motion is detected. The company informed us they are working on adding more of these integrations, and more are expected in the early part of 2021.

Until then, if you need smart switches to integrate into your existing smart home system, or want color switches and not white, you are going to have to wait until 2021 when the company offers more options for you to customize your smart home. However, if you are in the market for smart switches, and already lean on Amazon Alexa or Google Assistant-enabled devices as your hub and controller, you can't go wrong with TreatLife. They have a wide variety of switches for you to select that can meet your smart home lighting needs, at a price that is attractive.
Pros
Cost
Easy setup
No hub needed
Cons
Lack of smart home integrations
Difficult pairing with Google Assistant
Dimmer switch is pricey
Smart Ceiling Fan Control and Dimmer Light Switch, Neutral Wire Needed, Treatlife Single Pole Wi-Fi Light Switch Fan Speed Control, Works with Alexa/Google Assistant, Schedule, Remote Control (1PACK)