Like GearBrain on Facebook
Smart switches can connect to devices in your home right through the air — meaning lamps and other fixtures can be managed without wires. Even more? You can operate many of them with just your voice, asking to turn on lights, for example, or pair them with other smart devices so things can happen automatically. Many smart switches have to be wired into a wall. But the new wireless line from C by GE eliminates that huge pain point. We tested the new Wire-Free Dimmer + Color Control Smart Switch — which we first saw at CES 2020 — to see how well it worked with the C by GE smart bulbs.
What you'll get
In the box, you'll find an instruction manual, two screws, two anchors, two 3M strips and the switch itself. The switch actually comes in three parts: the switch, a plate that covers the switch, and then a cover.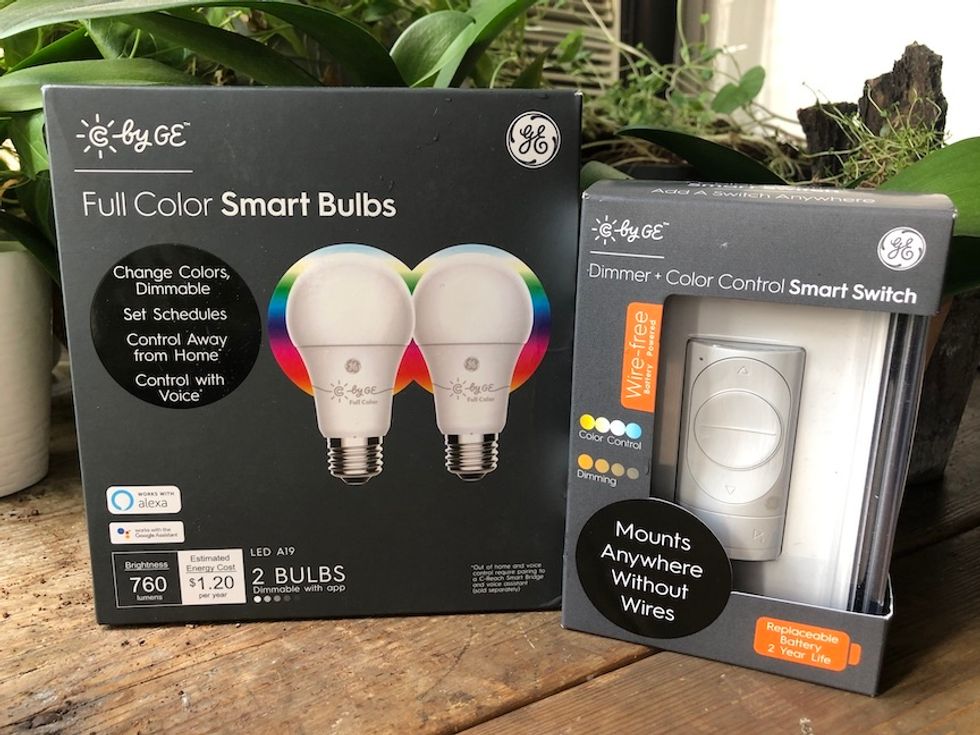 The C by GE Wire-Free Dimmer and Color Control Smart Switch works with the company's own smart bulbsGearBrain
How to install

If you want to install the switch without drilling holes in the wall, you'll use the 3M strips which is what I did. Make sure you clean the wall well, and then press very (very) firmly on the switch to ensure it adheres. We had to do this a few times. You're then going to follow the instructions to get the plates on the switch.
The switch is actually battery powered, and you'll see that one is pre-installed in the back of the switch. When this needs replacing after about two years, you'll need to replace the coin battery by taking the cover off and sliding the battery out.
Next, download the C by GE app, which works on both iOS and Android devices, and follow the instructions to add the switch to the app. You're also going to link up the C by GE bulbs to the app as well, which connects over Bluetooth. Note that the switch does not need to get onto Wi-Fi.
Once you've done that — make sure you put both the dimmer and the bulbs in the same room, in the app. This is key. We installed both of them, connecting them to the app, and could not get them to connect. We finally went back into the app, made sure we added both to the same room, and they finally, well, saw each other.
Features

The C by GE Wire-Free Dimmer + Color Control Smart Switch has a number of cool features. It can turn the light on and off, it can dim and brighten lights, and it can also shift the color temperature from warmer tones to cooler ones, all from the switch and the app. You can also control lights from outside of a room.
But of course the main feature is you can add a smart switch and dimmer without having to re-wire. This solves a massive pain point that has been a hinderance for many who want to add smart switches to their homes. Additionally, this is a device that can honestly be stuck on the wall — without needing to add screws or anchors. For renters or anyone who is in a living space (like college students) where making holes in the wall is frowned upon, this is a boon.
You also don't need an extra hub — which many smart devices need to connect to each other. Instead, the switch speaks to other C by GE devices through its app. And finally, you can add this switch anywhere you'd like — next to a bed, in the middle of a living room wall, in a closet.
GearBrain reviews C by GE Wire-Free Dimmer and Color Control Smart Switch www.youtube.com
Smart home

So here is a bit of a wrinkle. C by GE bulbs work with both Alexa and Google Home — meaning once you've added them to both of these systems, you can operate the lights, turning them on and off and even shift colors just with your voice. The switch? It does not work with Alexa and Google Home, and that means you can't control this device by voice.
In fact, if you have C by GE smart bulbs installed in Google Home or the Alexa app, you're going to need to uninstall them so they can actually be picked up, installed and recognized into the C by GE app.
How it worked
We found the switch connected easily to the bulb, once we made sure the two were in the app, and marked in the same room. The on and off switch worked well, although the dimming mechanism was a bit slow. This didn't dim as seamlessly as a regular dimmer switch. We attribute that to the Bluetooth connection. Also, you can't really shift the color temperature that simply through the switch. You need to toggle through several settings one at a time. You also can't change actual colors, but only white temperatures. That does limit one of the fun reasons for having smart bulbs.
Key here, though, is you're getting a wireless device performing functions typically controlled through a wired connection. The ability to add these features at all — without re-wiring — is notable.
Price

You can pick up the C by GE Wire-Free Dimmer and Color Control Smart Switch online for $23.36.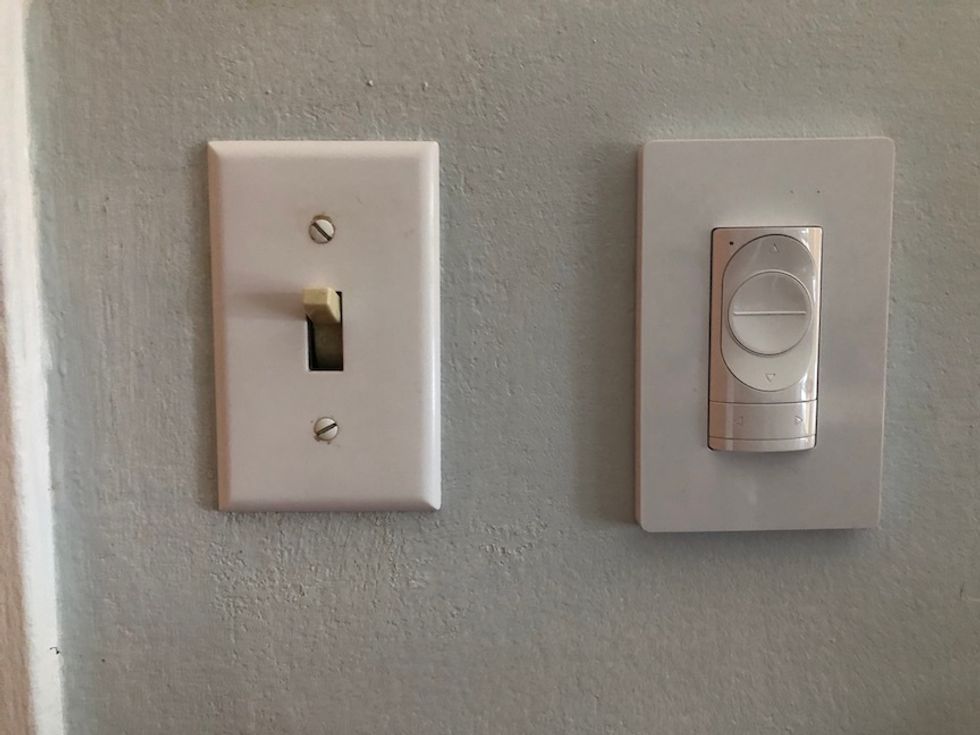 You need to keep the light switch on, and the electricity on, to enable the smart bulbs to work.GearBrain
Bottom line

Smart switches used to be only available for those who were willing to get their hands busy with some electrical work, and also dig some holes in their wall. Today, you can add a smart switch easily with a few pieces of double sided tape. The C by GE Wire-Free Dimmer and Color Control Smart Switch is a choice for those who want to add smart home features but don't or can't get into their walls and play with wiring.
We do think there are some major limitations with the device — it can only be used with C by GE bulbs, and doesn't have a real way to interact with major smart home assistants, Alexa and Google Assistant. You lose some smart bulb functionality, unable to scroll through colors and only white temperatures.
But for those who are eager to add some smart home controls to their living space, the ability to control their lights from anywhere, and without having to mar their walls, the C by GE Wire-Free Dimmer and Color Control Smart Switch is definitely a device to consider.
Pros:
Just sticks to the wall without nails or screws
Price
Can dim, turn on and off, and toggle through white temperatures
Cons:
Only works with C by GE bulbs
Doesn't connect to Alexa or Google Home
Doesn't control bulb colors, only temperature of white
C by GE A19 LED Smart Light Bulb - Full Color Changing Light Bulb, 2-Pack, LED Party Lights, LED Lights for Bedroom, Works with Amazon Alexa and Google Home, Bluetooth Light Bulb
Like GearBrain on Facebook