Starting October 3, anyone with an Uber app, and within downtown Manhattan, can book a ride on the Uber Copter to John F. Kennedy Airport (JFK). Expected to be between $200 and $225 a ride, GearBrain was able to snag an offer for just $194.31 — we guess surge pricing was off — which promised us just an 8-minute flight.
The Uber Copter service, which officially launched in July, appears to previously be opened only to select riders. But now Uber has opened a pilot program to make the option open to anyone with the app, including those regular people who may use Uber for a ride to haircut, as opposed to the Hamptons. The ride is only open to JFK airport, and not to the other two major airports in the New York City area, La Guardia Airport in Queens, NY and Newark Airport, in New Jersey.
How to book an Uber Copter

To select a helicopter ride to JFK, you just need to open the Uber app on a smartphone. But be aware: you won't actually see the option unless you're in the geographic zone in Manhattan, a location where you can be picked up and taken to the helicopter, but in less time than a regular car ride would take to get to JFK. (And yes, that means that Uber knows where you are when the app is working.) That zone is all of Manhattan south of Houston Street, and then some areas that have faster access points to the West Side Highway, which runs along the western edge of the island.
How do the prices for Uber Copter compare to regular Uber offers for a ride to the airport? A black town car was priced at $113.63, and expected to take 49 minutes, while an UberX, which seats four people, was just $59.11 (I have a discount right now) and would get me there in about the same time. But Uber Copter? That was a swift eight minutes for $194.31 because when you can honestly travel as the bird flies, things move much more quickly. Still, adding in time to get to the heliport, and then to the airport check-in, may add some significant minutes.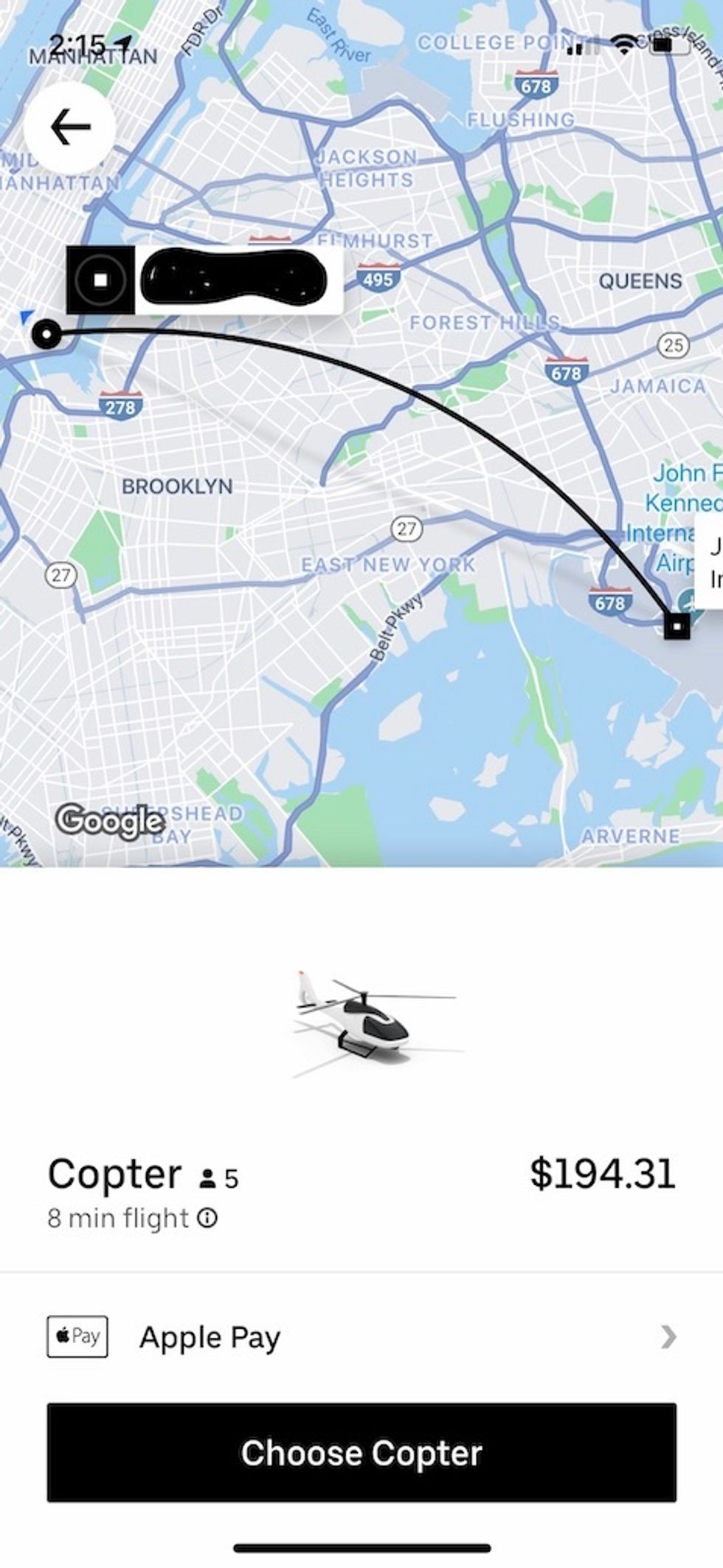 The 8-minute flight will be longer once customers add in the ride to the heliportGearBrain
The fare includes being picked up from your location in an Uber car, and taken to a heliport in downtown Manhattan. You can pre-book the flight five days in advance if you're going to the airport, or request one once you land at JFK to head back home.

Uber runs the helicopter portion of your ride through a company called HeliFlite— so you're not getting in an Uber drone, nor is the aircraft flying autonomously. Uber launched the service initially in July 2019. The pricing isn't completely off from what other aircraft companies charge for the same route. Blade, for example, flies for $195 a person between JFK and Manhattan, and has two midtown locations. Blade also has an app so you can book with a click, rather than have to actually speak to a human being on the phone to secure your seat.