UPS is now working with TuSimple, the self-driving truck company, investing in the firm as of this month. But buried deep inside the details a note that UPS has been testing these trucks on Arizona's roads for months, on a corridor between Phoenix and Tucson, about 120 miles to the south starting in May 2019.
Read more:
Arizona is hardly a new spot for self-driving vehicles. Waymo has been doing testing self-driving trucks on freeways around Phoenix and Kroger tested grocery deliveries via autonomous vehicles.
Phoenix was also close to the city where an an autonomous Uber killed a pedestrian after crossing the street at night in Tempe, about 10 miles to the east.
But the involvement of UPS was not known until the company came clean today. TuSimple, which UPS now owns a minority stake in, is also in a partnership with the United States Postal Service (USPS). The trucking company, started in 2015, got a five-week contract to bring USPS trailers between Phoenix, AZ and Dallas, TX in May.
TuSimple believes its services can help companies save 30 percent in what it spends on third-party transportation. UPS happens to buy transportation services, "during its peak shipping season," it says.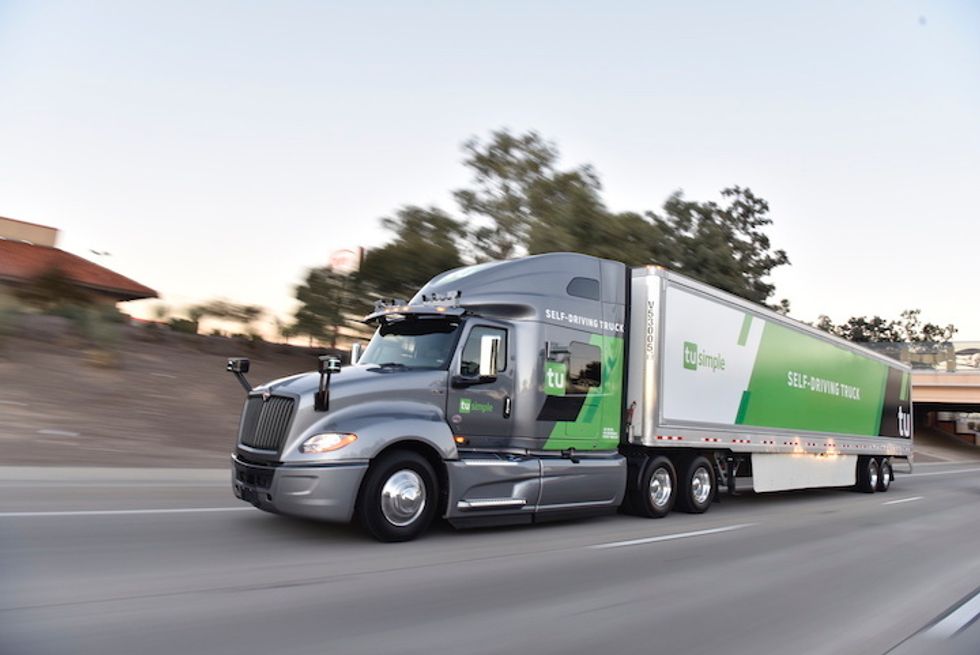 UPS has also taken a minority investment in TuSimple, and testing the autonomous company's tech in ArizonaTuSimple
TuSimple Level 4

TuSimple's service operates at what's considered a Level 4 autonomous level, which means the artificial intelligent system can control the truck at all times. However, Arizona requires a driver in a vehicle operating at Level 4.
That's how UPS has been testing TuSimple, while also monitoring the time it took the trucks to move between locations, as well as how safely.
"UPS is committed to developing and deploying technologies that enable us to operate our global logistics network more efficiently," said Scott Price, the chief strategy and transformation officer for UPS in a statement. "While fully autonomous, driverless vehicles still have development and regulatory work ahead, we are excited by the advances in braking and other technologies that companies like TuSimple are mastering. All of these technologies offer significant safety and other benefits that will be realized long before the full vision of autonomous vehicles is brought to fruition – and UPS will be there, as a leader implementing these new technologies in our fleet."