Like GearBrain on Facebook
It is easy to be distracted by the autonomous car industry, as shiny, self-driving vehicles from Waymo, Tesla, GM and others navigate without (much) human guidance.
However as glitzy as this may be, autonomy is also shaking up the trucking industry in an equally profound way. They might not capture as many headlines, or find themselves the stars of the world's most glamorous motor shows. But they are being worked on by numerous companies right now — some are decades-old automakers, others are brand new startups.
Read More:

Uber, however, is not one of them. The ride-share company quit the autonomous truck business in 2018, just two years after it acquired Otto, a driverless truck startup, for $680 million in stock.

And, while the 2020 coronavirus pandemic has pumped the brakes on most autonomous vehicle testing (as test vehicles tend to have two people riding onboard, breaking social distancing guidelines), firms are still busy developing driverless haulage tech behind the scenes
Here, GearBrain looks at eight autonomous truck companies we think you should know.
Embark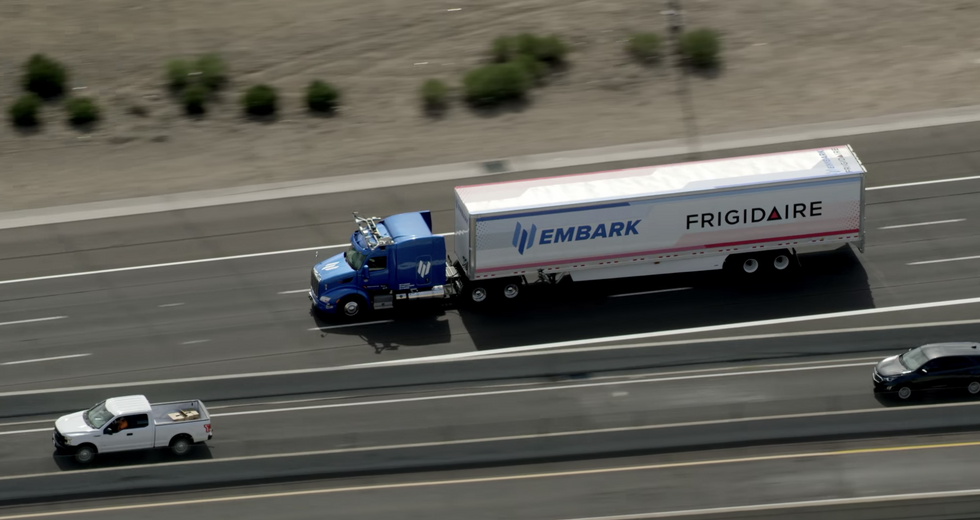 Embark
Much like other firms in this article, the aim of San Francisco-based Embark is to automate the freeway part of a truck's journey. Founded in 2016, Embark's technology is, for now, intended to drive the vehicles on simpler multi-lane roads like freeways. That way, local delivery drivers take their loads out of town and to a rest stop on the local highway.
The load is then transferred to an Embark truck with an Embark driver in the cab, who then monitors the autonomous driving system as the load is taken to the next city. There, the Embark truck stops and the load is transferred to another local delivery truck. It is hoped that the Embark part of the journey will eventually become autonomous, with only local deliveries handled by human drivers.
This would cut the distance driven by humans, allowing them to get on with the more complex (but shorter and quicker) routes the computers cannot yet manage.
Embark has already used its technology to drive a truck across the U.S., through adverse weather conditions like rain and fog, and navigating highway transfers without human assistance. Embark's employees previously worked at companies like Audi and Apple, and the startup has raised an estimated $187 million, according to data by Crunchbase, up from under $50m in just the last couple of years.
In January 2019, it was reported that Embark had begun working with Amazon, after photos of trucks with both companies' logos appeared on Reddit. Although not speaking about its work with Embark specifically, Amazon said at the time: "We think successful over-the-road autonomy will create safer roadways and a better work environment for drivers on long-haul runs."
Naturally, autonomous trucks make perfect sense for Amazon, which delivers a vast number of parcels globally every day, and counts driver salaries as one of its major cost factors. Driverless trucks (although not commercially available yet) would reduce this wage bill significantly.
Instead of building its own trucks, Embark fits its autonomous technology to semis built by Peterbilt. Embark currently runs a fleet of around a dozen 18-wheel semi trucks, and already generates revenue hauling commercial loads between Los Angeles and Arizona (albeit with human drivers behind the wheel).
Daimler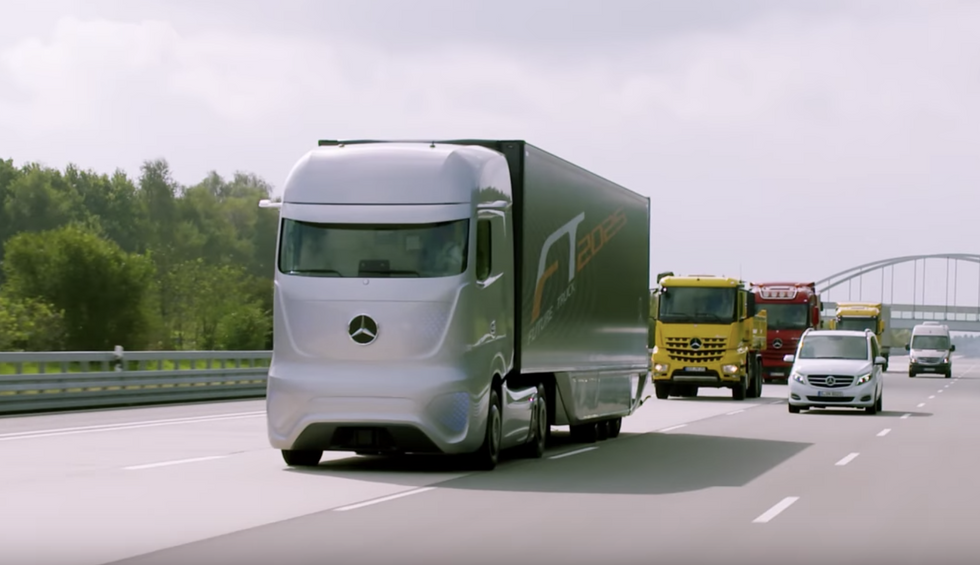 Daimler plans to have autonomous Mercedes trucks on the road by 2025Daimler
An automotive veteran and parent of Mercedes-Benz, Daimler has been in the autonomous truck race for longer than most others, first demonstrating a self-driving vehicle back in 2014. Called the Mercedes-Benz Future Truck 2025, the vehicle uses a system called Highway Pilot to navigate highways without human assistance.
So far, Mercedes has concentrated on platooning, where trucks drive themselves closely behind one another, reducing air resistance and lowering their fuel usage by a claimed 10 percent. Each vehicle still has a driver for safety and for taking control when exiting the freeway.
At CES in January 2019, Daimler Trucks announced it would invest more than $570 million into autonomy over the coming years, creating more than 200 jobs amid a global push to create Level Four driverless systems. Daimler said at the time this technology will "improve safety, boost the performance of logistics and offer a great value proposition to the customers – and thus contribute considerably to a sustainable future of transportation."
Daimler also said it is skipping the contentious Level Three of autonomous technology, where a safety driver must pay attention at all times and take control whenever the system fails. Other automotive companies are taking a similar safety-first move. The company's goal is to offer trucks with "highly automated driving" within a decade.
Einride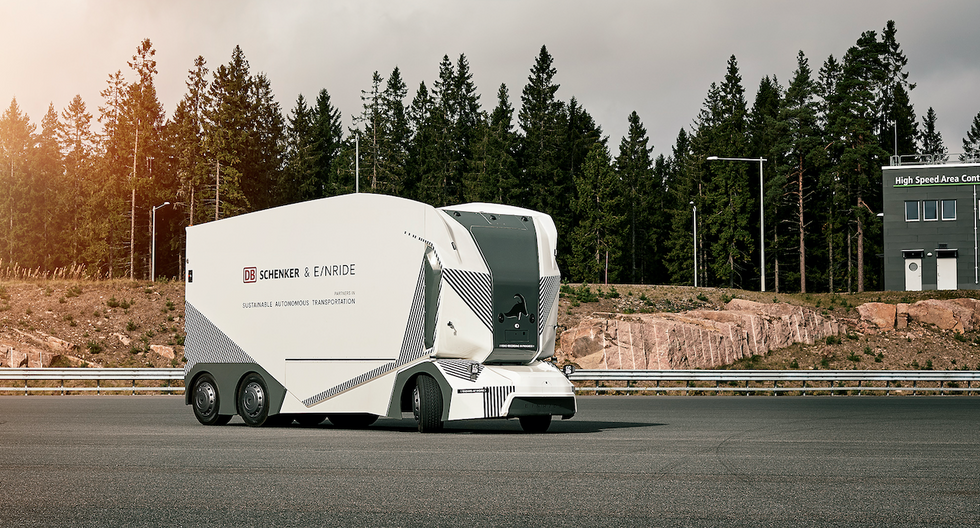 Driverless pod developed by Sweden-based EinrideEinride
In what was claimed to be a word-first, Swedish-based Einride kicked off the first truly driverless commercial trucking service on public roads on May 15, 2019.

The electric trucks, built by Einride itself, have no driver's cab or conventional controls, and are monitored by an operator stationed miles away, who can supervise and control up to 10 of the autonomous vehicles at once. The trial was for DB Schenker, a German logistics company. Einride also claims to have signed up "large US-based retail companies," but hasn't revealed any names just yet.
Removing the cab reduces road freight operational costs by around 60 percent compared to a conventional, human-driven diesel truck, Einride claims.
Based in Stockholm, Einride was founded in 2016 and has received a total of $32.3 million in funding to date, according to its Crunchbase profile. This most recently includes $25m of investment in October 2019, which Einride said it would use to hire more people, invest in its software platform, and expand internationally, with its first US office planned for 2020.
In July 2020, Einride announced a new brand identity, encompassing more than just autonomous vehicle technology. It now describes itself as: "A freight mobility operating system and cutting-edge driverless vehicle, purpose-built for companies to be able to lead the transition to electric and autonomous transport efficiently and cost-effectively."
TuSimple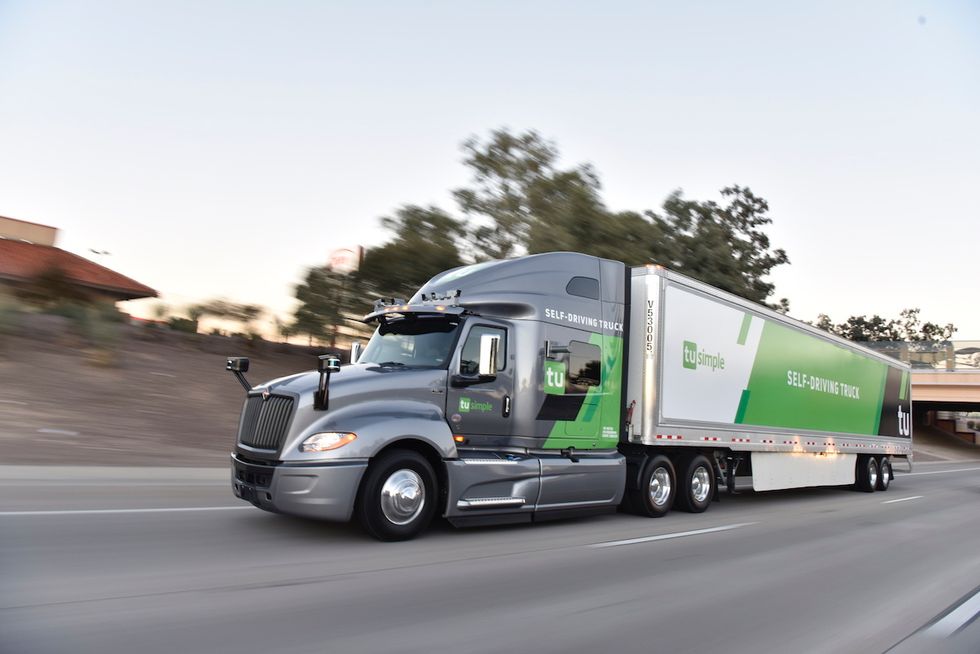 The trucks will drive along a 22-hour route from Arizona to DallasTuSimple
Having run an autonomous trucking test on public roads with the USPS in May 2019, San Diego-based TuSimple is now working on a service in collaboration with UPS. Announced in July 2020, the self-driving freight network will be with UPS and Berkshire Hathaway supply chain unit McLane, and it is hoped to be running autonomously on some routes in 2021, before operating nationwide by 2024.
McLane currently services convenience stores, drug stores and restaurant chains, and had already run some shorter test routes wit TuSimple ahead of the July announcement. Like others in this business, TuSimple and UPS see common haulage routes like railways, with trucks following the same set route day in and day out, instead of undertaking more complex journeys, like those an autonomous taxi would be expected to undertake.
By 2021, TuSimple hopes to operate autonomous routes between Phoenix and Tucson in Arizona, and El Paso, Dallas, Houston and San Antonio in Texas. For now, a driver and engineer are present in the cab of its 40 truck, but full autonomy is the eventual goal – so long as a regulatory framework can be established by federal government.
Established in 2015, TuSimple has so far received almost $300m in funding, according to CrunchBase.
Waymo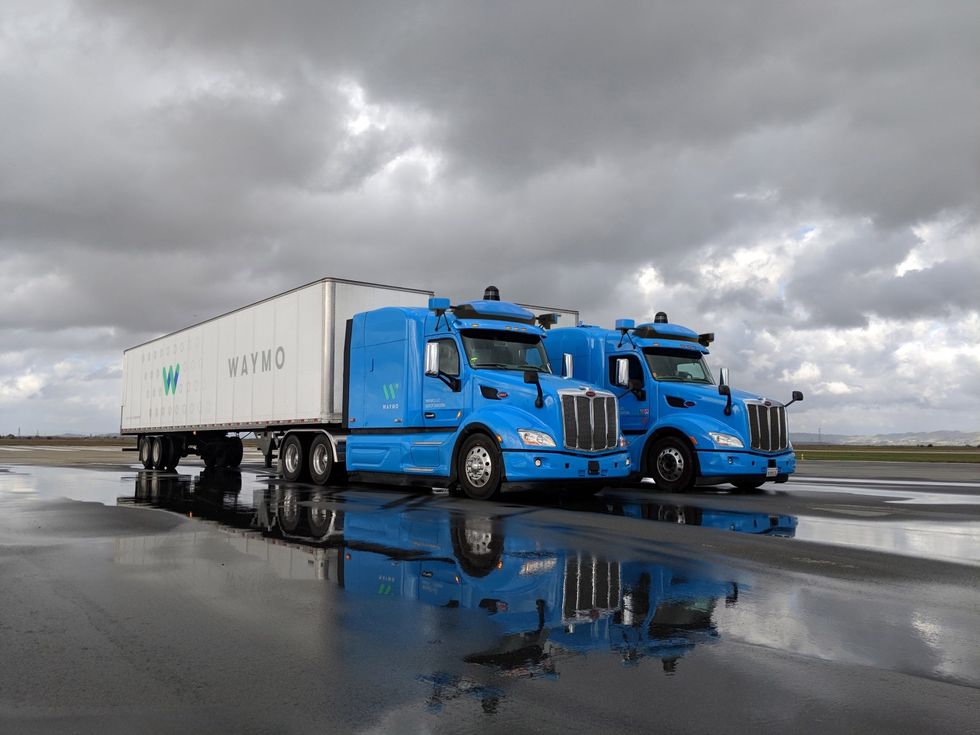 Google sibling Waymo is applying its autonomous car tech to trucksWaymo
Google sibling Waymo is best known for its autonomous cars and robotaxi service, which has been carrying a small number of passengers without any safety driver in Phoenix, Arizona since 2019. The company also has plans to install its self-driving technology, called the Waymo Driver, into semi trucks. Testing fan in Arizona over the summer of 2017, then started again in May 2019.
Most recently, Waymo announced in January 2020 that it is to start testing on haulage routes in Texas and New Mexico. First, the company's Chrysler Pacifica minivans will be used to map the routes, before the trucks are rolled out and onto the public roads. Waymo said: "These are interesting and promising commercial routes, and we'll be using our vehicles to explore how the Waymo Driver might be able to create new transportation solutions."
This week, we'll start driving our Chrysler Pacificas and long-haul trucks in Texas and New Mexico. These are interesting and promising commercial routes, and we'll be using our vehicles to explore how the Waymo Driver might be able to create new transportation solutions. pic.twitter.com/uDqKDrGR9b
— Waymo (@Waymo) January 23, 2020
On how its technology is adapted from cars to trucks, Waymo said in March 2018: "Our software is leaning to drive big rigs in much the same way a human driver would after years of driving passenger cars. The principles are the same, but things like braking, turning, and blind spots are different with a fully-loaded truck and trailer."

Volvo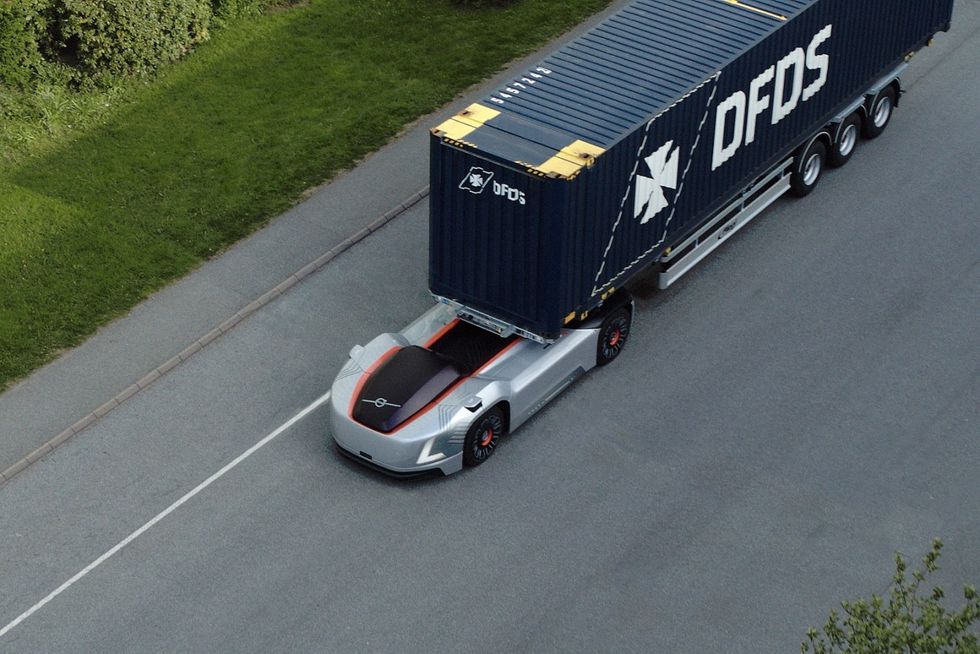 The Swedish firm has created the Vera, an anonymous truck prototypeVolvo
In 2016, Volvo demonstrated how its autonomous trucks platoon to improve both safety and efficiency.

It may not have been the most exciting demo, but when it comes to 70,000-pound trucks barreling down the highway under computer control, boring and uneventful is exactly what you want.
The demonstration showed how the lead truck controls the accelerator and brakes of the two following trucks, meaning they all speed up and slow down together, thus removing the delays caused by driver reaction time.
Volvo, which partnered with FedEx in 2018, claims that if the computer-controlled trucks follow each other just one second apart, fuel economy can be improved by 10 percent, leading to significant savings for haulage companies who employ such a system.
In October 2019, Volvo Group announced that its self-driving efforts would be spun off into a new business, called Volvo Autonomous Solutions. This will, the Swedish company says, help it to meet growing demand and offer services "in such segments as mining, ports and transport between logistics centers".
Volvo is also busy developing the Vera, a prototype truly driverless truck with no cab. It is currently being tested towing containers from a logistics center in Gothenburg, Sweden, to a nearby port terminal, at up to 25mph.
Ike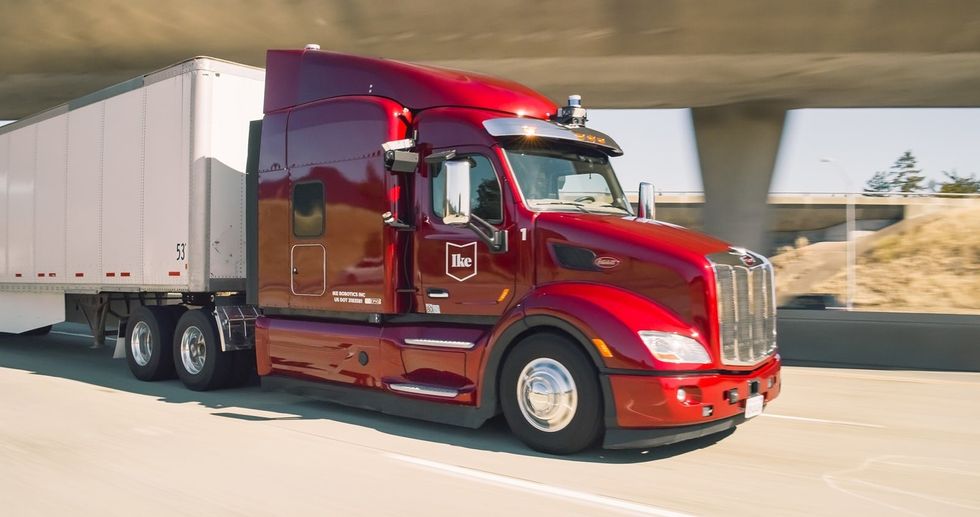 Ike is a driverless truck technology firm based in San FranciscoIke
A newcomer to the industry, Ike was founded in 2018 and is headed by Nancy Sun, the former Uber autonomous vehicle engineer who also has Otto and Apple on her CV. Based on San Francisco, Ike has received $52m in funding to date and is creating technology to drive trucks autonomously on the highway, with humans responsible for the more complex start and end of each journey.

Ike is not yet testing its autonomous technologies on public roads, as its 70 employees are still building a self-driving system to eventually sell to freight companies. A short-term goal is to offer a system that drives trucks autonomously along the highways of the US Southwest.
Tesla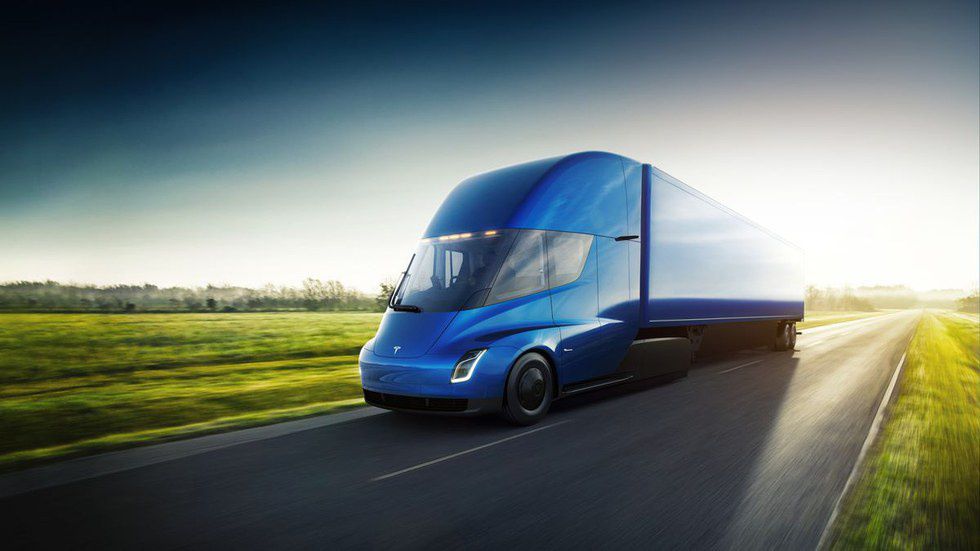 Tesla's trucks will have a special version of Autopilot designed to deal with jack-knifingTesla
Tesla unveiled its first truck in November 2017 and planned to start delivering the electric vehicles in 2019, but it has since delayed until 2021. Company boss Elon Musk said at the launch that the semis would get Tesla's Autopilot self-driving software as standard.
Like on Tesla cars, Autopilot for trucks will provide a semi-autonomous system where the vehicle's accelerator, brakes and steering are managed by the computer on highways with clear lane markings, but the driver must remain fully alert and with a hand on the wheel at all times.
On top of this, Musk said this version of Autopilot will have truck-specific features like an anti-jackknifing system. The eventual goal is to employ a platooning feature for Tesla trucks to autonomously follow each other and have only the lead truck controlled fully by a human driver.
From Your Site Articles
Related Articles Around the Web
Like GearBrain on Facebook