Like GearBrain on Facebook
The iPad can now be used with a mouse and trackpad, thanks to the latest iPadOS 13.4 software update released by Apple this week.
Before this, mouse support was only available via the iPad's accessibility menu, and in a far more limited way than it is now.
Read More:
With the installation of iPadOS 13.4, the iPad can now be used with any Bluetooth mouse or trackpad, making it more like a laptop than ever before. What's more, trackpads can be used to perform a wide range of gestures, which will be familiar to iPad users and Mac owners who use a trackpad with their computer.
Apple Smart Keyboard Folio (for iPad Pro 12.9-inch, 3rd Generation, US English) - MU8H2LL/A
Here is how to get started:

Make sure your iPad is running software version 13.4. To check this, open the Settings app, then tap on Software Update. You will be told that either your iPad is up to date, or that 13.4 is ready o be downloaded and installed.
Once you have done that, grab a mouse or trackpad, switch it on and enable pairing mode, or disconnect it from the computer you're currently using it with.
Now open the iPad's Settings app again, tap on Bluetooth, then tap on your mouse or trackpad once it appears in the list of available devices.
Once connected, you can use your mouse or trackpad in the usual way. This means tapping or clicking instead of prodding the screen, and scrolling as you normally would on a computer.
You will notice how the cursor is a semi-transparent circle instead of the arrow used by computers. It also dynamically changes its shape when you approach certain elements of the iPad's operating system. This may seem strange at first, but we found it quickly becomes second-nature seeing the cursor changing its shape and size.
iPad trackpad gestures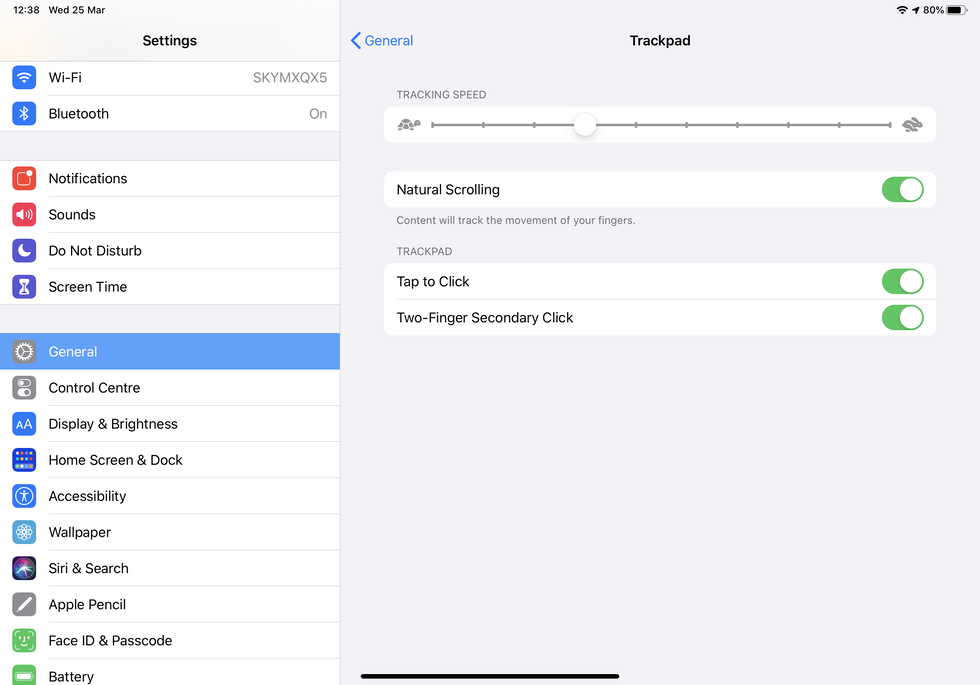 Trackpad options in the iPad Settings appGearBrain
We have been using our iPad Pro with an Apple Magic Trackpad, which means a wide range of gestures are available to help navigate iPadOS without ever touching the screen.

For a start, the iPad can be woken up with a press of the trackpad or click of a mouse. You can then tap at the keypad or let FaceID authorize you, before swiping up on the trackpad with three fingers to unlock the iPad.
Swiping up with three fingers is also the gesture used to return to the home screen from anywhere on the iPad.
You can enter the iPad's multitasking menu either by swiping up with three fingers and pausing for a moment with your fingers still on the trackpad. Or, you can pinch outwards with a thumb and two fingers to get to the same multitasking page.
Swiping with two fingers is used to scroll up and down through content, or left and right across the iPad's home screens. Swiping down with two fingers on the home screen opens the search bar, while a long click works the same on a trackpad as it does on the iPad display.
How to adjust trackpad settings on the iPad
Open the Settings app
Tap or click on General
Tap or click on the new Trackpad option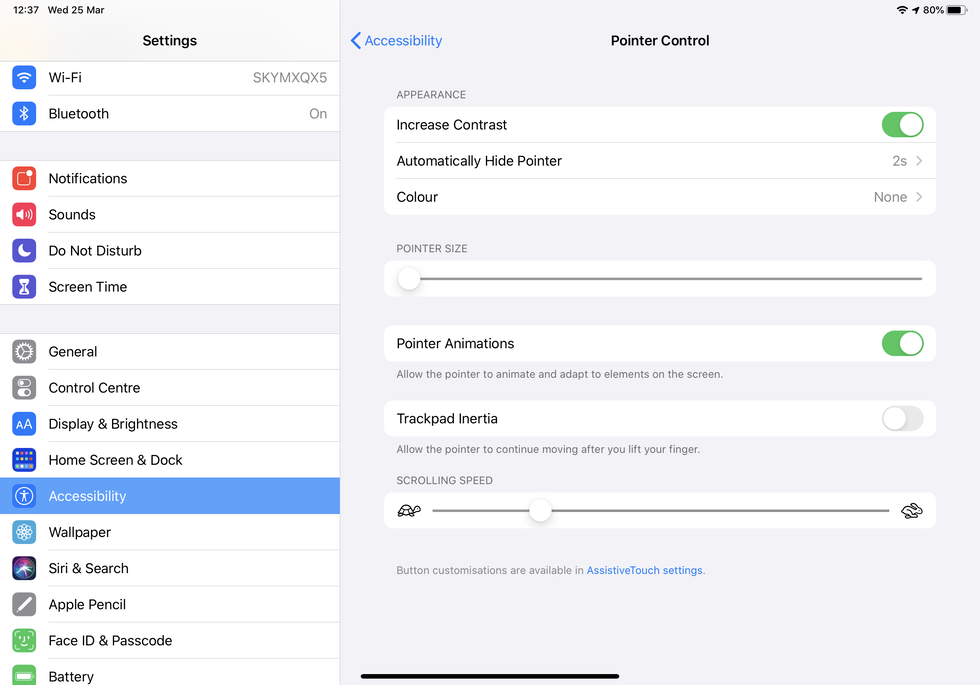 iPad trackpad settingsGearBrain
Here you can adjust the tracking speed of the cursor, and switch on or off Natural Scrolling, which more accurately follows the movement of your fingers. There's also the option to enable tap-to-click and let a two-finger tap act as a secondary click (in other words, tapping with two fingers does the same as right-clicking with a mouse).

As is often the case, the iPad's accessibility menu has even more settings to adjust. These include the option to change the contrast, size and color of the cursor, as well as its animations and trackpad inertia.
Personally, I have increased the contrast, kept the cursor at its smallest size, and disabled trackpad inertia to help make movements feel more precise and instantaneous.
This is all a big step forwards for Apple, and turns the iPad into much more of a laptop rival than it was before.
Arteck iPad Pro 11 inch Keyboard, Ultra-Thin Bluetooth Keyboard with Folio Full Protection Case for Apple iPad Pro 11-inch (2018)
From Your Site Articles
Related Articles Around the Web
Like GearBrain on Facebook