Vivint's newest device keeps more than just an eye on packages and people that arrive at your door, it also lets everyone know it's watching. That feature, called Smart Sentry, will trigger a flashing red LED light ring plus an audible tone so people know they're on camera. Home owners too will get a notification in their smartphone that the camera is recording too.
Vivint last updated its doorbell camera in May 2015, and before pushing out a new device, the company wanted to build a product that would deliver on what customers had asked for — a camera that would do more than detect deliveries, but protect them at the porch level as well, Mike Child, director of product management at Vivint told GearBrain.
"The entire product was built with this use case," Child said.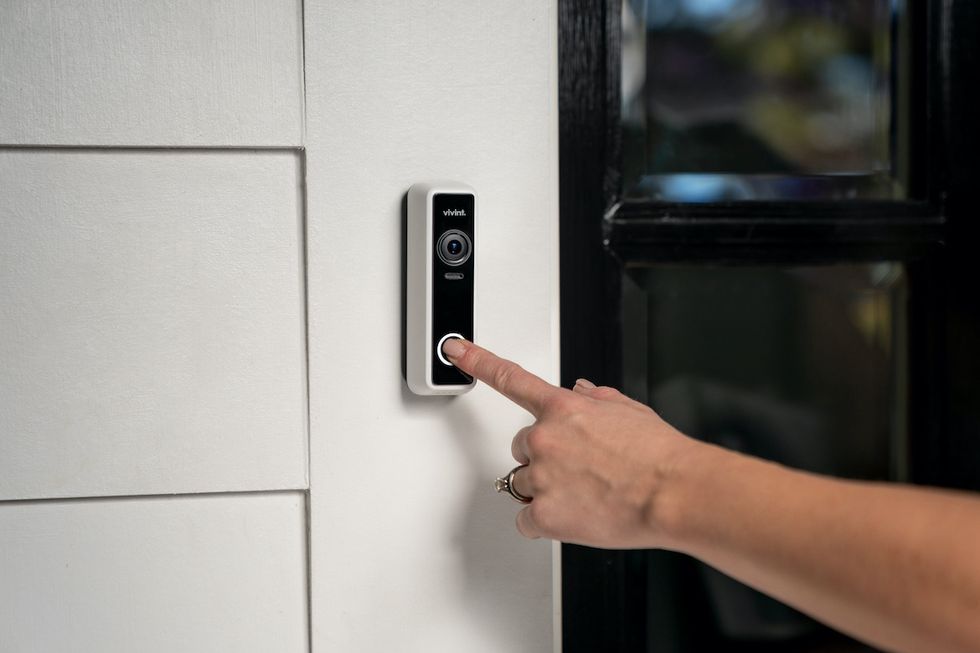 Vivint customers can purchase the new Doorbell Camera Pro starting March 4Vivint
Vivint is considered a full service smart home company, where customers purchase connected devices including lights, thermostats, locks, sensors, outdoor cameras and more and then pay a fee to have them not just installed but managed.

Having a device that can eye both people coming to the door, while also watching anything let at the doorstep, required a camera that could see both wide and up and down. The new Doorbell Camera Pro has a 180-degree horizontal and vertical field of view, giving a 1 x1 aspect ratio. The device also has two-communication and high resolution, as did the older camera.
When a package is left or when someone approaches, notifications are sent along with recordings to subscribers. These notifications can be customized as well, so people can choose to get pinged only if someone approaches the door or only if they actually ring the doorbell. The camera is recording when it spots someone approach the door, and these clips can be viewed later.
Child notes that in the smart home space, connected cameras are "a big driver for smart home adoption," he said. "It's uncommon for us to acquire a new customer without getting a camera, and a doorbell camera is one of the most popular."
The Vivint Doorbell Camera Pro goes on sale March 4 for $249, with a service contract required as well. While current Vivint customers can keep their old camera, new customers who sign up will get the new one.