Like GearBrain on Facebook
A while ago, we published a very thorough review of Vivint Smart Home system, which helps consumers understand the details of the company's professionally installed and monitored smart home security system. Our Vivint installers helped us do a deep dive into the company's system, understanding how its technology worked, how to use the devices to secure our home. Recently, the company added a new 4K HD security camera with artificial intelligence (AI) to its product line up, so we decided to test it against our current set-up and here is what we found.
What is It?
Vivint Outdoor Camera Pro is an 4K high definition outdoor security camera which works with Vivint smart home system. The camera has 1080p video resolution, night vision, 140-degree field of view, two-way communication and an 85db siren built-in as well. This latest security camera comes with Smart Sentry technology, the company's new motion detection technology.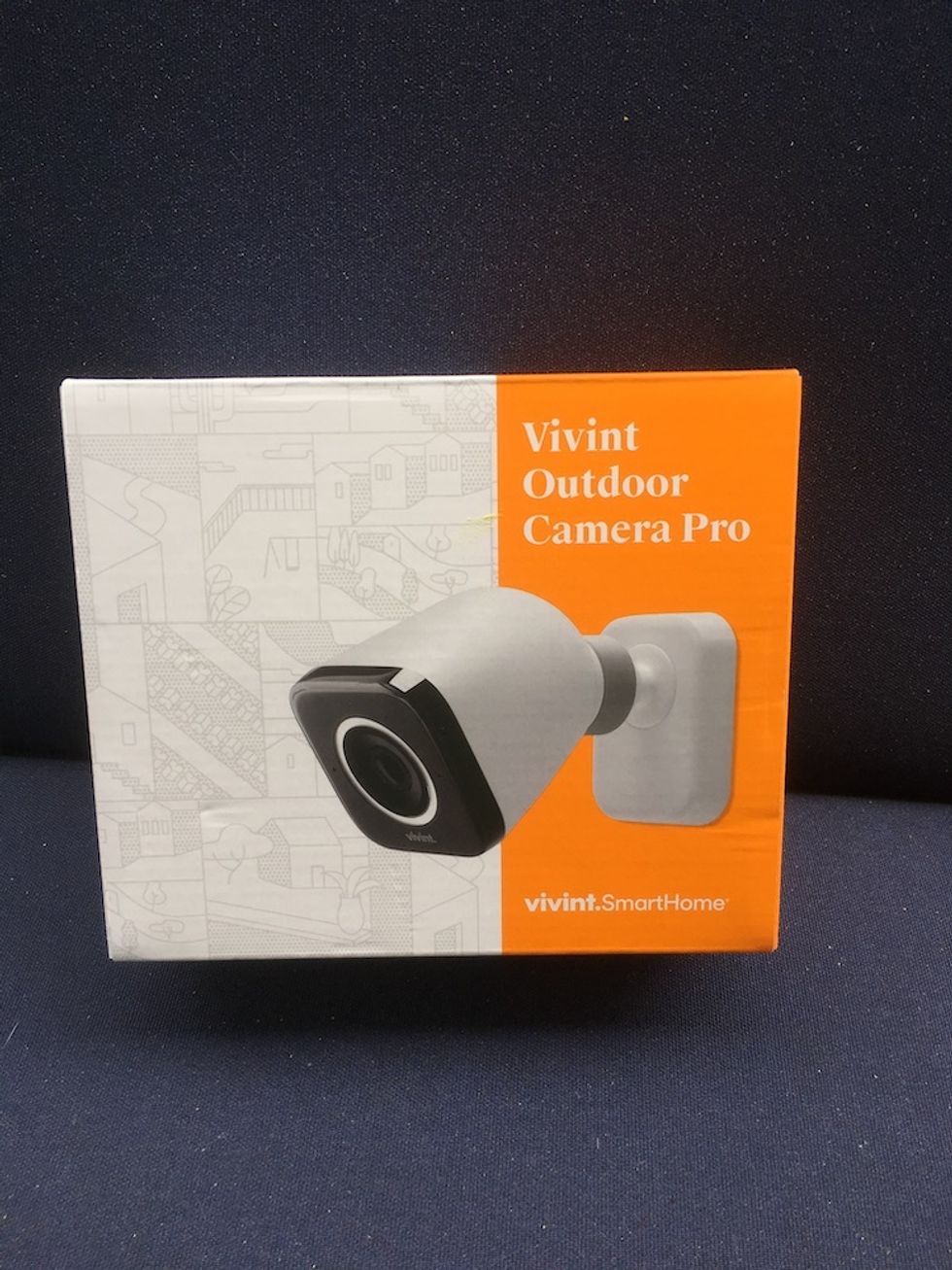 Vivint Outdoor Camera ProGearBrain
Smart Sentry allows customers to customize how long the camera should wait before alerting people that someone who is on their property should be. You can set this tracking capability to go off between one to 90 seconds through the Vivint mobile app, and also choose the area you want the camera to track.The camera can also distinguish between pets and people. This is similar technology to what's on many smart video doorbells and flood lights, but we've yet to see it on a standalone outdoor 4K HD security camera. It's a solid feature if you plan to install the camera on the outside of your house, where it's facing a highly trafficked area.

If interesting in buying or learning more about Vivint's new outdoor security camera or Vivint's Smart Home System, click here.
How do you install it?

Vivint comes to install the camera, as it does all of its devices. Our installers, Bam Babalola and Enrique St. Rose took great care, and Babalola had assisted in our previous Vivint installation, so he knew our house. One nice add: every time they walked in the house, they put on their slippers to make sure not to track in any dirt. You would be surprised how many installers of smart home device or security systems don't do this.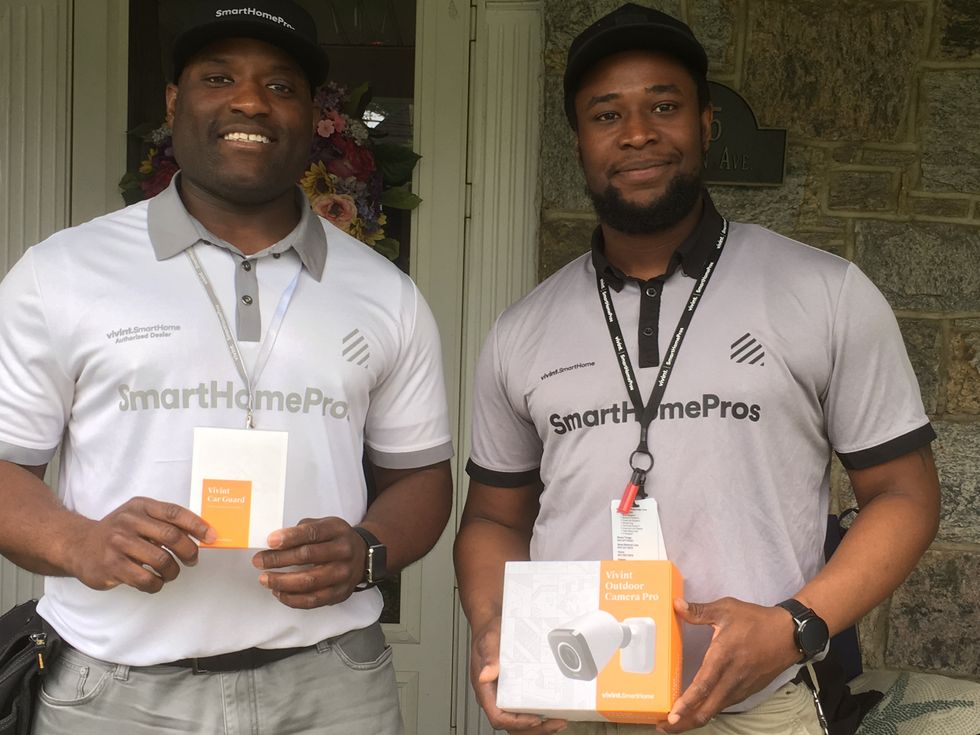 Vivint installers Bam Babalola and Enrique St. Rose installed our camera.GearBrain
The 4K HD camera is a wired-in device, key for sending large video files, or clips, to an app or hub. All of Vivint's cameras connect to their power source via Cat 5 cables, which are connected to "powerline converters" or PLCs via an Ethernet connection. This type of set up is different from other smart home systems that use either a battery-powered or a standard AC-powered cameras, which use a wireless signal to transmit video clips to the cloud and then your app. That kind of connection can cause a delayed response between an event occurring to when it appears on a smartphone or smart speaker assistant like Amazon Echo Show.

With Vivint, power is sent from the PLC, which is plugged into your wall outlet, to the camera over the Cat 5 cable. When video is recorded, it is sent back over the Cat 5 cable to the PLC, which then sends the video over your electrical wires to your hub. Then the hub will send it over the Internet to your app so you can view the video from anywhere. GearBrain is a fan of this type of setup for wired security cameras because of the speed in when you get to view the events.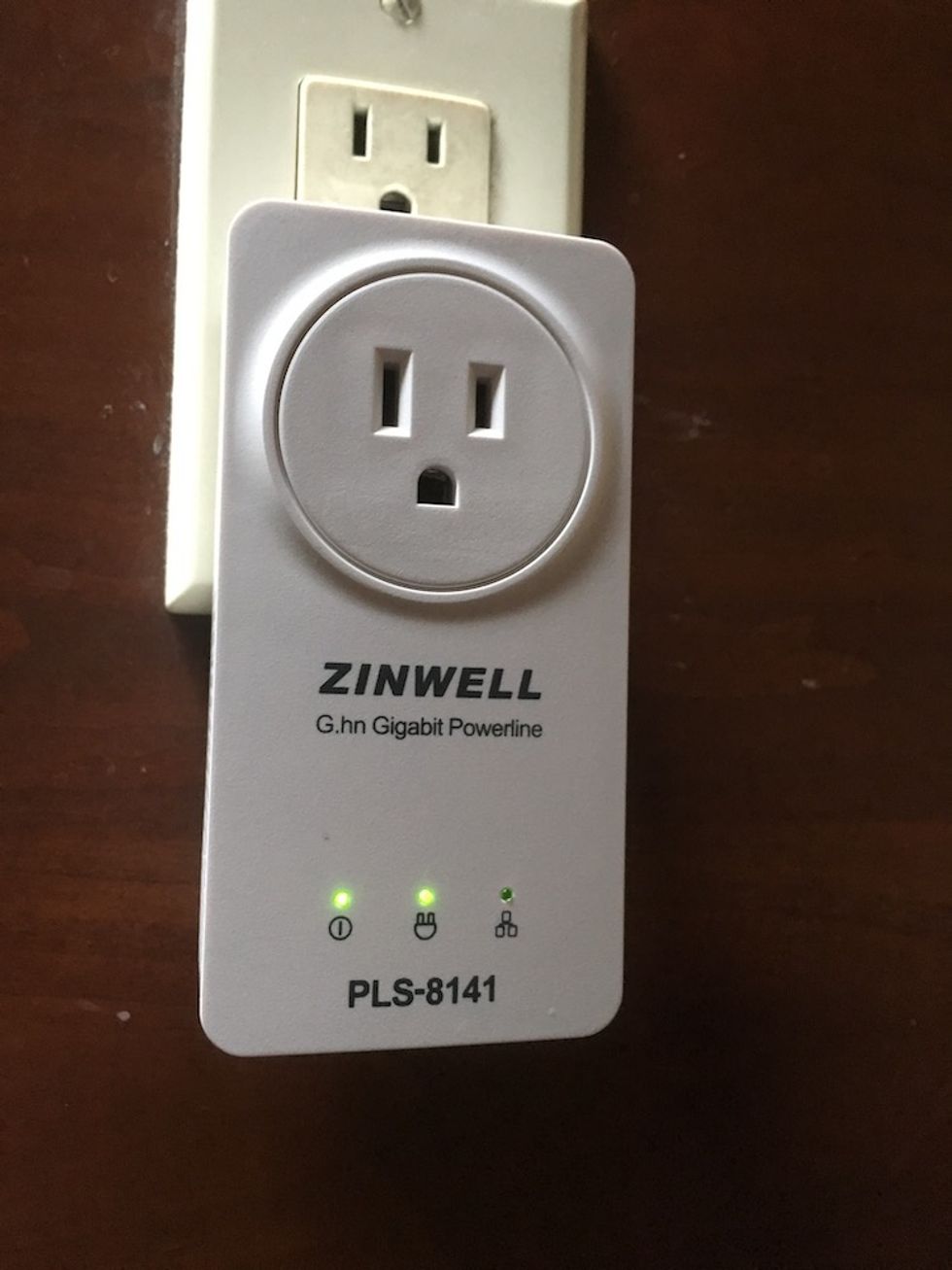 New PLCs from Vivint don't take up the entire outlet anymore. GearBrain
During this installation, we also learned Vivint has updated their PLCs. The original PLCs were rather large devices that connected to your inside outlets, which, In some cases, took up the entire wall socket. (We had noted that in our review of their system.) The new PLCs now have an outlet built-in, allowing homeowners full usage of their outlet with the PLC. This was a nice upgrade and practical.

Smart Home Integrations
Vivint system works off a Z-Wave wireless protocol. If you have any Z-Wave devices, they should work with Vivint but you need to confirm with the company. For instance, Z-Wave security cameras don't work because Vivint only allows security cameras they have tested and secured to run on their system. However, Z-wave smart lights, smart plugs, smart locks as well as Nest, Amazon Alexa and Google Assistant-enabled devices can be integrated into Vivint's smart home system. If you are planning on getting a Vivint system, and own any of these Z-Wave smart devices, the company can help you integrate them into your new system. It could save you money and the hassle of setting up new devices.
How well does it work?

The camera worked great initially. The quality of the video is exceptional, which is very noticeable when you compare the video to Vivint's cameras or other manufacturer's outdoor security cameras. The sound coming out of the camera's speaker was clean. You can set the parameters you want the camera to monitor for motion, and whether you want to set off an alarm to encourage them to move or leave the premises. You can also set notifications when motion is detected if visitors are in view of your camera. Also, because the camera is installed locally (meaning the video goes to your hub instead of the cloud), there is no latency when viewing clips — they appear much more quickly.
There are three camera notifications you can activate. The first is if a call is started from your camera, the second is if a person is detected by your front door or within its view, and the third is if the smart sentry is triggered. You can create custom notification rules if you want as well. This works similarly to the way IFTTT works. For instance, you can set up a notification that states, "If my house is armed, notify me when motion is detected any time or between certain times of the day." That's a nice feature to have built into the app.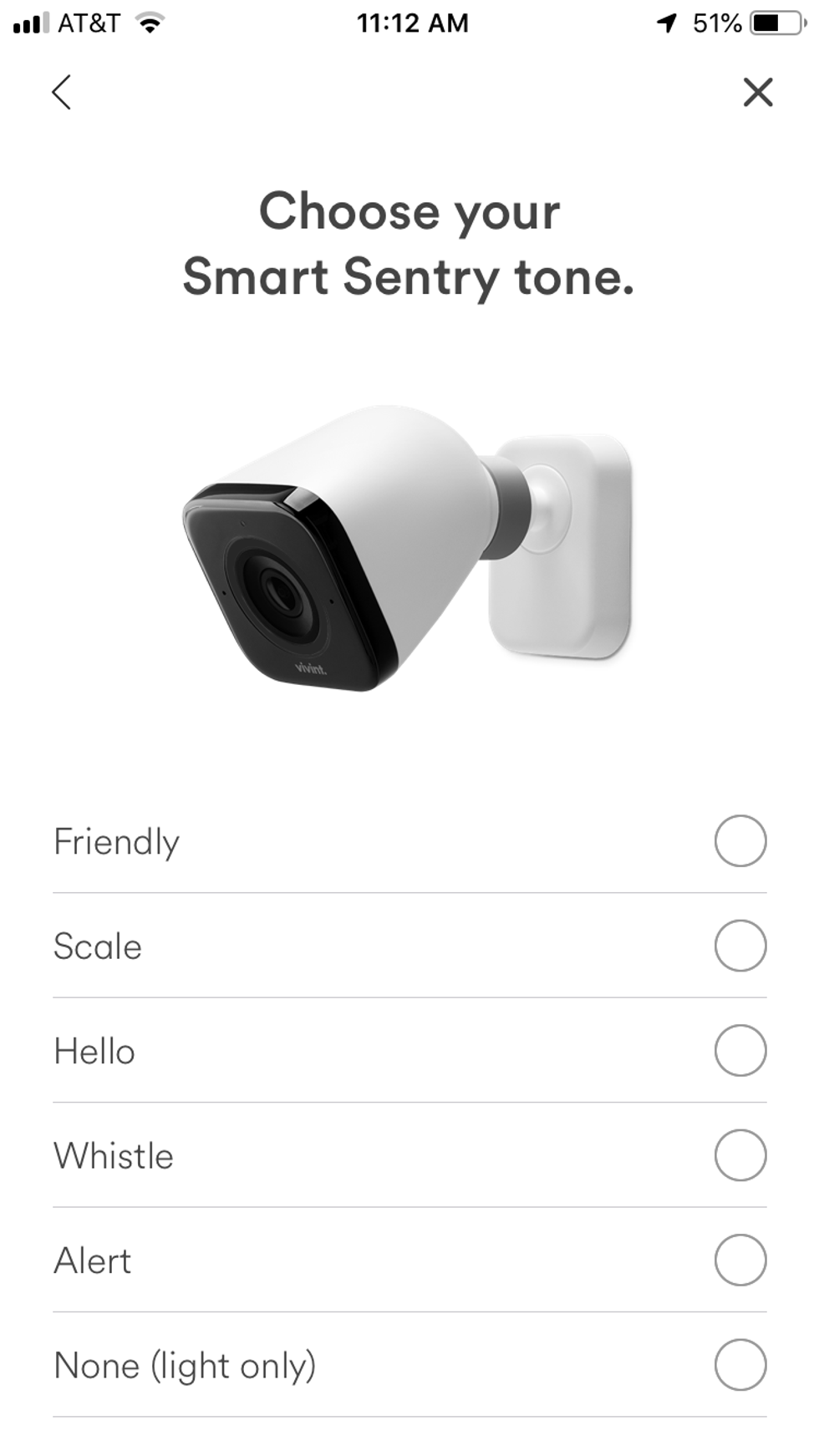 You can choose the one for your Smart Sentry notification in the Vivint appGearBrain
Smart Sentry is a new feature added to the Vivint family of security cameras, which stands out, letting you set up your camera to play a tone and have a light go off when it detects someone lingering on your property. In the Vivint app, you can pick the type of tone — there are five — as well as how long you want to wait before it goes off from 0 to 90 seconds. You can also forgo the tone, and just have the light turn on instead. I liked the "whistle" tone, but we decided to play it safe with the "friendly tone."

With the camera installed on a front porch, it would notify us when a visitor was detected. However, when we went sat on our own porch, we also got notified of a person lingering. This was an easy fix. We just went into the app, adjusted notifications and when we wanted Smart Sentry activated, which stopped the false readings.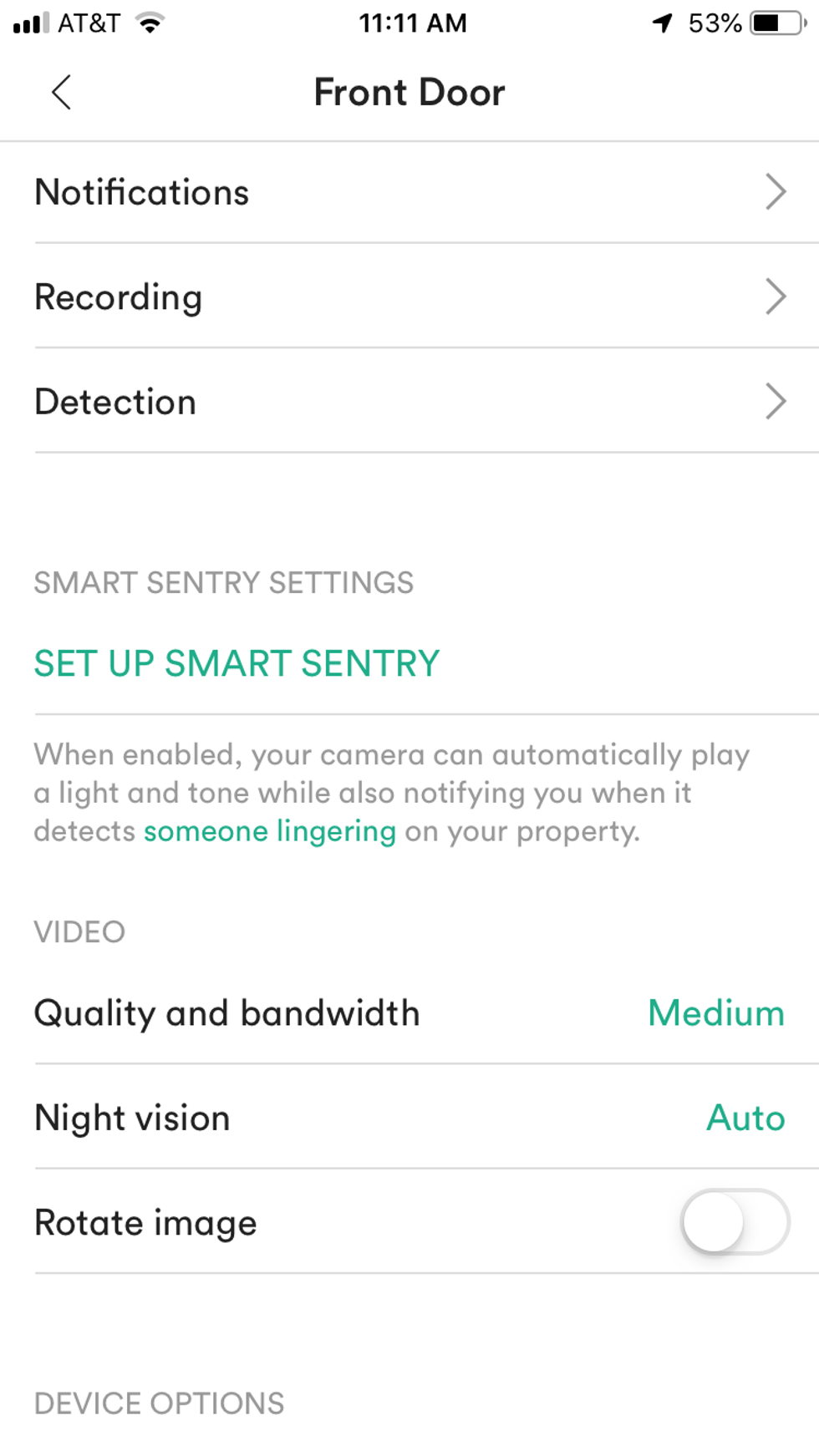 You can adjust Smart Sentry settings and notifications in Vivint app.GearBrain
During our testing, we did run into one issue with Smart Sentry, where the colors of our front porch cushions created a false alert on the camera. We kept getting notifications that a person was lingering — but when we looked at the video clips, no one was there. We contacted Vivint and they informed us there was a bug in their AI causing the alerts, and that the combination of lighting, the contrasting colors of the pillows and seating arrangement of our porch furniture made it appear to the camera's analytics that there is a person there — even where there wasn't. While Vivint's analytics did what it was supposed to, the company needs some fine-tuning to get the system to work correctly. We were told our situation was rare, and they have a proactive process in place to address anomalies like this. So if you experience something similar, we recommend you contact Vivint and they will help you get the right settings for your camera.
While features can be setup via the app or hub, your camera has to be installed professionally by Vivint in order to integrate it into your system. We know from testing several smart home security cameras, it can be challenging to get the cameras integrated into your hub, especially the motion detection. With Vivint, we can attest you will not have any issues.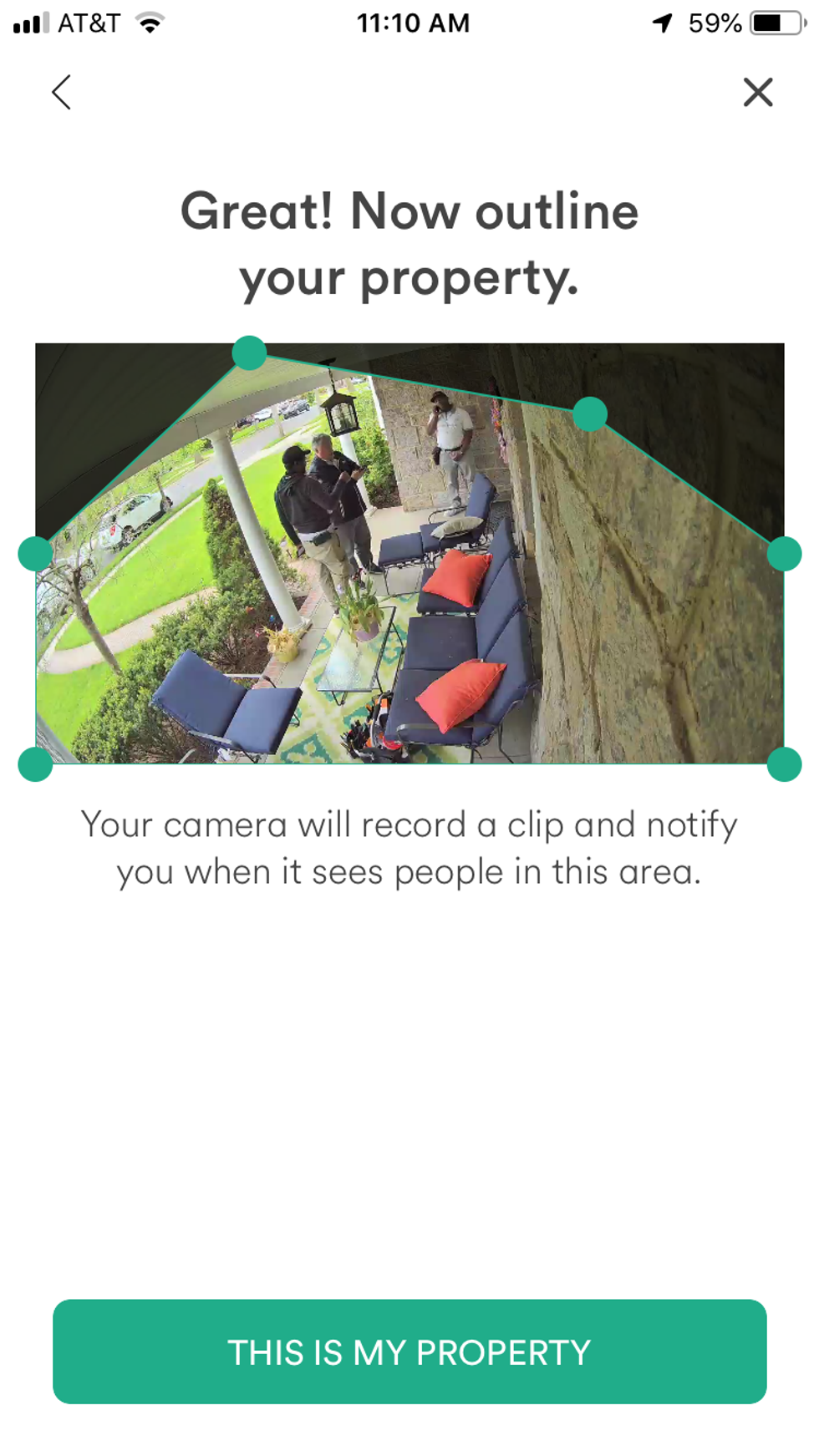 Select the area you want the camera to record a clip when someone enters using the Vivint app.GearBrain
Cost:

The cost of the
Vivint Outdoor Security Camera Pro is $399
($299 for the camera and $100 for the installation.). You will need the Smart Home Service plan if you plan to add this camera to your Vivint system, which is $39.99 a month, plus an additional $5 a month. With that, you get 24/7 professional monitoring and support, as well as 14 days of clips. With the Vivint Smart Drive, you get 30 days of 24/7 continuous recording, and with all Vivint devices, the company has a 60-month, 0 percent financing plan.
Summary:

If you are a current Vivint customer, and have a single outdoor security camera or multiple cameras, it's worth considering this new 4k HD outdoor camera. The picture quality is clear and crisp, especially when you compare it to any other camera as well as Vivint's own smart video doorbell videos. The Smart Sentry is also a nice touch, and two-way communication turns the camera almost into a smart video doorbell — but without the doorbell.
If you are not a Vivint customer, this camera could make you want to become one. The device is that good and works nicely with the company's smart home security system. We have seen and tested many outdoor security cameras and can tell you none have had the picture quality like this specific camera. When you add in Smart Sentry technology, as well, it becomes a powerful security device to help alert you of unwanted visitors who might be lingering a little too long outside your home.
Pros:
4K video resolution, night vision and 140-degree field of view (FOV)
Clear two-way communication
Smart Sentry settings (custom motion detection)
Cons:
Have to be a Vivint customer
Expensive plan
Can send false positives based on furniture and color contrasts
How Vivint Smart Home Hub Works www.youtube.com
Check out The GearBrain, our smart home compatibility find engine to see the other compatible products that work with Vivint Smart Home Security system, Google Assistant and Amazon Alexa enabled devices.
Like GearBrain on Facebook