Like GearBrain on Facebook
More than a decade after Waymo expects to have its fully driverless taxi service on public roads, 12 percent of car sales will be for driverless taxi fleets - but this is expected to reduce private car sales by just 5 percent.
This is the prediction of investment bank UBS, which, according to the Financial Times, believes demand for autonomous taxis will take off around 2026. This is eight years after market leader Waymo, owned by Google parent Alphabet, plans to launch its service, which later in 2018 will begin offering driverless rides to paying customers in Phoenix, Arizona.
By 2030, the bank says, there will be 26 million autonomous taxis on public roads, shuttling customers around metropolitan areas just as Uber, Lyft and their rivals do today, only without the driver.
Ever since Waymo was born in Google's X division in 2009, the company has demonstrated how its self-driving car technology can be used to transport people who are unable to drive themselves, giving them safe and on-demand access to go wherever they like. A promotional video from 2012 showed how a Google car was used to transport a blind man across town.

But if UBS's predictions turn out to be accurate, 12 years of Waymo's service being available to the public will result in only a 5 percent drop in private car sales. And if Waymo continues to make purchases like the 20,000 electric cars it has ordered from Jaguar, the autonomous car revolution is unlikely to make our congested city streets flow more freely.
But not everyone agrees on UBS's figures. Research firm KPMG predicted in 2017 that, also by 2030, autonomous cars could be responsible for a more than 50 percent drop in sedan sales in the US, due to families no longer needing to own a practical car, but still using a larger vehicle for trips away.
Some are making far more drastic predictions. Think tank RethinX said in 2017 that some 95 percent of miles driven in the US in 2030 will be done in on-demand, autonomous vehicles.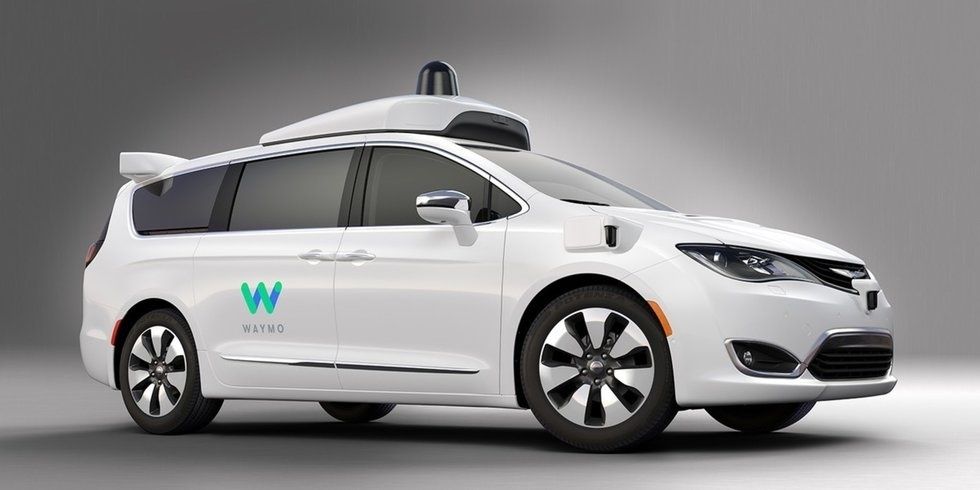 Waymo fits its technology to a fleet of Chrysler Pacifica minivansWaymo
Whatever the outcome, UBS believes Waymo will see a significant return on its investment. The bank says that, by 2030, Waymo will own 60 percent of the global autonomous taxi market, a level of such dominance that UBS believes automakers will be forced to buy Waymo's self-drive technology, or become obsolete. The bank claims the global revenues from self-driving technologies will be up to $2.8 trillion by 2030.
But the success of the industry relies on gaining public trust in the safety of driverless vehicles. In March, an autonomous test car operated by Uber struck and killed a pedestrian as they crossed the road in Tempe, Arizona. The same month, a Tesla driver was killed when his Model X struck a highway barrier while its Autopilot driver-assistance system was engaged.
UBS also forecasts that only a small number of car makers will be able to compete with Waymo by developing and implementing their own technology; these are said to include Mercedes parent Daimler and General Motors.

"Very few players other than Waymo will be able to succeed with having an autonomous vehicle brain in the marketplace," said analyst Patrick Hummel, leader of the UBS report. "Sooner or later carmakers that are unable to compete will have to give in and take the Waymo system."
Waymo started working on fully driverless systems around five years before traditional car makers, and since 2009 it has covered more than six million miles on the public road, plus another five billion miles in simulation.
But building the cars and its brain is only part of the robotaxi story. UBS believes the majority of revenue to be earned from these services will be in operating the car-booking network - the Uber or the Lyft - and monetizing the time passengers spend in the vehicles. Intel and Warner Bros. said in 2017 how they are considering AR and VR experiences for autonomous car passengers - and, of course, how these will contain adverts for their captive audience.
From Your Site Articles
Related Articles Around the Web
Like GearBrain on Facebook