Alexa and Google Assistant can not only help you learn about the differences between bourbon and whiskey, but the voice assistants can also guide you through a Wild Turkey tasting on both your Amazon Alexa and your Google Assistant-enabled devices.

While tasting are typically done at a distillery, with a guide who has detailed information about the liquor was made, guiding you on what to look for as well. Wild Turkey has taken that experience and crafted an option that allows Amazon Alexa or Google Assistant to walk you through these steps through a new Alexa Skill and a Google Routine.
Since I am an avid scotch and whiskey drinker — and liquor and technology are not typically mixed together — I was very eager to test the new experience. Keep in mind that the Wild Turkey Skill is for adults only, and Alexa and Google Assistant will even ask for your birthday date to make sure you meet the requirements.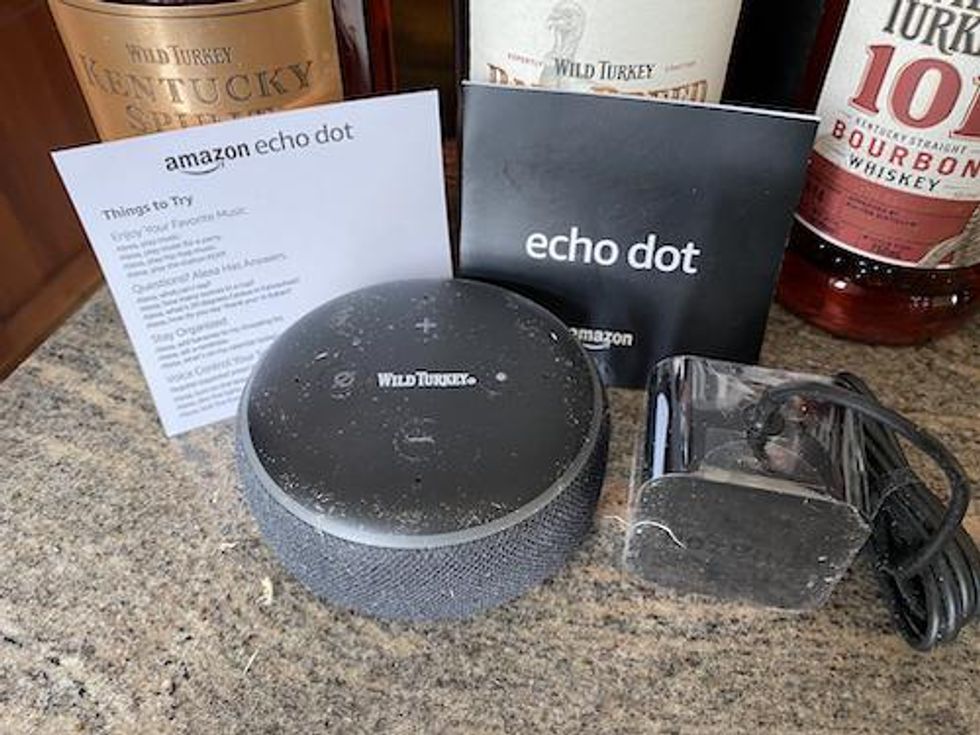 Wild Turkey provided us with an Amazon Echo Dot to help with our tasting.GearBrain
How Does the Skill Work?
The Wild Turkey Tasting skill is a guided tour on a smart speaker or smart display, that taps into either Amazon Alexa or Google Assistant voice platform. You're fed tips gleaned from the legendary Russell clan, the master distillers for Wild Turkey. Wild Turkey Master Distillers Jimmy and Eddie Russell, a few family members and also Matthew McConaughey, Wild Turkey's creative director, share their knowledge of the brand's history, heritage, along with personal tales about the Wild Turkey bottles you will be tasting on your guided tour.
For our review Wild Turkey sent us an Amazon Echo Dot to use to test the skill, along with five bottles of its bourbons and whiskeys which are part of the guided tour, including its flagship 101 Bourbon, 101 Rye, Longbranch, Rare Breed, and Kentucky Spirit. The bottles are not sold as a curated collection but are available for purchase individually.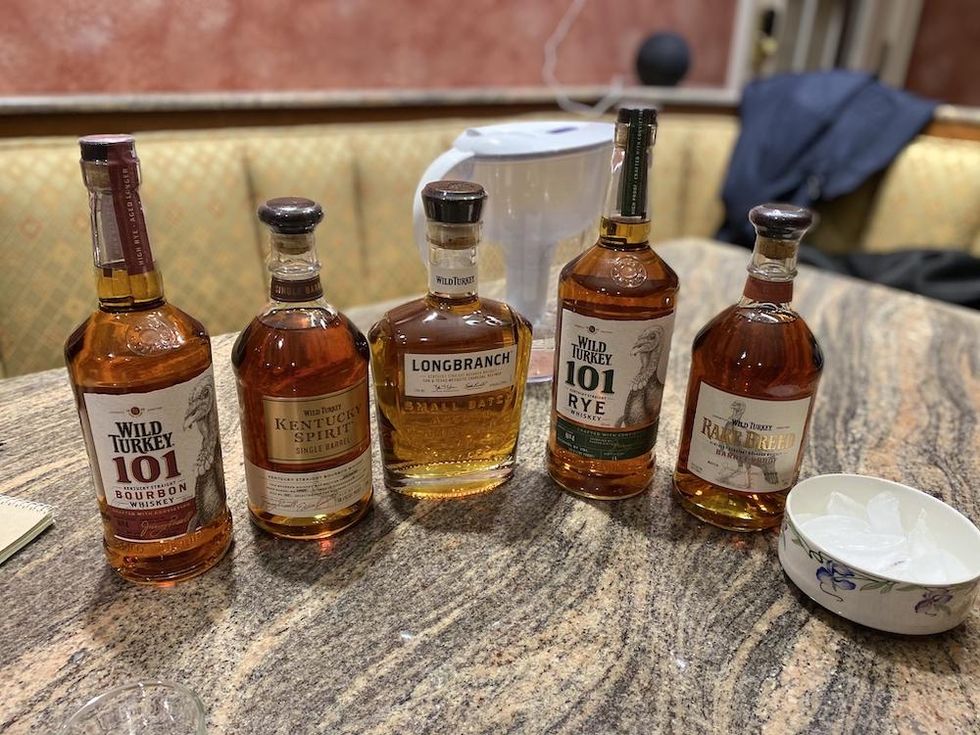 5 Bottles of Wild Turkey with ice and water for our tasting lead by AlexaGearBrain
Wild Turkey's 101 Rye is a deep color medium finished spicy liquor which is usually used to make Manhattans and whiskey sours, but you can drink it neat, or on the rocks if you prefer. Rare Breed is a barrel proof bourbon with a bold taste, high alcohol content, a long sweet finish and a respectable bight. The Kentucky Spirit is a single barrel 8-year-old bourbon, which is very smooth and the first single barrel bourbon to hit the market. It tastes great on the rocks, if you are a single malt scotch drinker. The last bourbon we tasted was Longbranch, an 8-year-old Kentucky bourbon which was distilled in Texas Mesquite casks. Actor Matthew McConaughey worked with the Russell's on creating this unique Kentucky bourbon, which the actor says has three acts: smell, taste and finish.

For each bottle, Alexa provided a guided tasting. If you've never been on a tasting for whiskey or bourbon, the normal process is for the distiller to tell you a little information about what you are going to drink. Then they will ask you to pour the whiskey into a glass, smell it and then sip it to understand the palette. Finally, the distiller should tell you what to look for while tasting or sipping the whiskey. At this point, you're also asked to try and understand the finish, which is how long the taste lasts in your mouth. For the Wild Turkey Skill, Alexa will walk you through each of these steps with notes from Master Distillers Jimmy and Eddie Russell. You can learn about what went into making the bourbon and how you should drink it. In some cases, Alexa will also ask you if you would like a recipe for a cocktail using Wild Turkey.
Keep in mind for the tasting, you can do it with — or without — the bottles.And the experience is the same if you are using a Google Assistant-enabled device.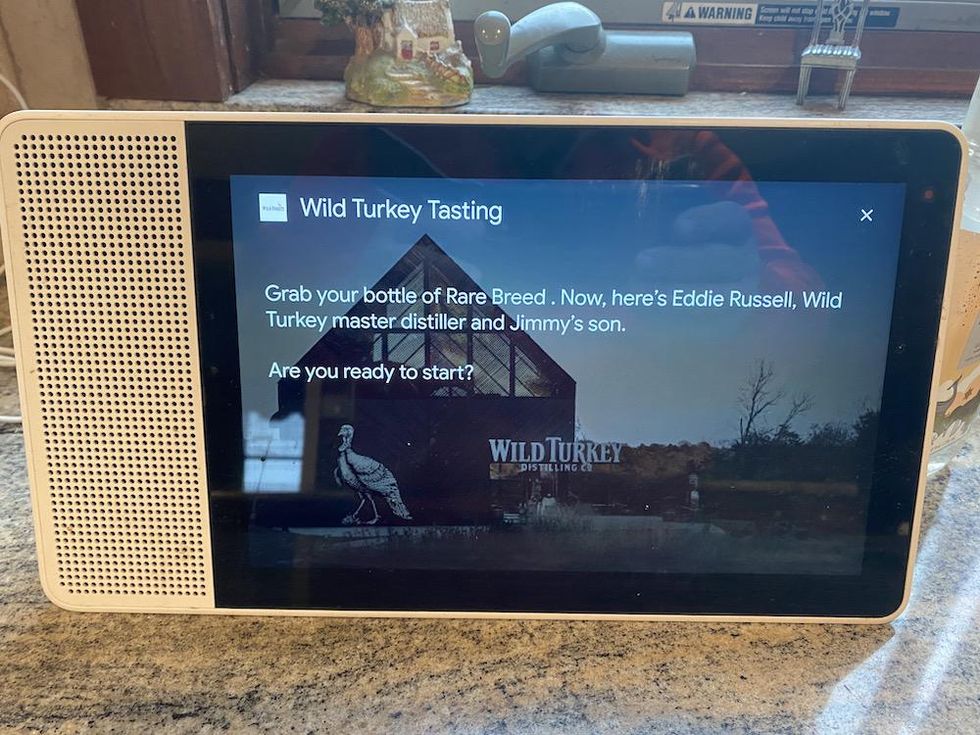 Google Smart Displays help you follow along during your Wild Turkey Tasting.GearBrain
Performance of the Wild Turkey Tasting Skill
The Wild Turkey tasting is well thought out, providing good insights on each of the Wild Turkey bottles. It's also easy to setup and simple to use no matter which smart speaker or smart display you're using. To begin the tasting, first enable the Wild Turkey Tasting Skill in your Alexa app by asking Alexa to "Enable Wild Turkey Tasting." (For Google Assistant devices, you say, "Hey Google, talk to Wild Turkey Tasting," and then state your dat of birth.)
With Alexa, you'll hear how the tasting will work, as well as the questions you can ask during the tasting. Besides the guided tours of the five bottles of Wild Turkey, you can also ask Alexa or Google Assistant questions about whiskey in general, the history of Wild Turkey and the type of glassware you should use when drinking whiskey or Kentucky bourbon.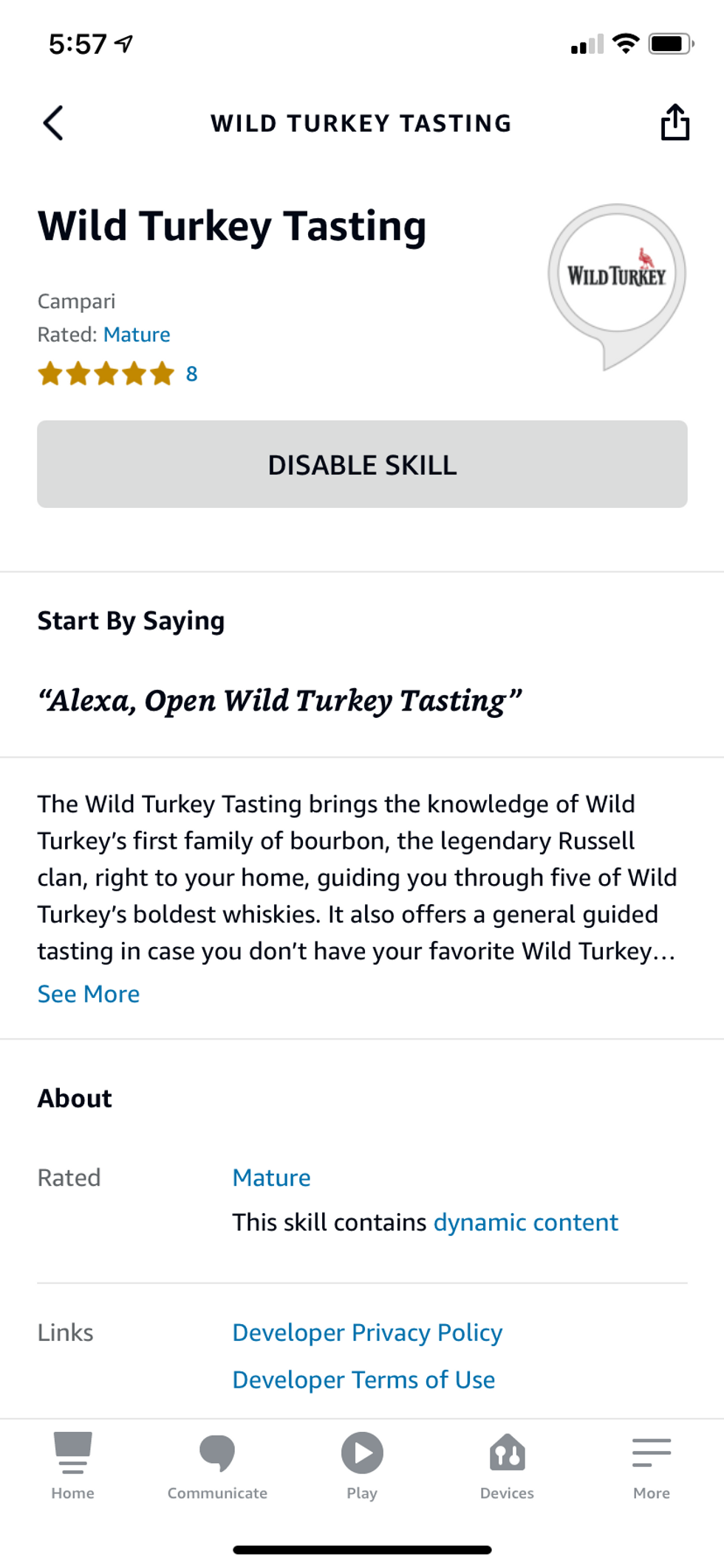 To actually start the tasting, you say "Alexa, start tasting." She'll ask you which guided tour you want, and you just name one of the bottle. Alexa can only guide a tasting on the five we mentioned, but the company is looking at adding more.
One issue we had with our tasting was around Alexa's wake word. As you know, Alexa is always listening, and as people talked with each other during the tasting, the voice assistant would get confused, and got stuck in a loop asking us the same question. We ended up telling Alexa to start over. To help prevent this from happening, you really need to be conscious of what you are saying in the room with Alexa active, and instead we think it would be helpful to be able to pause Alexa, and then start the tasting up when you're ready.
We tested the Fun Facts section of the skill, but found it limited, offering us just one fact and not several at a time. You need to ask constantly for a new one, and they are limited.
Our favorite feature during the tasting, though, was hearing from the Russel family and McConaughey. Their commentary added a nice element to the tasting, but we so wish there were longer stories and more facts. Most of the tasting I have attended included some great tales about the whiskey, the distillery and the people who consume it. We know the company is working on enhancing the skill.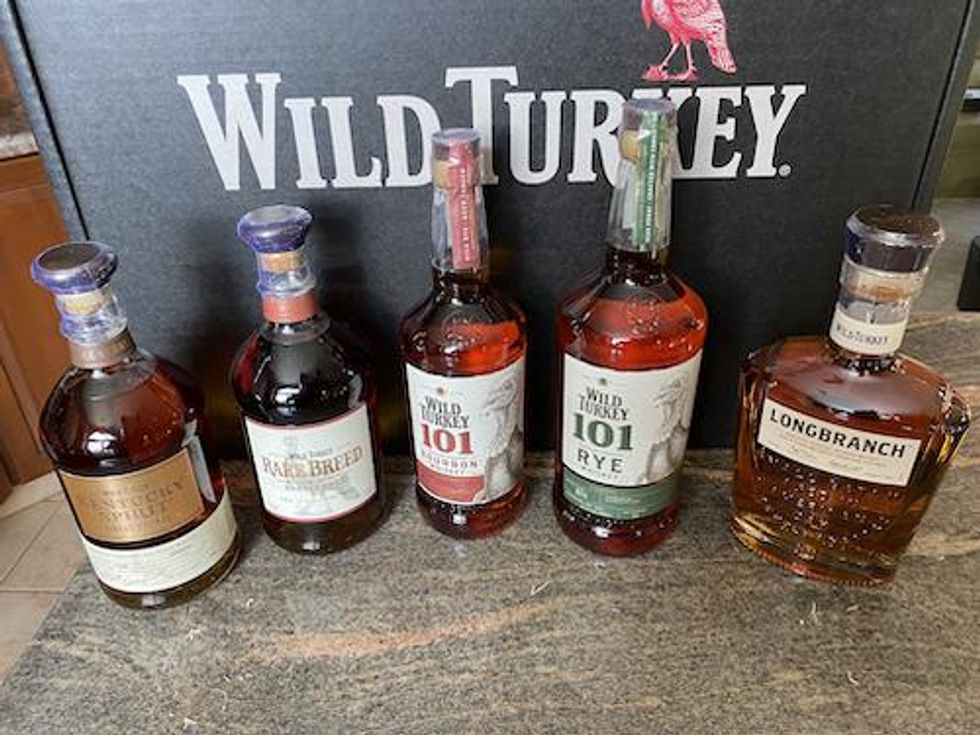 Wild Turkey bottles are available for sale.GearBrain
Price

The Alexa Skill is free and is available on Alexa app. For Google Assistant-enabled devices, you don't need to download a routine. Instead, just say, "Hey Google," and then ask to start a Wild Turkey Tasting. The bottles of Wild Turkey are available for sale individually on Drizly, ReserveBar and MiniBar.
Summary
Overall, Wild Turkey and Amazon Alexa/Google Assistant have done a nice job in creating a virtual Skill for bourbon/whiskey drinkers. The tasting is an immersive experience, with first-time bourbon or whiskey drinkers gaining good insights on how to drink bourbon, the history of Wild Turkey and information on each of Wild Turkey's bottles — even if you never taste a drop. Another nice feature we like is that it's not just for Amazon Alexa device owners, but works with Google Assistant as well.
We look forward to Wild Turkey adding other bottles to the lineup. A guided tour of some of their high end bourbons and whiskies would be great, as would adding more stories from the Russell clan and their creative director. We would like to also see a music feature added to the tasting, something to listen to as you're discussing what you're drinking.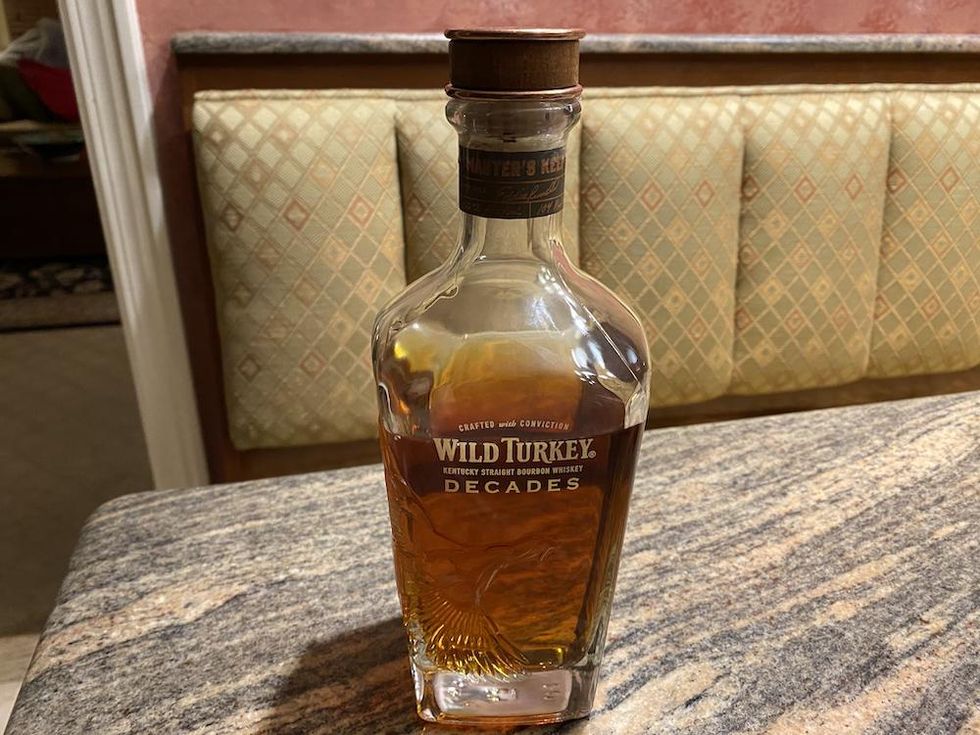 Wild Turkey Decades GearBrain
Whether you conduct the tasting in your home — or on a Zoom call with friends — just make sure you stay quiet while Alexa is talking, as the voice assistant can get confused by interruptions. Hopefully, Wild Turkey will figure out a wake word to pause the tasting so you can talk and drink with your fellow whiskey buddies.

Pros:
Easy setup
Informative for first time bourbon drinkers
Works on both Amazon Alexa and Google Assistant enabled devices.
Cons:
Easily district Alexa with groups
Only five bottles have guided tours
Need a pause word for Alexa