Like GearBrain on Facebook
If you're now working from home for the first time due to coronavirus isolation, you'll want to find a soundtrack to boost your concentration.
For some, this means simply switching on the radio or firing up their favorite playlist. But for many others it can be difficult to find what works best for you.
Read More:
Echo Show 8 - HD 8" smart display with Alexa - Charcoal
Perhaps you like to hear the background buzz of a local coffee shop, the hushed tones of a library, or the monotony of white noise. With millions of us now unable to work in our local cafes or shared workspaces, it's time to find an alternative.

This is where ambient sound generators come in. These are often free and can be run through your web browser, smartphone or smart speaker. They offer a wide range of sounds and are often highly customisable, so you should find the one that works best for you.
Here are some examples of ambient sound generators to help boost your concentrations level while you work from home: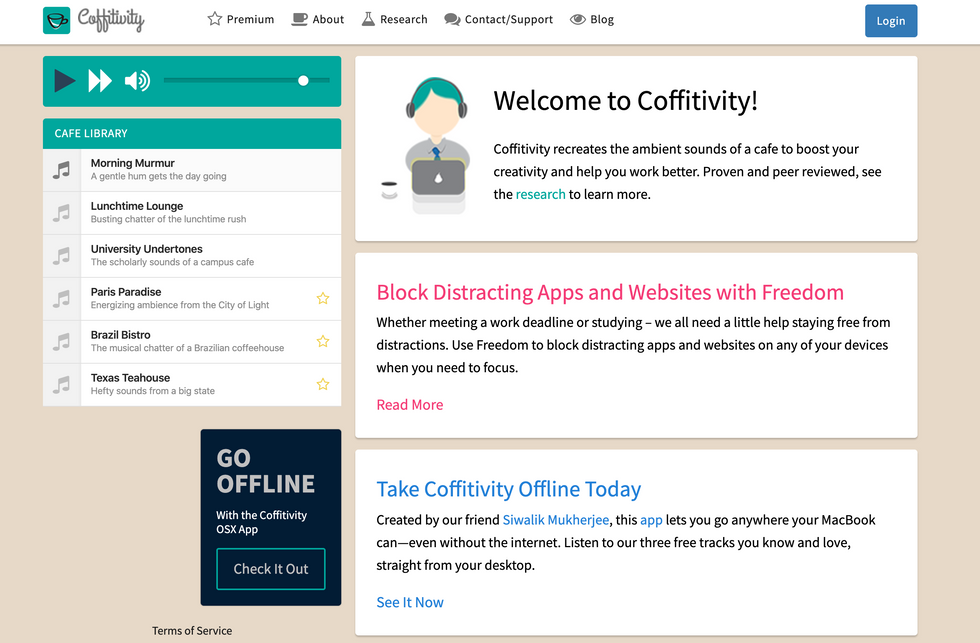 Three sound tracks are available for freeCoffitivity
A simple website and Mac app, Coffitivity has three free and three paid-for options of ambient sound. The free options are called Morning Murmur, Lunchtime Lounge and University Undertones. All three sound quite similar, with background talking kept to a level where you can't pick up on individual words or conversations, replicating a cafe and helping you to focus on your work.

You can play/pause the sounds with a click, adjust their volume and skip to the next sound. All sounds loop endlessly, so you can pick one and leave it playing all day long if you like.
If you need to get offline to prevent the distractions of email and social media, the Coffitivity app for Mac OS works without an internet connection as the sound files are stored locally.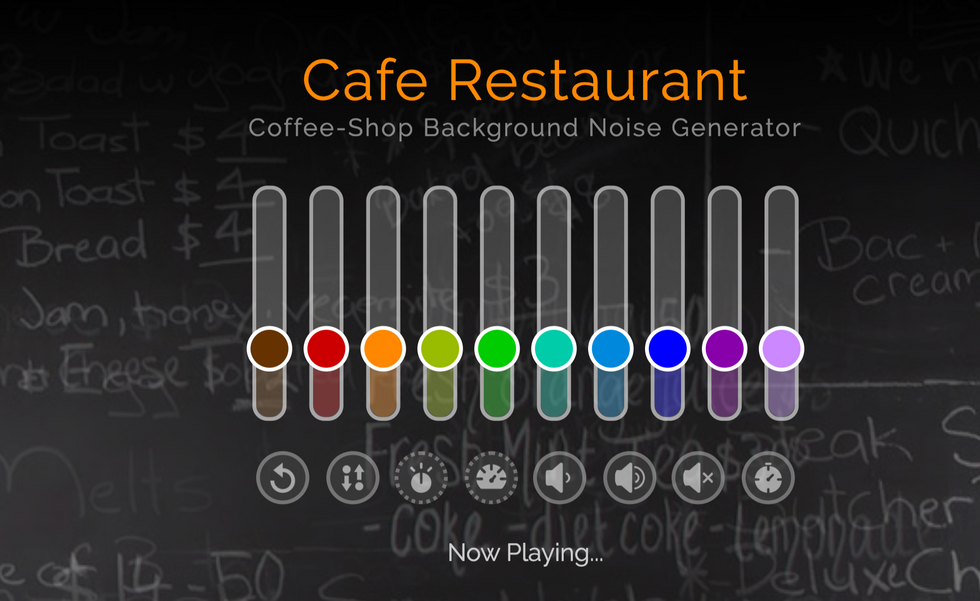 Sliders let you precisely create the sound you wantMy Noise
For a more customizable experience, try My Noise. This website gives you control of 10 volume sliders to precisely adjust each element of the ambient sound track you want to create.

There are three sliders for cafe, restaurant and cocktail party, then sliders for fine-tuning the rumble and chatter, plus others for introducing sounds like tables being moved, and a nearby kitchen.
It takes a while to get everything set just right, but the degree of customization here is impressive. We also like how you can swap out the cafe sounds for a restaurant if that works better for you, or turn down the chatter if you find that element too distracting.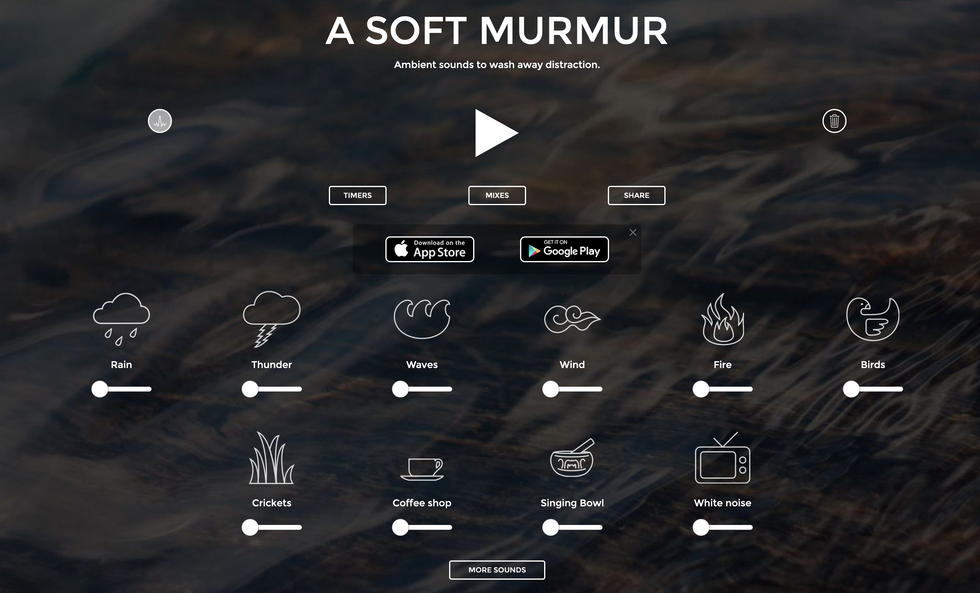 A Soft Murmur lets you mix weather, coffee shop sounds and moreGabriel Brady
Taking a similar sound-mixing approach to My Noise, the website A Soft Murmur includes sounds like rain, thunder, waves, wind, fire and birds, as well as a coffee shop and white noise. All of these can be adjusted to create the right sound for you.

We found the coffee shop here sounded more realistic than most, and there was something quite comforting about adding distant rain to the background. If you'd rather have a cosy evening vibe, then crank up the crackling fire sound effect, throw in a bit of thunder, and wrap up warm.
There's also a 'meander' option which slowly turns each sound up and down at random to help prevent everything sounding too repetitive.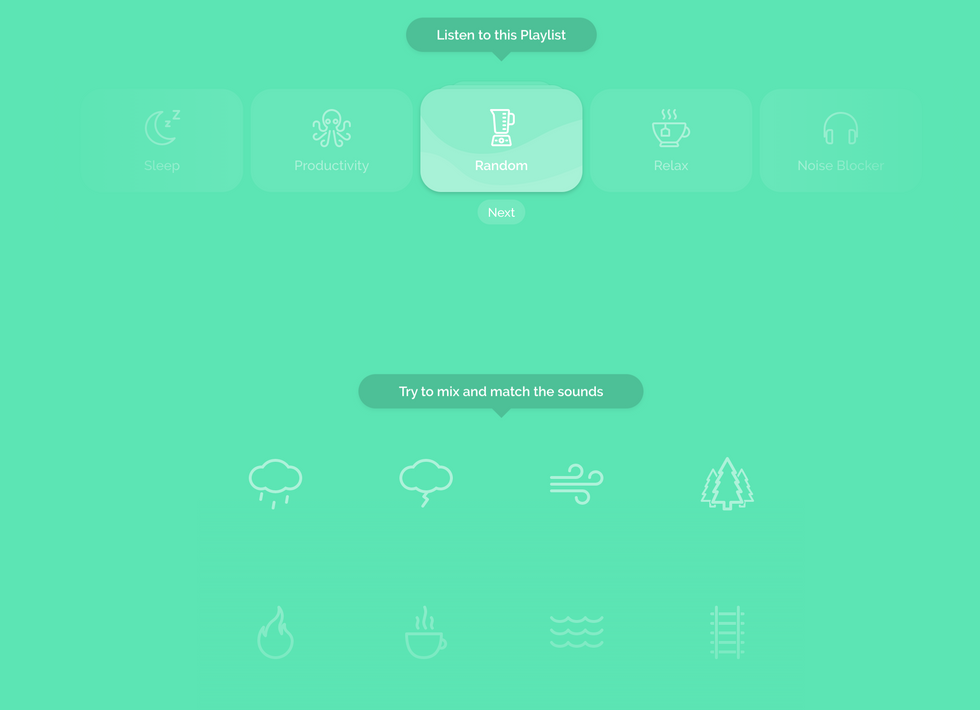 The full-access app is priced at $12 a month or $120 annuallyNoisli
Another ambient sound-mixing web app, Noisli has a minimal interface but still packs a good amount of customization. Sounds can be chosen based on their purpose - ie, relax, sleep, noise blocker, productivity and random.

On top of these, you can mix in sounds like rain, thunder, wind, forests, fire and a coffee shop. Noisli works in the browser, but is also available as a Chrome extension, and via an app for iOS and Android.
The app is free for up to 90 minutes per day, but after that you'll have to pay $12 a month (or $120 for a year). This gives access to 28 sounds, 10 curated playlists and more advanced features.
Apple AirPods with Charging Case
From Your Site Articles
Related Articles Around the Web
Like GearBrain on Facebook