For the foreseeable future, our offices just got teleported to our homes. While we can figure out how to turn a hallway into a fully functional small home office, and kit that area with ergonomic chairs and other devices to help us work more comfortably — they do nothing to help us focus when faced with the sound made by other people (and pets) occupying the same space.
Offices of course are full of people. But typically these employ design strategies that mitigate sound so that one person's meeting doesn't drown out a co-workers concentration. Our homes are not usually set up this way, with soundproofing options. But there are ways to bring some of these ideas into our living space, which of course if also now our work space.
Here, then, are 9 soundproofing ideas to get you started on creating a work environment that's quieter or at least helps you stay clear and attentive to whatever task you have in front of you.
White Noise apps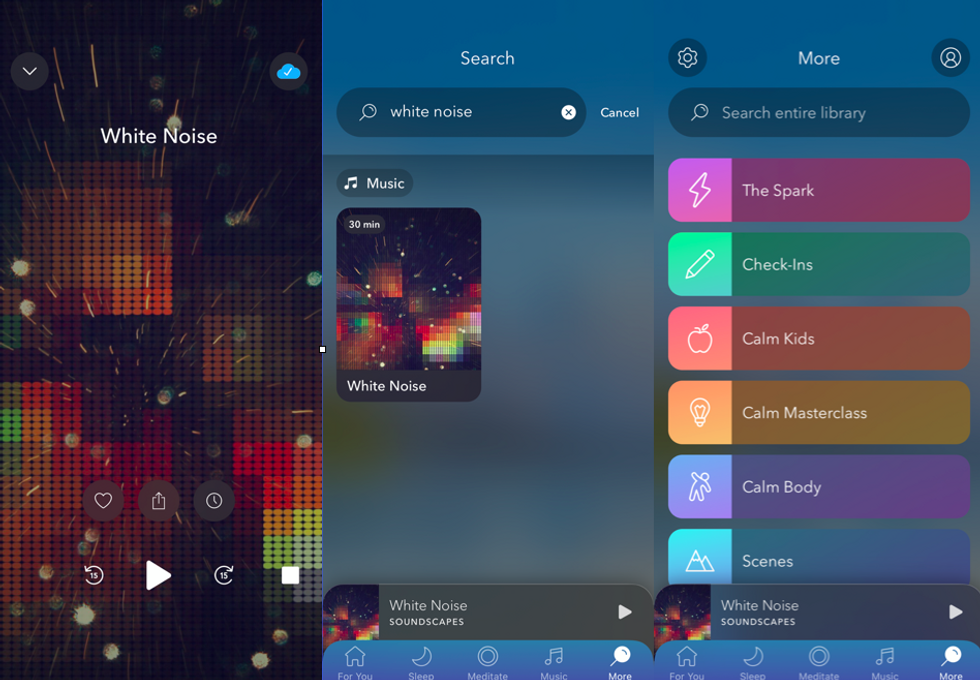 Some apps, like Calm, have white noise options you can play directly from your smartphone or tabletCalm
This option is an easy favorite for both the price and the simplicity to adopt. A white noise app does just as it says, plays white noise continuously from a mobile device or even a computer. They work by drowning out other sounds around them with a continuous tone and pitch. White noise apps can also help to create privacy walls. By placing the device playing the sound outside of a room where you're working, other people hear the white noise — and not your conversation, for example. It's easy to do this by placing the phone or a tablet playing the app right on the floor on the other side of your door.

There are numerous white noise apps you can find on both the App Store for iOS devices and also Google Play for Android products. We're particularly fond of the white noise option from the Calm app, which typically costs $69.99 a year. But there are free apps including MyNoise for iOS devices and White Noise Lite for Android devices.
Active Noise Cancelling headphones and earbuds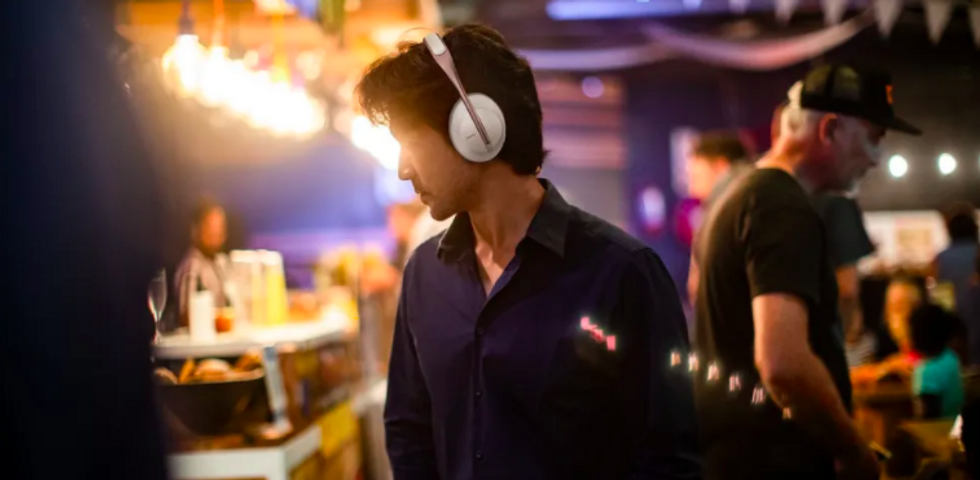 Headphones with active noise cancelling can help you focus, even if you're listening to nothing at allBose
Can't make the noise stop around you? You may want to turn to a solid pair of headphones or earbuds equipped with active noise cancelling features. These work not by having great sound — which they do — or by being so snug they block out noise, but by picking up on the sound around you, and then playing that opposite sound back into your ears. It's like a white noise machine playing back in your brain.

You can use them to play music, podcasts or listen to a video. But you can also use them just with the active noise cancelling, or ANC, feature active and help you stay focused.
We recently did a roundup of our favorite 8 ANC headphones and earbuds we think do an excellent job of tapping into ANC to create a soundproofing studio over your ears, including the new Bose 700 headphones which also have Alexa voice control as well.
Skullcandy Crusher ANC Personalized Noise Canceling Wireless Headphone - Black
Carpet and rugs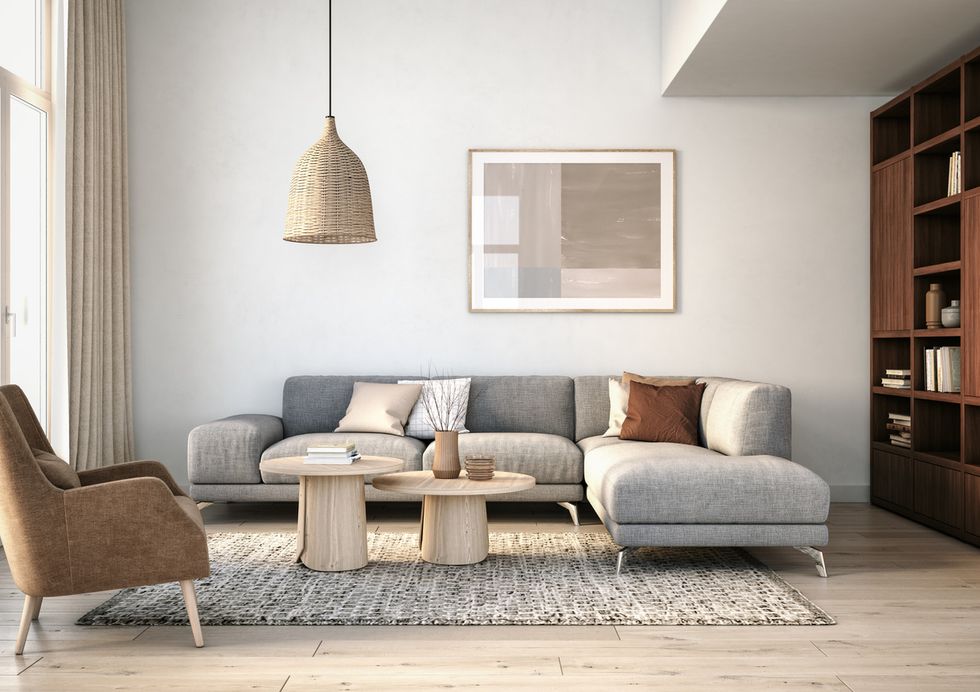 A rug can help to absorb sounds created from running, talking and even barking Getty Images
We know this is hardly the most high-tech of solutions, but the truth this a carpet or rug is a noise dampening option that just works. You don't have to install wall-to-wall carpet or have a professional installer in (which many can't do right now anyway. But you can pick up carpet fragments online, and even Ikea sells rugs often at incredibly affordable prices.

Carpets don't just soften footsteps, or the sound of dogs racing around your home. They act as sound absorbers, taking the edge off music and even conversations taking place in a room. Plus all you need to do to get one of these installed is just unroll and lay them down.
Wall and ceiling tiles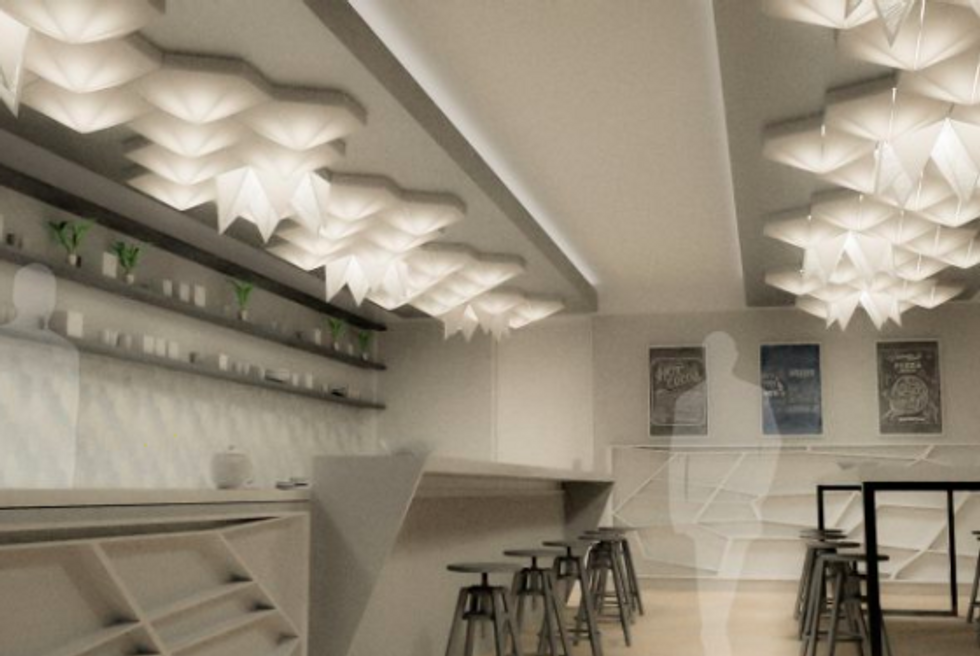 Panels that are placed on the wall or ceiling act as sound absorbers tooHexalum
Wall and ceiling tiles work on the same theory as carpeting, by creating an extra layer that can absorb sound. But there are some really fun ways to use tiles on your walls, and companies make them in super design-friendly options, with different shapes and in colors.

Unlike ceramic tiles, these tiles are typically made of a softer, spongier material. You can sometimes buy entire panels or individuals panels from home improvement stores including Home Depot and Target. One company, Hexalum, even makes panels for the walls and ceilings that also double as lights. We even found some velvet-covered options on Etsy.
You can also hang these from the ceiling, and the WhisperWave Ribbon Sound Baffles are very cool, almost cultural, and come in more than a dozen of color options including a pale sky blue and of course a cloud white. Lean back for a few moments, and you could be outside.
Soundproofing Acoustic Studio Foam - Wedge Style Acoustic Foam Panels 12"x12"x2" Tiles - 4 Pack - DIY
Office Phone Booth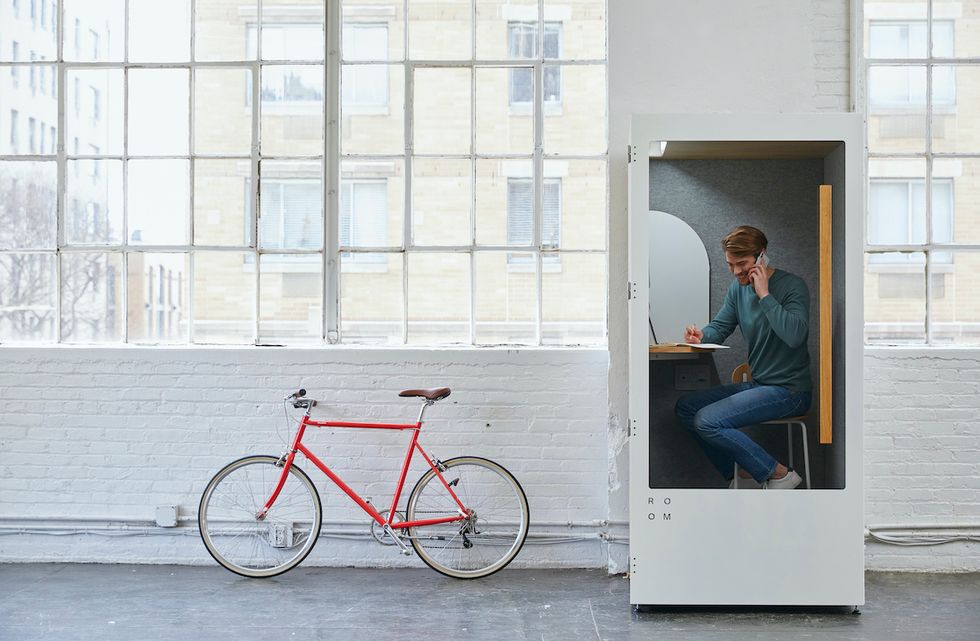 Room is exactly as it sounds, a private space you set up inside your current one.Room
Look, we couldn't resist mentioning these standalone office booths which tap into our retro design fandom. Of course they look like old-fashioned phone booths, and who doesn't want one of these in their space. But key is they work by creating a sound proof space in your home.

These two standout for their look: The $7995 Zenbooth Duo, where two people can work, and the $3895 Room, which can be picked up in white or black, and even get an Ethernet port added inside.
We know these are far more expensive than a mobile app or a few acoustic panels. But you cannot argue against how much fun they clearly are, just for their design. You can't really use these as an office space — unless you're someone who often uses a standing desk. (Although you can squeeze a tiny chair in there.) But we've seen these in the past a co-working office spaces, often with someone inside clearly having a phone conversation or a video chat — and we heard nothing at all.
White Noise Machines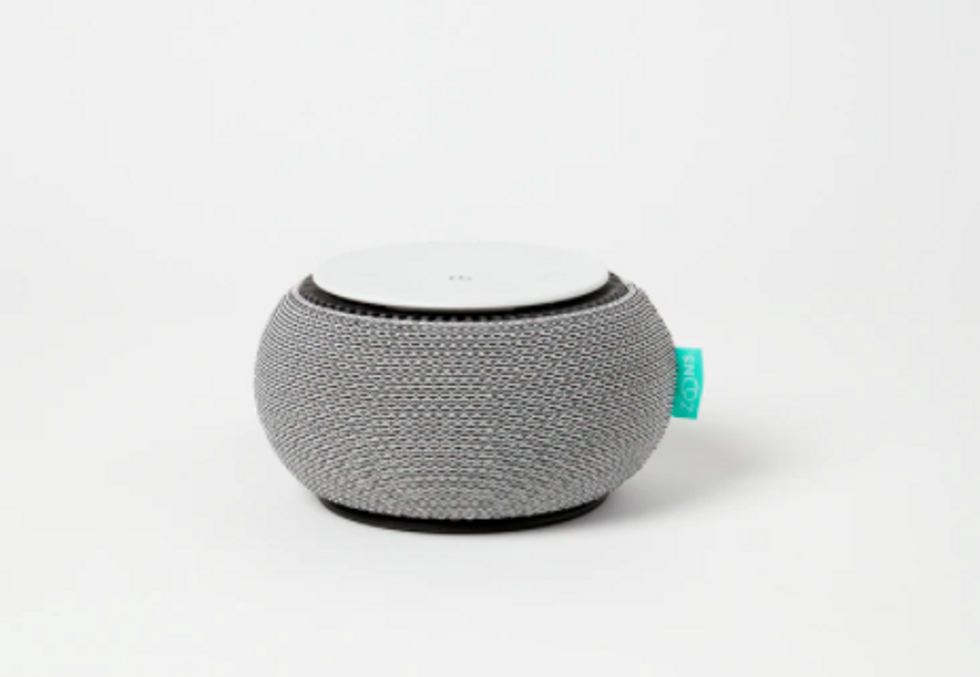 White noise can help silence distractions in your spaceSnooz
Want something more robust than an app? A white sound machine may be a perfect option, which takes the same premise as a white noise app but frees up your tablet or smartphone for other uses.

There are several on the market. We like the affordable Snooz for both its size, round shape and the fact it can be customized via its app. (Plus there's a fan inside.) There's also the Dohm sound machine which comes in lots of color and design options including pink and cams, and the Manta Sleep which has controls on the top, and is a bit more cubical of a design, if that's your preferred look. There's also the Desktop Sound Masking System which also has mounting brackets.
SNOOZ White Noise Sound Machine - Real Fan Inside for Non-Looping White Noise Sounds - App-Based Remote Control, Sleep Timer, and Night Light - Cloud
Door wedges or snakes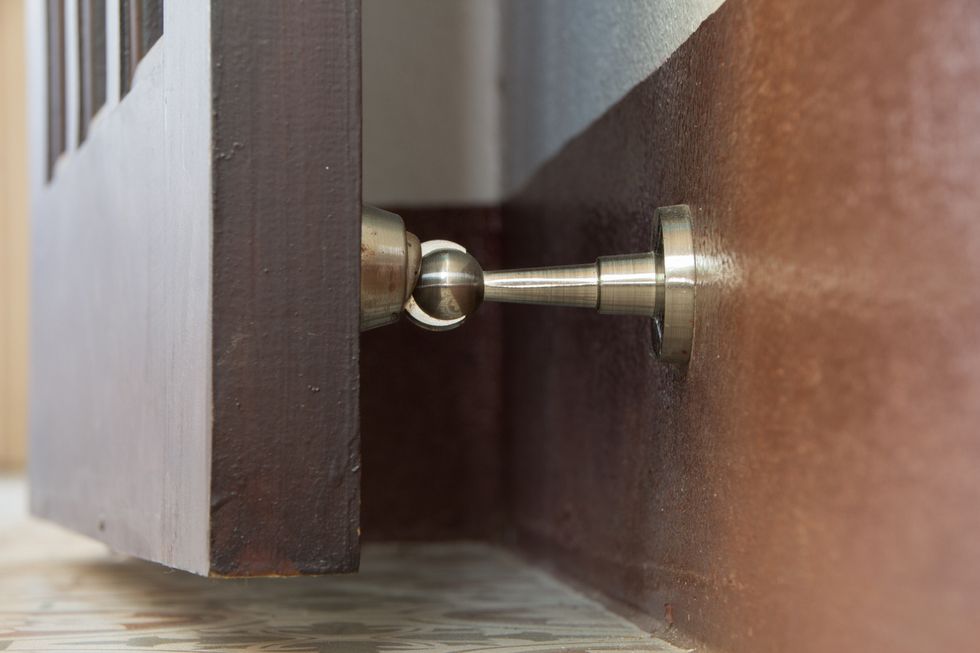 That gap between the bottom of your door and the floor? That's letting in sound too Getty Images/iStockphoto
These old-fashioned devices are about as low-tech as you can go. Most of us have gaps between our floor and our doors — and this gap allows drafts and also sound to travel through as well. Many people use rugs shoved up against the gap, but some people actually make wedges specifically to help control sound.

While these are often marketed to stop drafts, they'll work as well on sound. You can typically pick them up at home improvement stores like Wayfair and Home Depot, We even found one with a soft, fabric braid, on Etsy.
Holikme Twin Door Draft Stopper Weather Stripping Noise Blocker Window Breeze Blocker Adjustable Door Sweeps 34inch Grey
Sound proofing blankets and panels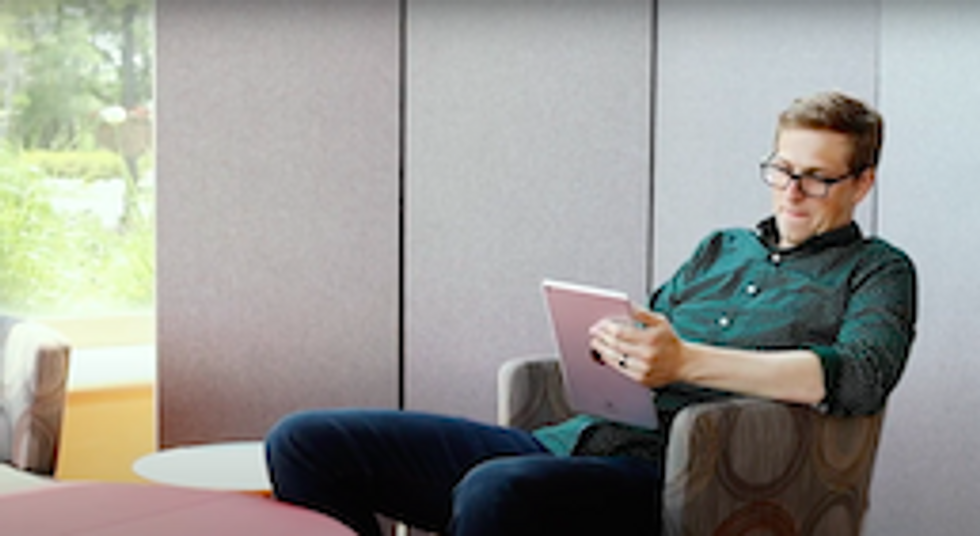 Cubicle panels? They can be brought into your home tooReFocus
Like soundproofing materials you take to the wall, you can also turn to blankets that can be hung on a portion of a wall or even a door. They can also be hung as curtains if the sound you're trying to block is coming from outside — and if you're feeling very DIY, you could install a rod along your ceiling which would allow you to pull these closed during work times to help keep sound out as well.

These sound barrier sheets actually come with knobs and screws to help you anchor them to the wall, and they have some options including white, black, darker grey and a navy blue. This option has two different finishes, one with pencil pleats and another choice that's more traditional, hanging straight down.
Really miss the office? Consider picking up some actual cubicle panels, like these from ReFocus, which you can also fold up, accordion-style, when your work day is done. These can also be color-coordinated so you don't do up the beige monotony of a business space, letting you put a little spin on your home office.
S Stand Up Desk Store ReFocus Acoustic Room Dividers | Office Partitions – Reduce Noise and Visual Distractions with These Easy to Install Wall Dividers (72" X 66", Ash Gray)
Sound Machine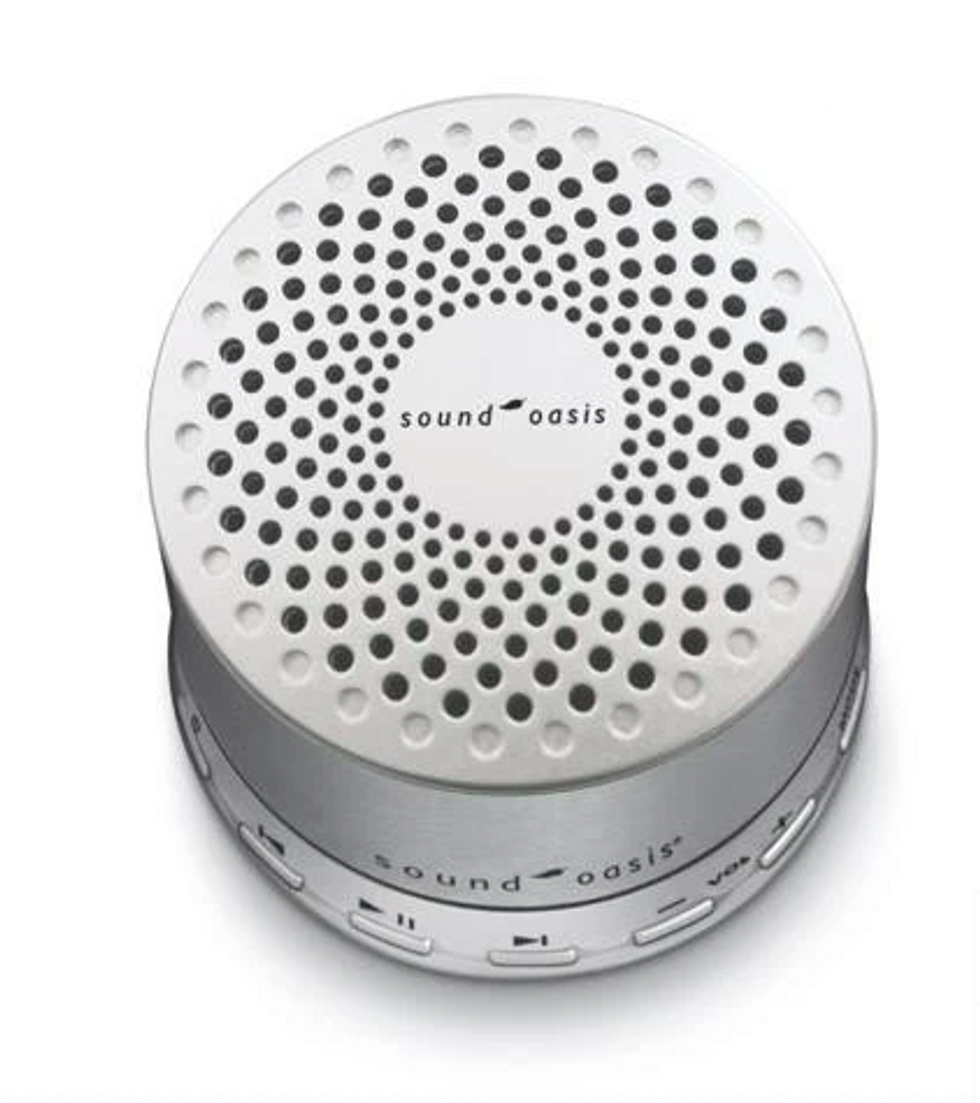 A sound machine can do more than just play white noiseSound Oasis
Nope, this is not another term for white noise machines. Instead, Sound Machines are devices that play other sounds to help you concentrate. Some of these ambient sound generators have white noise as an option, but you'll also have other sounds to select.

The Six Sound Soother lets you pick from Ocean Surf or Rain Shower, and you can set the timer for 30, 60 or 90 minutes. The Sound Oasis works over Bluetooth, but also comes with a micro SD card with ten different sounds and it can play for up to eight hours.
And if your work day is stretching longer than that from home (which we know, most are) you can actually get extra cards to play more sounds. Because getting used to working from home is likely our new reality, for now.
Sound Oasis Bluetooth Sound Therapy System