Companies the world over, including Apple, Google, Twitter and many others, have told staff to work from home in a bid to prevent the spread of the new coronavirus, COVID-19.
The move, which in Apple's case came via a memo from boss Tim Cook late last week, follows predictions from retailers that there will be increased demand for computers, webcams and other equipment to help staff work from home for extended periods of time.
Read More:
While many workers will make do with a laptop on the sofa, if you have the space for a desk and dedicated office setup, there are lots of smart home products available to help boost your concentration and productivity, and turn a previously unused corner of your property into a dedicated, comfortable — and smart — home office.
Smart lighting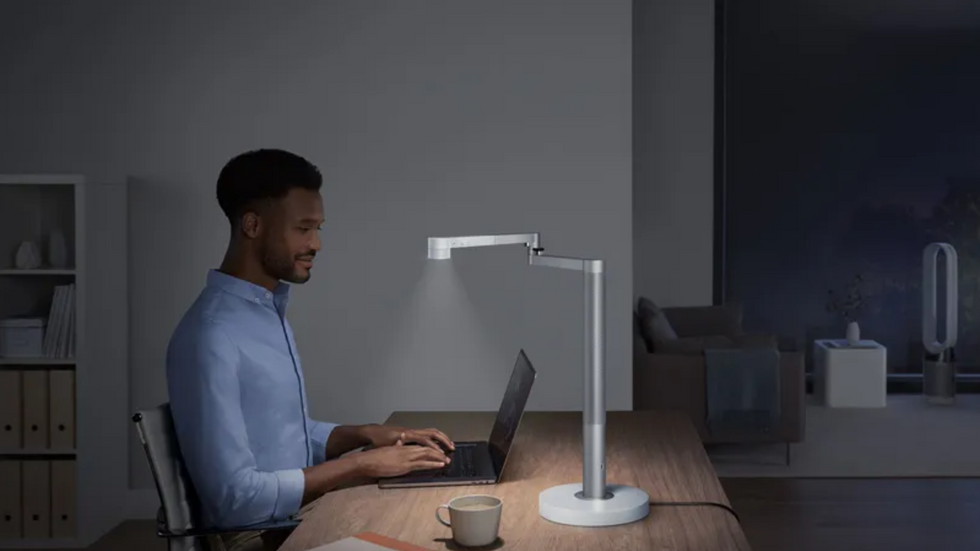 Bright white light can help with concentrationDyson
We'll let you decide on the best desk and chair to meet your needs, but when it comes to lighting we think a smart setup with adjustable bulbs is the right way to go. Generally speaking, there are two types of smart light bulb; one can be made any color, brightness and temperature, and the other can only be adjusted by temperature and brightness.

For a home office space, you only need the latter unless you really think you work best when bathed in multicolored light.
Bulbs without color options are cheaper, but can still be adjusted from cool, bright, bluish light, right through to a dim, warm orange glow. For working during the day we recommend setting smart lights to their brightest, whitest option. The Philips Hue system offers a pre-set for this, aptly called Concentrate. Cheaper smart lights from Ikea have a similar mode, and lights by Wiz, C by GE, LIFX and others can all be manually set this way.
If you have a much larger budget, then Dyson's new Lightcycle Morph has modes called Study and Precision to help maintain your concentration levels.
After work is done for the day, you can adjust any of these light systems to a warm, orange glow, helping you relax in the evenings, and remove blue light from your environment, which has been proven to help you sleep more soundly.
As well as encouraging concentration, smart lighting can be used to decorate your home office. This could include an LED light strip under or behind your desk, or a Nanoleaf pattern mounted on the wall.
Smart thermostat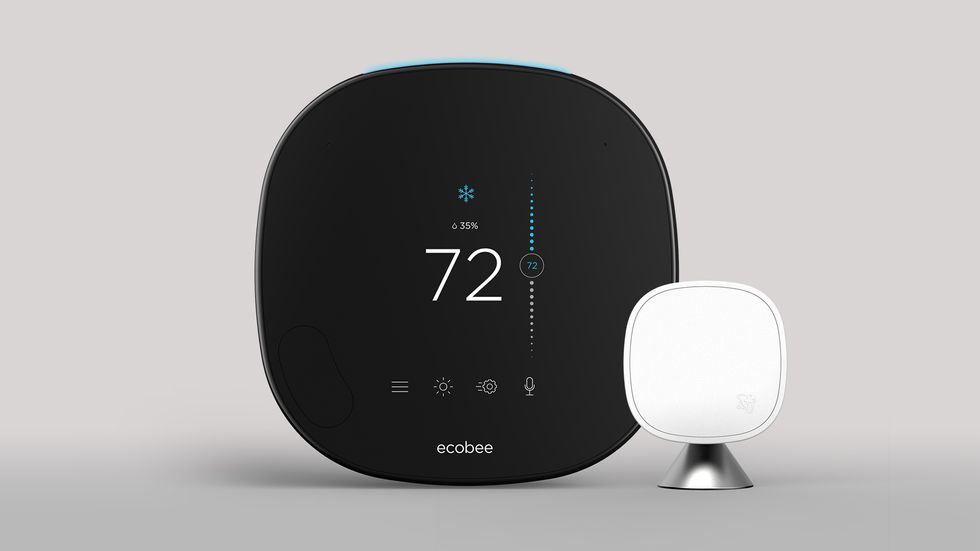 Ecobee's SmartThermostat comes with an individual room sensor Ecobee
Although the worst of the winter is now behind most of us, homes can still get cold during the day with the heating off. If you're working from home, it doesn't necessarily make sense to crank up the entire heating system just for you, especially when you're only occupying one room.

Smart thermostats help to heat (or cool) a home in the most efficient way possible, and many now come with additional sensors which you place in rooms throughout the home. You can then set the temperature for that specific room, instead of needlessly heating the whole property.
Smart thermostats with such sensors include the Nest Learning Thermostat (with Nest Temperature Sensor, sold separately), and the Ecobee SmartThermostat (one sensor included, up to 31 extras can be added).
Alternatively, Netatmo and Tado both sell devices that fit individual radiators, letting you control them via an app or voice commands. With those fitted, you can choose to heat only your office during the day, so no energy is wasted warming the unused bedrooms, bathrooms and kitchen.
Mysa Smart Thermostats (for Electric In-Floor Heating)
Heater, fan and a smart plug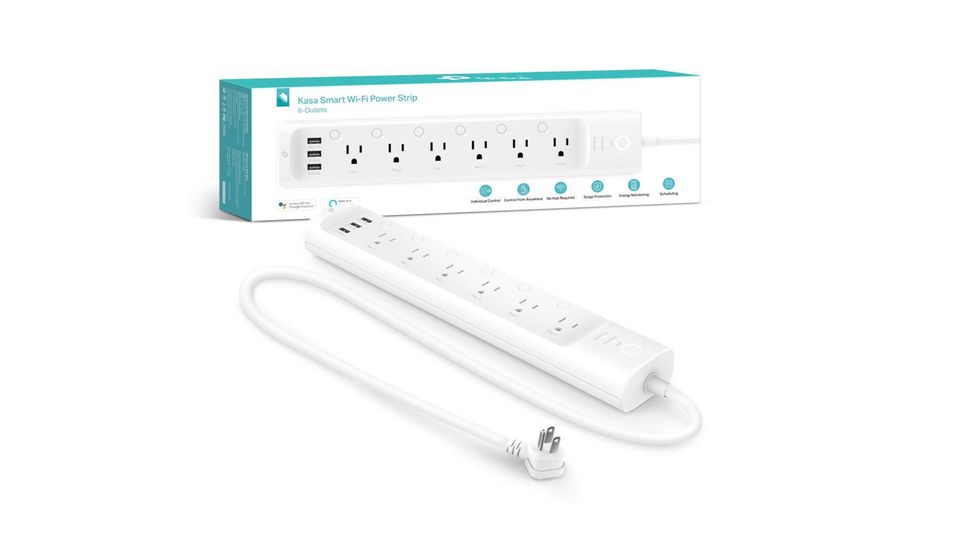 A smart power strip from TP-Link's Kasa rangeTP-Link
A cheaper and simpler alternative to a smart thermostat or radiator controller is to buy a regular heater, fan or air conditioning unit and a smart plug.

That way, you can place a single heater by your desk and ask a voice assistant (or use an app) to switch it on and off as needed during the day. You could even place a small heater under your desk, turn it to a low setting, then fire it up only occasionally, without wasting energy on the rest of the room.
Being connected to a smart plug, you can set up a schedule. That way, the heater can switch on shortly before you're due at your desk, then switch off for the evening at your usual clocking-off time. Alternatively, you could ask Alexa or the Google Assistant to fire up the heater before you settle down to work for the day.
An Alexa-powered coffee machine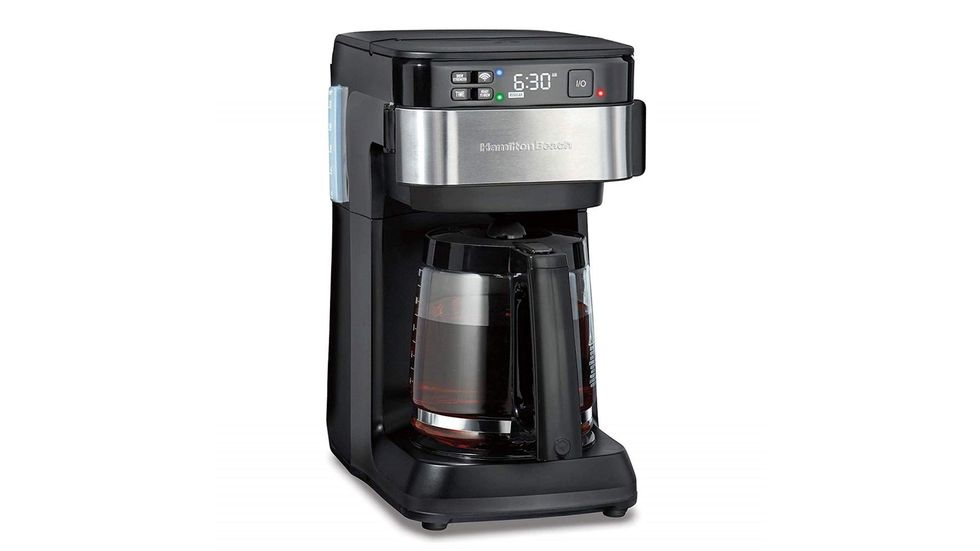 Alexa-powered smart coffee machineHamilton Beach
With the heater slowly warning the office as you heave yourself out of bed, why not ask Alexa to brew your morning coffee too? A number of coffee machines now have this functionality, and start from around $90.

For that price the Hamilton Beach Works With Alexa coffee machine takes commands from the Amazon voice assistant; just ask Alexa on any nearby speaker or display to make a coffee, and the machine will get to work.
Hamilton Beach Works with Alexa Smart Coffee Maker, Programmable, 12 Cup Capacity, Black and Stainless Steel (49350) - A Certified for Humans Device
Smart speaker or display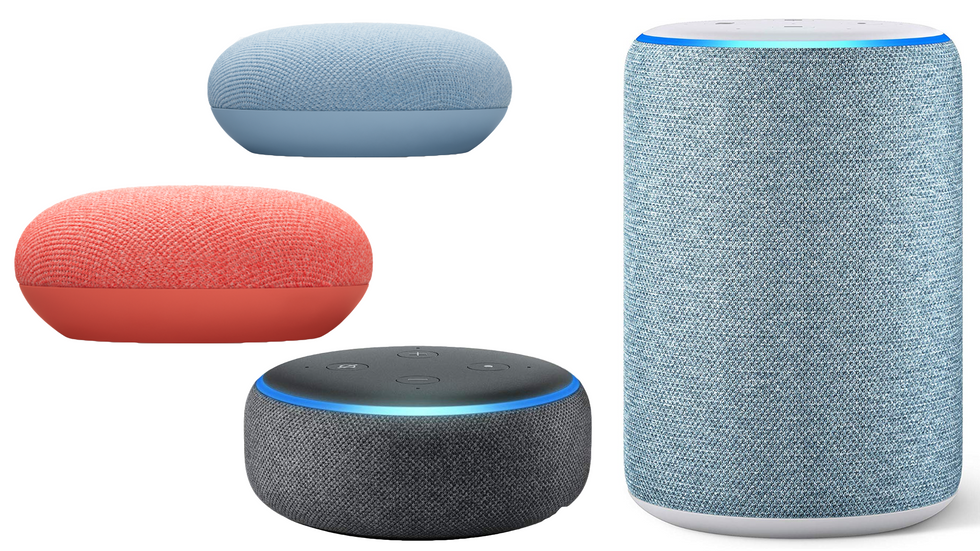 Smart speakers from Amazon and Google are a useful office companionGearBrain
As we have written about before, Alexa (and other voice assistants) can be as useful in the office as they are at home.

You can use a smart speaker or display with Alexa or Google Assistant to manage your calendar and check your daily schedule, set alerts reminding you to take screen time breaks, create to-do lists and reminders, and play ambient sounds to help with concentration.
Depending on your job, a smart speaker can also help with currency and other unit conversions, and look up information online. Of course, they can also be asked to play music or tune in a radio station to help make working from home feel less lonely.
All-new Echo (3rd Gen) - Smart speaker with Alexa - Twilight Blue
Air quality monitor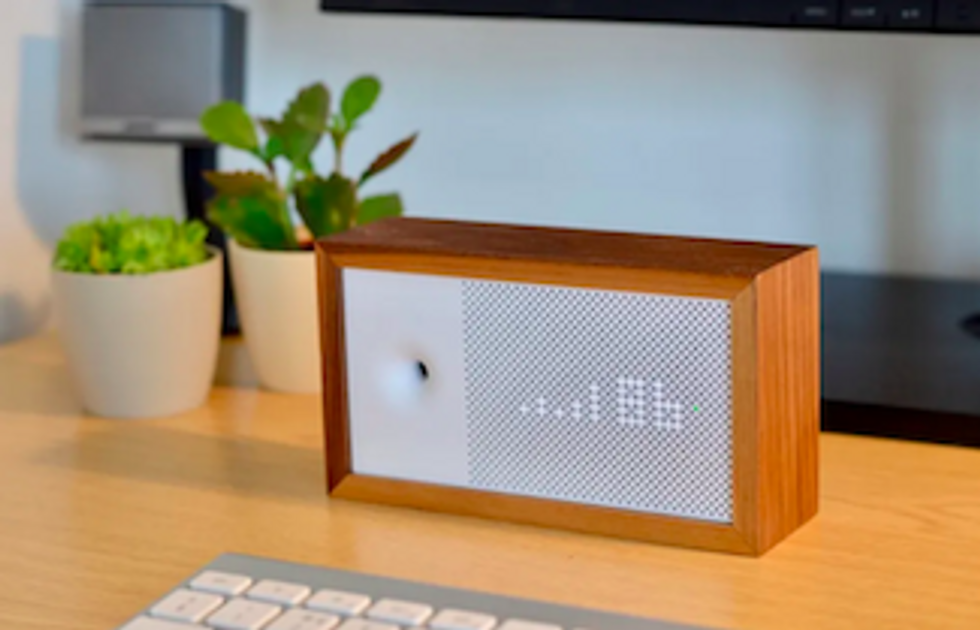 The Awair can be set to monitor your office air qualityGearBrain
Air quality monitors by Awair give your home's air a score out of 100, the higher the better. They come to this figure by measuring the temperature, humidity and CO2 levels, plus the presence of toxins and fine particles which can pose a threat to our respiratory health.

These devices can also be told which room they are in, and that will adjust the scoring of your air quality. One setting is for improving productivity, so when this is enabled via the Awair app, the monitor only gives your air a good score if it is right (ie, at the right temperature and humidity levels) for productive work.
If the device gives the air around of your home office a low score, you'll want to open a window, plug in a fan, or consider investing in a humidifier or dehumidifier, depending on which metric is scored low by the Awair.
Awair Element Indoor Air Quality Monitor