Like GearBrain on Facebook
Seattle-based Wyze has quickly made a name for itself by offering smart home devices at far lower prices than its competitors. The company started by offering the $20 Wyze Cam, which I reviewed recently and awarded a score of 9/10, and now I'm looking at the company's next product, the Sense.
Also priced at $20, the Sense bundle includes two door or window sensors, an infrared motion sensor, and a bridge for connecting the three devices wirelessly to your Wyze Cam. It's worth noting that the Sense kit only works with the Wyze Cam (or Cam Pan), and cannot be used in conjunction with any other smart home products from other companies. I should also make clear that a Wyze Cam (or Cam Pan) is required for the Wyze Sense kit to work, as the bridge is powered by a USB port on the camera itself.
Read More:
Wyze Sense review: Hardware and installation
As with the Cam, the Sense is smartly packaged and comes in a surprisingly small and tightly-packed box. As I said in my review of the Cam, Wyze is very good at packaging its products, which gives off a great impression right away.
The kit includes a coin-sized infrared motion sensor, which can alert you to movement via the Wyze smartphone app. The company's cameras also do this, but there are some locations like bathrooms and bedrooms where a camera is inappropriate.
Because the sensor spots heat signature to detect motion, it should only be triggered by humans and animals. This lessens the chance of anything inanimate alerting you, like a plastic bag blowing past the window, or the shadow of a truck driving by your home.
Next up are two door or window sensors. One part of each sensor is stuck to the opening door or window, and the other part is stuck to the frame. When separated, a magnetic field between the two parts is broken and you are notified of this via the Wyze smartphone app. You are also notified when the magnetic field is restored, indicating the door or window has been closed again.
Both parts of these two sensors, plus the motion sensor, come with sticky pads on their backs, ready for mounting wherever you like — so long as it's indoors, as they offer no weather proofing.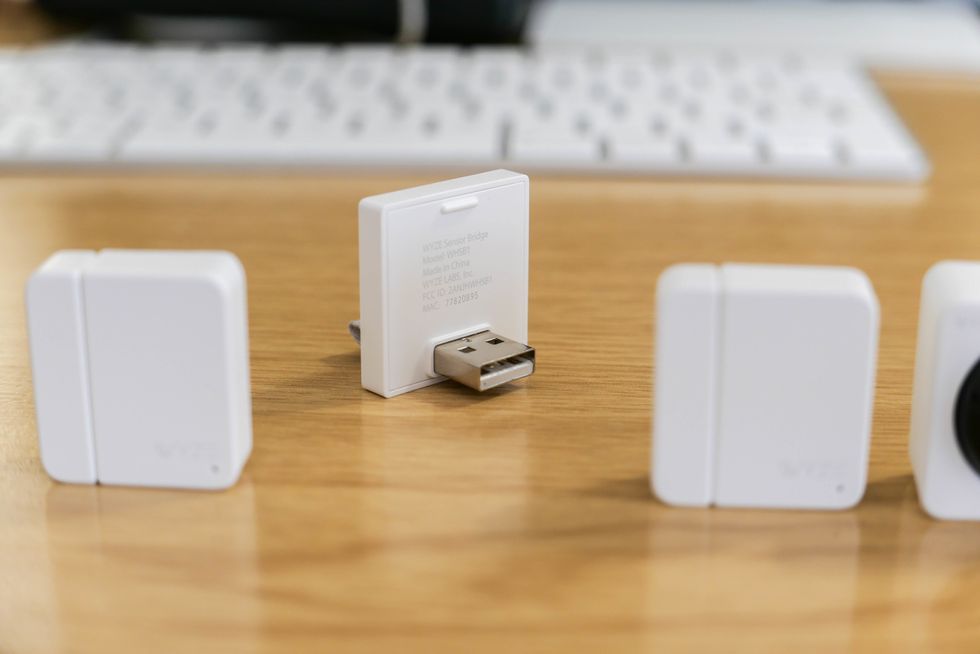 The Bridge connects to the Wyze Cam for power and a network connectionGearBrain
Finally, the fourth component is what makes the Wyze Sense system work. Called the Sensor Bridge, this attaches to the USB-A port on the back of the Wyze Cam or Cam Pan.This fits neatly in place and includes a fabric pull cord should you ever need to remove it.

Setup, as with the Cam, is very simple and takes just a couple of minutes. You simply plug the bridge into the camera, then open the Wyze smartphone app (available for iOS or Android), then tap the three-dot icon in the top-right corner, and tap Add a Product.
Follow the instructions, which involve using the included pin to press a tiny button on each Sense component, and you are good to go. Once set up, each of the new sensors appears on the home screen of the Wyze app, alongside the Cam. You can give names to each sensor (Front Door, for example), and the app shows their status (open/closed/offline).
Fixing the sensor into place across the home is very easy. If you ever decide to replace them, you'll need to pull them off the door, wall or window frame, then likely use some new double-sided tape to reapply them somewhere else. The sensors are all fairly small and shouldn't cause too many aesthetic concerns.

It's hard to say anything is missing, given the price. But what I'd like to see (perhaps for an additional $10 or $20 fee) is a siren, which could be set to go off when a door or window sensor is opened and I am away from home. Smart home alarm systems from the likes of Nest and Kangaroo offer this, so hopefully a siren is something Wyze will release in the future.
A simple key fob for arming and disarming the system would also be helpful. But as I said, for $20 there isn't much else one should expect.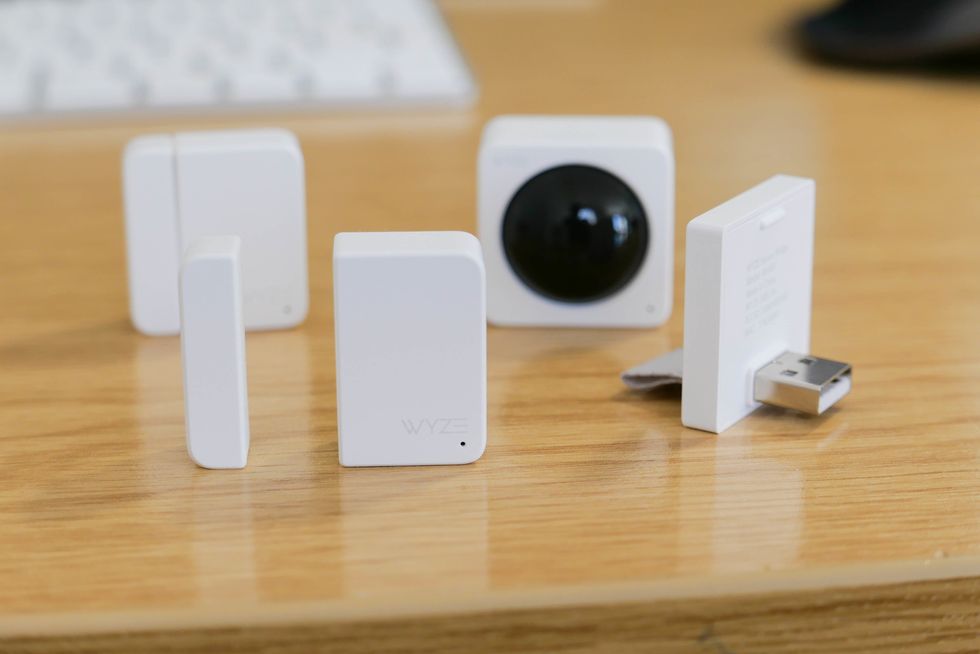 Wyze Sense door and windows sensorsGearBrain
Wyze Sense review: Software and features

The Wyze app is clean and easy to use. The home screen shows all of your Wyze devices, along with their status.
Tapping on any of the sensors shows a history of how that device has been used over recent days. It is therefore easy to see a clear timeline of when a certain door or window has been opened and closed, and for how long.
If a door or window is left open for more than a few seconds, the app states "Left Open" to help draw your attention to a potential problem — like your children carelessly leaving the kitchen door open again.
Just as with the Cam, you can use the app to fine-tune when you are notified about the status of each sensor. For example, you can set the app so you are only alerted if a door has been left open, rather than every time it is opened a closed. You can set a time limit for how long a sensor needs to be left open or closed before you are alerted, then set a schedule for when in the day you wish to be notified.
For example, you can set a window sensor to alert you when it has been left open for more than 10 minutes, but to only send these alerts to your phone at night. That way, you can have the window open during the day without being bothered by the app, but if the window is left open at night, you'll be told.
The app also lets you set the Cam to record a short video clip when a sensor is activated. That way, you can have footage recorded of a door or window every time it is opened (or just at night).
Tapping on each sensor within the app shows you its signal strength (determined by how close it is to the Sense Bridge connected to the Cam), and its battery status. On that note, however, the word 'Normal' is a strange way to describe the battery life. A percentage would be preferable.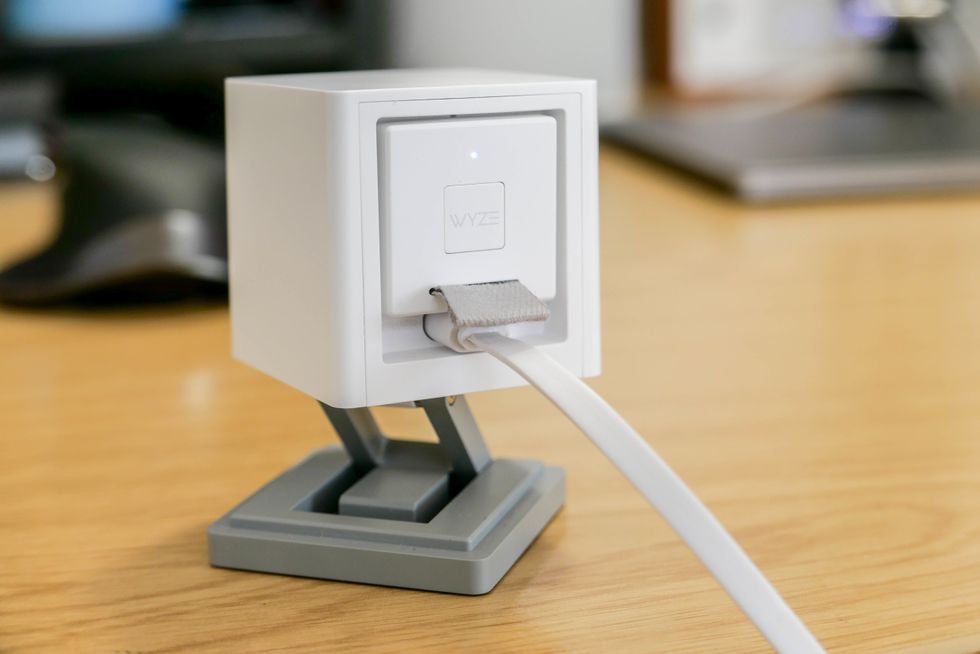 The Bridges connects to the back of the Wyze CamGearBrain
Wyze says the battery of each sensor should last 12 months, the app will warn you when they run low, and the included tool can be used to open each sensor. The contact sensors and motion sensors take CR1632 and CR2450 batteries respectively.

On signal strength, I separated one sensor and the Bridge by a staircase and two rooms, yet it remained at full strength. I don't see a problem with using the Wyze Sense kit in a large home, and if signal strength does become an issue you could always buy a second Cam and connect another Bridge to that — for a total additional outlay of $40.
Finally, the app can be used to put devices into groups. That way, if you have two door and window sensors in the kitchen, for example, you can put them in a group called Kitchen, and that group can then be assigned its own rules. Wyze cameras, plugs, bulbs and sensors can all be assigned to groups this way.
Wyze Sense review: Smart home integration

Unlike with the Wyze Cam, there is no direct integration between the Sense kit and Alexa or Google Assistant. This means that, while you can ask the voice assistants to show you a view from the Cam, you cannot ask them for the status of your door, window or motion sensors.
I don't think is the end of the world, as the Wyze app itself is a good place to check on the status of every Wyze product you own.
There is still support for IFTTT, so you can have other smart home devices activate when motion is detected by Wyze. For example, you could set a Philips Hue light to switch on when motion is detected, either to scare away a potential burglar at the window, or help illuminate the hallway at night.
You can also have IFTTT switch on a Kasa device like a smart plug when motion is detected, then switch it off again once motion has stopped.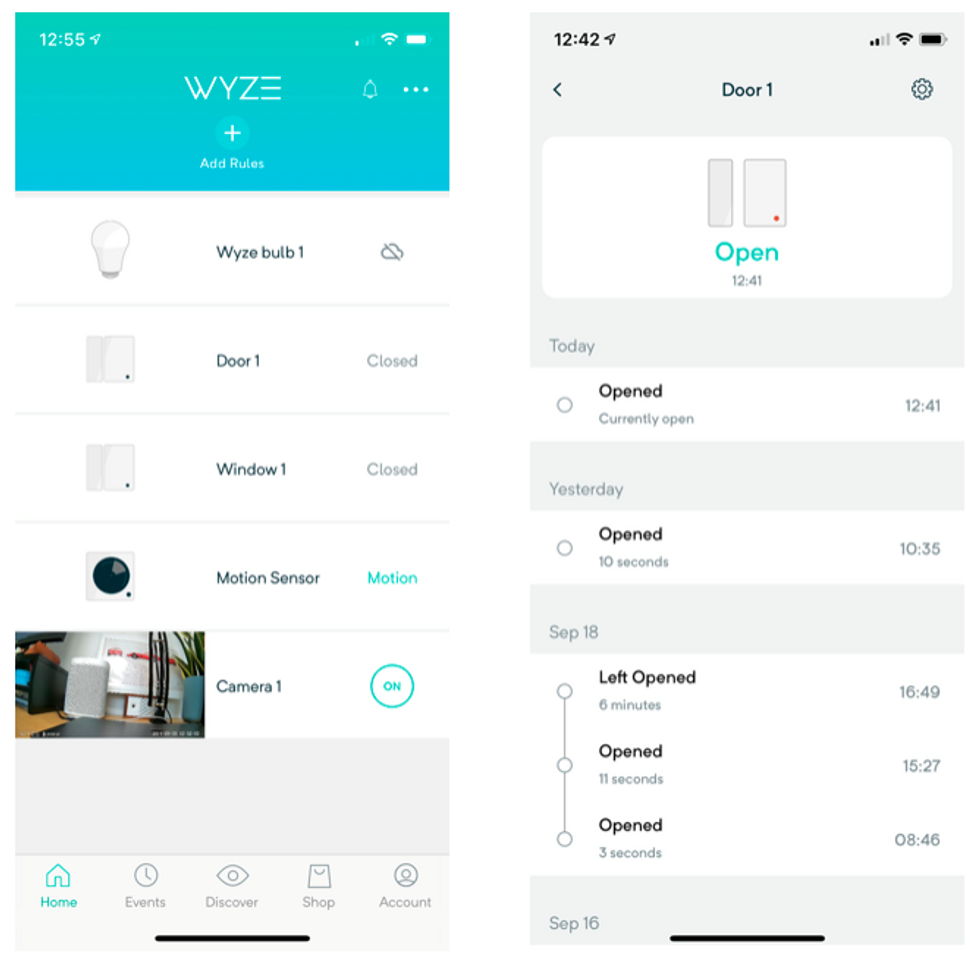 Wyze screenshotsGearBrain
Conclusion

With the Sense kit, I'm continuing to be impressed by Wyze. The products are neatly packaged, well designed, easy to set up, and work well. I didn't come across any problems during the setup process, and there are no major features missing, aside from support for Apple HomeKit (as with the Wyze Cam).
The door and window sensors are compact, reliable, have good signal strength and work quickly. The same can be said of the motion sensor, and the bridge never failed to connect to everything within a minute or so each time I unplugged and relocated the Cam while testing everything out.
The app offers plenty of options for tailoring how you want the system to work, and once you have done all that it really is a case of set-it-and-forget-it. With this kit, I'm safe in the knowledge that I'll be instantly alerted every time a door or window is opened, and when motion is detected at a time it shouldn't be. What's more, these alerts can be sent to your Apple Watch, or used to trigger other devices into action with IFTTT.
For a total outlay of $40 for the Wyze Cam and Sense kit, you can lay some solid foundations for a smart home security system, and at very little cost.
Pros
Low price
Ease of use
IFTTT integration
Cons
No Apple HomeKit support
Only works with Wyze Cam (required)
From Your Site Articles
Related Articles Around the Web
Like GearBrain on Facebook