Like GearBrain on Facebook
Former HTC boss Peter Chou this morning showed off his vision for the future of virtual reality. Called XRSpace, the vision includes a 5G-powered VR headset and a virtual world for users to explore and socialize within.
Reminiscent of Second Life and the ill-fated PlayStation Home, XRSpace lets users take a selfie which is turned into a full-body digital avatar, acting as their virtual identity.
Read More:
Users can walk through the world (called Manova), interacting with friends, having meetings with colleagues, playing games, watching live sports and, Chou hopes, feel much more social than when wearing any other VR headset.
On that note, Chou spoke at the Tuesday morning launch event about how current VR experiences are "lonely" and "complicated". To fix this the headset, called XRSpace Mova, puts intuitiveness and a social-first approach as its top priorities.
The Mova is powered by a Qualcomm 845 processor with 6GB of RAM and a claimed performance advantage of 25 percent compared to other headsets. It also boasts Wi-Fi, LTE and 5G (making it the first to have the latter), is lighter than its rivals, has a larger 4,600mAh battery, a higher resolution 702dpi display, and a quicker 90Hz refresh rate.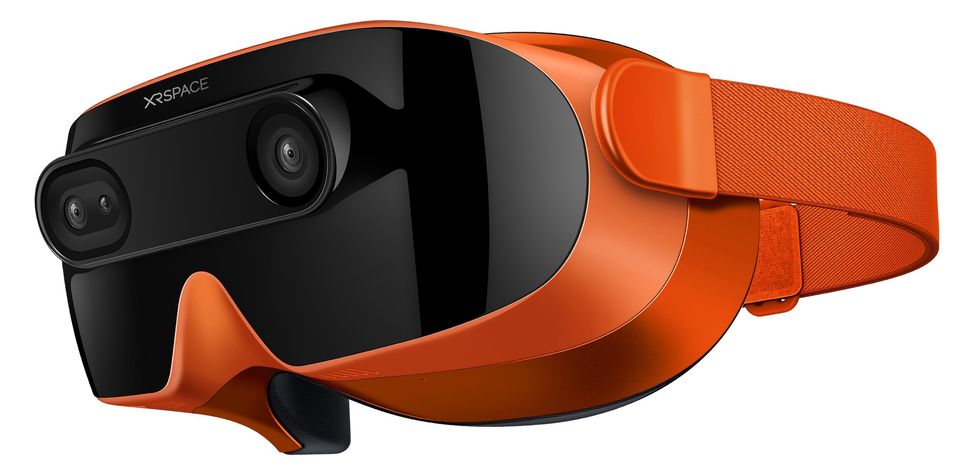 The headset has 5G and a high-quality displayXRSpace
All of this, Chou hopes, will add up to offer a more comfortable and engaging experience. For now though realism will not be XRSpace's top concern. Instead of aiming for lifelike graphics, the XRSpace experience is one that is hugely detailed but clearly a video game, with bright colors and perfect-looking avatars.

Despite their polished nature, Chou says he wants players to create lifelike avatars that they and their friends will recognize. They feature higher-quality skin textures than avatars used on other VR platforms, with AI-powered facial expressions and more natural limb movement.
The headset is wireless and does not require a smartphone or computer to power it. There are forward-facing cameras on the front to let wearers walk around their virtual environments without bumping into anything in the real world. XRSpace is aiming for a higher-quality image than its rivals, but it achieves this by opting for a smaller (and therefore more dense) display. The exact field of view isn't yet known.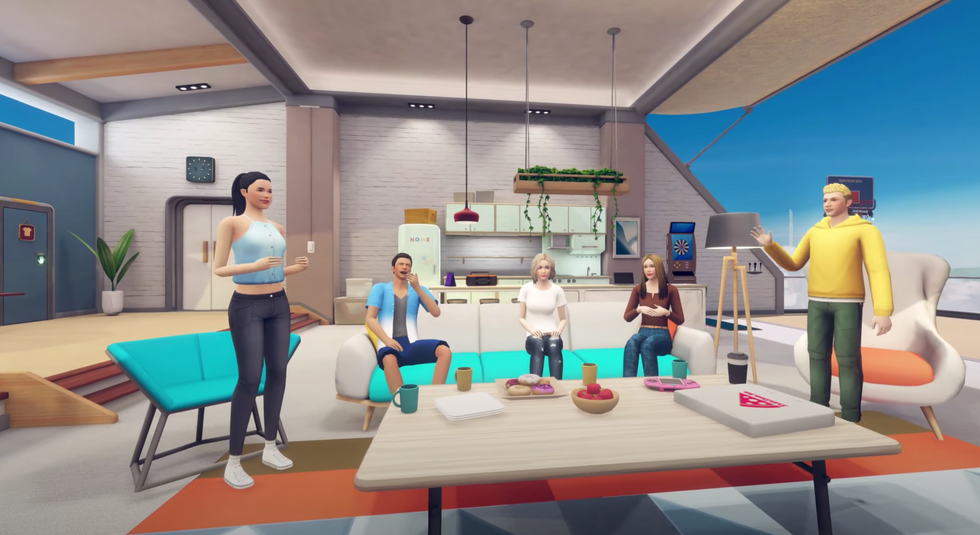 Players can design life-like avatarsXRSpace
The Mova ships with a single controller for gaming, but hand gestures are also a key component to the experience, with XRSpace suggesting how the virtual environment can be enjoyed and interacted with without using the physical controller.

The focus here is on social interaction. You can meet up with friends in virtual worlds and greet them with a handshake or a fist bump (no social distancing required here), then head off to the game arcade, or go back to your virtual home. The cameras can track your legs as well as your arms, meaning you can kick a ball around with your friends.
Although creating your own home, Sims-style, looks likely, Chou spoke about a feature where the headset's cameras are used to scan a real world space, such as a room of your home, then add this to the virtual world. You can also decorate it, if you so wish. On that note, XRSpace says it is working with furniture retailers and travel agencies to bring their products into the virtual world. Users would then be encouraged to buy these items in the real world, having first tried them out in VR.
The VR world includes a city center with bars, beaches, parks and cinemas to explore and hang out with friends in. Travel further afield and you will discover yoga and meditation classes taking place at the top of a mountain, or a wellness retreat in the woods. For this, XRSpace is speaking to wellness experts in a bid to offer classes with the aid of a movement tracker, to be sold separately.

XRSpace says the headset will cost $599, but hasn't given many details on availability just yet. What will be key is the company's ability to gain content partners will to offer a wide selection of VR experiences to enjoy on the platform. There needs to be a range of high-quality games, along with music and video, plus the aforementioned wellness and exercise activities, furniture, and much more besides.
Oculus Go Standalone Virtual Reality Headset - 64GB
From Your Site Articles
Related Articles Around the Web
Like GearBrain on Facebook