Like GearBrain on Facebook
Robot vacuums are popular smart appliances and a must have gadget for today's smart home. The convenience is worth the price tag, and the job done is generally as impressive as it is interesting. But which robot vacuum should you buy to help keep your home clean? iRobot vacuums are popular since they were one of the first ones to enter the market. However, there are newer entries which can give iRobot a run for its money. One new brand is Yeedi, and their Yeedi Vac Station is very similar to iRobot's i3+. In this article, we compare these two smart robot vacuums to help you see which one is best for your home.
Yeedi Vac Station vs iRobot Roomba i3+
The Yeedi Vac Station and the iRobot Roomba i3+ are both smart robot vacuums with a few overlapping perks and selling points. But there are notable differences which we will uncover for you including each vacuum's features and functions, the pros of each robot vac, some less-desirable attributes, and GearBrain's consensus as to which one is our winner.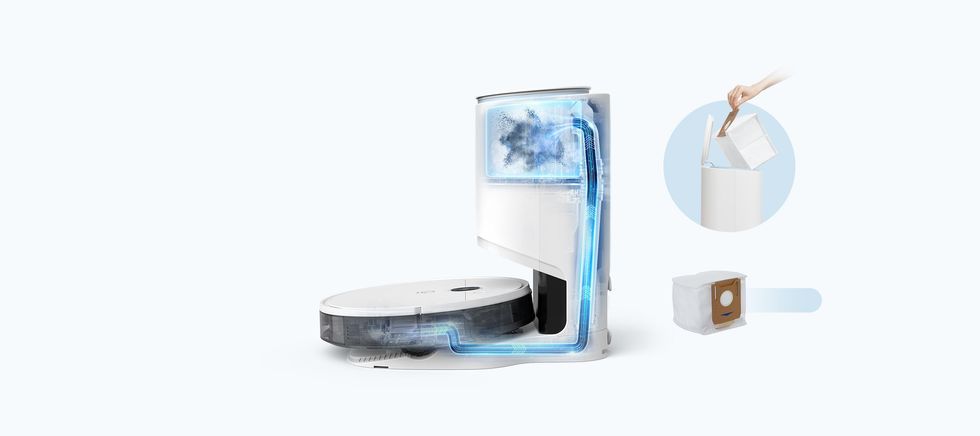 Yeedi Vac Station comes with self emptying binYeedi
This 3-in-1 cleaning machine is sleek and stark white – a standout from the standard black robot vacs. The easy-to-use Yeedi is strong, smart, and self-cleaning. The vacuum-mop combo is a one-swoop system, giving your carpets and floors the full treatment.

The suction on this Yeedi model is their strongest, at 3000Pa. This level of power is intense, especially when the vac can cover 2000 sq. ft./up to 200 minutes runtime at a stretch. The built-in 5200mAH battery goes the extra mile, whisking away dirt, debris, pet hair, etc. Yeedi features a HEPA filter - removing dust, allergens, pollen, and the like for better breathing.
Use the Yeedi with its app for ease - prescheduling cleaning times, routes, and rooms, and to set which zones are off-limits. For voice-control, use Amazon Alexa and Google Assistant for hands-free functionality. With floor type identification intelligence, the Yeedi won't run the mop on your carpets. And get the most out of each cycle with visual mapping technology, which creates the best path to cover from corner to corner, avoiding furniture while not missing a spot. But know you can edit the map and target specific areas on the room you want to clean or steer away from by just drawing up zones on the map in the app.
Clean-up is a snap thanks to the self-emptying dustbin which holds up to 30 days' worth of vacuumed-up material. Any long hairs that may get tangled in the brush can be removed with tools packaged with the product.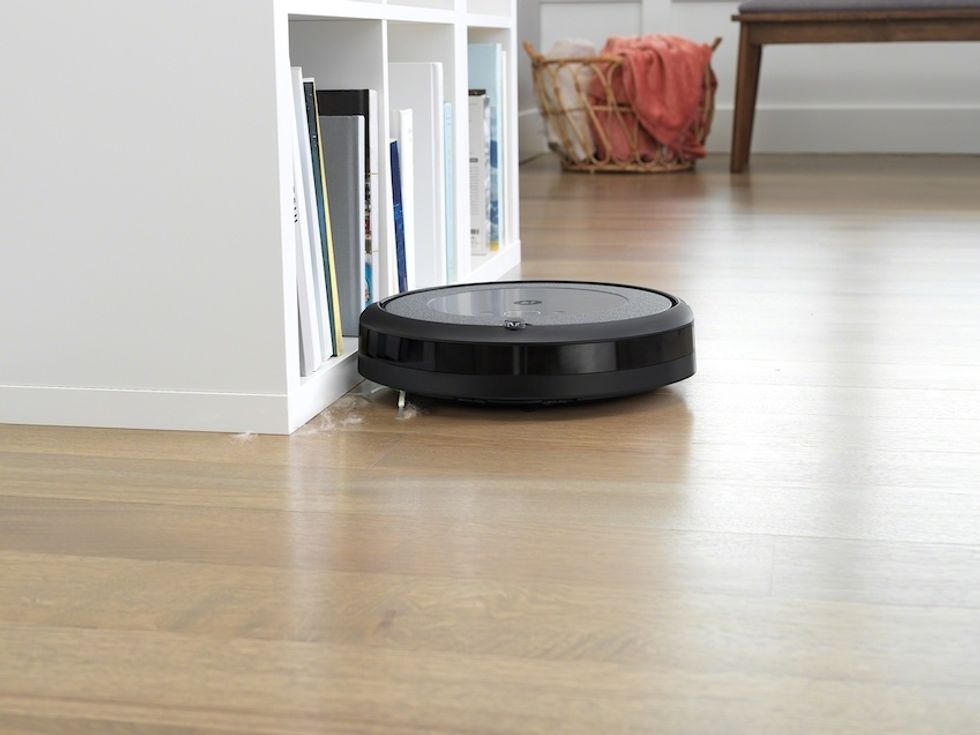 iRobot Roomba i3+ is a budget-friendly self-cleaning robot vacuum www.gearbrain.com
The iRobot Roomba i3+ is like Yeedi but costs $100 more and doesn't come with the handy mop feature. However, you can buy the iRobot Braava Jet m6 robot mop to get this functionality. iRobot offers a bundle of these two robots for $944.98. They can work in tandem using Imprint Link Technology to automatically vacuum and then mop your floors. But this option will cost an additional $344.99.
This iRobot i3+ does come with strong suction like Yeedi Vac. I3+ has 10 times the power of the iRobot 600 series, which are more expensive than the i3 series. It features a high-efficiency filter but lacks the anti-allergen function of prior models.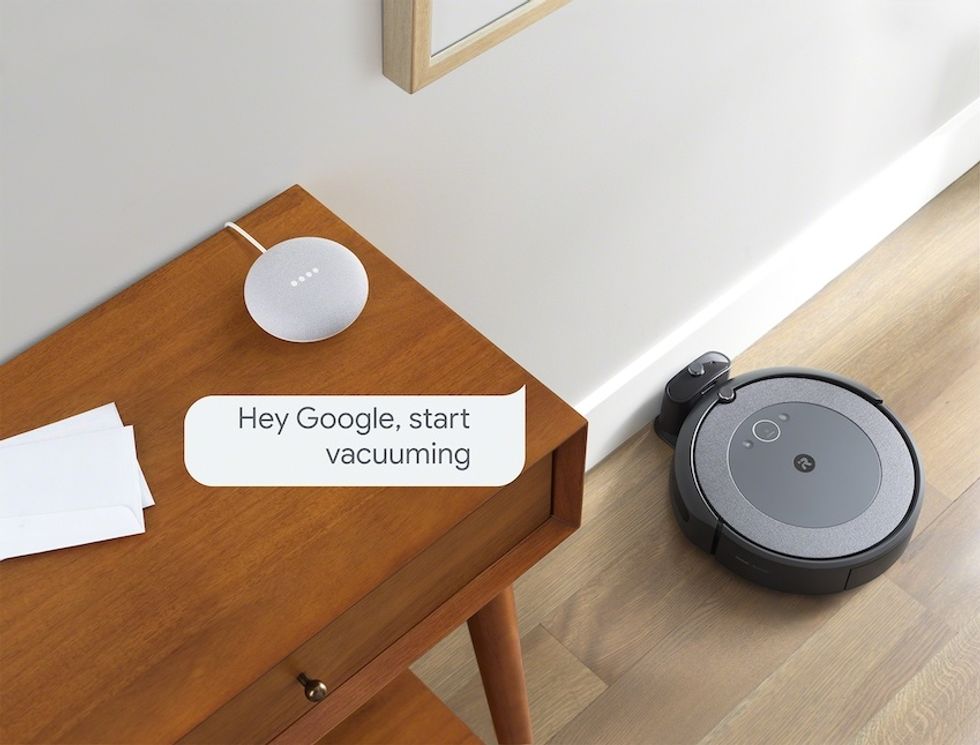 The new\u00a0iRobot Roomba i3+ works with both Amazon Alexa and Google Assistant iRobot
App-connectivity as well as voice-command control via Google Assistant and Amazon Alexa enabled devices will run the i3+ robot vacuum. It comes with smart navigation to help the vacuum navigate and map rooms. The robot does rely on smart sensors for a full clean sweep and can differentiate hardwood flooring from carpet. I3+ even has "Dirt Detect" which seeks out the spots that need the most cleaning, especially on high pollen count days or when pets are shedding heavily.
Self-cleaning like the Yeedi, the iRobot holds up to 60 days of dirt and debris, making cleanup a cinch. For additional information, check out this Gearbrain review of the iRobot Roomba i3+.
Yeedi Vac Station vs iRobot i3+ Self Cleaning Robot Vacuum - Key Differences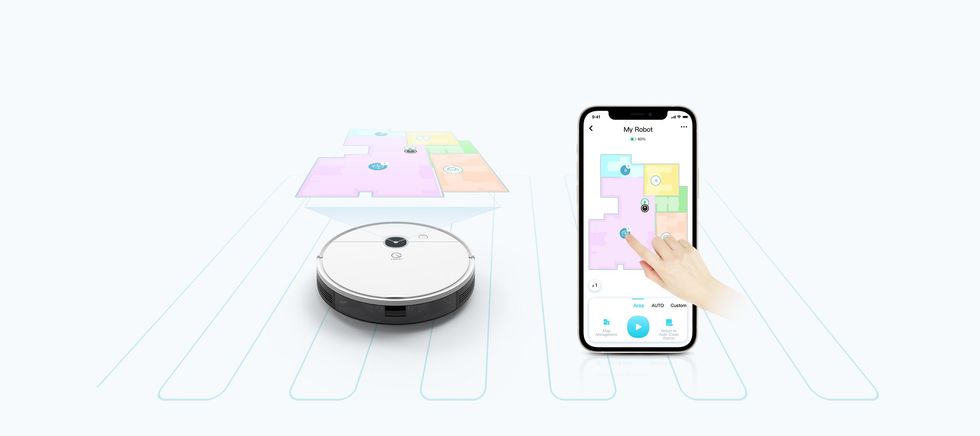 You can easily adjust Yeedi Vac mapping in the app for more efficient cleaning.Yeedi
Both robot vacuums are advanced and more affordable than some of the other popular models which can go for hundreds more. Both work with Google Assistant and Amazon Alexa enabled devices as well as have strong suction, floor tracking sensors and automatic dirt disposal.

Beside the overlapping perks and selling points, there are notable differences. Though i3+ can hold up to 60 days of dirt and debris and the Yeedi Vac can only hold 30 days, Yeedi Vac offers longer battery life (200 minutes to 90 minutes for i3+) and smart mapping. But the vac/mop combo from Yeedi is the clincher, giving your home expert-level cleaning for $100 less than iRobot or $344.99 if you were to buy i3+ and Braava m6 mop robot. The luxury of automated floor cleaning is a lifesaver when your plate is already piled high, and your room has both carpet and hardwood floors.
If you are in the market for robot vacuum with self-emptying dustbin, smart mapping, power suction, long battery life, works with either Google Assistant or Amazon Alexa enabled devices and can determine if it needs to mop or vacuum your floor, Yeedi Vac Station is the right choice. It's a step ahead of the iRobot i3+, despite "Roomba" being a household name. But its features and functioning will take Roomba for a ride and make tidying up less tedious for you and save you money.
Like GearBrain on Facebook