Today, if you are looking to buy a good smart robot vacuum, you should know these little robot cleaners come with all shapes and sizes as well as with several types of smart features. Some are small little rabbit looking devices that run across the floor picking up any little piece of dirt and debris. There are ones that have built-in cameras and can mop and vacuum your carpet or floor. And there are the big boys, a 3-in-1 systems which can vacuum, mop and self-empty the dirt and debris it picks up during cleaning. We were given one of these new 3-in-1 self-emptying robot vacuums by Yeedi. We tested this it in one of our test homes to see how well it can perform cleaning our floors. Here is what we found.
GearBrain Review: Yeedi Vac Station 3-in-1 Robot Vacuum and Self-Emptying Station www.youtube.com
What is Yeedi Vac Station?
The Yeedi Vac Station is a self-emptying vacuum and mop cleaner. It can intelligently identify the type of floor to clean and choose the right cleaning method. This robot vacuum comes with 3000Pa strong suction power which can pick up any kind of dirt and debris. It also has smart mapping and navigation features which can help find specific areas and paths in your home for optimal cleaning. Yeedi comes with a free app to control the robot vacuum, schedule cleanings and choose specific areas to clean in your home.
A nice feature of the Yeedi Vac Station is it's 3-in-1 cleaning system that is good for any size home. A 3-in-1 smart vacuum is a vacuum which can mop, vacuum, and empty the dirt it picked up without any human intervention. This Yeedi has a dustbin it automatically disposes of dirt when the dustbin is full or within 30 days. This is a nice feature especially if you forget to do weekly cleanings or worrying about when to dump and clean your robot vacuum.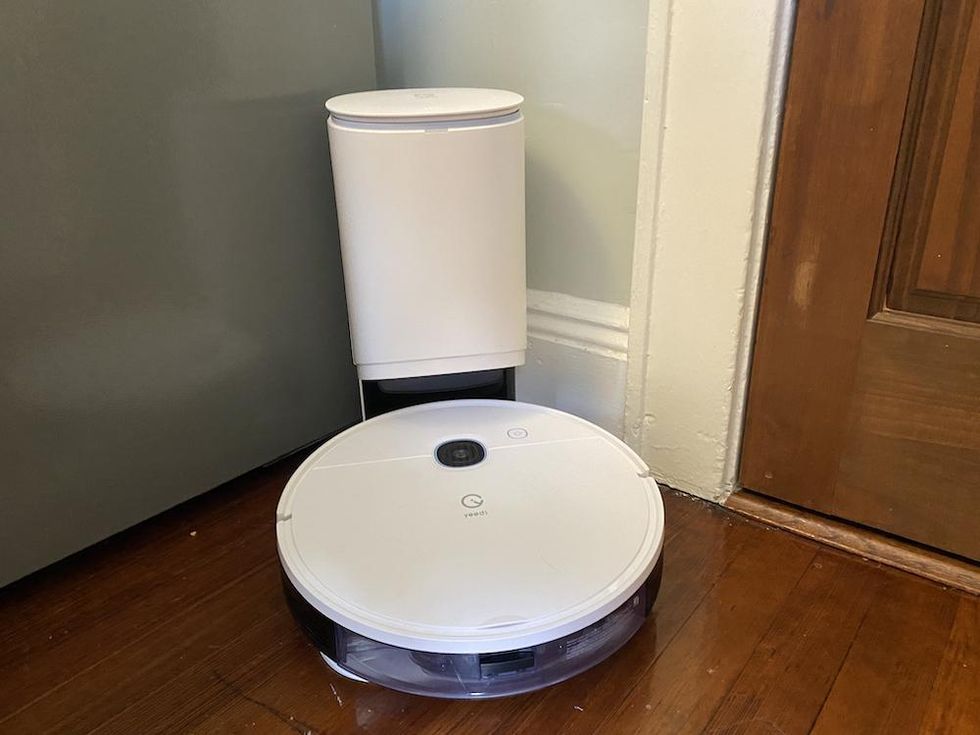 Another good feature of Yeedi Vac Station is its strong suction power. Suction power is critical for robot vacuum. If it doesn't have a powerful suction, it's not going to clean your floors. Yeedi has 3000 Pa suction power which is one of the leading or strongest suction power on the market today. A robot vacuum with this type of suction power can pick up any type of hair including animal hair as well as crumbs and dirt embedded in your floor or carpets.
An essential feature of a robot vacuum is its mapping technology. Some robot vacuums have built-in GPS systems while others just learn as it goes around the house. Yeedi offers visual mapping technology that works along with its floor tracking sensor to map out your room. This is done to help the vacuum avoid bumping into furniture or missing spots between furniture or tables or chairs.
What is the key to Yeedi's smart mapping technology? It's an ultrasonic carpet sensor on the robot vacuum. This ultrasonic technology is distinctive to Yeedi robot vacuums and provides advanced carpet detection. This sensor can identify the type of floor you want to clean and the method. It can even tell the robot vacuum to crank up suction power and avoid mopping on your carpet while cleaning your floors. This is how Yeedi knows when to mop or vacuum your floors.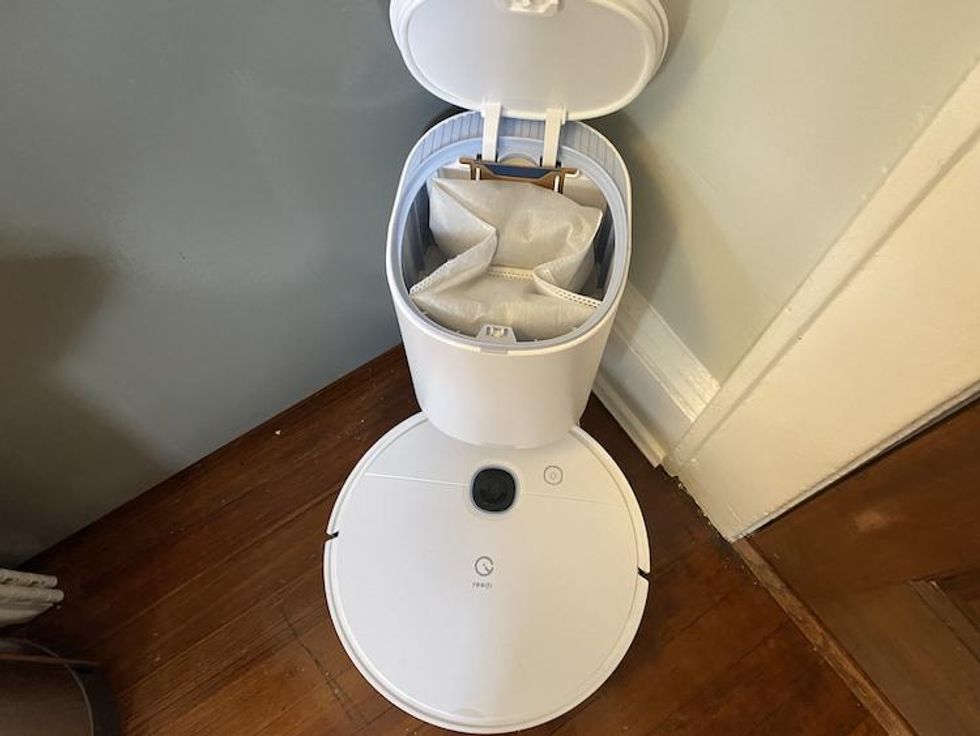 Yeedi Vac Station can store up to 30 days of dirt and debris from your floors.GearBrain
The Yeedi App
The Yeedi Vac Station is controlled using the Yeedi free app. It's available for both iOS and Android devices. The app is where you can choose a specific room to clean and set up a schedule for cleaning. In each room you'll set up virtual boundaries on where you want the robot vacuum to clean and when. And you will be able to add and revise all your schedules and cleanings.
Besides controlling the Yeedi robot vacuum with an app, you can use voice commands. The Yeedi Vac Station is compatible with both Amazon Alexa and Google Assistant enabled devices. If you have any of these voice assistant smart speakers or displays, you can tell them to start or stop your cleaning with simple voice commands.
The last good feature of the Yeedi Vac Station is its battery life. This robot vacuum comes with a 5200 mAh built-in battery. The battery can provide up to 200 minutes per charge and covers up to 2000 square feet. That is a lot of space for a vacuum to clean on one charge.
Virtual Boundaries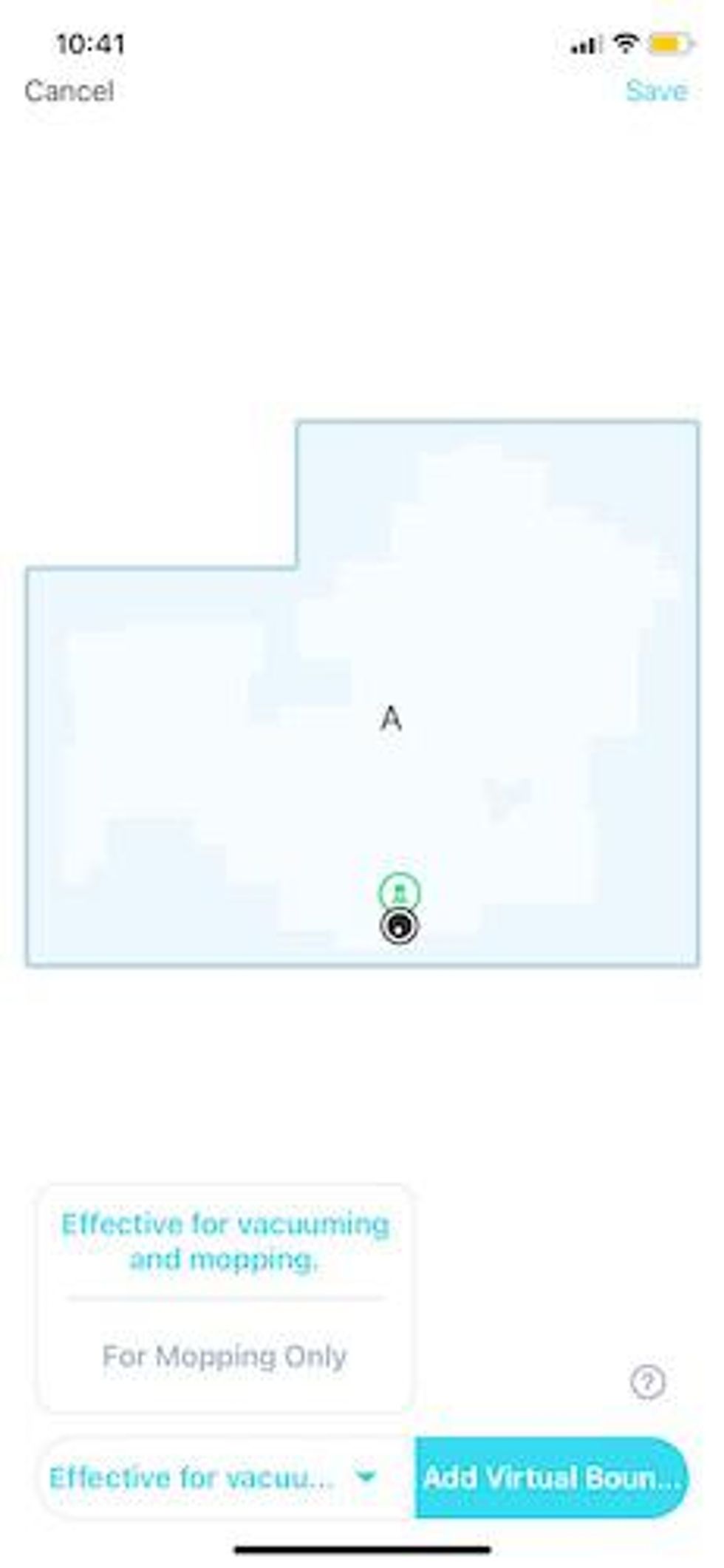 Yeedi App for Virtual boundaries
GearBrain
Yeedia app allows you to set virtual boundaries for vacuuming and mopping.
Vacuum Controls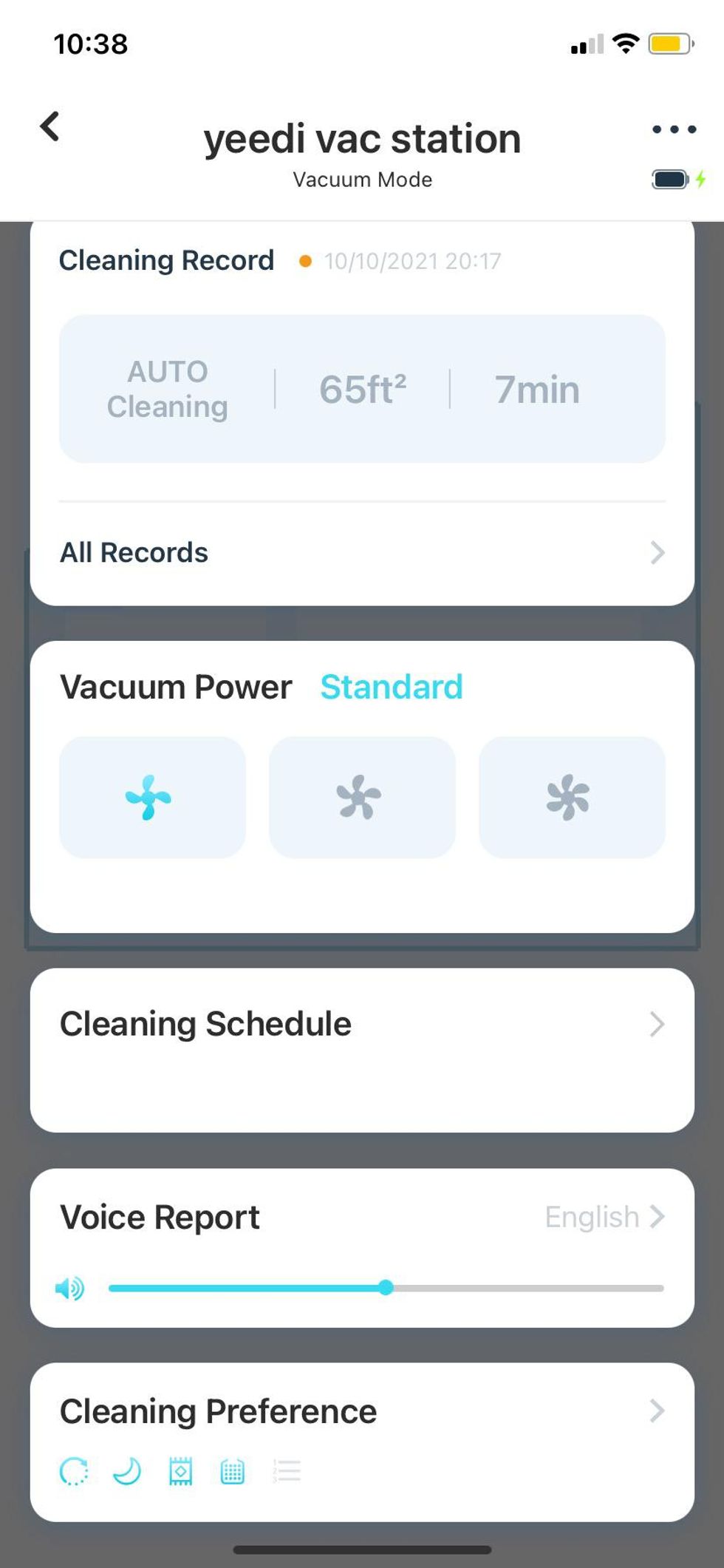 Vacuum settings in Yeedi app
GearBrain
Use Yeedi app to set vacuum settings including cleaning schedules, vacuum power and more.
Water Flow Control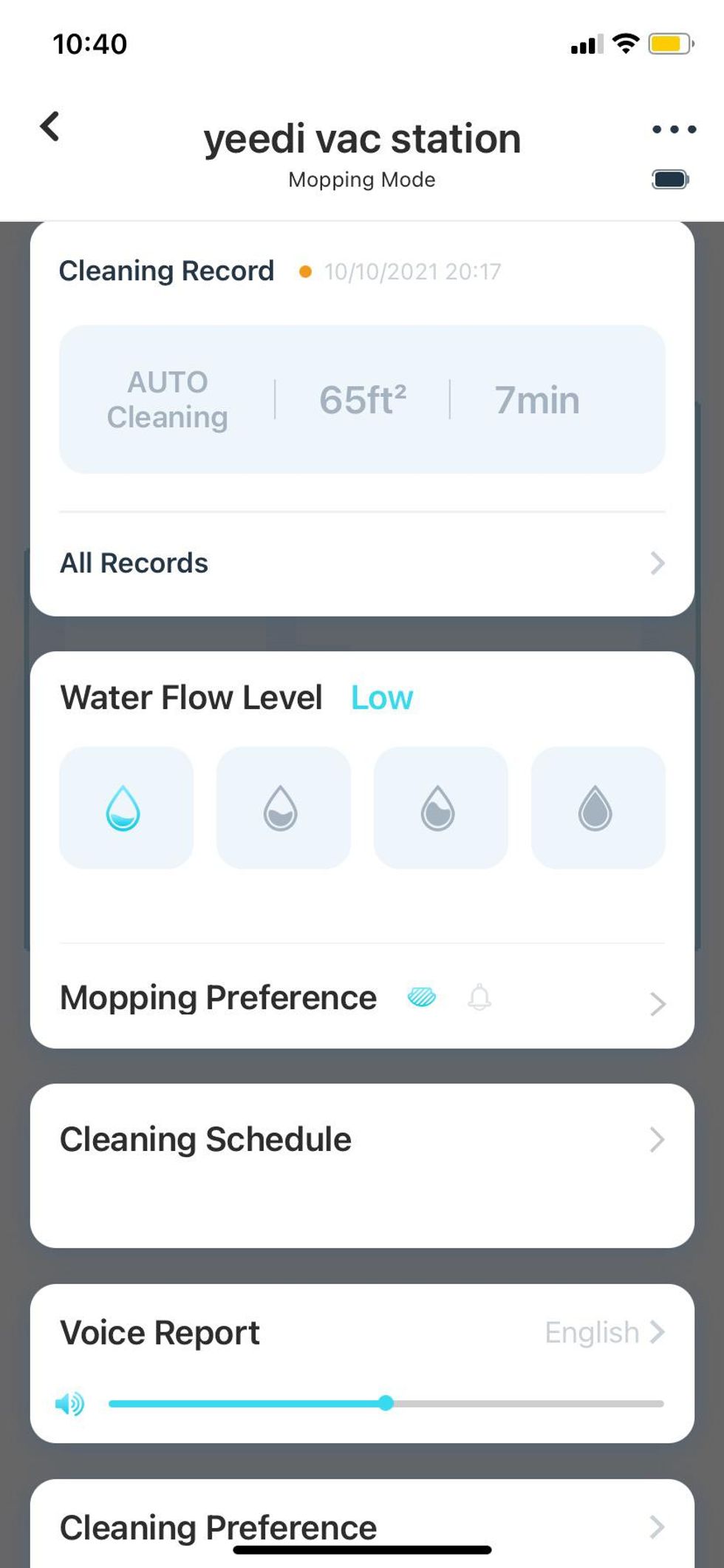 Mopping settings in Yeedi app
GearBrain
Set mopping controls in Yeedi app.
Setting up your Yeedi Vac Station.
Setting up the Yeedi Vac Station was extremely easy. It took us less than 5 minutes to get this robot vacuum working. In fact, it took us longer to charge the robot vacuum then it was to unbox it and set it up in our test home. Just scan the QR code and follow the instructions in the Yeedi app. You'll be up and running once the robot vacuum is powered up which is about 5 hours.
One install tip: once the robot vacuum is all charged up and you are ready to go, keep in mind you can't adjust any mapping in the Yeedi app until the robot vacuum has learned the area it's clearing. This normally takes up to five cleanings before you can adjust the mapping of your vacuum.
Cost
The Yeedi Vac Station cost $499.99 and comes with the Yeedi Vac Station, a dust bag, water tank, a dustbin, HEPA filter, sponge filter, side brush, main brush, washable mapping pad, a mapping pad plate, and cleaning tool. The vacuum is available on Yeedi site as well as on Amazon. If ordering today, Yeedi is offering free shipping with a one-year warranty and 30-day free return.
Performance
Our testing for the Yeedi Vac Station was done in one of our test homes that had wood floors and small carpeted area. In testing this robot vacuum we liked how easy the setup was and its strong suction power. Our test house had a dog that was shedding, and we ran the vacuum twice a day and it picked up or the pet hair without a problem.
Since we were running the robot vacuum twice a day, we found the sound of the robot vacuum to be relatively quiet, especially compared to other robot vacuums we have tested. However, when it came time to empty the vacuum into the dustbin, you better be ready for some noise. The emptying of the dustbin was very loud, but it reminded us of the noise you get a normal vacuum running. This is not bad since the loud noise lasted for a short time while it sucked out all the dirt and debris from the robot vacuum.
We also liked how the robot vacuum announces it's starting to clean and confirms when you added the mopping attachments to the vacuum. And the battery life is very good. It cleaned our entire first floor on a single charge.
During testing, we had Yeedi vacuum and mop our floors. The mopping was easy to setup and it cleaned our floors quietly which was nice since we had a few little ones taking naps at the time. Just make sure your Yeedi has cleaned your floors a minimum of 5 times and have the mopping attachments on your Yeedi, We also recommend you adjust the water flow in the app prior to your first mopping and set up virtual boundaries in the app. This will make it easier for your robot vacuum to clean your floors.
When we tested the scheduling of the Yeedi, we found it to be rather simple. Using the Yeedi app to schedule the times and days when we wanted the robot vacuum to work was easy to understand and follow. And after the 5th cleaning, we were able to adjust the virtual mapping for the robot vacuum.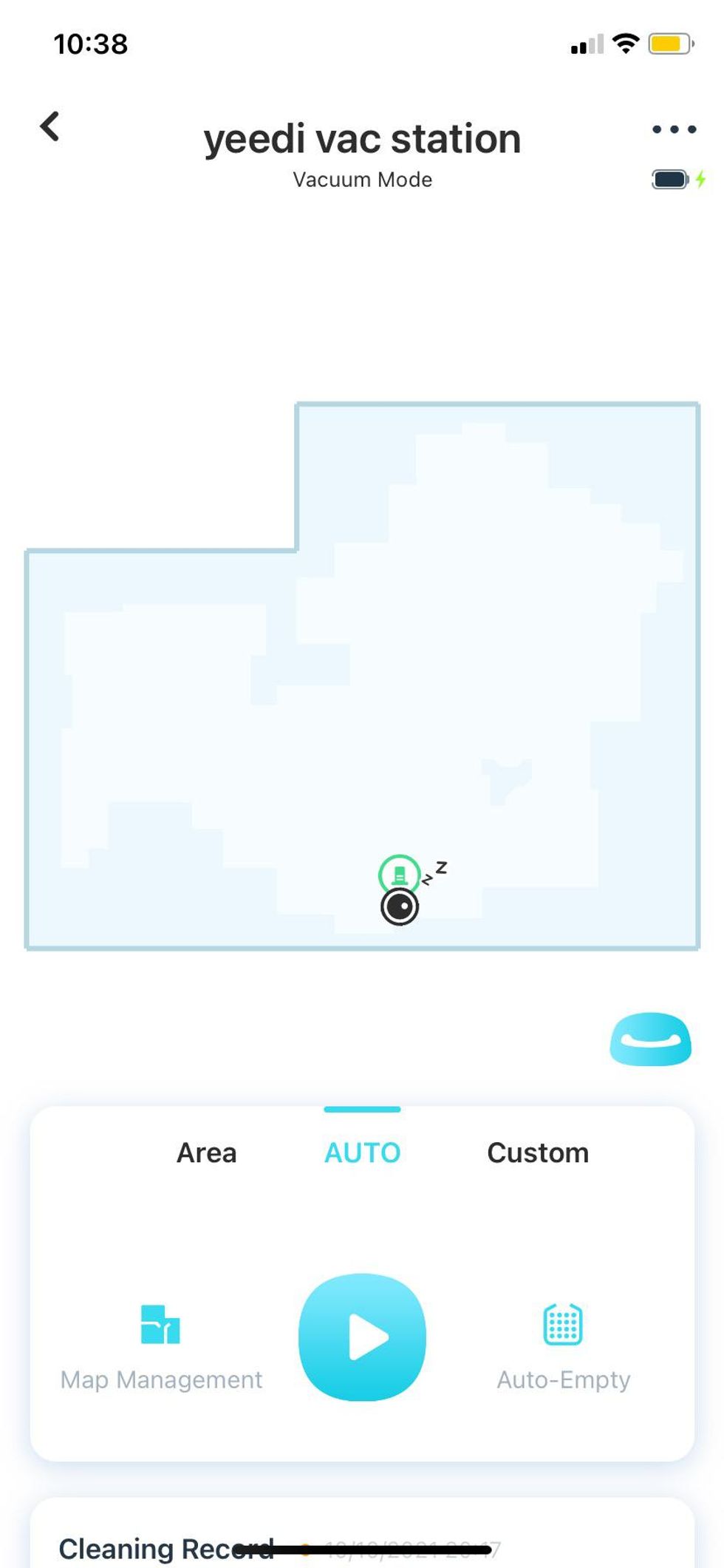 Use Yeedi app to control area for your robot vacuum to clean.GearBrain
Yeedi Vax Station vs other 3-in-1 robot vacuums
How does the Yeedi Vac Station stack up to the competition? We compared Yeedi's performance to other 3-in-1 robot vacuum we have tested in our test homes. There are a few similarities and differences. For instance, other robot vacuums like the iRobot I3+ could hold up to 60 days of dirt and debris while the Yeedi can only hold up 30 days. Other robot vacuums could only vacuum your floors while Yeedi can vacuum or mop. But the biggest difference between Yeedi and other robot vacuums is its smart mapping technology and ultrasonic carpet sensor. Being able to determine when to either mop or vacuum your floor without you having to tell it is unique and a key advantage.
Other similarities we found were Yeedi and other 3-in-1 robot vacuums are loud and sound like normal vacuums when emptying their dustbins. And they work with both Amazon Alexa and Google Assistant enabled devices and have pretty good suction. Some experts might say Yeedi's mapping could be very similar to other robot vacuum's mapping technology, but we do like how you can adjust Yeedi's mapping in the app.
Summary
The Yeedi Vac Station is a reasonably priced 3-in-1 robot vacuum with a self-emptying dustbin and HEPA filter. It has strong suction and long battery life to clean your floors or carpet when needed. What makes this robot vacuum unique is its built-in technology and sensor. Being able to tell what type of flooring you have in your home and know whether to vacuum or mop the floor on its own is the key differentiator for Yeedi robot vacuums when compared to other leading brands. This type of technology and sensor is not often found in robot vacuums especially at this price point. Though its features and functionalities are like an iRobot Roomba, Yeedi is a lot less expensive and comes with adjustable mapping capabilities.
So, if you're in the market this holiday season or any time for a robot vacuum or 3-in-1 robot vacuum system, Yeedi Vac Station's robot vacuum with self-emptying should be on your consideration list for your smart home. You can control it with an app or your voice. But with its smart mapping technology, ultrasonic technology sensor and self-emptying capabilities, you get all the key features you need in a robot vacuum no matter what type of flooring you have in your home.
Pros
Price
Able to adjust mapping technology
Strong suction power
Sensor to detect type of flooring to clean
Cons
Loud when emptying dustbin
Only 30 days of dust and debris storage
Can't save custom clearning areas
yeedi vac max Robot Vacuum and Mop, 3000Pa Suction Power, Carpet Detection,Visual Mapping and Navigation, Editable Home Map,Virtual Boundary, 200mins Runtime, Self-Empty Station Compatible