The robot vacuum cleaner market is a crowded one, with options that are likely to fit nearly any budget. Certainly most people know about iRobot Roomba vacuums, but there are so many other choices that can do more than just vacuum your floors. There are now robot vacuums which can mop the floors while vacuuming as well as well as self-empty the dirt when finished. You can get robot vacuums with security cameras built-in to help keep an eye on your pet while not at home. Buyers have a lot of options to choose and we are here to help you find the right one at the right price.

Below are robot vacuums you can pick up for under $500 from brands including Roborock, Yeedi, Wyze, iRobot, Eufy and more.
Robotic vacuum cleaners for under $200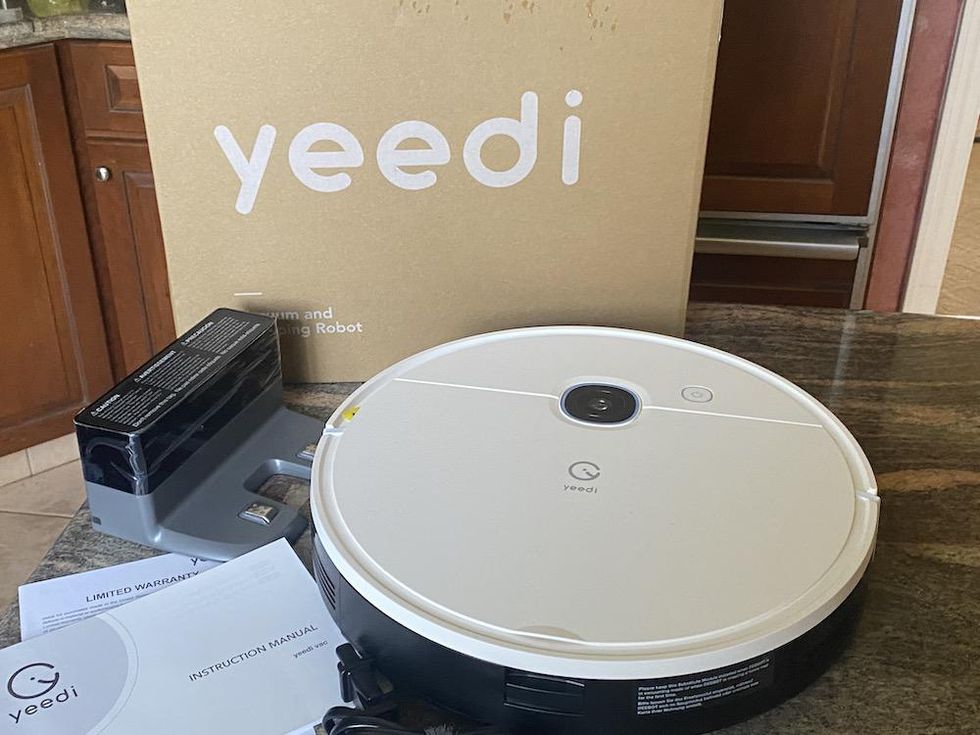 yeedi vac robot vacuum unboxed. GearBrain
Yeedi Vac Robot Vacuum - $199.99
Yeedi Vac is a reliable entry level smart robot vacuum. It comes with brushes, a HEPA filter, sponge filter, long-lasting battery and 3000Pa suction power and for less than $200. We recently tested this smart robot vacuum and found it to be very versatile. It can either vacuum or mop your floor. You just must make sure you get the mopping module.
Another nice feature of the Yeedi vac is its ability to connect with Yeedi's self-emptying station (sold separately) to form a 3-in-1 robot vacuum cleaning system. When you combine this with Yeedi's unique zone cleaning technology, you have a viable cleaning machine for your home.
Yeedi vac is available on the company site Amazon for only $199.99.
Read our full review of Yeedi Vac Robot Vacuum and Mopping Cleaner here.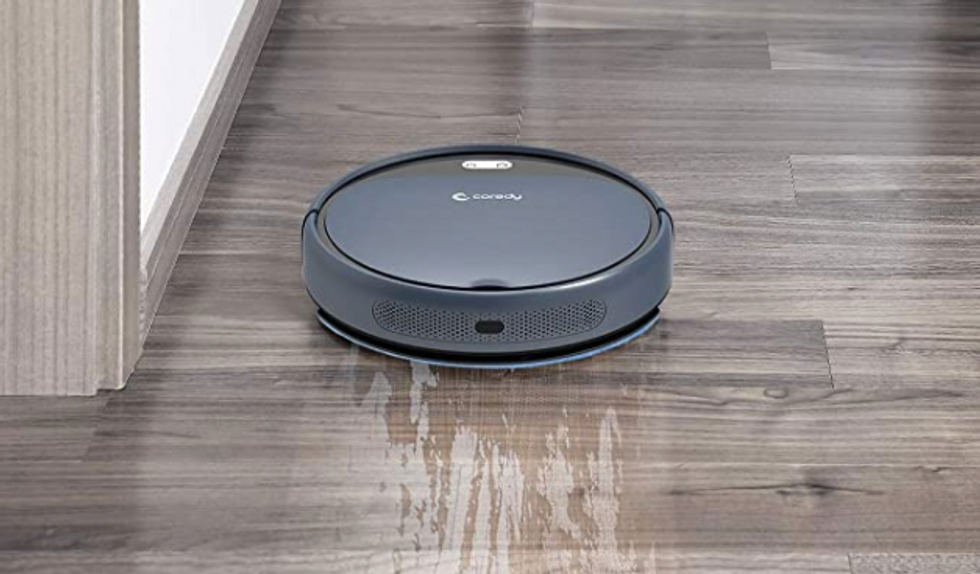 Coredy Robot VacuumCoredy
Coredy R580 Robot Vacuum Cleaner - $169.99
The Coredy R580 robot vacuum is budget-friendly, and feature slim. You can schedule the Coredy robot vacuum, and it will work on both hardwood floors and carpets and even has a filter for pet hair.

The suction power amps at 2000Pa, and the robot can switch to mopping as well with a water tank (which is sold separately.) You get 120 minutes of run time before the robot needs re-charging as well.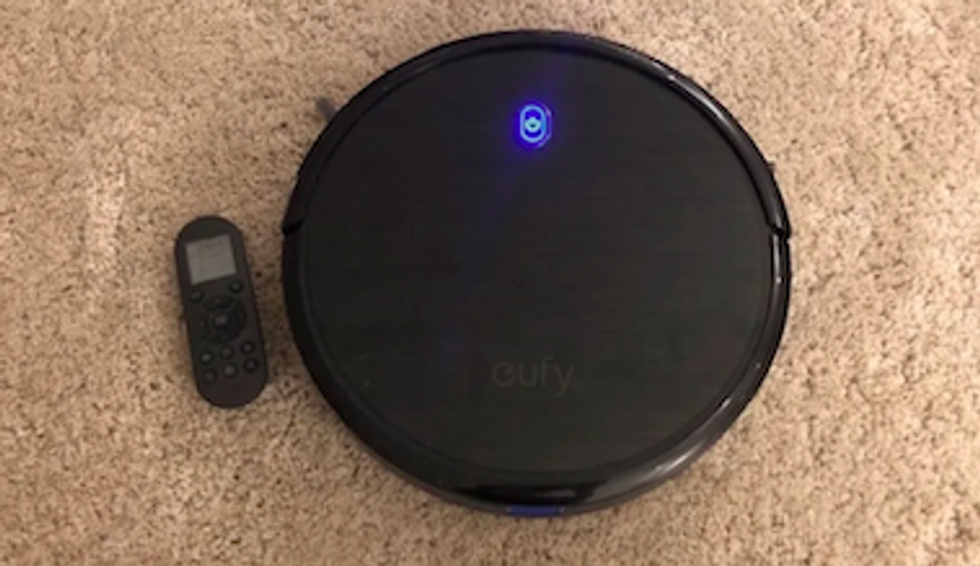 GearBrain
Eufy RoboVac 11S - $139.99
This remains one of the best budget vacuums we've tested at GearBrain, an affordable robot vacuum at well under $200. The nice thing about the super slim Eufy RoboVac 11S is that it doesn't need an app — although there is one to help you operate the vacuum if you choose.
Sensors in the vacuum help it from pushing harder against walls, people and — yes — your dog. Fully charged, the vacuum will work for up to 100 minutes. It also does a good job on not just hard wood floors but also low to medium carpeting. After completing 100 minutes of housework, Eufy finds its way back to the base for a reboot. Unlike the Roomba 980 (and others) which maps rooms so the areas covered aren't overdone and no spot is left untouched, Eufy seems to have a mind of its own, but it still seems to get the home well-vacuumed.
You can read more about the Eufy Robovac 11S in GearBrain's review.
Robotic vacuum cleaners for under $250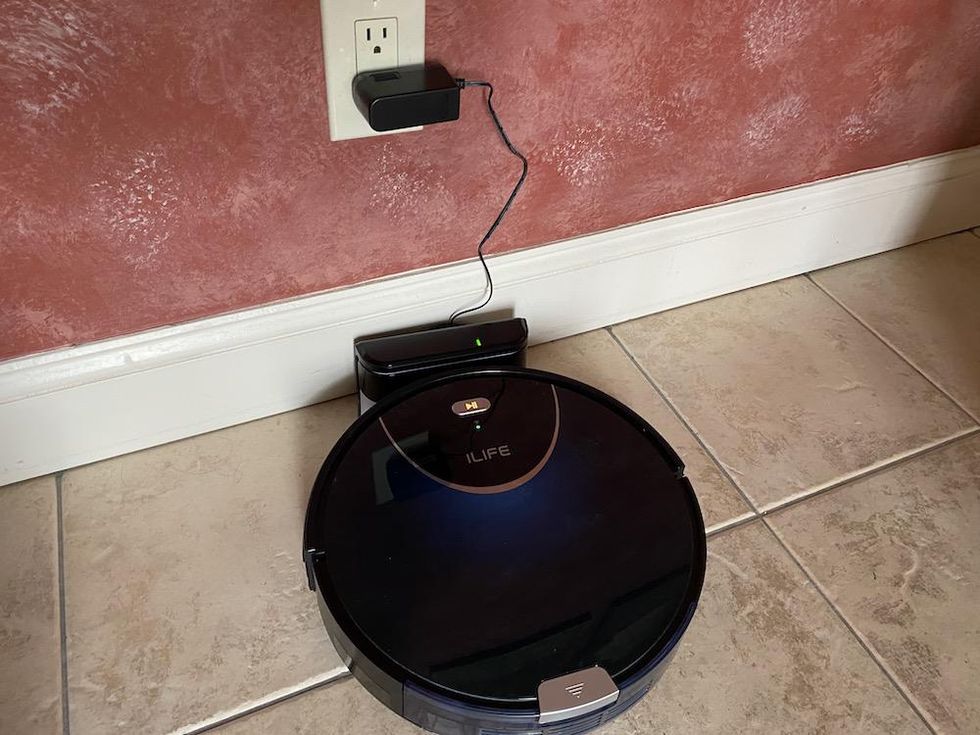 ILIFE V80 Max 2-in-1 Robot Vacuum Cleaner Review www.gearbrain.com
ILIFE V80 Max 2-in-1 Robot Vacuum and Mopping Cleaner
If looking for a good entry level robot vacuum that can vacuum and mop your floors, iLife's V80 Max robot vacuum is one to consider. We've tested this 2-in-1 robot vacuum cleaner and it performed well especially at its price point, $279 list price but available on Amazon for only $219 today.
The V80 Max works with Amazon Alexa enabled speakers, has a 750ml dustbin, it's easy to switch from mopping to vacuuming your floors. It's the perfect vacuum for a college dorm room or for anyone looking to try a robot vacuum.

You can learn more about ILIFE V80 Max by visiting our review here.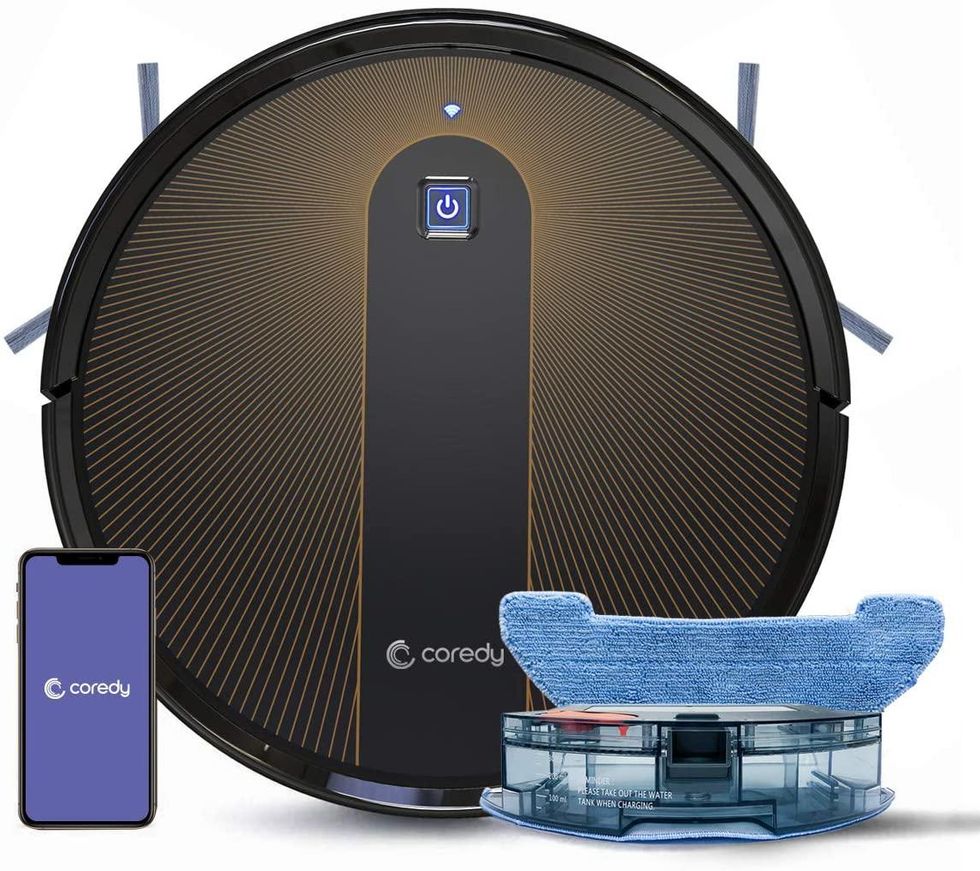 Amazon
Coredy R750 Robot Vacuum Cleaner with Mopping System - $249.99
If looking for a good robot vacuum cleaner which can sweep and mop your floors for less than $250, Coredy has another model for you, the R750. This robot vacuum cleaner comes with a mopping system to wash your floors after vacuuming. It's compatible with Amazon Alexa and has 2200Pa suction power to pick up those loose pet hairs.
Coredy R750 comes with Boost-Intellect Technology which can tell the robot vacuum to increase suction power automatically once it detects carpet and then reduce suction when on hardwood floors.
Coredy R750 robot vacuum has a list price of $279.99 but you can pick on up for $249.99 on Amazon.
Robotic vacuum cleaners for under $300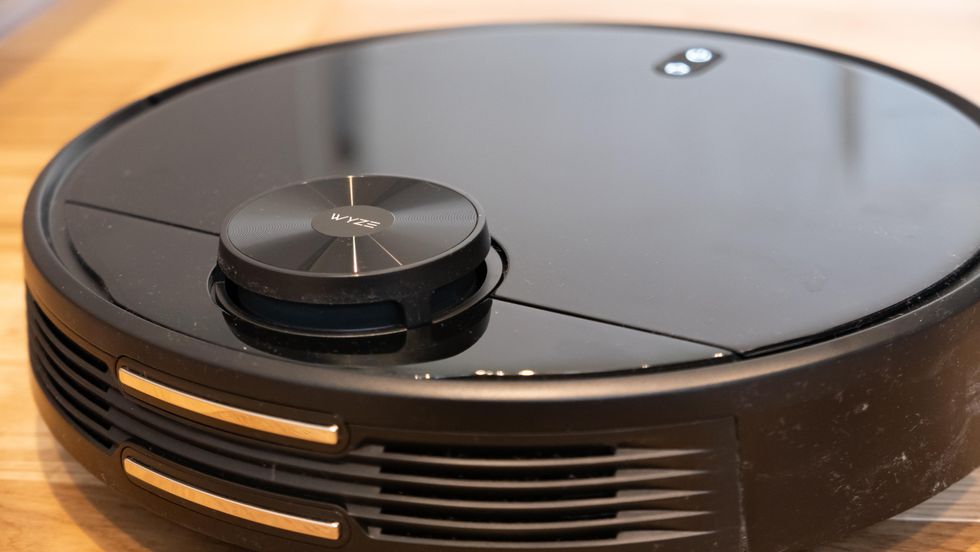 The Wyze Robot Vacuum is priced at $249 GearBrain
This
Lidar mapping robot vacuum
is just $294, and can also handle scheduling and has three different levels of suction, quiet, standard and strong. Lidar allows this very budget-friendly robot vacuum to make a three-dimensional map as it moves around a house.
The
Wyze Robot Vacuum
works with an app that shows you how much area it's cleaned, how much of a charge is left, and how much time it's been cleaning. You can schedule the robot vacuum to clean an entire space, or just one room. This vacuum works on a 2.4 GHz Wi-Fi connection, has 2100Pa suction power, and a 3200mAh rechargeable battery. It cleans hardwood floors and carpets using path patterns. It also uses its SLAM (simultaneous Location & Mapping) technology to keep track where it cleaned.
The Wyze Robot Vacuum cleaner has a list price of $329 but is available on Amazon for $299 and Walmart for $229.99.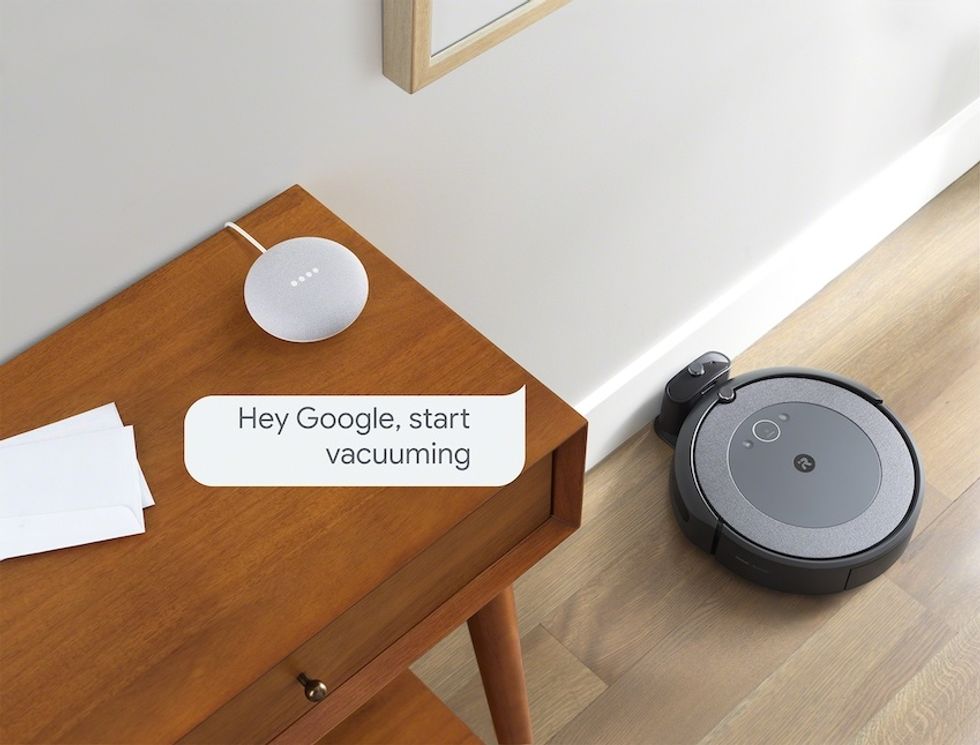 The new\u00a0iRobot Roomba i3+ works with both Amazon Alexa and Google Assistant iRobot
iRobot Roomba i3 - $399.99
The iRobot Roomba i3 works with both Amazon Alexa and Google Assistant and also the Roomba app. You also get a high-efficiency filter that the company says can pick up 99 percent of pollen, mold, dust and other allergens.
You also get a self-emptying station which allows the robot to remove the debris from its bin without someone having to do that. And of course you can schedule cleanings as well.
Robotic vacuum cleaners for under $500
Yeedi Vac Station Robot Vacuum and Mop Combo with Self-Emptying Station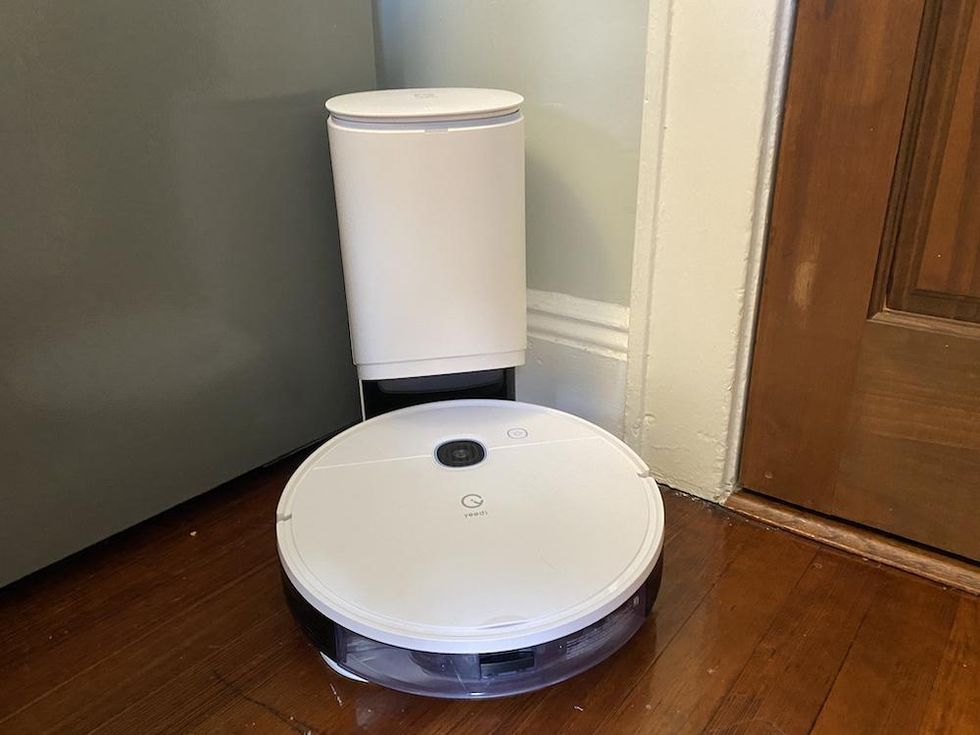 Yeedi Vac Station www.gearbrain.com
One of the best robot vacuums which can mop your floors, vacuum your carpets and self-emptying the dirt is Yeedi Vac Station Robot Vacuum, Mop and Self-Emptying 3-in-1 cleaning system. This 3-in-1 robot vacuum cleaner is reliable and durable. It comes with the company's unique smart mapping technology and a floor sensor which can determine the type of flooring it's on and decide either to mop or vacuum.
Other features of the Yeedi Vac Station include strong suction power (3000Pa), long lasting battery (5200 mAh) which can provide 200 minutes per charge and cover up to 2000 square feet. It has a list price of $599.99 but is on sale on Amazon for only $349.98. This is an excellent robot vacuum for an apartment, dorm room and even a small to medium size smart home.
Read our full review on Yeedi Vac Station Robot Vacuum here.
Yeedi Vac 2 Pro Robot Vacuum and Mop Combo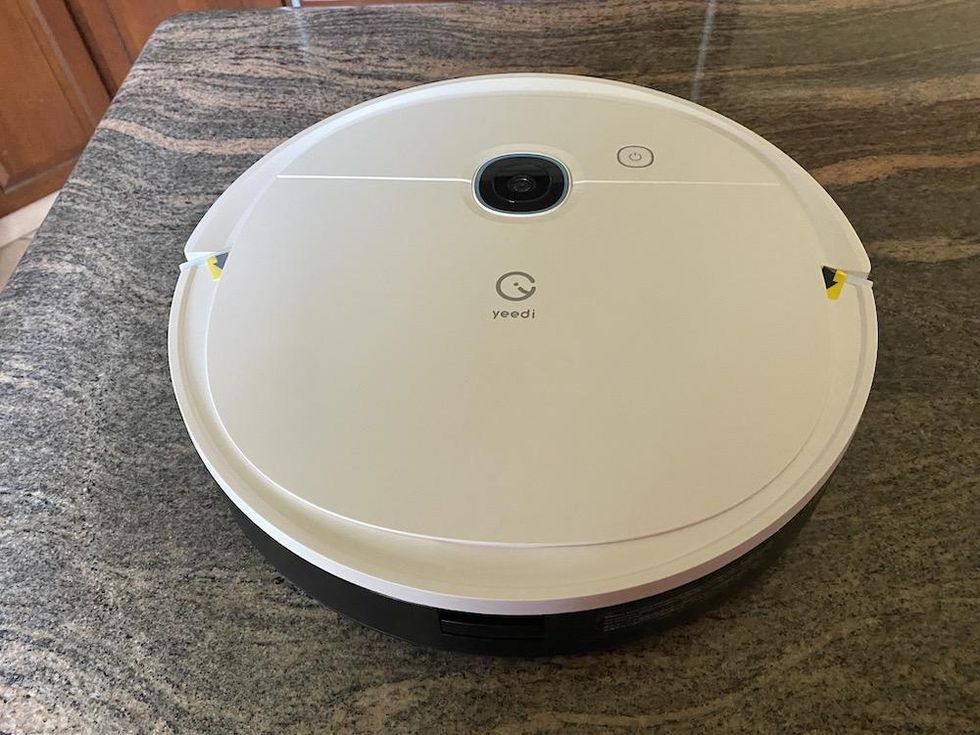 yeedi vac 2 pro robot vacuum GearBrain
If you are willing to sacrifice the self-emptying feature of a robot vacuum for a better mopping and vacuuming, then take a look at Yeedi's vac 2 pro robot vacuum. This 2-in-1 robot vacuum can vacuum and mop your floors simultaneously. It's suction power is good (3000Pa) and has long battery life (240 minutes of runtime on single charge). it also works with Google Assistant and Amazon Alexa enabled devices using voice commands. But what makes this smart robot vacuum unique are these three features: an oscillating mopping system, 3D obstacle avoidance tech and carpet detection capabilities. As you can see from the video below, the mopping system helps the robot vacuum scrub off dried-on stains from wood/tile/laminate floors and suck up dirt from both carpet and hard floor.
The price for Yeedi Vac 2 Pro is only $449.99 and is available on the company website, Amazon and Walmart. You can easily add the Yeedi self-emptying station to your vac 2 pro robot vacuum if you want. The cost only goes up to $569.98 on Amazon but check the company site. Many times they are running promotions and the vac 2 pro robot vacuum with self-empty station can be less than $500 with a coupon.
Read GearBrain's review of Yeedi vac 2 pro robot vacuum here.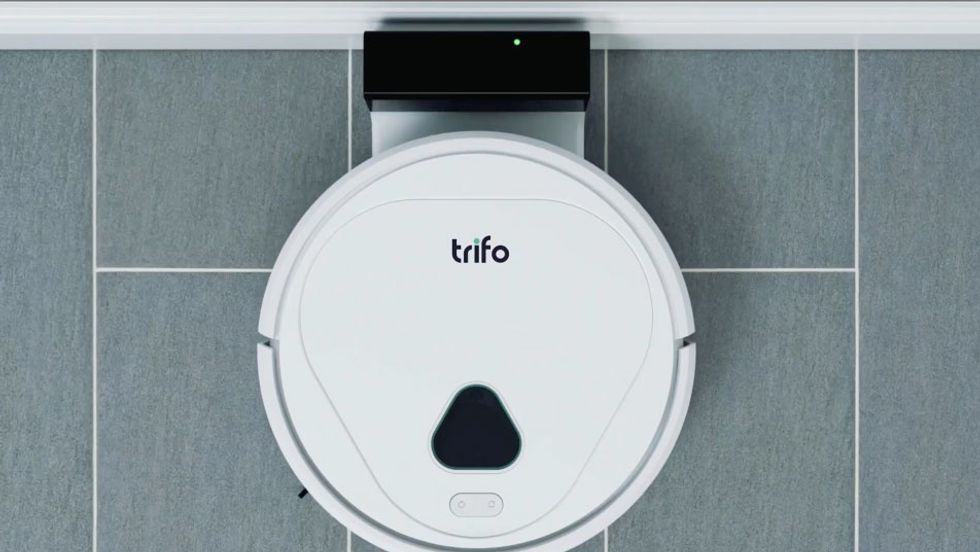 Trifo MaxTrifo
The
Trifo Max
is a robot vacuum with an extra feature: it works as a security device. Built into the
smart vacuum
, which launched at IFA 2019, are both a remote speaker and a microphone which lets you keep tabs on things happening in your space, even if you're not home. You can also operate the robot vacuum with
Amazon Alexa's smart assistant,
and the device has a 5,200 mAh battery keeping it running for up to 120 minutes on one charge. There's also a camera on the front which you can tap into and record footage of your home while you're out. You can pick one up for $349.99 at Walmart.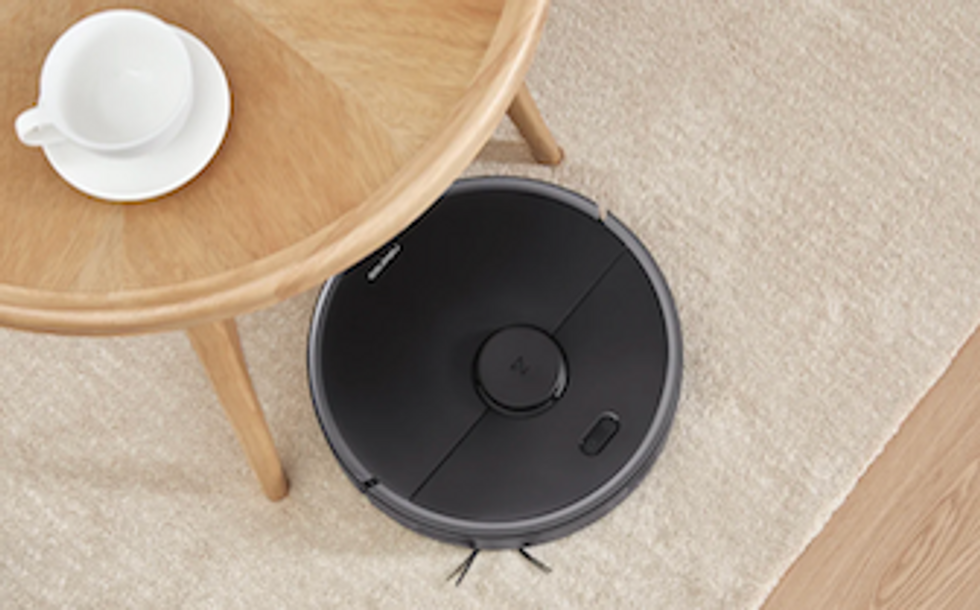 Roborock S4 MaxRoborock
At the higher end of the spectrum here is the
Roborock S4 Max
, which is able to detect when it's on carpet or hardwood floors and adjust accordingly. This robot vacuum has 2,000Pa of suction power, and has a washable HEPA filter which is said to be able to capture 95 percent of particles including pet dander and mold.
You can run the Roborock S4 Max for 150 minutes on one charge, which the company says can cover just about 2,700 square feet. And the robot vacuum uses lidar technology which allows it to map a home thoroughly so that people can create invisible walls and no-go areas to program the robot for cleaning.
Check out The GearBrain, our smart home compatibility find engine to see the other smart robot vacuums that work in your smart home.