Like GearBrain on Facebook
When you're looking for a smart robot vacuum cleaner, there are some key features to consider: Suction power, mapping capabilities and battery life. Strong suction power assures the robot vacuum can pick up all the dirt and hair on your floors. Mapping helps you see where your vacuum cleans in your house. And battery life is vital because you want a robot vacuum that can clean your floors on one charge. Increasingly, we're seeing a fourth feature on robot vacuums — a security camera, which is on the new Trifo Max Home Surveillance Robot Vacuum. We tested the Trifo in a real home the past few months, and here's how well it performed for us.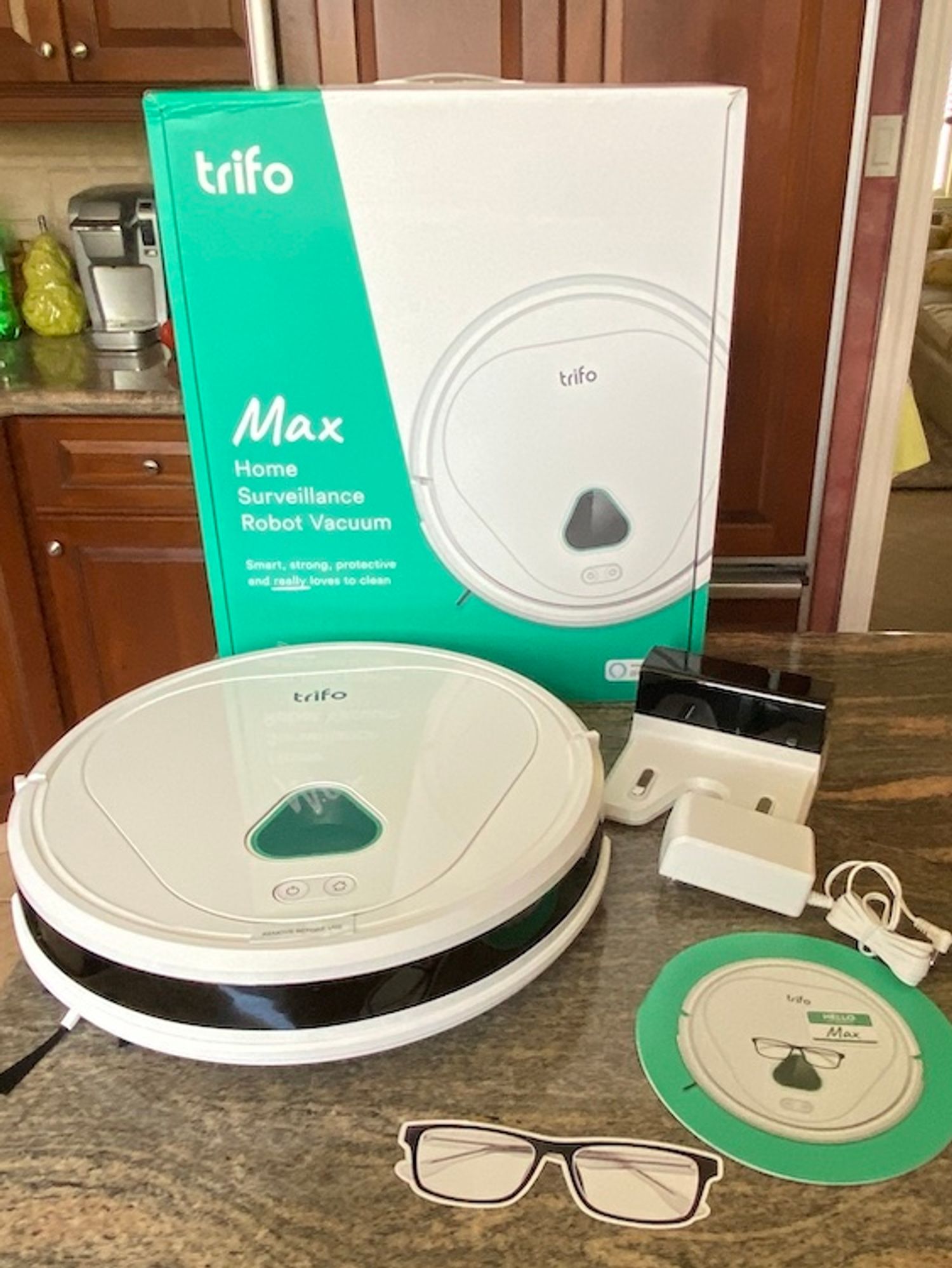 Trifo Max Surveillance Robot Vacuum unboxed.GearBrain
What is the Trifo Max Surveillance Robot Vacuum?
Trifo's Max is a smart robot vacuum and security device. The first feature helps to clean your home, while the second gives you an eye into your space when you're not there. The vacuum has motion detection, a "find my robot" feature, and the company's special navigation system called, SLAM. SLAM is short for simultaneous localization and mapping, and allows the vacuum to create a 3D picture of your space so it can avoid furniture, walls and other objects on the floor.
The cleaning path for Trifo Max is 9.05 inches wide, and debris swept into a 600 ml dirt bin — a larger than average size, which helps as the vacuum also has 3000 pa suction power, much higher than many other vacuums on the market. The vacuum comes with a 5,200 mAh rechargeable battery which provides up to 120 minutes of run time when fully charged. And Max also connects to your home Wi-Fi network in one easy step.
What makes this robot vacuum significantly different from other smart robot vacuums, though, is the HDR-capable 1080p security camera on top of the device, and also a motion sensor. The camera sits on top of the vacuum and looks upwards to provide a better view of people or items in a room. The other robot vacuums we have tested have their cameras on the side of the vacuum which shows the objects in it's path, although some like the Ecovacs Deebot Ozmo T8 AIVI also has a security camera with a very wide angle, giving you a solid view of a room.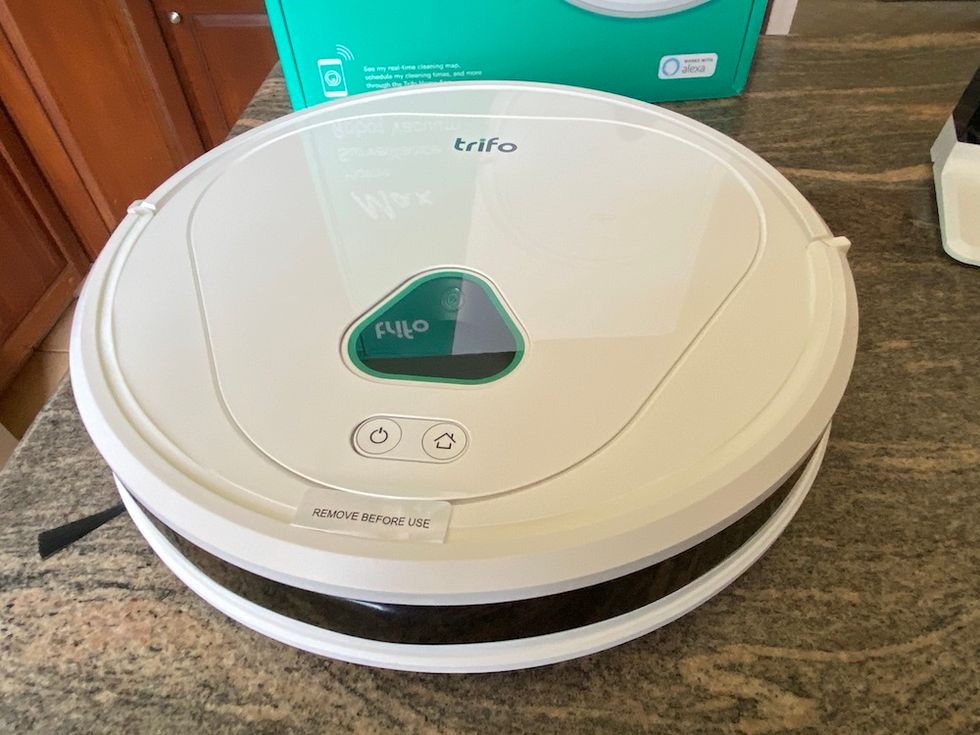 Trifo Max comes with motion detection and a camera on top.GearBrain
The Trifo Max also has a microphone and speaker, so you can communicate with any visitors in the room. However, you can only use the microphone when the vacuum is operating, idling or you've opened the video feature in the app. You can also record video, which is stored in your album, and can then be accessed via the Trifo app.
The motion sensor is unique and a nice feature and the Trifo Max is the first robot vacuum we have seen with one. When motion is detected, you will get an alert. However, we found that the sensor is very sensitive, and can't be adjusted. But you can turn it off in the app.
The robot also makes use of something called, Trifo Intelligent Robotics Vision System or TIRVS, which helps it to find the quickest path to clean floors by creating a zig zag cleaning route, which you can see in the Trifo app. Keep in mind though, that for TIRVS to work best, it needs a little light, which means at night, if the robot is running, you should watch it to ensure a room is cleaned.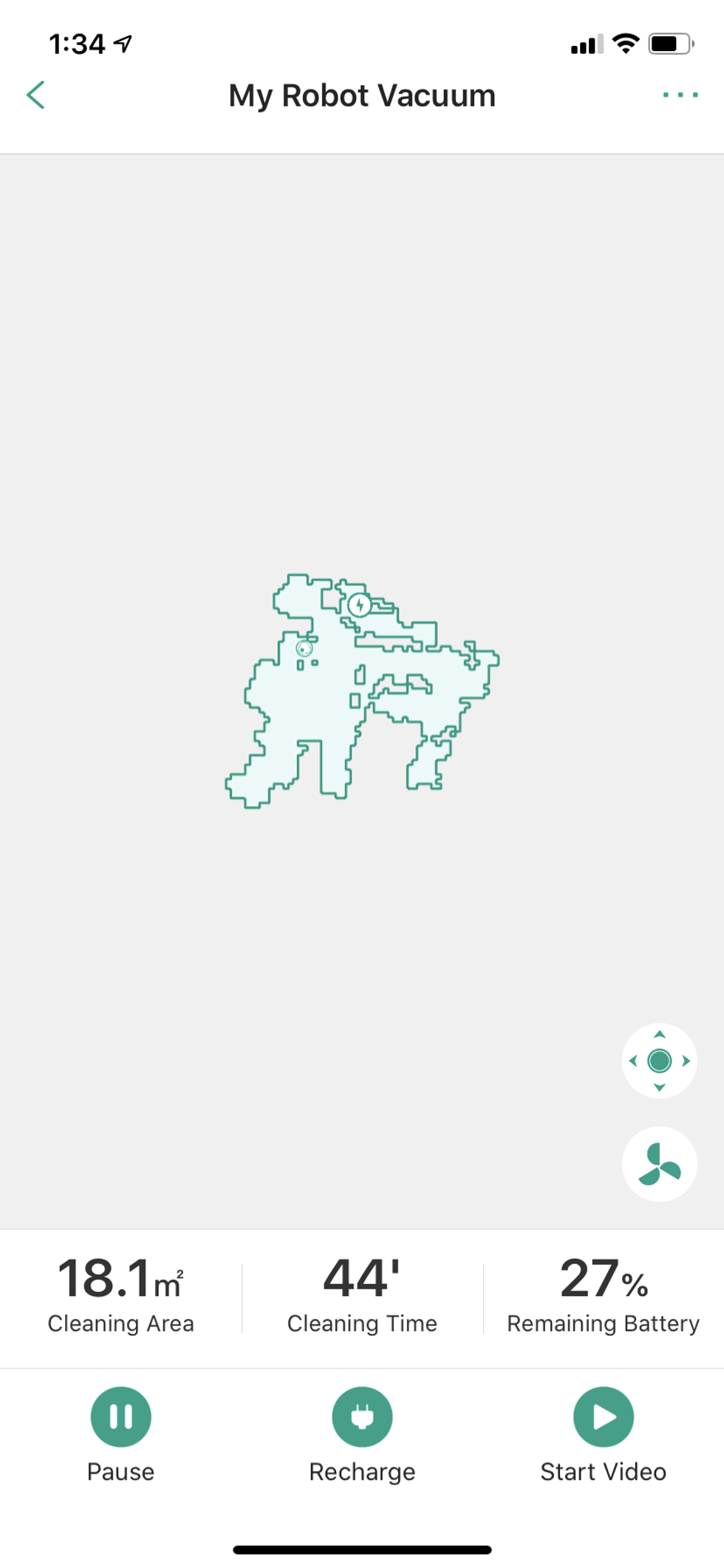 Trifo Max app shows mapping of your room or rooms in your house.GearBrain
Can the vacuum clean underneath furniture? It depends on the height of your furniture. Max is only 2.91 inches tall. If the opening underneath your couch or chair is higher than this amount, the robot will clean underneath the furniture. If not, the robot can get stuck, but the Trifo Max will send you an alert if that happens.

Trifo's new robot vacuum works on wood, tile and carpeted floors, but the powerful suction can get stuck on fringe or other material at the end of rugs, which happens to us. In general though, the Trifo Max will clean dust, dirt, pet hair and even sand. And you should be careful about it going near a working fireplace so it doesn't clean any burnt cinders or ash.
With powerful suction can come a powerful, and loud, engine. On the vacuum's highest suction setting, the robot is rather loud. You can soften this using Quiet Mode, through the Trifo app, which did help make the vacuum a little quieter, and maintain good suction. But this feature will also mute the robot, meaning it will not speak with you.
Trifo App

The Trifo Max can be controlled manually or by its iOS and Android Trifo app. You can connect the vacuum to your home Wi-Fi through the app — but only for 2.4GHz connections, not 5GHz.
Features
One of the best features Max has is its mapping capabilities, which start the minute you run your vacuum by learning the room, and others, as long as it can get access to them. If you want to prevent the vacuum from going into other rooms, you still need to map the entire house, because boundaries are setup in the app. The most unique feature for this robot vacuum is its 1080p security camera. But note that it doesn't have night vision.
Trifo Max Video at Night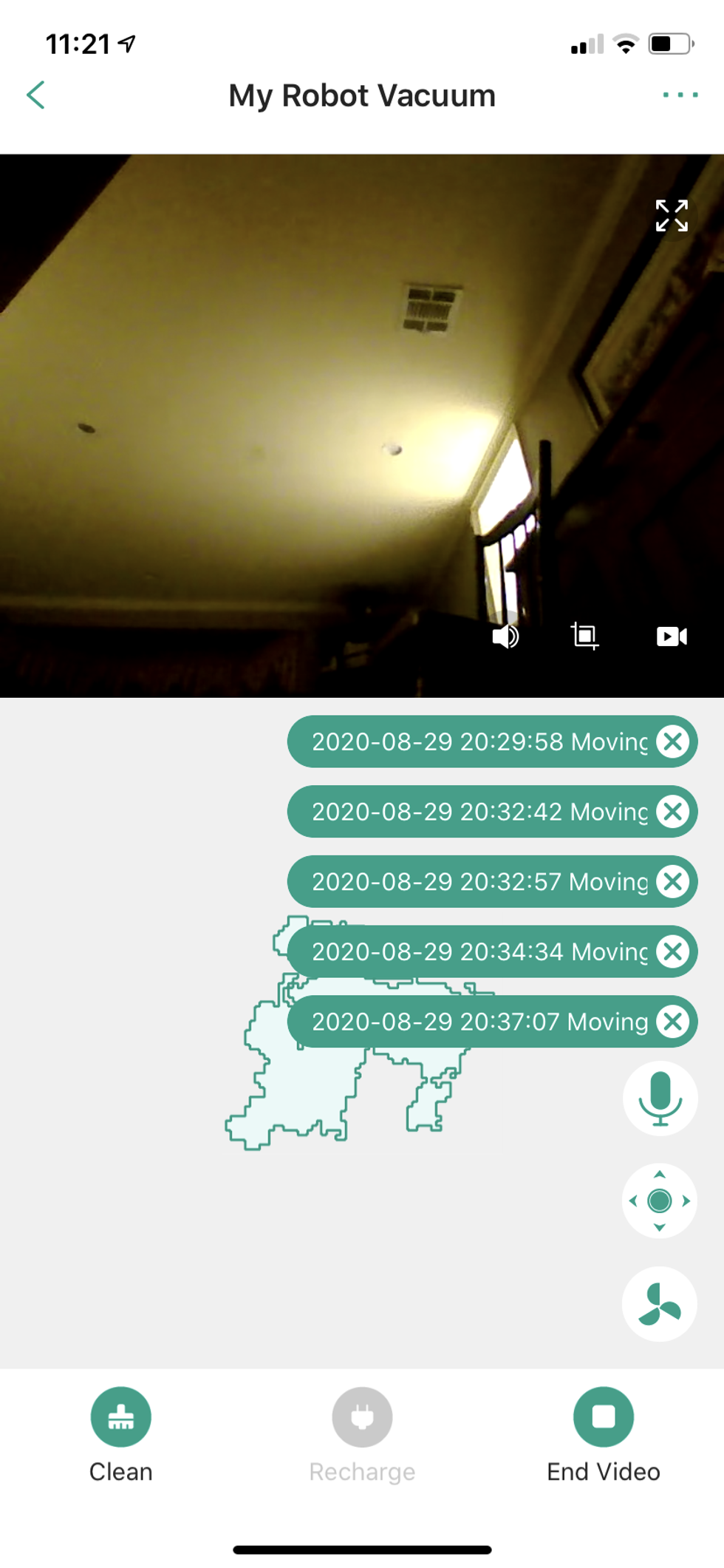 Get motion alerts and view video from Trifo Max in real time.
GearBrain
Trifo Max will send alerts when motion is detected. You can also view and save video to your smartphone using Trifo app.
Trifo Max Alert on Apple Watch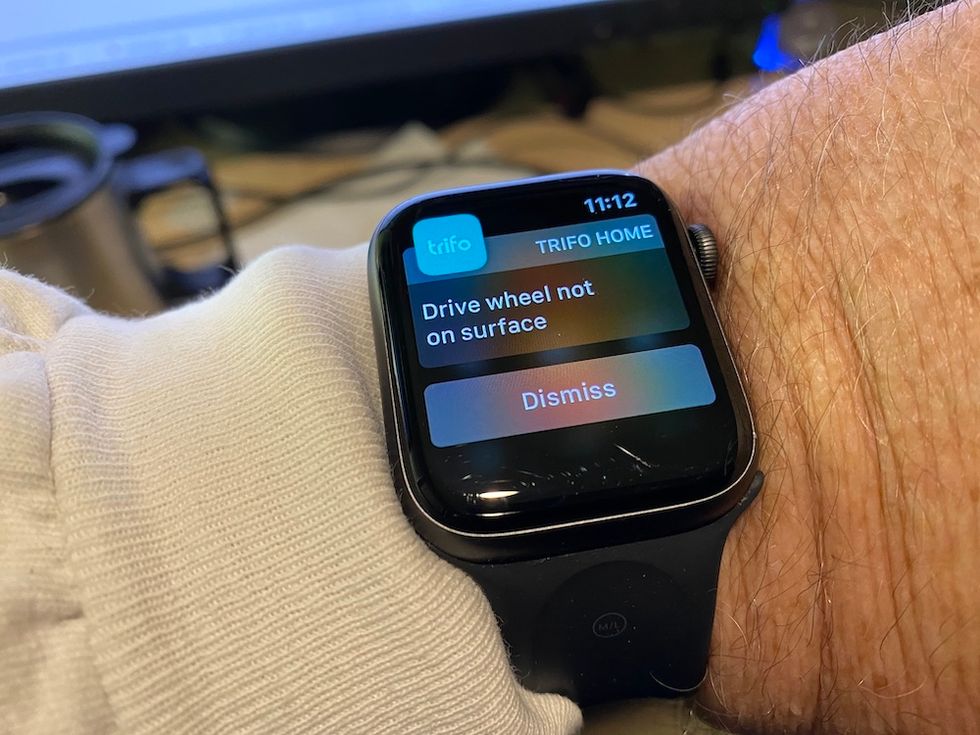 You can receive alerts on your Apple Watch when vacuum is interrupted or motion is detected.
GearBrain
Smart Home Integrations
The Trifo Max is compatible with Amazon Alexa voice platform. You just need to enable the Trifo skill in the Alexa app, and then you use voice commands like, "Alexa, turn on Max," and it will respond. Do remember the name of your Trifo Max as that will be the name Alexa will be looking for when you give it a voice command. Regarding other voice platforms, Trifo does not work with these systems at this time.
Price
The MSRP for Trifo Max is $399, and it is for sale on the company's site as well as Amazon and Walmart.
Performance
In testing robot vacuums, we looked at the basics. Did the vacuum have good suction to pick up dirt, sand, dust and especially pet hair? How good is the battery life as well as the mapping technology and any other special features? Trifo Max has good battery life, although using the video feature or motion detection did drain the battery life. Suction picked up dog hair well, and the mapping feature worked, but it did take time for the robot to map our space. Based on our testing of other smart robot vacuums, Trifo's mapping is similar what you would find in the higher end robot vacuums like iRobot's Roomba and Ecovacs Deebot vacuums.
We had a few a mapping issues during our test. One time the vacuum didn't recognize there was a step from our kitchen to the den and fell down. Other smart vacuums would have recognized the floor was missing and turned around. Trifo didn't, but using the app, you can locate the location on the map for that room and set up a boundary, which then stopped the robot from falling down at that spot again.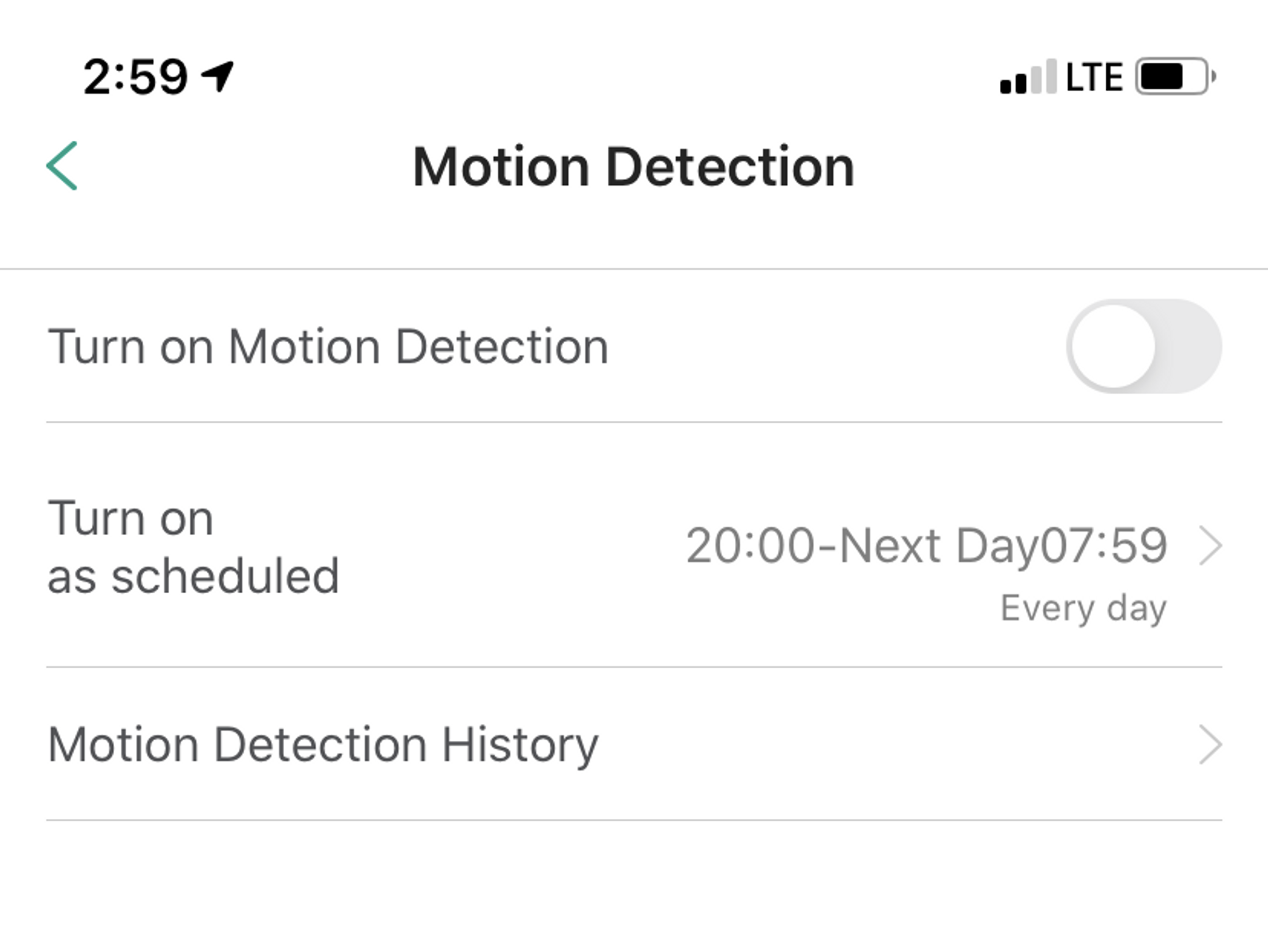 Trifo Max has motion detection which you can activate in the appGearBrain
The motion detection was also very sensitive and if you have a pet, you might get false alerts since you can't adjust the sensitivity. When turned on, it picked up everyone walking into the room, even someone shifting while seated on a couch.

For cleaning, the Trifo Max's performance was average. Yes, it picked up the hair and dirt, but it kept getting stuck under our furniture. We also found it got stuck, seeing a carpet with an area rug on top, as a wall, as have other robot vacuums we've tested.
Finally, we found the camera for Max not as good as a standard, static, HD 1080p security camera with a wide FOV, many of which we have tested in the past few months, like the Blue Indoor Camera. However, as a camera on a robot vacuum, it is good enough that you can get a sense of what may be happening in your home. We did find the two-way communication average and delayed, so take care to put the the volume on its highest setting so people in the room will hear you. Also, while the camera's video resolution is ok during the day, at night you will need light in order to see objects clearly.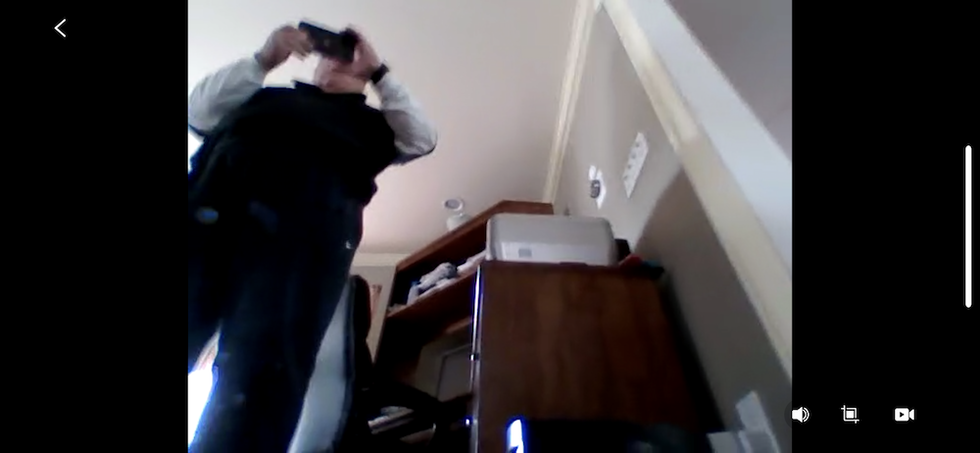 Trifo Max camera angle is upwards to help you see more of who is in the room.GearBrain
Summary

The Trifo Max is a reliable smart robot vacuum with solid features that can help you keep your house clean. It also doubles as a new smart gadget that helps you keep an eye on what's going on in the room when you're not home. The robot has strong suction, a long battery life, and is easy to clean. It also comes with a HEPA filter, which is important these days, and Quiet Mode. Setting boundaries on the mapping is decent but does require you map the entire house before you can set them up. And while the motion detection and camera features are helpful, I would not rely on this camera or motion detection as my only surveillance device in the home.
Overall, if you have a dog or cat, and you're in the market for a robot vacuum that has features of a high priced robot vacuum, you have to take a look at Trifo Max. It's got many of the same features as the upper end robot vacuum models, but is half the cost. And with the addition of a camera, you can actually keep an eye on what's going on in the room when not at home. Just like they do in those spy movies.
Pros:
Battery life and strong suction
Security device and unique mapping technology
Cost
Cons:
Got stuck underneath furniture
Two-way communication is not clear, and has limited night vision
New features (i.e. motion detection, camera) impact battery life
Trifo Max Robot Vacuum Cleaner, with 3000Pa Strong Suction, 120-minute Runtime, Self-Charging, Washable Filter and dustbin, Carpet, Hardwood Floor and Pet Hair, Home Security Camera, Video Recording
Like GearBrain on Facebook