Like GearBrain on Facebook
Google Play Music is to close down by the end of 2020, meaning users must transfer everything over to YouTube Music.
The service is set to disappear in December, but by the end of August users of Google Play Music will no longer be able to purchase, preorder, upload or download music through the Music Manager.
Read More:
Then, starting in September for New Zealand and South Africa, and October for the US, Google Play Music will be gradually put out to pasture. So now is a good time to embrace change and make the shift across to YouTube Music. But don't worry, Google has created a set of tools to make the process as simple as possible.
Both services will keep working together until December, but the transfer from one to the other can take hours or even days if you have a massive music library, so it's best to get this done sooner rather than later.
Transferring from one to the other will see all of your music, playlists and listening preferences move across, ensuring as soft a landing as possible.
How to transfer from Google Play Music to YouTube Music
Switching from one service to the other can be done a number of ways. You can use an Android or iPhone, or you can even do it on the web browser of your computer. All of these options do the transfer in the background, so once the process begins you can forget about it and continue listening to music as normal, until a notification comes through saying the process is complete.
Using your computer browser

The transfer can be made using a web browser on either your computer or a mobile device like a phone or tablet. Just head to music.youtube.com/transfer and click the Transfer button. You'll then receive an email once the transfer is complete.
Using your smartphone
This process is slightly more involved, but still takes just a few tapes to get the ball rolling. Simply open the YouTube Music app (you'll need to download and install it first, of course), then tap on the Let's Go button that appears in a banner at the top of the home page.
If that banner doesn't appear for you, head to the settings page and tap on the 'Transfer from Google Play Music' message.
You will then be shown a list of everything Google is about to transfer from Play Music to YouTube Music. This includes all of your songs, albums and playlists, plus purchased and uploaded music, and data relating to your personalized taste profile, and which tracks you have liked and disliked. That way, the new music suggestions made by YouTube music will match those already suggested by Google Play Music.
Now just tap on the Start Transfer button, and the process will begin. If you have a small library it might just take a few minutes to complete, but much larger music collections can take hours or even days. Thankfully this all happens in the background, so you can close the app and forget about it in the meantime. Listening to music on either app will not affect the transfer process.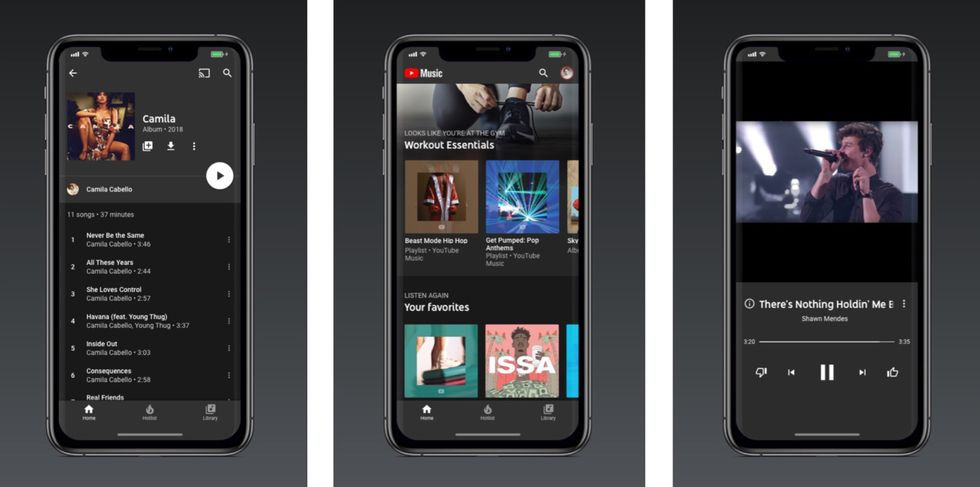 YouTube Music app for iOSGoogle
You will receive an email and an app notification when the transfer is complete.

After this, you can continue to use the Google Play Music app until it is finally switched off in December. But anything you do between now and then will need transferring; thankfully, if you go through the transfer process again in a few weeks' time, only changes made between now and then will be moved across, so it'll take much less time.
However, we recommend readers start using YouTube Music right away. That way, you can get used to the new app and check that everything has transferred correctly. There's also no risk of creating lots of new playlists in Google Play Music, then losing them because you forgot to do another transfer to YouTube Music before the December deadline.
It is also worth noting that, because YouTube Music doesn't offer a way to purchase music, any purchases you made through Google Play Music will appear in the uploads section of YouTube Music.
You should also remember that, for now at least, the music libraries of Google Play Music and YouTube Music are not identical. As such, you may find some tracks are no longer available after transferring to the new app. They will appear in your library, but will be grayed out and not playable. You can wait for YouTube Music to hopefully acquire the rights to that track in the future, or upload it yourself if you have it on your computer. Up to 100,000 tracks can be uploaded to your YouTube Music library this way.
Finally, the amount you pay for your Google Play Music subscription will remain the same after you make the switch to YouTube Music – even if you are still enjoying an early $7.99 promotional offer.
Check out The GearBrain, our smart home compatibility checker to see the other compatible products that work with Google Assistant enabled devices.
Jabra Elite 45h, Titanium Black – On-Ear Wireless Headphones with Up to 50 Hours of Battery Life, Superior Sound with Advanced 40mm Speakers – Compact, Foldable & Lightweight Design
From Your Site Articles
Related Articles Around the Web
Like GearBrain on Facebook