Coway's line of Airmega air purifiers include devices that are designed for small spaces, those that can clean larger spaces, some that are boxy, at least one that tall and lean, in colors that range from a flat grey to a sage green.
Recently, we tested two from the Airmega line, the Airmega 250 and the Airmega 150. They're different in size and abilities, and here's how to delineate between the two and decide which one may be best for your needs.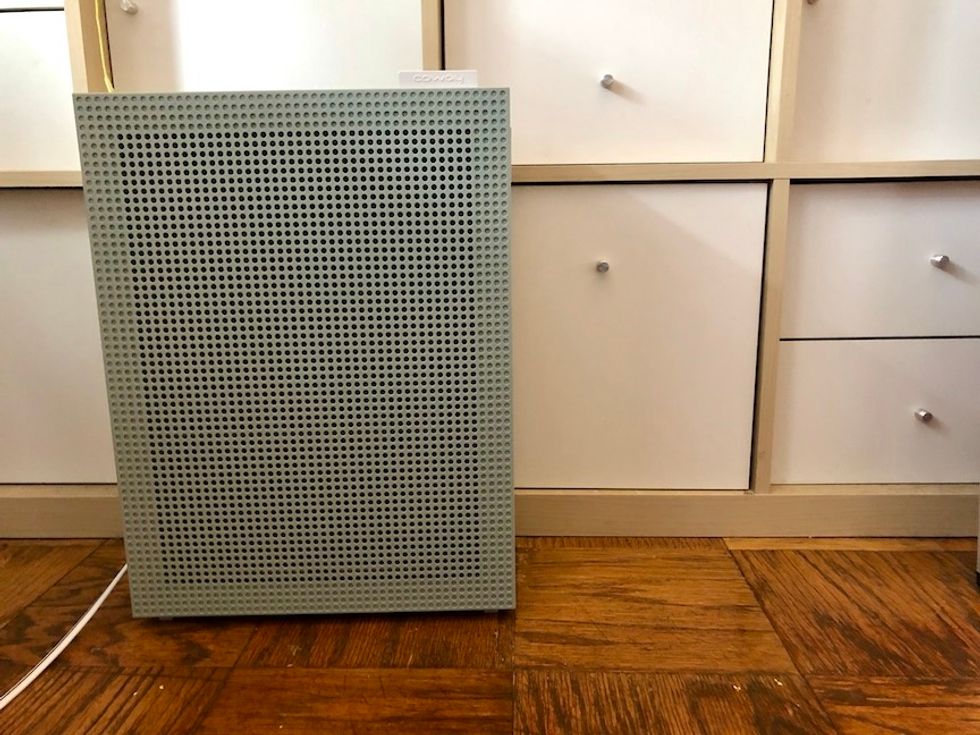 The Coway Airmega 150 can clean up to 214 square feet GearBrain
Design

Most of the Coway line has a similar look, a boxy shape that is meant to sit on the ground while working. Of the two were looking at, the Coway Airmega 250 is the one that's more square and it's bigger as well, at 18.5 x 19.7 x 8.3 inches, and weighing 20.5 pounds.
Coming only in a flat grey, the purifier is basically a big frame with a screen in front filled with holes (where the air travels through) and has monitoring lights on the top which range between blue, to green then yellow and finally red, red meaning the air is very unhealthy.
In comparison, the Coway Airmega 150 has the same look, a frame with a front with an open screen. It weighs just 12.1 pounds, and is much smaller at 13.4 x 6.5 x 18.5 inches. You can pick one up in a variety of colors including sage green, white and pink, and it also indicates the air quality through color changes on a small light on the top.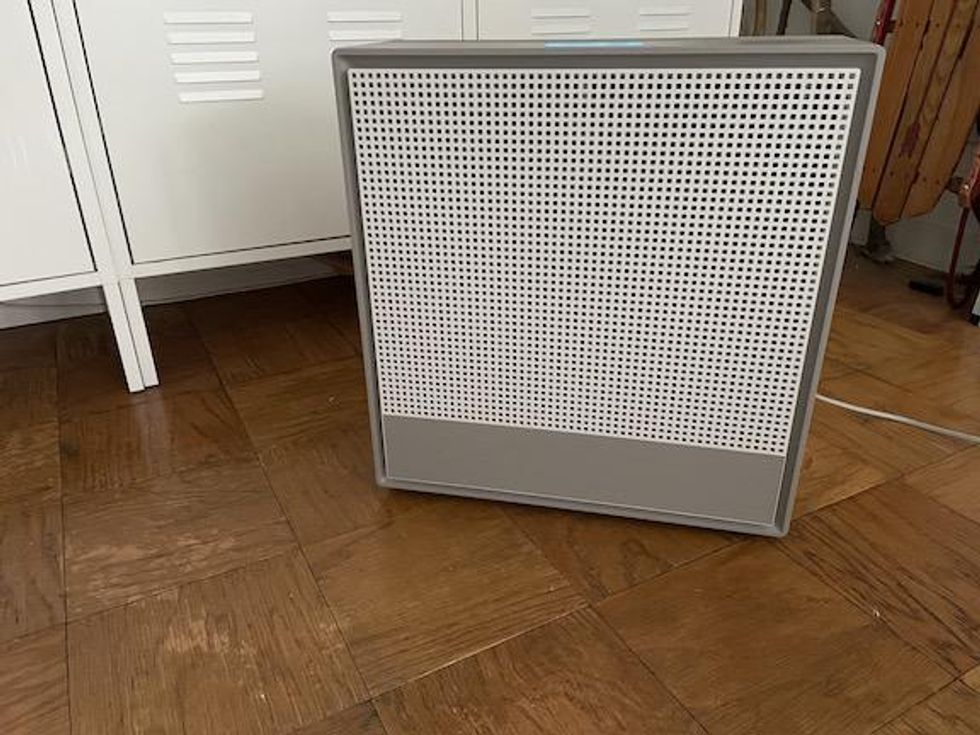 Coway Airmega 250 air purifier can clean and maintain the air in a large space of about 930 square feet GearBrain
Filters

Filters come in and out by sliding them through the top with the Airmega 150. Inside are three: there's a pre-filter, a deodorization filter, which is meant to be replaced after six months, and a HEPA filter, which is designed to replaced after one year and can, says Coway, remove 99.99 percent of viruses and other airborne particles. We discussed this in detail in our review, and how we cannot prove this through our abilities.
The pre-filter can be removed and clean by just washing it under water, and then letting it air dry.
Coway pushes the claim on the Airmega 250 a bit more, claiming it can clean up to 99.999 percent of fine particles and contaminants does to .01 microns — which it also says is smaller than most bacteria and viruses. Again, as we mentioned in our reviews, we cannot prove this to be true, because we can test the air to bolster this claim.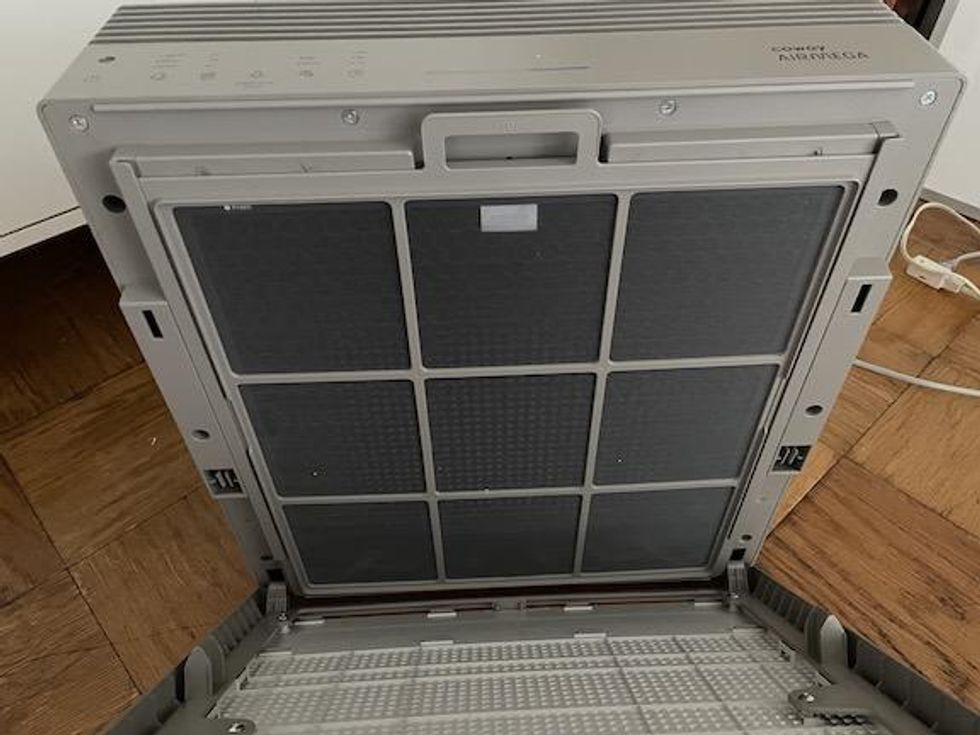 With the Airmega 250, you remove the pre-filter by popping open the frontGearBrain
With the Airmega 250, you get an activated carbon filter instead of a deodorization filter, but it's designed to do the same thing. And this filter is actually part of a set, bonded with the HEPA filter, and called a Max2 filter, which is designed to be replaced after a year.

The pre-filter filter on The Airmega 250 does slide through a frame inside, similar to the one in the Airmega 150, but to get to it you do need to pop open the front of the air purifier.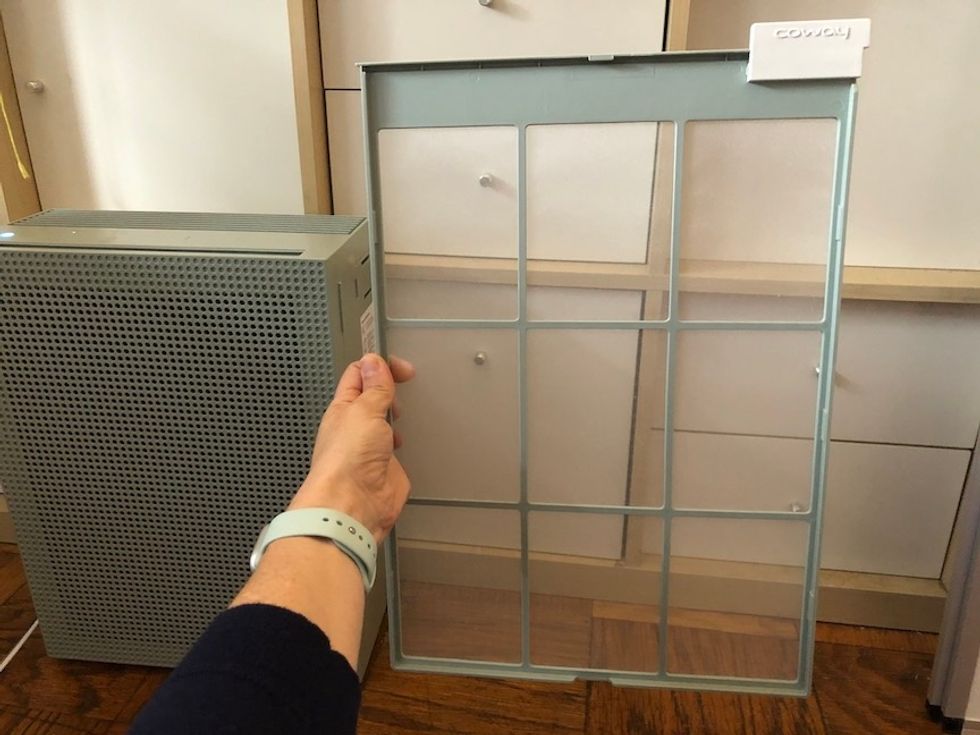 The Coway Airmega 150 pre-filter is removed by sliding it out from the top GearBrain
Features

The Coway Airmega 150 can clean up to 214 square feet — less than 25 percent of what the Coway Airmega 250 can cover, which is 930 square feet. That's a sizable difference. That means for anyone who wants a device that can cover a larger room, or even a small apartment, The Airmega 250 is really the one to consider between the two.
The controls on the top of The Airmega 150 are simple. You can turn the device on and off, increase the speed leave it in Auto mode, where it will handle shifts in fan speed on its own when it reads there is a need. There are also two indicator lights to alert you when it's time to change out the HEPA or odor filter as well.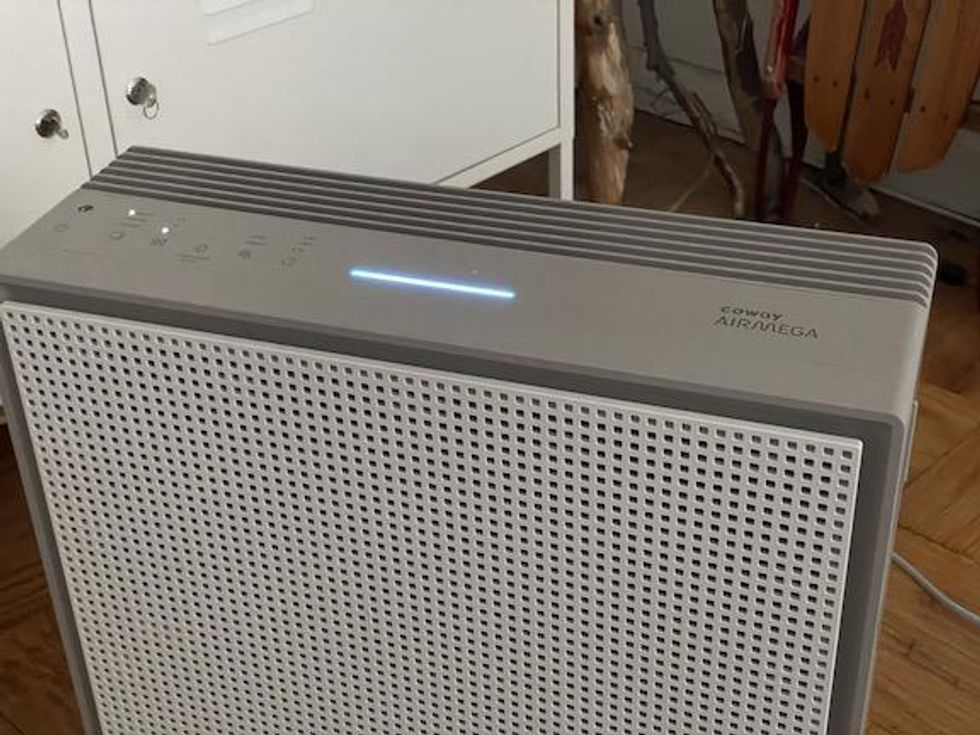 The indicator light is larger on the Coway Airmega 250 GearBrain
The color indicator, which read the healthy or unhealthy air quality in a room, on the Airmega 150 is much smaller than that of The Airmega 250. This is a small light on top, as compared to a much larger and more easy to see and read band of light on the 250, which we preferred.

With the Airmega 250 you also get quite a few more features including a timer that can be set for one, four and eight hours. The purifier can also shift automatically through multiple modes on its own, from auto, like The Airmega 150, to other modes unique to the 250 which include Rapid, and also Sleep and Eco mode.
We did find both devices similar on one front: they were both extremely quiet, near silent, on the lowest fan settings but much louder — louder than you'd want for a work call — on the higher settings.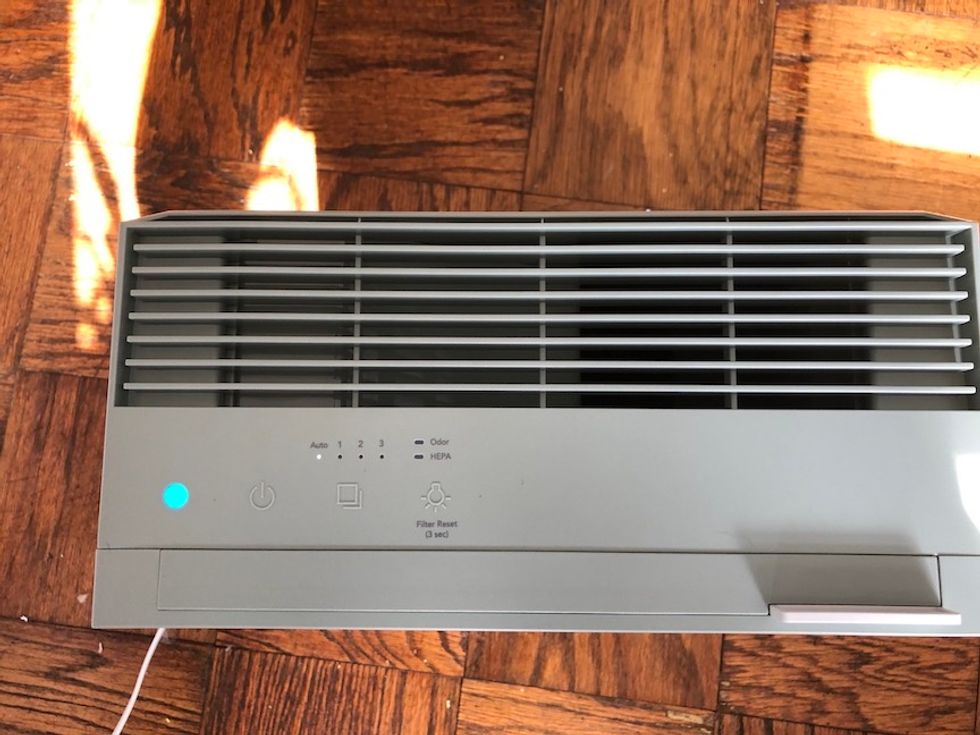 You have fewer features and a smaller indicator light on the Coway Airmega 150GearBrain
Price

You can pick up the Coway Airmega 150 for $189.99 on the company's web site. The Coway Airmega 250 is $399, and also available on Coway's site.
Which one is right for you?
The two air purifiers are uniquely different on multiple fronts, which will make it easier to choose — although both were very quiet on low settings, much louder on the highest settings.
For anyone with a large space, the Coway Airmega 250 is probably a better choice, able to clean the air in a 930-square-foot space twice an hour, and also supporting a number of other features from a timer, to additional modes including Sleep, Eco and Rapid which is like putting the purifier into hyperdrive.
For smaller spaces, the Coway Airmega 150 is likely the better option, with even a lower price — less than half what you'd pay for the Airmega 250. It will, however, only clean a space of about 214 square feet, so it's really best for a single room — even a dorm room.
We also like the bigger indicator light on the Airmega 250, and then again we also like the color options for the Airmega 150 which can be picked up in white, pink and sage green compared to just the flat grey for the Airmega 250.
The choice then? That's yours to make.
Coway 250 HEPA Replacement Filter Parts for Airmega 250/S, Black